Every day the demos are getting bigger, pickets become gigantic and merge into marches and rioting.
It's not just a case of changing Prime Minister, half the government are implicated in mass bribery. If Rajoy goes others and the maybe the whole government will fall.
Then the 'Troika' program of closing all public services, schools, hospitals, pensions.. plus 500 mortgage evictions a day and general unemployment.. may grind to an halt.
(Photos & Video) Thousands of angry people mobilize in many Spanish cities shouting "Mafia of Politicians OUT". Police threaten the press
by Kaos. Outrage globalized       Friday, July 19, 2013 00:06
Corruption of politicians and the restoration of democracy. This is the main goal of citizenship that moves this afternoon outside the headquarters of the ruling Popular Party (PP) in various cities of the Spanish  state.
Police attacking and threatening our press Comrades who demand their identification numbers….See the continuing police charges on the live broadcasting… See the repression in Montera street…. They have beaten up our Tele Take companion, also a lady.,… They have arrested an activist of the PAH (anti evictions movement)… Now the police have launched a fight with protesters…. There are people injured…

Thousands of people have taken to the streets of cities across the country against corruption and government impunity. The most blatant mass robbery yet by the PP party has been revealed this week with the leaking of communications between Mariano Rajoy, President of the country and the jailed former People's Party treasurer, who can't explain the 40m euros in his Swiss accounts.
There is a general outcry, daily demonstrations in all the cities, demanding the resignation of the government order.
More reports of police charges injured and arrested are coming in from  Madrid and Valencia.
After 23:30 Thursday people continued protesting despite police charges and detainees, marching in Madrid.
Today Friday, anniversary of the Spanish Revolution, more demos countrywide are called on the Internet
The protests began on Thursday at 18:00 GMT. In the capital mobilization began in Genoa Street, which houses the Popular Party headquarters. Thousands of people are seconding the  mobilization in Barcelona, ​​Valencia, Zaragoza, Malaga, Seville and La Coruña, among other cities, also joined the initiative.
Demonstrators gather to "barbecue sausages" in the PP headquarters in different Spanish cities. (in Spanish slang 'sausage' also means 'swindler'). Some Internet activists launched a protest "against corruption and the for the resignation of the government." the National Police agents have erected billboards in specific places around Genoa Street area and have more controlled and identified those gathered in protest.
Participants in the mass pickets became thousands of protesters spread across more than a dozen cities, carrying signs with slogans such as' Robbery and corruption, Spanish Brand 'and have launched cries of' government, resignation, by corrupt and a thief ',' Rajoy and Cospedal, Real Solo 'or' Not enough  bread for so many 'sausages' (robbers) '.
The new wave of outrage from the Spanish came after the latest revelations of "PP Case", in addition to the dire consequences that policies neoliberal cuts and adjustments are having on the lives of the working classes, with unemployment above 6 million, higher poverty 30%, and thousands of families being affected by the drama of eviction, in addition to the huge increase in university fees, the reduction in the number of scholarships, increase in the price of basic rates such as electricity, water and food,  and health systems increasingly impaired, with nearly one million immigrant people directly expelled from the health system.
This past Monday, to make matters worse, after almost two hours of hearing before the judge, Luis Barcenas ex-treasurer of the ruling PP, admitteded responsibility for alleged bonuses paid in 'black money'  to all the leaders of the Conservative Party, and provided further documents against the PP, so cofirming corruption which for decades has been installed in the heart of the party, while the efforts and sacrifices of the laboring classes at the expense of their own quality of life, are required to "end unemployment" and " get out of the crisis ".
Last modified on Friday, July 19, 2013 1:56
(Fotos y Videos) Miles de personas indignadas se movilizan al grito de "¡Que se vaya la mafia!". Policía amenaza a la prensa
por Kaos. Indignación globalizada
Viernes, 19 de Julio de 2013 00:06
Contra la corrupción de los políticos y por la restauración de la democracia. Este es el objetivo principal de la ciudadanía que se moviliza esta tarde frente a las sedes del gobernante Partido Popular (PP) en varias ciudades del estado.
Compañerxs de prensa, amenazados por la policía. Lxs compas a su vez le exigen el número de identificación.
Hay permanentes cargas policiales, desde la transmisión en directo se ven claramente la represión en la calle Montera. Han golpeado a la compañera de Toma la Tele, también a una señora.
Han detenido a un activista de la PAH. La policía la ha emprendido a golpes con manifestantes. Hay personas heridas.
Miles de personas han salido a las calles de ciudades de todo el país en contra de la corrupción y la impunidad del gobierno. El pico más alto  del 'caso PP' se ha alcanzado esta semana al conocerse las comunicaciones entre Mariano Rajoy, presidente del país y el ex teesorero del Partido Popular.  Es un clamor general en todas las ciudades donde se han y se están manifestando, el pedido de dimisión del gobierno.
Se reportan cargas policiales, heridos y detenidos tanto en Madrid como en Valencia.
Pasadas las 23:30 la gente seguía, pese a las cargas policiales y los detenidos, marchando en Madrid. 
Ver imágenes: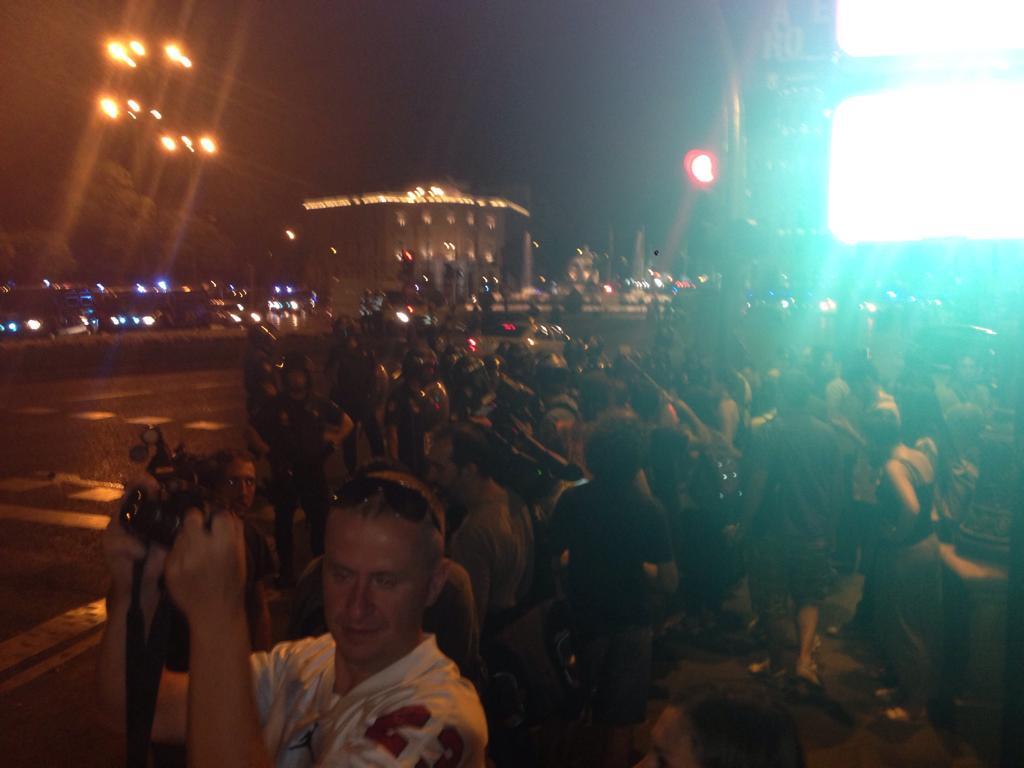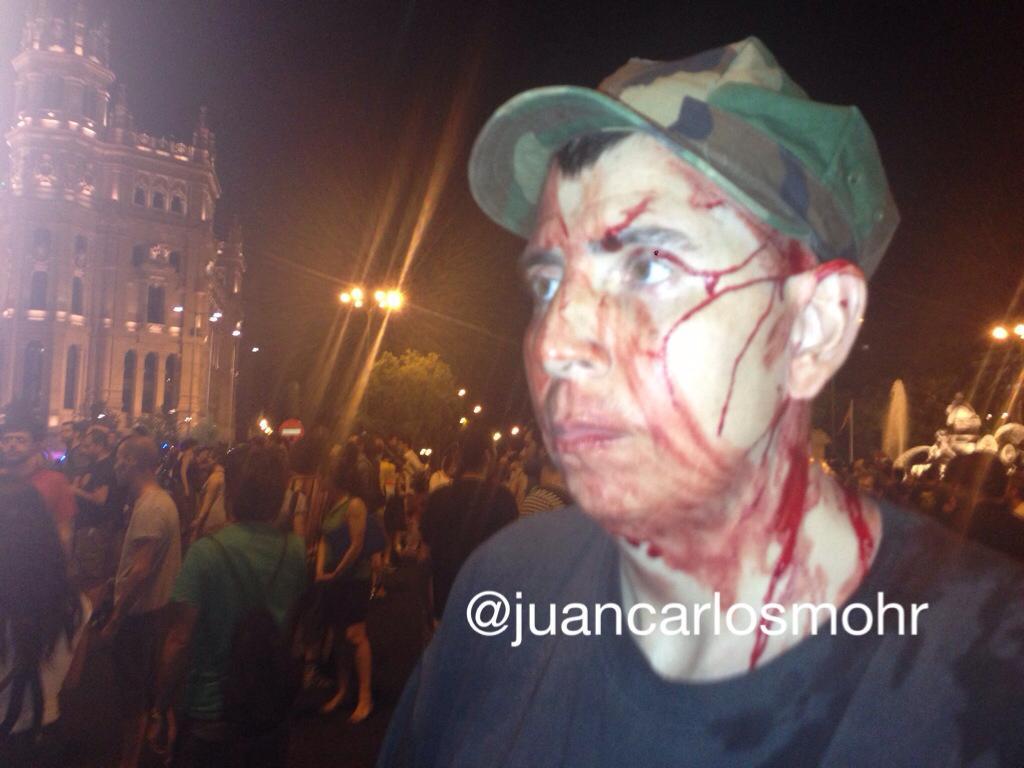 Foto: juan carlos mohr

Foto de Diagonal
Las protestas de este jueves comenzaron a las 18:00 GMT. En la capital la movilización se inició en la calle Génova, donde se ubica la sede del Partido Popular, donde cientos de personas están secundando la movilización. Barcelona, Valencia, Zaragoza, Málaga, Sevilla y La Coruña, entre otras, también se unieron a la iniciativa.
Los manifestantes se reúnen para una "barbacoa de chorizos" en las sedes del PP de distintas ciudades españolas. Esa es la propuesta simbólica de algunos de los activistas lanzada en Internet a fin de protestar "contra la corrupción y por la dimisión del Gobierno". los agentes de la Policía Nacional han colocado vallas en lugares concretos de la calle Génova para perimetrar la zona y tener así más controlados a los congregados en el acto de protesta.
Los participantes en la concentración, con miles de manifestantes repartidos por más de una decena de ciudades,  portaban pancartas con lemas como 'Robo y corrupción, Marca España' y han lanzado gritos de 'Gobierno, dimisión, por corrupto y por ladrón', 'Rajoy y Cospedal, a Solo del Real' o 'No hay tanto pan para tanto chorizo'.
La nueva ola de indignación de los españoles surgió tras los últimas revelaciones del "Caso PP", además de por las nefastas consecuencias que las políticas de recortes y ajustes neoliberales están teniendo en la vida de las clases trabajadoras, con un paro por encima de los 6 millones, la pobreza superior el 30%, y miles de familias que se están viendo afectadas por el drama de los desahucios, además de por el aumento en las tasas universitarias, la reducción en el número de becas, el aumento en el precio de tarifas básicas como la luz, el agua o los principales productos alimenticios, y un sistema sanitaria cada vez más deteriorado, del cual casi un millón de personas han sido directamente expulsadas.
Este pasado lunes, para más inri, tras casi dos horas de audiencia ante el juez, el extesorero del PP Luis Bárcenas, asumió la autoría de los papeles donde quedaron fijados presuntos sobresueldos en negro a la cúpula del partido conservador, y proporcionó más documentos contra el PP, comfirmando así la corrupción que, durante décadas, ha vivido instalada en el corazón de ese partido que ahora exige a las clases trabajadoras esfuerzos y sacrificios, a costa de su propia calidad de vida, para "acabar con el paro" y "salir de la crisis".
Ultima modificacion el Viernes, 19 de Julio de 2013 01:56   Leído 1593 veces
Related articles