On Wed 22 Oct thousands of women went on social and work strike in the biggest action yet of the Vaga de Totes ( Womens strike of everybody) movement.Vaga de totes (Strike of everyone) is a collective of women "tired of social, economic and legal politics that threaten seriously our rights, our dignity and our freedom" as we can read in their manifesto.
They talk about: the conservative laws on abortion and assisted reproduction that want to control the woman's body;
the femicide ; the cuts in health care, social assistence and education;
the repression; the immigration laws and the health care apartheid and – last but not least – the laboral reform that increases the gender discrimination. Women in our society, being responsable quite entirely for care tasks, are now working harder and longer for balancing cuts and privatization of social services out .
The non-remunerate economic contributions and work women do is an enormous debt with them. That is why the strike call states: "Because we think it is a powerful combative tool; because we want to restore the tradition of women who have played key roles in historical strikes; because we want this history back, because we want to stop being a tool just in the service of formal workers, male and white and become a tool for all"


With such premises on October the 22nd the call has been for a strike that can give visibility to unequal conditions in which women are, a strike of everyone (female and male) where the women and its demands are protagonists. A strike in which everyone join from its possibilities. A strike overstepping the classic androcentric patterns, to serve all the people, workers and not, and every job: productive, reproductive, domestic, sexual, formal or submerged. It was also a consumer strike, alleging the predatory capitalist market system; a strike of unemployed showing that they are active and struggling; a strike of retirees, a strike of civil disobedience, a student strike, a strike of all.

Indeed the call has been succesful. It has been a day of struggle: actions, performances, small demos and cutted street, protest in front of emblematic places of patriarchal domination. The day of protest was closed with a massive demo.
  from    BARCELONA #15M Newsletter nr 65  with thanks
LINKS
Articles
Multimedia
The Massive Feminist Protest the Western World Completely Ignored
By
Mary Emily O'Hara
reblogged with thanks!
If the ongoing GamerGate saga and last week's disappointing reminder of Bill Cosby's rape legacy are disheartening America's feminists, they should cast across the Atlantic for a glimmer of hope.
Last Wednesday, a massive feminist strike paralyzed the streets of Barcelona, with thousands of women and their allies shutting down traffic and the subways, spray-painting feminist slogans all over city walls and occupying the offices of powerful political and economic institutionsWhat massive feminist strike, you say? Maybe you didn't hear about the thousands of Spanish feminists taking over Barcelona because not a single major English-language news source reported on it.
According to the website for Vaga De Totes, Spain has seen many labor-related general strikes in recent years, but rarely do those acknowledge women's issues. The list of problems left out of the conversation, according to the site, includes (roughly translated from Catalan) "compulsory maternity," violence against women, "labor reforms that deepen inequality already faced by women" and the cuts to social welfare and utilities that "increase the hours women devote to the care and attention of people."
While may have read about Spain's three-day student strikes that also took place this week, you probably what you didn't read that Wednesday's Vaga De Totes ("Everything Strike") brought together more than 600 different feminist and community groups over the course of a year of organizing that culminated in a riot grrrl-like takeover of Barcelona.
Estem en una mani MOLT potent que tanca una jornada de lluita exitosa #vagadetotes
The background: Organized protests have been rippling across Spain for weeks in reaction to the country's ongoing economic crisis. Youth unemployment is an ongoing problem: For those under 25, it's nominally 50%, and Spain's current crop of recent graduates, considered the most educated the country has ever had, faces the greatest rate of unemployment in Europe. "An entire generation is being sacrificed in countries such as Spain," Ludovic Subran, chief economist at credit insurer Euler Hermes told Bloomberg News. "That has a real impact on productivity in the long run."
A Barcelona molta gent ara mateix al carrer defensant una nova societat NO patriarcal! #VagadeTotes #vagadetotes22o
In Barcelona, Catalans prepare to vote Nov. 9 to gauge public support for secession from Spain. One common Catalonian complaint is that their robust region, which traditionally has had the highest GDP in Spain, is economically propping up the rest of the country.
In the case of Wednesday's protests, it seems that Catalan women are tired of holding up everyone else without getting something in return.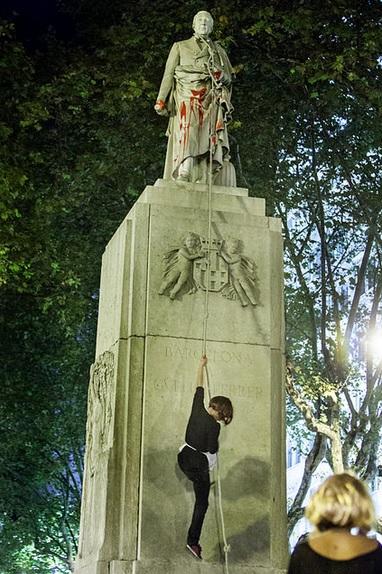 The protests: Dolo Pulido, a member of the Vaga De Totes organizing coalition, told Catalan news site Directa the theme of the strike was "Women move the world, together we will stop it," but that the strike was about more than a work stoppage. "It responds to the feminist analyses that critique that the world is organized in a patriarchal system, and women assume the tasks to move it along," Pulido told Directa.
Video of the early, daytime version of the protest shows hundreds marching through Barcelona to the Cercle d'Economia, Spain's powerful economics and business think tank which vocally opposes Catalonian independence. There, feminists hung a banner that read "Muerte al Patriarcado, Huelga de Cuidados." The phrase roughly translates to "Death to the patriarchy, caretakers' strike."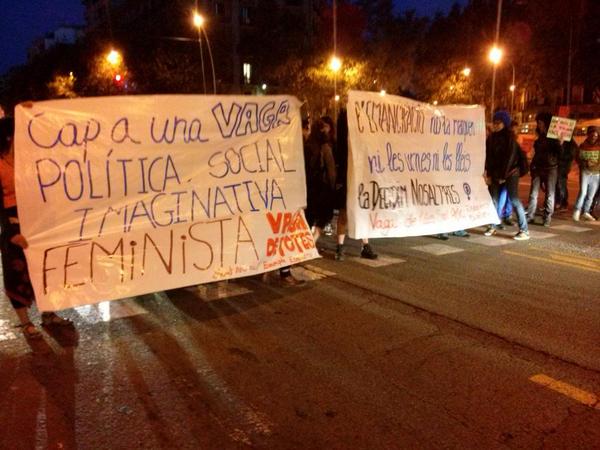 According to Directa, the protesters occupying the Cercle d'Economia read a manifesto denouncing the role of "this circle of the powerful in perpetuating a devastating market system which undermines both social justice and gender equality." The protestors also decried statements made by Monica Oriol, the leader of the related group Circle of Entrepreneurs, who said in early October that she preferred to hire women over 45 or under 25 to avoid "the problem" of pregnancy in businessBy evening, the street protest had amassed what looked like thousands of people. Most were young women, but all genders and ages appeared in the photos circulating on Twitter. At 6 p.m., the Stop Pujades ("Stop Increases") action held open the doors of subway trains in three different stations to protest fare increases in public transportation. By 7:30, feminist blockades had stopped traffic at four points in the city: la avenida Meridiana, la Gran Via, la avenida Diagonal, and el Paralel.
While marching to la Gran Via, feminist activist Laura Lozano told Spain's El Diario that many women can't attend the usual labor strikes because they are combining "several very poorly paid jobs" in order to survive. "We are the ones who suffer the effects of the crisis," Lozano told El Diario. "Cuts in health and education harm us much more, because women are the ones used to taking care of dependents, be they small or large.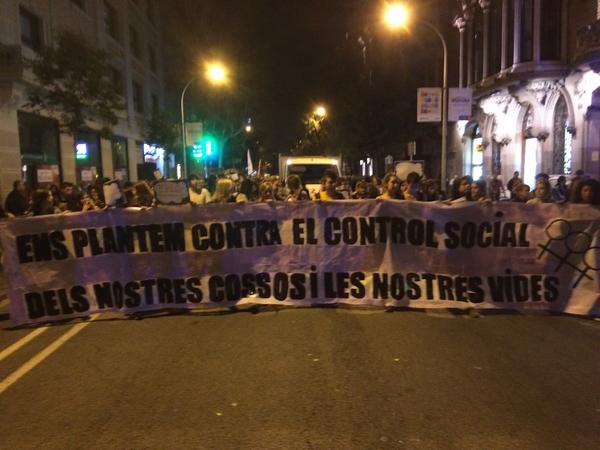 Vaga De Totes says they are organizing an even bigger women's strike in the spring of 2015. Maybe by then, the international press will have learned to care about masses of women marching through the streets.
Read the Vaga De Totes manifesto (in Spanish) here.
Desenes de feministes ocupen la seu del Cercle d'Economia en una acció de la vaga de totes
L'acció demana una condemna a la presidenta del Círculo de Empresarios, que rebutja contractar dones que es puguin quedar embarassades
Desenes de dones feministes han ocupat aquest migdia la seu del Cercle d'Economia, ubicada al carrer Provença de Barcelona. L'acció, emmarcada en la primera vaga de dones, ha comptat amb el suport de les més de 250 assistents al vermut itinerant que ha arrencat a les 12h als Jardinets de Gràcia. Durant l'ocupació s'ha llegit un manifest en què s'ha denunciat el paper d'aquest "cercle de poderosos en perpetuar un sistema de mercat devastador, que atempta contra la justícia social i l'equitat també de gènere". La tria del Cercle d'Economia s'ha explicat en el text pels vincles del grup amb el Círculo de Empresarios, la presidenta de la qual, Mónica Oriol, va assegurar el 3 d'octubre que preferia no contractar dones d'entre 25 i 45 anys per evitar el "problema" que "quedin embarassades".
De fet, s'ha reclamat a l'entitat barcelonina un comunicat públic de condemna a Mónica Oriol i la seva destitució. Durant l'ocupació s'han penjat estris de la llar a la façana de l'edifici, com cubells, escombres o regadora, i han tallat el carrer Provença al trànsit. A la porta s'hi ha col·locat una pancarta on s'hi pot llegir "Patriarcat i capital, aliança criminal". A dins de la seu del Cercle, que presideix Antón Costas, almenys una vintena de dones s'han escampat pel vestíbul i han desplegat una pancarta amb el lema "Mort al patriarcat. Vaga de cures". L'acció ha acabat a dos quarts de dues, quan s'ha iniciat una manifestació fins a la plaça de Catalunya.
La vaga de totes és una iniciativa convocada per diversos col·lectius feministes, que ha arrencat a les 7:30h amb mobilitzacions a quatre punts de la ciutat de Barcelona. Les protestes han tallat el trànsit durant uns minuts a l'avinguda Meridiana, la Gran Via, l'avinguda Diagonal i el Paral·lel. Amb motiu de la iniciativa, que va sorgir fa gairebé un any, s'han programat diverses activitats, que culminaran amb una manifestació unitària a les 19h a la plaça Catalunya de la capital catalana.
Dolo Pulido, membre del grup promotor de la vaga de totes, ha explicat a la Directa que es tracta d'una vaga que va "molt més enllà" d'una aturada en la producció perquè "respon a les anàlisis feministes que critiquen que el món està organitzat en un sistema patriarcal i les dones són qui assumeix les tasques per moure'l". Sota el lema Les dones movem el món, totes juntes l'aturarem, la mobilització pretén visibilitzar específicament "les condicions de desigualtat" en què es troben les dones. En aquest sentit, advoca per una vaga que "desbordi els clàssics patrons androcèntrics, que serveixi per a totes les persones –treballadores i no treballadores– i per a totes les feines: productives, reproductives, domèstiques, sexuals, formals o submergides".
La vaga de totes suma més de 600 adhesions, 60 de les quals són de col·lectius com assemblees de barri, la PAH, Stop Pujades, assemblees d'estudiants, els sindicats COS i CGT, etc. Altres ciutats de l'Estat espanyol hi han donat suport, així com les dones de la neteja del Departament d'Hisenda de Grècia, que van iniciar una vaga fa mesos. Entre les accions de suport, trobem la de la plataforma Stop Pujades, que a les 18h obrirà les portes de les estacions de metro d'Arc de Triomf, Llucmajor i Hospital Clínic amb la intenció de denunciar, també, els augments tarifaris del transport públic.
Related