Call for bids on the ZAD

27 Dec.  by zadist



'To build a future without an aeroport'
Resumption of public works 30th and 31st January 2016
Hereinbelow the list of proposed lots, updated 25th December
The « steering committee for a future without an aeroport » launch a call for bids to start the public works (which never ceased from our side) on the ZAD the 30th and 31st January 2016, just after the confectioners' truce.

This call for bids is addressed to everyone who participated in the struggle from within the area and beyond, whether organised in committees or groups of friends. It is designed to reinforce the collective, material, agricultural, defensive and festive structures that exist on the ZAD of Notre Dames des Landes. It consists of diverse projects, adapted to all different tastes and all bodies of work. The construction should take place, or at least be well under way, the 30th and 31st January 2016.
These public works will continue on the ZAD all year long. Each committee or enterprising individual is invited to take on the lot that they wish and will be put into contact for the relevant members of the « steering committee for a future without an aeroport ». Each committee or group responsible for a project will be invited at that moment to team up the place, path, home or activity concerned on the ZAD, with a place of their choice in their village or area, so that the exchanges continue far beyond the weekend.
As there will be no aeroport, this appeal replaces and cancels that which was formulated by the prefecture at the end of October, and responds in that way to the threats of the government to come and effectuate their own damaging aeroport works, and other police operations.
The complete list of proposals is available on zad.nadir.org. All applications with be taken into consideration. The dossiers should be send to the steering committee before the 10th January ; appeldoffreszad(at)riseup.net
For all inquiries about the conditions, use the same contact details.
Below is a list of the lots, the complete list with the list of signatures
Lot n°1 : clearing and installing fences, the Cow Group, Bellevue
Lot n°2 :renovating the showers and collective spaces, Wardine
Lot n°3 : clearing the brambles from the walls of an old barn, Sylvie and Marcel, Liminbout
Lot n°4 : upkeep of hedges planted in 2013 in the 24ha collectively planted
Lot n°5 : installing fences, Sheep Group, Rosier
Lot n°6 : constructing a dry place for storage and meetings, Medicinal Plant Group, Rouge et Noir field
Lot n°7 : re-opening an entrance to a field and clearing a pathway, 100 Noms
Lot n°8 : building a collective climbing wall, La Grée
Lot n°9 : interior modification of the 'Q de Plomb', Liminbout
Lot n°10 : creating a mezzanine of 20m², Fosses Noires.
Lot n°11 : re-creating a footpath Le Tertre – La Freuzière – St Jean du Tertre
Lot n°12 : creating a mezzanine, electrical repairs and renovation a collective bathroom, Domaine libéré.
Lot n°13 : making a plant nursery for chestnuts trees, destined to be planted on the ZAD in the winter 2016-2017, Reclaim the Fields (this lot will take place elsewhere, not on the ZAD)
Lot n°14 : signposting the entranceways to the ZAD,
Lot n°15 : putting up a greenhouse (polytunnel), Rouge et Noire field
Lot n°16 : interior modification of the meeting room by COPAIN, Bellevue
Lot n°17 : sheep hangar by COPAIN, Rosier
Lot n°18 : works for the conserve place and transformation workshop, Noe Verte
Lot n°19 : building a dome greenhouse, the arboretum field
To reply to this call for bids or for all queries concerning it; appeldoffreszad@riseup.net
Signatories : COPAIN, ADECA, Naturalistes en lutte, ACIPA, Sème ta ZAD, Q de Plomb , Collectif des Ecologistes Libres et Autonomes, La grange antiTHT et antinucléaire de Montabot, comité soutien St Herblain/Indre, Comité Anti Aéroport de la Chapelle sur Erdre (CAAC), collectif Bon pied bon oeil, Parti de Gauche, EELV.
This call for bids is supported by the agreed basis established by the movement for the future of the ZAD.
As there will be no aeroport…
We defend this place and intermingle here in our many different ways. We want to take care of the woodlands, its inhabitants, its diversity, its flora and fauna and we plan to stay.
Once the airport project is abandoned, we ask;
1- That the inhabitants, proprietors and tenants that were subject to an expropriation or eviction procedure can stay on the zone and reclaim their rights.
2- That the farmers in the struggle affected, having refused to fold when faced by AGO-VINCI, can freely cultivate the land that they currently have use of, reclaim their rights and continue their activities in good conditions.
3- That the new inhabitants who came to occupy the ZAD to take part in the struggle can stay on the zone. That that which has been built since 2007 in the occupation movement in terms of atypical agricultural experimentation, self-built or light homes and accommodation (cabins, caravans, yurts etc), ways of life and struggle, can be maintained and continued.
4- That the land redistributed each year by the chamber of agriculture for AGO-VINCI under the form of indeterminate leases be taken on by an entity from the movement in the struggle which assembles all its elements. That it be therefore the anti-aeroport movement and not the customary institutions that determine the usage of these lands.
---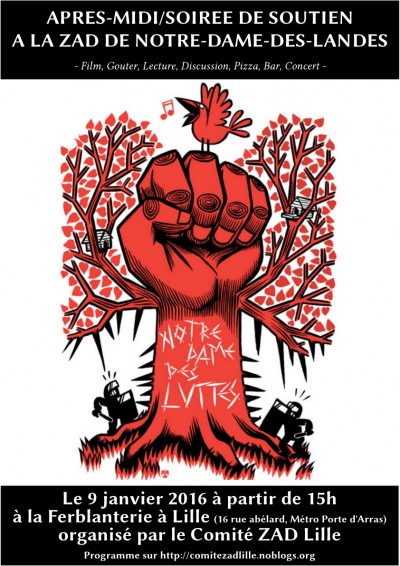 Lille: Afternoon/evening of support to the ZAD of Notre-Dame-Des-Landes.. Film, snacks, literature, discussion, pizza, bar, concert.
January 9th 2016 from 3pm at La Ferblanterie  For a few months the government has announced its wish, to resume airport works involving the eviction of its inhabitants; destruction of the grove, its cultures and protected species. This is why, following a ZAD call-out to re-establish support committees throughout France, around forty people gathered in Lille on November 25th 2015 to sketch out a new committee.
---
5- That these lands go towards new agricultural and non-agricultural institutions, official or alternative and not to extensions.
6- That this basis becomes a reality by our collective determination. And we pay attention together to resolve the possible conflicts linked to their being put into place.
We are already seeding and building a future without an aeroport with diversity and cohesion. It's up to us all, from today, to make it flourish and to defend it.
The goal of the six points mentioned above is to put some necessary common bases into place to project the future of the ZAD once the aeroport project is definitively abandoned.
They were discussed by a regular assembly which had as its objective to think about the future of the land once the project is abandoned. It is an assembly that brings together people from different parts of the struggle. This is a long-debated text, both in assemblies and in different organisational spaces within the movement.
Attached documents
Document (OpenDocument Text – 2.7 Mb)