La Dragona..the Female Dragon is the only Occupied Autonomous Social Centre that's part of a cemetery… But it is very much alive, since 2008 resisting all attacks and setting the social and political scene in Elipa Barrio alight with it's fiery breath.
Now the Council say they want the abandoned historic mansion back to make it a museum.. To fill it with DEAD THINGS.
In reality the authorities are still furious.. that an open Social Centre can work well for years and years.. outside their control, ignoring all their rules and regulations and police, seeking no grants, deciding all by open assembly, making no profits, creating a small FREE SPACE where creativity
explodes like the beans in Spring.. and worst of all.. demonstrating that anarchist ideas can work.
Only last week the classic Occupied Center 'La Morada' was evicted by the police with no eviction order and 32 arrests.
Below we translate the Communique from the female Dragon Collective and assembly which appeared on Twitter  #LaDragonaResiste
---
Translation of statement by Assembly of ESOA La Dragona
Eviction Threat to ESOA La Dragona in Madrid
The Dragona Collective was informed by The City Council that they "must and want to repossess the Occupied Center by September". (That's when the lease to a company, Funespaña, runs out).They ordered us to abandon the building and hand over the keys, adding that we could form a legal Association and apply to use the place, although they have other plans.
They want to transform us into a Museum for old Funeral Carriages.
The position of ESOA La Dragona is quite clear
We reject the 'right' of Councils,  States, governments or any authoritarian agency to use their power and dominion against Self-run Occupied Social Centers.
We see occupation as a means, not an end: to occupy is not just getting a place to live or transforming abandoned buildings, occupying is a way for us to fight back against private property and the abuse of power by those who try with blackmail to intimidate us and control our Movements.
Occupying is one of the ways that ideas like equality, solidarity and direct action can be put into practice without intermediaries.. it's a way to materialise our actions and our ideas
ten, a hundred.. a thousand Occupied Social Centers!
an eviction… another Occupation!
Assembly of ESOA La Dragona.. May 2016
Comunicado breve del E.S.O.A La dragona.En breves sacamos uno extenso explicando toda la situación. #LaDragonaResiste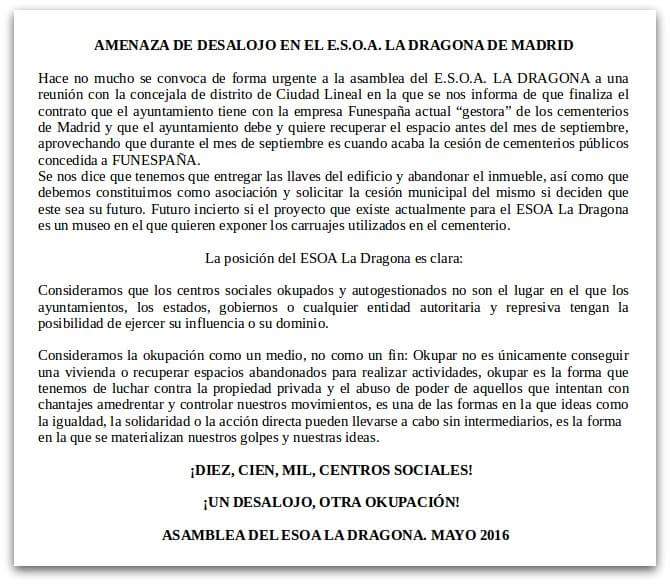 Ante los actuales chantajes de las instituciones al ESOA La Dragona para que ceda el espacio al ayuntamiento entregándoles las llaves bajo sus condiciones y evitándose así el desalojo violento de un centro social político que ensuciaría su imagen pública al mostrar las verdaderas intenciones históricas de la izquierda institucional de querer controlar a todas las personas que se organizan de forma horizontal al margen del estado (como ya demostró el ayuntamiento del "cambio"con los
compas titiriteros). Desde el CSO La Gatonera manifestamos nuestro apoyo de no negociar ni ceder ante ninguna oferta/chantaje por parte de ninguna institución,de mantenerse autónomos respecto a cualquier partido político, el estado y el capital. Animamos a defender la okupación ya  no solo como necesidad, sino también como elemento de lucha contra el robo que es la propiedad privada.
¡¡Los espacios para quienes los utilizan y socializan!!
¡¡Las viviendas para quienes las habitan!!
¡¡CONTRA TODA AUTORIDAD!!
CSO LA GATONERA
---
---