The poet Ilhan Çomak has been sentenced to life imprisonment for the second time       translated from Kurdis Cat
 Çomak, who has published three books of poetry, during his 22 years in prison. He was captured by Turkish police in 1994 when he was studying geography in Istanbul. He was tortured and isolated for sixteen days.
Statements were signed under torture and presented as "evidence" of Turkish "separatism." But there has never been any conclusive evidence of political activity, Çomak was sentenced to life imprisonment six years later.
---
"Ilhan's case is one amongst thousands of cases of blatant racist persecution of the 20 million Kurdish minority and all aspects of their culture and language".
Ilhan Çomak has published four books of poems from prison  namely Gitmeler Çiçek Kurusu (Separations are Dried Flowers), Açık Deniz (the open sea), Günaydın Yeryüzü (Good Morning Earth) and Kedilerin Yazdığı İlahi (The Divine Written by The Cats).
---
The poet took his case to the European Court of Human Rights. This, in 2007, forced Turkey to make a fair trial alleging that the first was not 'clean'. It was not until 2013 that the Turkish government agreed to review the case (six years after the judgment of the ECHR). Still, the review of the trial was postponed again in 2014, 2015 and 2016.
The trial started yesterday with new examples of bias.
For a start Ilhan Çomak could not even present. He was denied the right to appear at his own trial.
His lawyers denounced the "bias" of the members of the court and defense witnesses were prohibited.
Among the lawyers was Sinan Zincir, co president of the Istanbul Liberal Bar Association who told the court: "You are running a colonial law and should not be allowed to handle this case. Get your hands off this case."
With the speed normal for pre-ordained judgements Ilhan Çomak was sentenced once again to life imprisonment.
---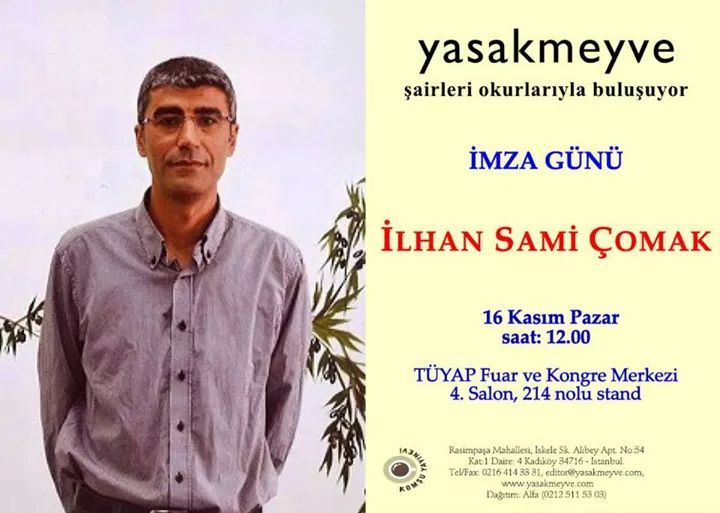 Biography
He was born in 1973 in Karliova town of Bingöl province. After completing his primary, secondary and high school education in Bingol, he enrolled in The Faculty of Letters Department of Geography at Istanbul University in 1992. He was detained in 1994 and imprisoned. Mr Çomak is on remand for the last 21 years in prison. He writes poems in Turkish as well as in his mother tongue Kurdish. He has four published poetry books namely Gitmeler Çiçek Kurusu (Seperations are Dried Flowers), Açık Deniz (the open sea), Günaydın Yeryüzü (Good Morning Earth) and Kedilerin Yazdığı İlahi (The Divine Written by The Cats).
---
Çomak, qui ha publicat tres llibres de poesia, du 22 anys a la presó. Fou capturat per la policia turca l'any 1994 quan era estudiant de geografia a Istanbul. Va ser torturat i aïllat setze dies. De les declaracions sota tortura van sorgir les "proves" turques de "separatisme". Sense cap evidència concloent d'activitat política, Çomak fou condemnat a cadena perpètua sis anys més tard.
El poeta va dur el seu cas al Tribunal Europeu de Drets Humans. Aquest, l'any 2007, va obligar a Turquia a realitzar un judici just al·legant que el primer no havia estat net. No fou fins l'any 2013 que el govern turc va accedir a revisar el cas (sis anys després de la sentència del TEDH). Encara així, la revisió del judici es va anar posposant el 2014, 2015 i 2016.
El judici va iniciar-se ahir amb noves mostres de parcialitat. Ilhan Çomak no va poder ser present. Li neguen el dret a personar-se al seu propi judici. Els seus advocats van denunciar la "parcialitat" dels membres del tribunal i els testimonis de la defensa foren denegats.
Entre ells Sinan Zincir, co president de l'Associació d'Advocats Liberals d'Istanbul qui va dir al tribunal: "Vostès estan executant una llei colonial i no poden gestionar el cas. Treguin les seves mans d'aquest cas". Amb una rapidesa pròpia dels judicis pre fabricats Çomak fou condemnat a cadena perpètua.
related Posts