the occupation begins!
 from   The Rebellion of Words, translation The Free
We received the following statement, written by the compañerxs of   Contra Madriz in response to the attacks that are being suffered by some squatter social centers in Madrid by the new city council of Madrid, which presumes to be "the change", of "Alternative" and "rebel", "belligerent" with the market logic that nevertheless defends in practice the interests and properties of gangsters, speculators and bankers who increase their privileges through evictions, corruption and deception, and repress people who do not conform to their norms in increasingly gentrified neighborhoods.
"Against the metropolis of the rich and speculation, against false critics and their blackmail from left or right, for self-management and recovery of our lives. Our squatting will never be legalized …
————–
In defense of squatting, against the state and private property …
We are witnessing a time when, in several cities of so called Kingdom of Spain, mainly in Madrid, the different regional or municipal governments  are unleashing offensives against the squatting of empty buildings. This offensive is more specifically against political occupation, that is to say against occupied political spaces that not only seek to combat in one way or another the economic regime and private property, but also also want to confront the established powers and refuse to negotiate with them.
This, of course, does not mean that the occupation that does not develop a concrete political activity and that mainly seeks to meet the needs of roof and shelter of those who carry it out is not also persecuted. It simply happens that, in the case of Madrid at least, the government has a greater interest in controlling or obliterating the activity of 'okupa' squatters and social centers.
It is a peculiar and paradigmatic case that begs a number of questions: one, being the capital of the rancid and fascistic kingdom of Spain, it has the most mediatic focus and is taken by the other local governments as one of the possible references to follow. Another is the peculiarity, very paradoxical indeed, that it is the new local  "government of change" making more efforts to end political squatting than the previous Rightist Council.
Everything that the totalitarian local government of Mrs. Carmena can not control must be suppressed. The municipality of Madrid democratically invites the squatters to sit at a table and negotiate. In exchange for the  council being part of the management of the okupied center,  it would have regularizations and facilities of course, wiould have to meet the rules and regulations  dictated from power). Whoever does not want to negotiate with the authoritarians (that is, with those who defend and exercise authority and power) must abide by the consequences.
And in the very noble town of Madrid the consequences are:
1) Occupied Social Center (CSO ) La Enredadera has been threatened with eviction. Since the city council can not assert its power over this social center, since it is not  its property, it offers to co-manage it together with the assembly of the same. As the CSO has refused to consider such a thing, there is a threat of eviction and closure.
2) The CSO La Dragona, located on municipal land already has eviction date: November 23. This is another center that refused the offer of a similar cooptation to that made to the Enredadera.
3) ESLA El Eko, was raided by the local police of Madrid, who extracted the lock and  entered the interior with municipal technicians to carry out an inspection by force. All this without warning anyone, in the purest style of the Franco regime. When they finished, they changed the lock and of course they did not give the keys to those responsible for the ESLA since they "are not the propietors". ….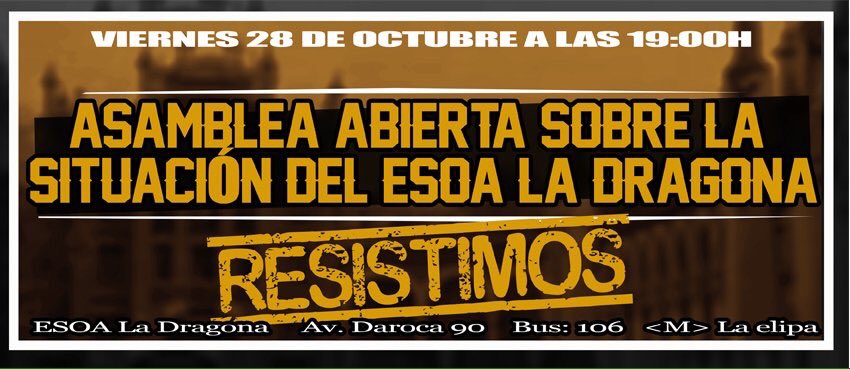 Curiously, all the affected CSOs have been refusing to negotiate with the municipal 'government of change', which claim to be oh so progressive, very anti-system, the same one that wanted to "attack the institutions to put them at the service of the people" (in words said by nº 3 of Ahora Madrid' (Now Madrid) on 03/29/2015 at a public event in Manoteras). ,,,  And new managers of the rot and the state launch their totalitarian tentacles against all those people who do not want to go through the institutional ring or masturbate with democracy, wielded by the new dictators as a magic wand that solves everything……
Nothing new under the sun, same dogs with other collars. Meanwhile this gentuza of the power does what it has to do, to disarticulate, or to try, those who do not want neither capitalism nor  patriarchy, nor to the State or its disgusting institutions……
All our support to La Enredadera, La Dragona and the social centers that struggle and that, therefore, seek without compromise with the power and without democratic procedures a different life, although many times we may not agree with their approaches or how they carry them out. What we agree on is to defend autonomy, self-organization, anti-authoritarianism and direct action.
So here we add our grain of sand to defend these spaces of autonomy and learning, to end Power and Authority and to crush their social organization and proclaim Anarchy. The Enre cannot be touched, solidarity with The Dragon. Okupar is a necessity and a tool to fight against private property, money, merchandise and the Power that encourages, protects and manages them. Long live Anarchy.
from Contra  Madriz
---
original en castellano
Comunicado "En defensa de la okupación, contra el Estado y la propiedad privada…" (por Contra  Madriz)
Recibo en el correo electrónico y difundo el siguiente comunicado, redactado por lxs compañerxs de ContraMadriz en respuesta a los ataques que están sufriendo algunos centros sociales okupados de Madrid por parte del nuevo ayuntamiento de Ahora Madrid, que presume de ser "el cambio", de "alternativo" y de "rebelde", de "beligerante" con las lógicas de mercado que sin embargo defiende en la práctica, protegiendo los intereses y propiedades de mafiosos, especuladores y banqueros que aumentan sus privilegios mediante desahucios, corruptelas y engaños, y reprimen a las personas que no se ajustan a sus normas en barrios cada vez más gentrificados.
Contra las metrópolis de los ricos y la especulación, contra los falsos críticos y sus chantajes sean de izquierdas o de derechas, por la autogestión y la recuperación de nuestras vidas. La okupación nunca será legalizada…
—————————————-
En defensa de la okupación, contra el Estado y la propiedad privada…
Asistimos a unos tiempos en los que en varias ciudades del auto denominado Reino de España, principalmente en Madrid, los distintos gobiernos regionales o municipales desatan ofensivas contra la okupación de inmuebles vacíos. Esta ofensiva se desata, más concretamente, contra la ocupación política, es decir contra los espacios políticos ocupados que no sólo buscan combatir de un modo u otro el régimen económico y de propiedad privada sino que además también quieren plantarle cara al poder establecido y rechazan negociar con él.
Esto, por supuesto, no significa, que la ocupación que no desarrolla una actividad política concreta y que busca, principalmente, atender las necesidades de techo y cobijo de quienes la realizan no sea también perseguida. Simplemente ocurre que, en el caso de Madrid por lo menos, el consistorio tiene un mayor interés en controlar o anular la actividad de las okupas y los centros sociales.
Es el foro caso peculiar y paradigmático por diversas cuestiones: una, al ser la capital del rancio y fascistizante reino de España, es el foco más mediático y se le toma por los demás poderes locales como una de las referencias posibles a seguir.
Otra es la particularidad, muy paradójica por cierto, que consiste en que el "gobierno del cambio" esté haciendo más esfuerzos en acabar con la okupación política (desligándola además de la "subsistencial" la cual tratan de afrontar de otra manera) que sus anteriores correligionarios derechistas.
Todo lo que el totalitario gobierno local de la sra Carmena no puede controlar, ha de ser suprimido. El ayuntamiento madrileño invita democráticamente a las okupas a sentarse en una mesa y a negociar. A cambio de que el consistorio entre a formar parte de la gestión del centro okupado, éste tendrá regularizaciones y facilidades (claro, cumplirá las normas dictadas desde el poder).
Quien no quiera negociar con l@s autoritari@s (esto es, con quienes defienden y ejercen la autoridad y el poder) han de atenerse a las consecuencias. Y en la muy noble villa de Madrid las consecuencias están siendo:
1) El CSO La Enredadera ha sido amenazado con el precinto. Dado que el ayuntamiento no puede hacer valer su poder sobre este centro social, al no ser el edificio de su propiedad, le ofrece pasar a co-gestionarlo junto con la asamblea del mismo. Como el CSO se ha negado a tal cosa, amenaza de precinto y clausura.
2) El CSO La Dragona, ubicado en terrenos municipales ya tiene fecha de desalojo: 23 de noviembre. Otro centro que se negó a la oferta del consistorio, la misma que hizo a la Enredadera.
3) El ESLA El Eko, fue allanado por la policía local de Madrid, quien extrayendo la cerradura entró al interior del mismo junto con técnicos municipales para realizar por la fuerza una inspección. Todo esto sin avisar a nadie, al más puro estilo del franquismo. Al terminar, cambiaron la cerradura y cómo es lógico no le dieron las llaves a l@s responsables del ESLA dedo que ell@s "no son la propiedad". Y eso que por este centro pasan y tienen  protagonismo algunas personas afines al ideario del Partido del Poder, Ahora Madrid.
Curiosamente, todos los CSO afectados se han venido negando a negociar con el gobierno municipal del cambio, muy progresista, muy antisistema, el mismo que quería "asaltar las instituciones para ponerlas al servicio de la gente" (en palabras dichas por el nº 3 de Ahora Madrid el 29/03/2015 en acto público en Manoteras).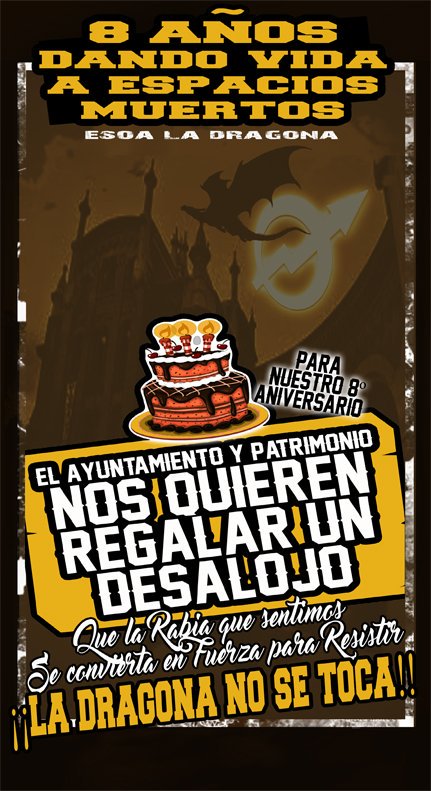 Así se ve como, con el mismo glamour y talante, no ya de Venezuela (el tic aburrido de la derecha para criticar a sus colegas demócratas de la bancada de enfrente en el Congreso), sino de Korea del Norte, estos regeneradores de la miseria y nuevos gestores de la podredumbre y del Estado lanzan sus tentáculos totalitarios contra toda aquella gente que no quiere pasar por el aro institucional ni masturbarse con la democracia, esgrimida por los nuevos dictadores como varita mágica que todo lo soluciona.
Nada nuevo bajo el sol, mismos perros con otros collares. Mientras tanto esta gentuza del poder hace lo que tiene que hacer, desarticular, o intentarlo, a quienes no quieren ni al capitalismo, ni al patriarcado, ni al Estado ni a sus asquerosas instituciones.
La anteriora dictador democrática, señora Botella, entre otras muchas cosas, intentó precintar el CSOA La Gatonera… no se atrevió, la jueza Carmena quiere ir una tras otra a por las okupaciones que no quieren saber nada con la democracia y si con un mundo nuevo en el que no quepa la autoridad. De una gestora empresarial no se puede esperar otra cosa, tampoco de una antigua jueza de vigilancia penitenciaria, mujer de orden como tod@s los jueces y juezas.
Para esta gente del Poder, del cambio, cambiar las cosas es poner banderitas de colores en el balcón del ayuntamiento, pancartitas de "Refugees welcome" o proponer a "reyes magos trans" en la cabalgata de navidad, mientras denuncian a titiriteros que propagan con sus obras las injusticias reinantes, desalojan casas okupadas o le venden edificios vacíos a magnates para que hagan parkings y centros comerciales.
Esta gente no entiende o no quiere entender que desde el poder, l@s conservador@s se inmovilizan y l@s progresistas lo cambian todo para que nada cambie, y desconocen o quieren desconocer que el único cambio posible se realiza desde abajo, desde afuera y en contra del poder; destruyéndolo, aniquilándolo.
Todo nuestro apoyo a La Enredadera, La Dragona y a los centros sociales que luchan y que, por lo tanto, buscan sin compromisos con el poder y sin procedimientos democráticos una vida diferente, aunque muchas veces podamos no estar de acuerdo con sus planteamientos o en cómo los lleven a cabo. En lo que si estamos de acuerdo es en defender la autonomía, la auto-organización, el anti-autoritarismo y la acción directa.
Pongamos nuestro granito de arena para defender estos espacios de autonomía y aprendizaje, para acabar con el Poder y la Autoridad y para aplastar la organización social y proclamar la Anarquía. La Enre no se toca, solidaridad con La Dragona. Okupar es una necesidad y una herramienta de lucha contra la propiedad privada, el dinero, la mercancía y el Poder que las alienta, protege y administra. Viva la Anarquía.
Contramadriz octubre 2016
Otra actuacion en el Raval de matones contratados por propietario para desahuciar a una familia
Por Asamblea Raval   Gracias a la reacción rápida, se ha conseguido parar el desahucio legal y por la fuerza.  Otra actuacion en el Raval de matones contratados por propietario para desahuciar a una familia en el C/ del Carme 61 Gracias al aviso de un vecino a gente de la red se ha activado la alarma sobre las 16,30h y se ha visto a un grupo de la empresa STM colocando en el portal de la calle una puerta antiokupa. Han cambiado la cerradura de la puerta y han roto el interfono.Gracias a la presencia de gente y a la alerta se han presentado los mossos que no han identificado a los matones ni han dado ninguna información. También han llegado consellers del districte y de la Oficina d'habitatge. Tras esta situación, han desmontado la puerta, se la han llevado y se han retirado. Hemos podido saber que habia gente en el piso y que se han negado a salir a pesar de las amenazas y que les han roto el móvil y alguna propiedad más. Se les ha animado a presentar denuncia y no sabemos si lo harán. Gracias a la reacción rápida, se ha conseguido parar el desahucio legal y por la fuerza. Ánimos.