The song "Hwages" ("Concerns") by the Saudi singer Majed Al-Esa is making waves in the Wahhabi kingdom, having hit over 2 million views on YouTube in just over a week.
In the first part of the video, women wearing niqabs (a veil, usually black, that covers the face while leaving the eyes uncovered) get in the back of a car, leaving the passenger seat at the front empty, while the vehicle is driven by a young boy.
 The women clap their hands and sing an Arabic expression that roughly means, "If only God would rid us of men!", a somewhat obsolete phrase that is mostly used in the very conservative region of Al-Qassim, north of the capital Riyadh.
In the video, the women dance, skate, and play basketball, and the lyrics become even more overtly provocative, with the women singing,"Men make us mentally ill" and "They're making us go crazy".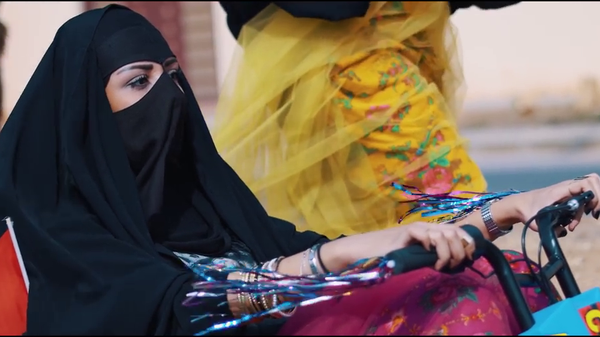 One scene parodies the White House press room, as a cardboard cut-out of president-elect Donald Trump looms behind the podium of the president. The sign on the lectern reads, "House of Men". Deliberately misogynist signs and placards with pictures of women with big crosses over their faces wave in the audience.
In another scene, the women ride bumper cars at a fairground (women are forbidden to drive in Saudi Arabia) and go bowling, knocking down bowling pins adorned with men's faces.
In the second half of the video, the song's rhythm changes and the dialect that the women are singing in changes from the Al-Qassim region to a Saudi Bedouin dialect. They sing several phrases from an old Bedouin song.
On social media, Saudis are flocking to praise the new tune from the creator of the 'Barbs dance', a highly addictive dance that came out in April 2016 and was also seen as provocative and immoral in the eyes of conservative Saudi leaders.
>> READ ON THE OBSERVERS: The "barbs", the Saudi dance trend sweeping the Arab world
A Twitter user posts a series of key images from the video showing women free to do what they want on the roads.
"Majed Al-Issa supports the fight of women all over the world", says a Twitter user.
"The Saudi artist Majed Al-Issa breaks stereotypes of women in a new video. Whether you like it or not, watch it!"
---
ARTICLE WRITTEN WITH