Now is the best moment to resist the slide into Fascism and
Genocide in Turkey. President Erdogan is already a 'de facto' dictator, already showing symptoms of megalomania. Buoyed by a far right populist party, a racist anti Kurdish blitz and the biggest purge of suspected opposition since Josef Stalin, Erdogan will hold a referendum on April 16th to grant him total power. Who dares to  vote against him? After that we will have a militant Fascist State in Europe. Erdogan will have "legitimacy" to bring back the death penalty for those suspected of insulting him, and embark on a serious genocide of the millions of progressive left and Kurdish youth, etc..
154th journalist imprisoned in Turkey by Erdogan
Asli Ceren Aslan, editor of the newspaper Özgür Gelecek (Free Future) was arrested on 9 February in the province of Urfa province, Kurdish southeast of Turkey. She was "officially" arrested in Urfa, near the border with Syria while following the events in Syria and Rojava Kurdistan.
She is accused of "violating the border" and being "a member of an illegal organization." Aslan refuted accusations by saying that it was her work as a journalist
Her lawyer has complained that she was beaten during her detention and forced to undress. Now she has been jailed in the prison of Type 2 in Urfa. There are already 154 journalists in prison in Turkey under Erdogan.  shared from KurdisCat with thanks 
see also.. Turkey jails 77 journalists, fires 28 Kurdish mayors and sacks 11,285 Kurdish teachers
 Fascism in Action: Waves of 800 dawn Arrests of Left, Feminist and pro-Kurdish 
Tear gas and water cannon being criminally used in a confined space to attack demonstrators for freedom of expression in Turkey . 04/03/2016 By now all independent media, unions, school, universities, etc have been muzzled or closed down,  with hundreds of thousands losing their jobs or jailed without trial 174 journalists jailed, leading up to a Referendum on April 16th 2017 to ratify dictatorial powers for President Erdogan.

.
---
 Damning UN report slams Turkey, revealing the extent of its anti-Kurdish war
These images above are not from World War 2. They show Kurdish-populated cities in Turkey, destroyed by NATO's second biggest army. A military that Britain continues to      
arm
. And now, a
report
from the Office of the United Nations High Commissioner for Human Rights has condemned the Turkish state for its devastating assault on hundreds of thousands of Kurds.
Thousands killed
The report begins by detailing a long list of crimes. Over an 18 month period, until December 2016, the conflict killed an estimated 1,200 local residents in Kurdish communities:
However, the UN report admits this figure is based on limited information, due to restricted access to affected places (see section 7, p3). Hence, the figures are just a sample.
---
Women Women hold a banner reading "Stop Killing Women" and pictures of women killed during a protest to denounce violence against women in Turkey on May 11, 2013 in Ankara. Femicide in Turkey 346 women murdered in 2015  Femicide in Turkey 346 women murdered in 2015 
---
Kurdish cities become moonscapes
The report graphically describes the destruction of Kurdish cities and towns (section 33, p10):
The most intensive period of destruction started… when the authorities reportedly… brought in machinery to raze entire city quarters to the ground, including lightly damaged buildings and cultural heritage. The centres of towns and cities across South-East Turkey have been described as empty moonscapes and vast parking lots.Funerals during Genocide in Cizre
It cites the example of Cizre, where there was (section 79, p24):
reportedly deliberate destruction of evidence through the rushed and complete demolition of areas and buildings in which alleged serious violations of the right to life took place
And in the city of Nusaybin, it says (section 34, p10):
satellite imagery identified 1,786 damaged buildings, 398 of which were completely destroyed, 383 severely damaged, and 1,005 moderately damaged.
Heavy weapons, air-dropped munitions and heavy machinery were all used to destroy these cities.
Thousands of Kurds made internal refugees
The estimated number of displaced people as a result of the conflict ranges from 355,000 to 500,000 (section 47, p14) – "mainly citizens of Kurdish origin".
Displaced people whose property state forces destroyed, meanwhile, have to sign a document saying that it was 'terrorists' who were responsible for the destruction, or they receive no financial compensation (section 39, p12).
photos from Cizre seige
Post-coup attempt 'purges' continue indefinitely
The report also examines conditions since the start of the post-coup purge in 2016. For example, the removal from office of democratically elected officials (section 81, p24):
Other significant concerns include the use of counter-terrorism legislation to remove from office democratically elected officials of Kurdish origin; the severe curtailment and harassment of independent journalists; the closure of independent and Kurdish language media and citizens' associations; and the massive dismissals of civil servants, including teachers, on unclear grounds and without due process.
Recommendations
The report makes a number of recommendations, such as how the open-ended, 24-hour curfews should end immediately (section 86, p24). And how the Turkish authorities should (section 94, p25):
Carry out an independent review of the effects and extent of the counter-terrorism legislation… which result in severe limitations upon the work of journalists and academics; the closure of Kurdish language media; citizens' associations and universities.

Protest against Turkish govt state terrorism on Kurds in town of Cizre
Most significantly, the report recommends (section 95, p25):
The big question now is, will NATO and the EU also condemn Turkey for the repression of its Kurdish communities? Or will they simply continue to turn a blind eye and allow this repression to escalate even further?
Get involved!
– See more on Turkey at The Canary Global.
– Donate to the Rojava Plan (to support the system of self-government in place in northern Syria).
– Join at least 400,000 Brits who have cancelled holidays in Turkey, and support the boycott campaign here.
Featured image via Kurdish Question/Twitter
---
Artist given 2 years' jail for painting destruction in Kurdish town of Nusaybin
another disgraceful example among tens of thousands of arbitrary jailings.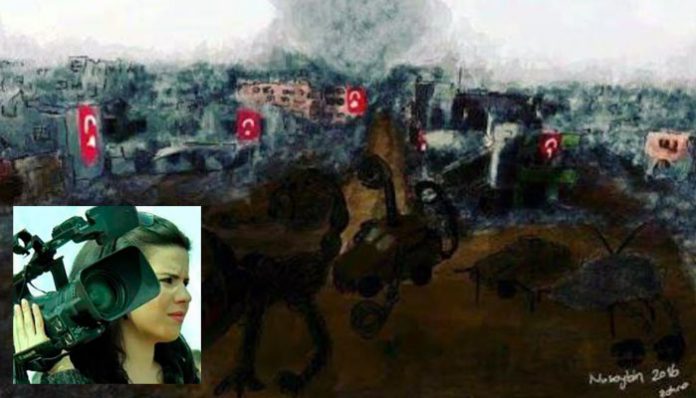 original photos of the Turkish terror pogrom in Nusaybin clearly show Turkish flags hung by the army on the destroyed homes.
By  TM    Zehra Doğan, a Turkish painter and reporter for the now-closed Dicle news agency, has been given a prison sentence of two years, nine months, 22 days for painting the destruction caused by operations carried out in the Nusaybin district of Mardin province by Turkish security forces against the Kurdistan Workers' Party (PKK).
see also.. Genocide in Europe: Nusaybin surrenders after 74 days ..in total ruins and  deafening silence
"I was given two years and 10 months [jail time] only because I painted Turkish flags on destroyed buildings. However, they [Turkish government] caused this. I only painted it," Doğan said in a tweet she posted on Monday. According to the Cumhuriyet daily, the Mardin 2nd High Criminal Court handed down the sentence to Cemal on the grounds that she drew Turkish flags on buildings destroyed by Turkish forces. However, Doğan said in her defense that she made the paintings and posted them on social media without any political comments…
---
---
---
Related Posts