The  referendum in Turkey is to give the president Erdogan nearly total dictatorial powers. But can a Fascist Dictator really  be Elected?
YES because in this case Erdogan has already seized dictatorial powers.. he's supposed to be a generally symbolic president yet see below  the endless list of atrocities he has ordered.
But is he a fascist? Well, he is the absolute power in the populist far right AKP party which advocates extermination of 18 million kurds and the creation of an Ottoman Empire.
Though he screams and bullies abroad he is at home a master manipulator, head of a criminal family and business mafia, adept at abusing nationalist, sexist  and racial prejudices and feelings of resentment (even working class resentment against rich europeans) to whip up frenzied mob fervour and pursue witch-hunts against Kurds, leftists, feminists, Gulanists, minorities and anyone who dares to criticize him (or is a friend or family of any of the above).
Is this fascism.. in my definition YES. The referendum in this climate is a black joke, with every kind of pressure imaginable against No campaigners, with zero international observers coming, and with the most recent elections in Nov 2015 described as 'stinking of mass fraud'.
It may now be too late to resist the slide into Fascism and
Genocide in Turkey. President Erdogan is already a 'de facto' dictator, already showing symptoms of megalomania. Buoyed by a far right populist party, a racist anti Kurdish blitz and the biggest purge of suspected opposition since Josef Stalin, Erdogan  holds a referendum on April 16th to grant him total power.
Who dares to  vote against him? After that we will have a militant Fascist State in Europe until aat least 2029. Erdogan will have "legitimacy" to bring back the death penalty for those suspected of insulting him, and embark on a serious genocide of the millions of progressive left and Kurdish youth, etc..
Sara Kaya the Kurdish mayoress of Nusaybin now jailed in Solitary without trial 
---
Turkey's Election Results  of Nov 3rd 2015 Stink of Fraud
Turkish political analysts attribute Erdoğan's cheating quotient at around 5 percent — that takes into account stuffed ballots, shenanigans on the state-run Turkish Airlines as it transports ballots from abroad, disappeared ballot boxes from opposition-run towns and districts, and pretty much everything involving the mayor of Ankara. In the case of Sunday's elections, it appears that Erdoğan's AKP won the votes of hundreds of thousands of dead people.
---
154th journalist imprisoned in Turkey by Erdogan
Asli Ceren Aslan, editor of the newspaper Özgür Gelecek (Free Future) was arrested on 9 February in the province of Urfa province, Kurdish southeast of Turkey. She was "officially" arrested in Urfa, near the border with Syria while following the events in Syria and Rojava Kurdistan.
---
Fascism in Action: Waves of 800 dawn Arrests of Left, Feminist and pro-Kurdish
800  more pro-Kurdish, feminist and left-wing civilians were detained in Turkey in just 48 hours. Meanwhile theTurkish state is receiving billions from European taxpayers in blackmail money to not to send refugees North.
---
Tear gas and water cannon being criminally used in a confined space to attack demonstrators for freedom of expression in Turkey . 04/03/2016 By now all independent media, unions, school, universities, etc have been muzzled or closed down,  with hundreds of thousands losing their jobs or jailed without trial 174 journalists jailed, leading up to a Referendum on April 16th 2017 to ratify dictatorial powers for President Erdogan..
---
Damning UN report slams Turkey, revealing the extent of its anti-Kurdish war
These images above are not from World War 2. They show Kurdish-populated cities in Turkey, destroyed by NATO's second biggest army. A military that Britain continues to      
arm
. And now, a
report
from the Office of the United Nations High Commissioner for Human Rights has condemned the Turkish state for its devastating assault on hundreds of thousands of Kurds.
The report begins by detailing a long list of crimes. Over an 18 month period, until December 2016, the conflict killed an estimated 1,200 local residents in Kurdish communities:
However, the UN report admits this figure is based on limited information, due to restricted access to affected places (see section 7, p3). Hence, the figures are just a sample.
---
Women Women hold a banner reading "Stop Killing Women" and pictures of women killed during a protest to denounce violence against women in Turkey on May 11, 2013 in Ankara. Femicide in Turkey 346 women murdered in 2015  Femicide in Turkey 346 women murdered in 2015 
---
Kurdish cities become moonscapes
The report graphically describes the destruction of Kurdish cities and towns (section 33, p10):
The most intensive period of destruction started… when the authorities reportedly… brought in machinery to raze entire city quarters to the ground, including lightly damaged buildings and cultural heritage. The centres of towns and cities across South-East Turkey have been described as empty moonscapes and vast parking lots.Funerals during Genocide in Cizre
It cites the example of Cizre, where there was (section 79, p24):
reportedly deliberate destruction of evidence through the rushed and complete demolition of areas and buildings in which alleged serious violations of the right to life took place
And in the city of Nusaybin, it says (section 34, p10):
satellite imagery identified 1,786 damaged buildings, 398 of which were completely destroyed, 383 severely damaged, and 1,005 moderately damaged.
Heavy weapons, air-dropped munitions and heavy machinery were all used to destroy these cities.
Hundreds of Thousands of Kurds made internal refugees
The estimated number of displaced people as a result of the conflict ranges from 355,000 to 500,000 (section 47, p14) – "mainly citizens of Kurdish origin".
Displaced people whose property state forces destroyed, meanwhile, have to sign a document saying that it was 'terrorists' who were responsible for the destruction, or they receive no financial compensation (section 39, p12).
photos from Cizre seige
Post-coup attempt 'purges' continue indefinitely
The report also examines conditions since the start of the post-coup purge in 2016. For example, the removal from office of democratically elected officials (section 81, p24):
Other significant concerns include the use of counter-terrorism legislation to remove from office democratically elected officials of Kurdish origin; the severe curtailment and harassment of independent journalists; the closure of independent and Kurdish language media and citizens' associations; and the massive dismissals of civil servants, including teachers, on unclear grounds and without due process.
Artist given 2 years' jail for painting destruction in Kurdish town of Nusaybin
another disgraceful example among tens of thousands of arbitrary jailings.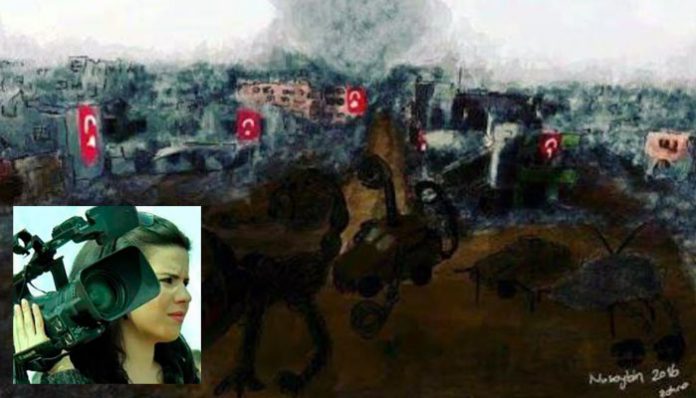 original photos of the Turkish terror pogrom in Nusaybin clearly show Turkish flags hung by the army on the destroyed homes.
---
Feminists Seve, Fatma and Pakiza killed.
---
By  TM    Zehra Doğan, a Turkish painter and reporter for the now-closed Dicle news agency, has been given a prison sentence of two years, nine months, 22 days for painting the destruction caused by operations carried out in the Nusaybin district of Mardin province by Turkish security forces against the Kurdistan Workers' Party (PKK).
see also.. Genocide in Europe: Nusaybin surrenders after 74 days ..in total ruins and  deafening silence
"I was given two years and 10 months [jail time] only because I painted Turkish flags on destroyed buildings. However, they [Turkish government] caused this. I only painted it," Doğan said in a tweet she posted on Monday. According to the Cumhuriyet daily, the Mardin 2nd High Criminal Court handed down the sentence to Cemal on the grounds that she drew Turkish flags on buildings destroyed by Turkish forces. However, Doğan said in her defense that she made the paintings and posted them on social media without any political comments…
---
---
---
---
---
Turkey's government solidify control over military, judiciary, medias, education.
Over 110,000 judges, teachers, police and civil servants suspended or dismissed and 36,000 formally arrested[1]  Over 150.000 people arrested, detained, dismissed. (by March 2017)
---
Closed down
15 universities, 1,043 private schools, 1,229 charities and foundations, 19 trade unions, 35 medical institutions, 16 television channels, 23 radio stations, 45 daily newspapers, 15 magazines and 29 publishing houses were shut down.
---
Dersim massacre of Kurds 1937
13,000 to 70,000 civilians systematically killed…Thousands of Kurds, including women and children were slain; others, mostly children were thrown into the Euphrates; while thousands of others in less hostile areas, who had first been deprived of their cattle and other belongings, were deported to provinces in Central Antolia. It is now stated that the Kurdish question no longer exists in Turkey.
Turkish govt state terrorism on Kurds in town of Cizre
---
Kurdish democracy abolished
The Turkish government has now arrested over 45 co-mayors from the pro-Kurdish Democratic Regions Party (DBP) and has seized the administration of 35 municipalities, replacing 38 Kurdish mayors in eastern Turkey. The DBP won 103 municipalities in the recent local elections, which were held on March 30, 2014, with some repeated on June 1, 2014. However, as Turkey has stepped up political pressure on Kurdish politicians in recent months, the government has appointed trustees to the management of 35 municipalities, arrested 45 co-mayors, and 10 deputies from the pro-Kurdish Peoples' Democratic Party (HDP).