The Ukrainian government accuses of terrorism the Italian music group Banda Bassotti after a solidarity caravan to Donbass  (

ver en catalan mas abajo

)
The executive of Kiev demanded collaboration from various EU governments to arrest and extradite fifty activists who have recently participated in a solidarity caravan to Donesk and Lugansk regions, organized by the famous Roman rock group.
Members of the Banda Bassotti and other activists of the Caravan Antifascist some families of Donbass who distributed the solidarity aid .
by VICTOR SERRI translated from La Directa
Bringing toys to children, doing concerts, showing internationalist solidarity. These are, in the opinion of the Ukrainian government, the crimes of the Antifascist Donbass Caravan organized by the famous Italian musical group Banda Bassotti.
The executive asked Kiev last week, through the Ministry of Foreign Affairs, the active collaboration of the governments of the European Union to arrest and extradite fifty people of Italian, Greek and Spanish origin that, in his opinion, violated Ukrainian anti-terrorism laws: all participants in the latest edition of the Caravan, including the members of .  Banda Bassotti
The antifascist caravan is a project of international solidarity with the people of Donbass ( territory situated to the west of the current republic of Ukraine), created by the musical group Banda Bassotti .
The reasons go back to the events of 2014, when it set up a new government in Kiev thanks to a coup parties "ultra-nationalists and chauvinists, with the support of the EU, NATO and the United States and began violent repression of public protests in the eastern regions of Ukraine "according to Marco Santopadre, journalist of the Roman alternative media  Contropiano.

Delegation of the Antifascist Caravan in the last May Day demonstration in Donesk
It was at that time that Banda Bassotti launched an international appeal to support the people of Donbass, who in the meantime had made popular republics Donetsk and Lugansk. Support was also addressed to all antifascists from all over Ukraine, subject to the repression of the regime. In the first caravan in May 2015 over a hundred activists, libertarian communists and environmentalists took part (many of them Italian).
Among the members of this caravan also appeared Eleonora Forenza, national secretary of the Communist Refoundation Party MEP for the European United Left
This year the caravan could carry only fifty participants, mainly Italian. At the same time, more and more has widened the base: both have participated members of the Trade Union Network Base as Communists.
In addition, among the members of the caravan participants also appeared Eleonora Forenza, national secretary of the Communist Refoundation Party, MEP from the European United Left and member of the New Feminist Collective. Forenza is the first representative of the European Parliament to visit the territories of Eastern autodeclarats independent Ukraine in 2014.
In addition, members were added in September from the Spanish and Catalan Countries (Brigade Rubén Ruíz Ibarruri), two Greek and others from Ukraine, Russia, Germany and Great Britain.
"Medicines, clothes, food, toys …"
One of the young participants from Spain, who prefers to remain anonymous, says the Direct that "the reasons for my involvement has been mainly humanitarian. We wanted to support a civilian hit by conflict, and more We wanted to truly understand what happened without the filter of the media. " According to this testimony detailing the discovery of the caravan was due to the Banda Bassotti and their concerts, which were on promotion.
Before the caravan organized performances and talks to raise funds and materials for orphanages in the Donbass, material which was redistributed in the five days of travel medicine, clothes, food, toys and money collected in the countries of provenance of activists were delivered to the children of two orphanages, wounded in hospitals and a reception centre for refugees of the most bombed.
In addition, organized lectures and discussions with the rector of the National Technical University of Donetsk, the President of the Republic of Lugansk Igor Plotnitsky, and militants of the communist parties in the region. The band also gave two concerts: one of them, this past May Day, after having attended the rally for day workers.
A member of the Banda Bassotti collected toys to give to children in orphanages received the Donbass
It is not the first time the Ukrainian government accuses of terrorism activists, trade unionists and journalists who have shown their solidarity with the people of Donbass, or who have been in these republics without the permission of Kiev, through Russia. Ukrainian authorities claim that these territories are occupied and stolen. "Stolen and occupied by whom? From the same people living there?" Asks Santopadre.
Activist from the state that "columns or symbols of the Russian army is not all. The presence of combatants would be equivalent to the International Brigades: individual and for personal reasons." Santopadre corroborated stating that these have not been battalions of Russian soldiers, according to the current government of Kiev, have occupied the Donbass.
"If the troops of Kiev and the Nazis were unable to take control of the republics of Donetsk and Lugansk it is only because most of the population of this territory has prevented it," he concludes.
by Banda Bassotti in Donbass, Ukraine with the Antifascist convoy
Related News:
Women Donbass: other Ukrainian
Women of Donbass: the other Ukrainians
IRENE ZUGASTI HERVÁS
02/10/2016
A walk Alchevsk, the self-proclaimed Republic of Lugansk in eastern Ukraine, inspires anxiety when you think the
---
original en català
El govern ucraïnès acusa de terrorisme el grup italià Banda Bassotti per una caravana solidària al Donbass
L'executiu de Kíev demana col·laboració a diversos governs de la UE per detenir i extradir una cinquantena d'activistes que han participat recentment en una caravana solidària a les regions de Donesk i Lugansk, organitzada pel conjunt musical romà
Integrants de la Banda Bassoti i altres activistes de la Caravana Antifeixista amb algunes de les famílies del Donbass a qui van repartir ajut solidari
Portar joguines a nenes, fer concerts, mostrar la solidaritat internacionalista. Aquests són, a parer del Govern ucraïnès, els delictes de la Caravana Antifeixista pel Donbass organitzada pel famós grup musical italià Banda Bassotti.
L'executiu de Kíev va demanar la setmana passada, a través del ministeri d'Afers Exteriors, la col·laboració activa dels governs de la Unió Europea per detenir i extradir una cinquantena de persones de procedència italiana, grega i de l'Estat espanyol que, al seu entendre, ha violat les lleis antiterroristes ucraïneses: totes les participants en la darrera edició de la Caravana, entre les quals les membres del grup romà.
La caravana antifeixista és un projecte de solidaritat internacionalista amb les poblacions del Donbass (territori situat a l'Oest de l'actual república d'Ucraïna), creat pel grup musical italià Banda Bassotti. Les raons es remunten als als fets del 2014, quan es va instaurar un nou govern a Kíev, gràcies a un cop d'estat de partits "ultranacionalistes i xovinistes, amb el suport de la UE, l'OTAN i EUA i va començar la repressió amb violència de les protestes ciutadanes en les regions orientals d'Ucraïna" segons Marco Santopadre, periodista del mitjà alternatiu romà Contropiano.
Va ser en aquell moment que la Banda Bassotti va llençar una crida internacional en suport a les poblacions del Donbass, les quals, mentrestant, havien constituït les repúbliques populars del Donetsk i Lugansk. El suport també estava dirigit a totes les antifeixistes d'arreu d'Ucraïna, objecte de la repressió del règim de Kíev. Marco va participar en la primera caravana el maig de 2015 amb més de cent activistes de l'entorn comunista i llibertari (moltes d'elles italianes).
Enguany la caravana ha pogut transportar només una cinquantena de participants, principalment italianes. A la vegada, cada cop ha eixamplat més la base: hi han participat tant membres de la Unió Sindical de Base com de la Xarxa de Comunistes.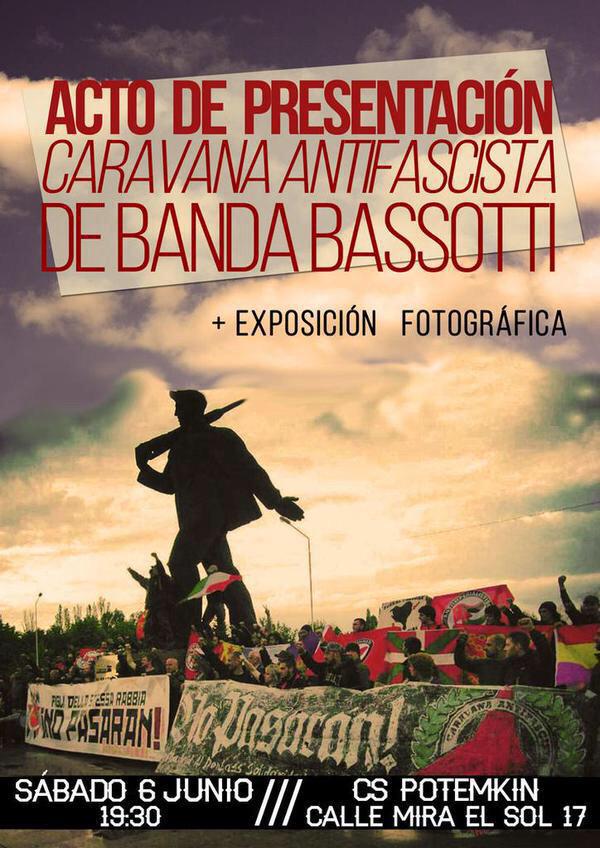 A més, entre les membres de la caravana assistents també hi figurava Eleonora Forenza, secretaria nacional del Partit de Refundació Comunista, europarlamentària per l'Esquerra Unitària Europea i membre del col·lectiu Feministes Noves.
Forenza ha estat la primera representant del parlament europeu a visitar els territoris d'Ucraïna Oriental autodeclarats independents el 2014. A més d'això, s'han afegit set integrants provinents de l'Estat espanyol i els Països Catalans (de la Brigada Rubén Ruíz Ibarruri), dos gregues i altres provinents d'Ucraïna, Rússia, Alemanya i Gran Bretanya.
"Medecines, roba, aliments, joguines…"
Uns dels joves participants de l'Estat espanyol, que prefereix mantenir l'anonimat, explica a la Directa que "els motius de la meva participació han estat principalment humanitaris. Hem volgut donar suport a una població civil colpejada per un conflicte i, a més, volíem entendre realment el que passava, sense els filtres dels mitjans de comunicació". Segons que detalla aquest testimoni, el descobriment de la caravana va ser gràcies a la Banda Bassoti i als seus concerts, on en feien promoció.
Prèviament a la caravana es van organitzar actuacions i xerrades per recollir diners i materials pels orfenats del Donbass, material que va ser redistribuït en els cinc dies de viatge: Medicines, roba, aliments, joguines i diners recollits en els països de provinença de les activistes van ser entregades als infants de dos orfenats, a les ferides als hospitals i a un projecte de casa-acollida per a persones refugiades de les localitats més bombardejades.
A més, es van organitzar xerrades i debats amb el rector de la Universitat Nacional Tècnica de Donetsk, amb el president de la República Popular de Lugansk, Igor Plotnitsky, i amb militants dels partits comunistes de la regió. La banda també va oferir dos concerts: un d'ells, aquest passat Primer de Maig, després d'haver assistit a la manifestació pel dia de les treballadores.
No és la primera vegada que el govern ucraïnès acusa de terrorisme a activistes, sindicalistes i periodistes que han mostrat la seva solidaritat amb les poblacions del Donbass, o que han anat en aquestes repúbliques sense el permís del Kíev, a través de Rússia. Les autoritats d'Ucraïna afirmen que aquests territoris són ocupats i sostrets. "Sostrets i ocupats per part de qui? Dels mateixos que hi vivien?", es pregunta Santopadre.
L'activista provinent de l'Estat assegura que "de columnes o símbols de l'exèrcit rus no es veu res. La presència de combatents seria equivalent a les brigades internacionals: individual i per raons personals". Santopadre ho corrobora tot afirmant que no s'han vist aquests batallons de soldats russos que, segons el govern actual de Kíev, han ocupat el Donbass. "Si les tropes de Kíev i els nazis no han pogut prendre el control de les repúbliques de Donetsk i Lugansk és només perquè la majoria de la població d'aquest territori ho ha impedit", conclou.