After almost 2 years, where all users of FairCoin, have been accustomed to an exchange rate of 0,05€ (20 Faircoin = 1 €), FairCoop' assembly has decided to raise that to 0,0667 € (so now 15 Faircoin = 1 €).
This has been a consensus reached through an open, participatory process of discussion. Not the invisible hands of the market, neither the authoritarian control of a central bank. FairCoin has achieved for the first time the milestone of an open assembly process deciding its exchange rate. We are very happy about this achievement, which shows that there is a different way to self-organize the value of a currency.
see also #faircoop.. Occupying free economy with Anti-money.. #faircoin
So, everybody needs to take the new exchange rate into account when making transactions, using FairCoin, from now on. As you may easily understand, this shift will benefit the entire FairCoop ecosystem and reward all of us who support and cooperate towards a fair economic system.
https://thefreeonline.wordpress.com/2015/08/08/faircoin-takes-off/
However, most importantly, it greatly enhances our common reserve funds to support subversive and radical projects, as well as to expand the structures of the FairCoop ecosystem itself. Of course, our decision was not based solely on subjective criteria, nor was it rushed since it has been discussed for some time in the context of a more comprehensive strategy we are developing.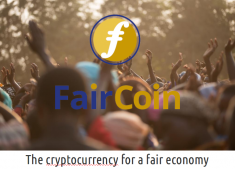 It is well known that FairCoin, compared to many other cryptocurrencies, is quite undervalued and our goal is to gradually acquire its true value, one that will respond to our dynamics.
The FairCoop ecosystem is strengthened and expanded continuously with new tools, members, services, and local nodes.
In addition, the recent course of the currency in cryptocurrency markets (e.g. Bittrex) has demonstrated this increased demand and confidence of the community so, although this is not the most important criteria, it was the best time to move on to this increase to its exchange rate.
Nevertheless, our ultimate goal is to make FairCoin a currency that will stand out from the rest, not for its monetary value, but for its qualitative features such as:
Stability of its price so that it continues to be a currency for our daily transactions, and not a profit-making tool exploited by the few.
Support by its users and the FairCoop ecosystem, which ensures that its value will not fall off in any way.
Direct-democratic and open participation in its formation.
Easy and inexpensive access from all over the world.
We consider this decision to be a milestone on our common course and it certainly fills us with power and will to move forward. Furthermore, we strongly believe that this won't be a singularity to Faircoin course, as its monetary indexes and -mainly- people's support from around the world is getting stronger and stronger every day.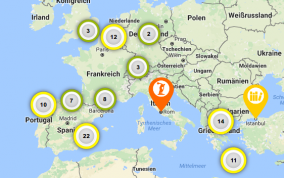 We call everybody who relates to our common values and ethics to join this thriving ecosystem and collaborate with FairCoop(link is external) towards a much fairer economic system.
Submitted by
ras
on 13 May, 2017 – 10:48
---
Faircoin  (from Wikipedia in Spanish)
NOTE: to follow referencees and links , in Spanish HERE:
The FairCoin (abbreviation: FAIR) is a
criptomoneda
created in 2014 by an anonymous developer who, shortly after, abandoned the project. Later, Enric Duran with the help of Thomas König, rescued the coin1 and relaunched it in order to promote a fairer world economy within the framework of another global project called
FairCoop
.
2
3
4
5
Beyond being a cryptomoneda that can be an alternative to the conventional monetary system, 6 Faircoin also intends to contribute to the creation of a cooperative global ecosystem capable of being an alternative to capitalism, generating economic justice in the relations between people, groups, cooperatives and organizations Non-profit organization.7 8 9It is from the collaboration between actors related to these initiatives that the aim is to revalue this currency until it reaches a value that allows it to be useful at the level of global exchanges and, therefore, to be able to build another economic system. 10
Contents [hide]
1 Origin
2 Relationship between Faircoin and FairCoop
3 Features of Faircoin
4 References
5 External links
Origin [edit]
Faircoin was created in March of 2014 by an anonymous developer, who disengaged of her to the few weeks. In April 2014, Enric Duran retrieved it with the help of Thomas König, an experienced computer developer and in May 2014 Faircoin was taken over by the community.
Thus, 50 million faircoins were created and during the 6th and 8th of March12 they were distributed through what is called an airdrop, a massive gift of 1000 FAIR per hour to all people who signed up.13 In this way , Faircoin became the first currency not to be mined at first, but was evenly distributed to promote equality over financial possibilities. Even so, obviously, the airdrop system through an Internet forum had a very limited scope and therefore it can not be said that the initial distribution was efficient in its intention of equity.11
Relationship between Faircoin and FairCoop [edit]
With the rescue of this currency, Enric Duran obtained a fundamental piece on which to construct another project of global character called FairCoop, an open cooperative, of world-wide scope, that organizes itself through Internet outside the limits and controls of the states- Nations. 14 To achieve its purposes, FairCoop is also marching through a number of resources to work with faircoins, such as Faircredit, Fairfunds, Fairsaving, FairStarts and Fairmarket.15 16
Currently FairCoop i
s betting on Faircoin as a criptomoneda on which to base its actions of redistribution of resources and construction of a new global economic system17 because it understands that the transformation towards a fairer monetary system is a key element in its path.
Just what makes Faircoin different from other currencies and criptomonedas is its specific use as a tool for FairCoop, that is, as a cryptomonet designed to act as FairCoop's value reserve and the redistribution of its capital in socially and environmentally coherent projects , Such as: 19 20
5,000,000 faircoins to the bottom of the Global South
2,500,000 faircoins to the Commons
1,500,000 faircoins to the technological infrastructure fund
1,000,000 faircoins to the pool
Features of Faircoin [edit]
The Cryptomoneda Faircoin manages to overcome, through the development of a virtual purse for electronic devices, the limitations of social currencies that are designed for local use and little interconnected until now and, above all, still related to fiduciary money and can Suffer their very own ups and downs.17 22
Faircoin uses a hybrid POW / POS (Proof of Labor – Proof of Participation), but with currency creation 99.99% POS, which makes the faircoins mostly lie, that is, the system works thanks to savings Of all.23
Faircoin is the first ecological cryptonnet because it does not need large computational resources to generate coins since its low compensation for mines (0.001 per block) avoids that there is an energetic waste, since it does not come to account to put mines of high consumption.
At security level, Faircoin serves the block chain25 and every 5 minutes there is a POW block and every 10 minutes a POS block. Thus, the two systems combine to bring out the best in each method. Faircoin has a monetary mass of 50 million coins mined in the first block, distributed initially to all registered persons, thus avoiding that only people with capital or mining resources could access them.26
Mercado Virtual
Fairmarket es el mercado virtual de FairCoop, donde puedes encontrar todos los productos y servicios ofrecidos por los miembros de esta cooperativa.
Cooperativa Abierta
Funciona bajo el concepto de cooperativa abierta: todas las personas pueden fácilmente ser miembros de FairCoop: ssimplemente construyendo tu tienda virtual   con tus bienes y/o servicios, formas parte    del proceso y participas. .
Faircoin
Proponemos Faircoin como la criptomoneda sobre la que basar nuestras acciones de redistribución de recursos, y para construir un  nuevo sistema económico global.