International Action Day against Femicide of Yazidi Women
3 August 2017 marks the 3rd anniversary of the Femicide and Genocide by Islamic State (IS) against Yazidi people in Sinjar/Shengal. 4
On 3 August 2014 IS attacked and captured Sinjar, which is the historical homeland of Yazidis, a Kurdish religious minority whose ancient religion is linked to Zoroastrianism. IS destroyed Yazidi shrines, executed resisters and demanded the residents to swear allegiance or be killed.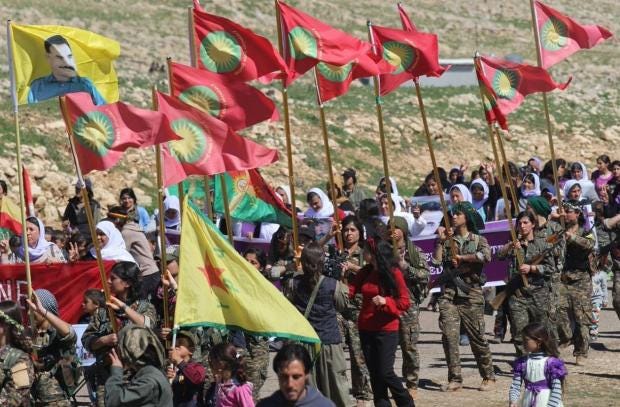 The Sinjar Women's Units was formed in 2015 to protect the Yazidi community in the wake of attacks by Isis
During the IS-massacre in Sinjar up to 5.000 Yazidis were executed. Almost 200.000 people managed to flee. 50.000 Yazidis fled into the Sinjar Mountains, where they were trapped without food, water or medical care, facing starvation and dehydration.
At the same time approximately 5.000 Yazidi women and children were captured. They were appropriated as spoils of war and sold as sex slaves to Muslim men or given to IS commanders. Those who refuse to convert were tortured, raped and eventually murdered.
Babies born in the prison where the women are held were taken from their mothers to an unknown fate. Women allegedly raped by IS fighters have committed suicide by jumping to their death from Mount Sinjar. While a high number of women managed to flee or could be liberated, approximately some 3.000 women are still in IS captivity.

While the campaign of IS against Yazidi people often is described as a massacre, it shows all characteristics of genocide. But additionally IS is carrying out acts of femicide.
Yazidi refugees take shelter in an unfinished building in Dohuk
Kidnapping of Yazidi women as spoils of war, enslavement, systematically rape, forced conversion are not only parts of a systematically war against women, but femicide.
Yazidi people, especially women in Sinjar answered the acts of genocide and feminicide by IS through self-organisation and self-defence. Today Mount Sinjar marks the centre of Yazidi self-organisation through self-defence units, people's and women's councils as expression of their collective will.
But the IS-threat on the Yazidi people in Sinjar is continuing. And still countless women remain in the hands of IS. For their liberation national and international action and solidarity is needed.
Also the UN Special Commission declared in its report released on 16 June 2016 that the incidents that happened in Sinjar amount to genocide and a crime against humanity.
We will continue our struggle until the responsible are tried and pay for their crimes.
Therefore we call for an International Action Day against Femicide and Genocide on the occasion of the 3rd anniversary of the IS-campaign against the Yazidi people in Sinjar on 3rd August 2017 on public spaces and especially in front of UN representations. Because we call on the UN to recognise the Feminicide carried out by IS in Sinjar.
Members of the Kurdish women's movement will organise minutes of silence and protest actions in the different parts of Kurdistan and Europe on that day. We call you to join us and raise the voice of the freedom seeking Yazidi women with your actions that may differ.
---
International Action Day against Femicide of Yazidi Women
… The Yazidi women have overcome their position as victims, and now they are the ones who determine and take control of their destinies organized in the Movement of Free Yazidi Women (TAJÊ), both in Europe and in Sinjar.
The International Yazidi Women's Conference, held on 11 and 12 March in Bielefeld, Germany, has sought to liberate these women and, at the same time, to consolidate the effective international struggle announced on 3 August, Considering it the International Day of Action against  Feminicide.
Sold by IS in Raqa, Yazidi female fighters back for revenge
Femicides affect us all. The systematic death of women by gender is a global phenomenon that includes violence at all levels: physical, mental, economic and also structural violence against women.
Gender-based violence threatens the lives of billions of women throughout the world while their perpetrators remain unpunished , as in the case of all femicides promoted by the Islamic state.
The reason for this is that, unlike genocide, femicides are not treated as a distinct category of murder, both nationally and internationally. The same thing happens in Sinjar.
It is for this reason that we call on the women of the world to declare  3 August as the "International Day of Action against Femicide", to raise our awareness towards the international level towards the women kidnapped, enslaved and murdered in Sinjar.
The Kurdish Women's Movement will start several protests this day and will raise their voices for the freedom of Yazidi women.
We hope you will join us and write us to organize a joint work plan so that we can make public these actions. Organize your own activities in your city and community, register in photo or video said tasks and send them to share in our social networks and we can show the Yazidi women that we are organized worldwide, all together.
[Convocatoria] Día de Acción Internacional contra el feminicidio (03 de Agosto del 2017)
¡¡¡Unamos nuestras fuerzas y hagamos del día 3 de agosto el Día Internacional de Lucha en contra del Feminicidio!!
Este día 3 de agosto de 2017 se recuerda el aniversario del ataque genocida realizado por el autoproclamado Estado Islámico (EI) hacia las poblaciones kurdas Yazidies al norte de Irak en la ciudad de Sinjar.
Iniciado el día 3 de agosto de 2014 dichos ataques causaron una catástrofe humanitaria y, sobretodo, tuvieron como objetivo central el de erradicar a la comunidad yazidi como un todo. El blanco principal fueron las mujeres, quienes fueron sistemáticamente atacadas, lo que hace que este genocidio constituya a su vez un feminicidio.
El día 3 de agosto de 2014 el mundo ha sido testigo del ataque genocida de EI, que ha tenido como objetivo principal la eliminación de una de las más antiguas comunidades religiosas del mundo, los Yazidis….
…,Reportes no oficiales demuestran que más de 5 mil mujeres y niñas fueron secuestradas y vendidas en mercados como esclavas sexuales durante el curso de los ataques.
Estas mujeres y niñas no fueron vendidas solamente en los mercados de Irak y Siria sino que,también, en países como Arabia Saudita, donde aún están cautivas y son explotadas sexualmente….
…Han superado su posición de víctimas, y ahora son quienes determinan y toman el control de sus destinos organizadas en el Movimiento de las Mujeres Yazidies Libres (TAJÊ), tanto en Europa como en Sinjar.
La Conferencia Internacional de las Mujeres Yazidies realizada los días 11 y 12 de marzo de este año en Bielefeld (Alemania), ha buscado liberar a estas mujeres, y al mismo tiempo consolidar la lucha efectiva a nivel internacional anunciada para el día 3 de agosto, considerándolo el Día Internacional de Acción contra el Feminicidio.
Las mujeres Yazidis ahora forman parte de las fuerzas del SDF que luchan contra ISIS
Los feminicidios nos afectan a todas. La muerte sistemática de mujeres por su género constituye un fenómeno global que incluye violencia en todos los niveles: físico, mental, económico y también violencia estructural contra las mujeres.
La violencia de género amenaza la vida de miles de millones de mujeres en todo el mundo mientras que sus perpetradores permanecen impunes y sin castigo, como en el caso de todos los feminicidios promovidos por el estado islámico. La razón de ésto es que, a diferencia del genocidio, los feminicidios no son tratados como una categoría distinta de asesinato, tanto nacional como internacionalmente. Lo mismo pasa en Sinjar.
Es por esta razón que convocamos a las mujeres del mundo para declarar el día 3 de agosto como el "Día Internacional de Acción contra el Feminicidio", para elevar nuestra conciencia hacia el nivel internacional hacia las mujeres secuestradas, esclavizadas y asesinadas en Sinjar. El Movimiento de Mujeres Kurdas iniciará varias protestas este día y alzarán sus voces hacia la libertad de las mujeres yazidis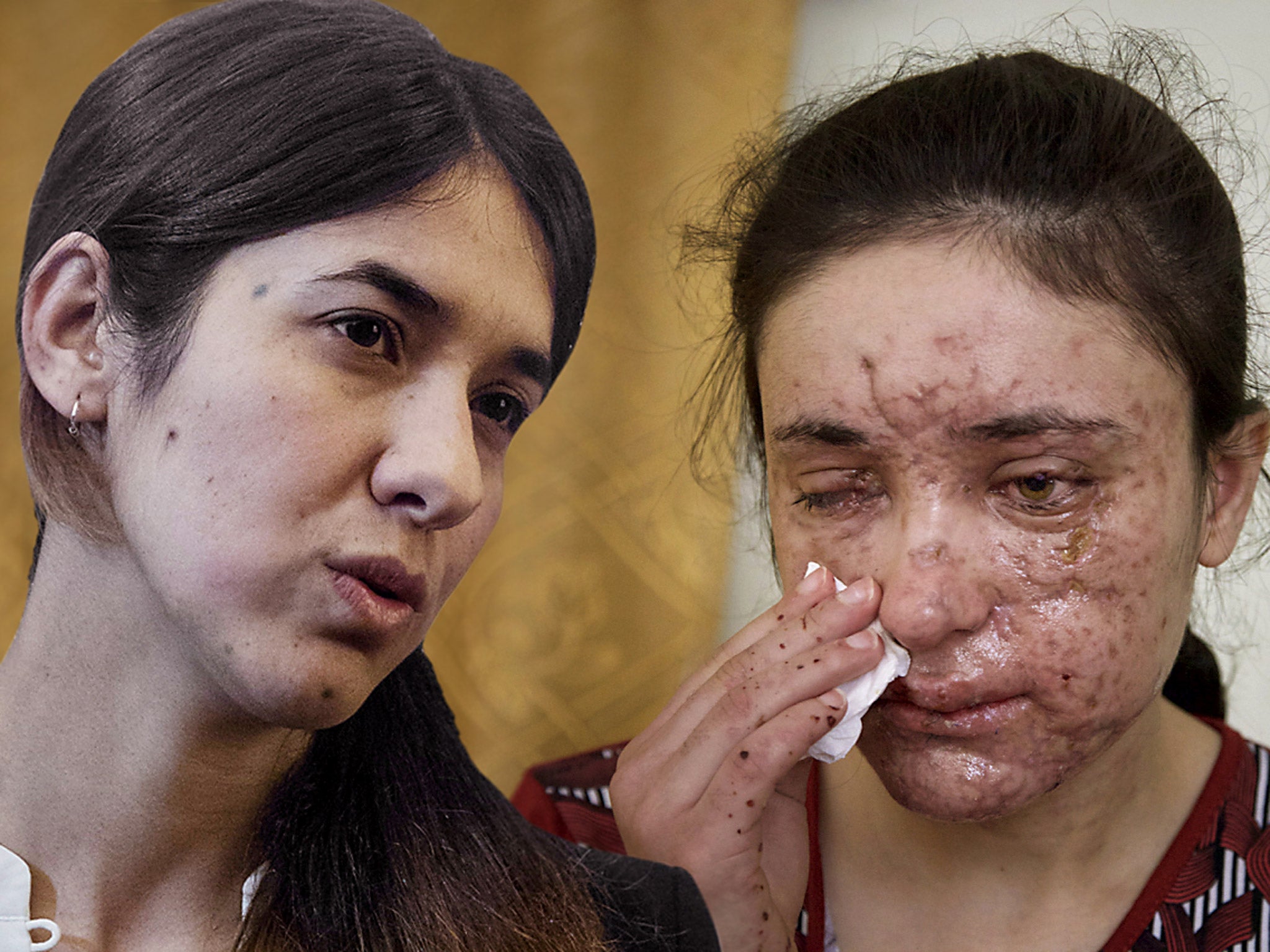 ."Yazidi women are not just Isis sex slaves. It is genocide. "
Esperamos que te unas a nosotras y que nos escribas para organizar un plan de trabajo conjunto para que podamos hacer pública dichas acciones. Organiza tus propias actividades en tu ciudad y comunidad, registra en foto o video dichas tareas y enviandolas para que las compartamos en nuestras redes sociales y podamos mostrar a las mujeres Yazidis que estamos organizadas mundialmente, todas juntas.
Facebook: Ezidi Jin
Mail: ezidi.women.struggle@gmail.com
Movimiento de Mujeres Yazidis Libres (TAJÊ)