Spanish YPG volunteer Şiyar Santucho has sent solidarity message to Barcelona and Cambrils, and promised ISIS defeat in Raqqa.
"We are going to fight for them. We have been fighting for all the victims of this so-called caliphate here and everywhere in the world", says the Spanish YPG fighter in the following footage released by YPG Press Office.
Spanish fighters of the YPG condemn Barcelona attack, vow to take revenge
by The Region
Spanish fighters fighting against the Islamic State group in Raqqa with the International Brigade of the Kurdish People's Protection Units (YPG) have released a statement on the attack carried out in Barcelona in which 13 people were killed.
Fighters from countries around the world have joined the YPG in its fight against ISIS in northern Syria.
Siyar Santucho, a fighter from Spain's capital Madrid, said the YPG were getting very close to liberating the city of Raqqa, the Islamic State's so-called capital. "I would like for everyone to know that it is for incidents such as the one the people of Barcelona suffered in the past few days that we are here in this city. We are here against the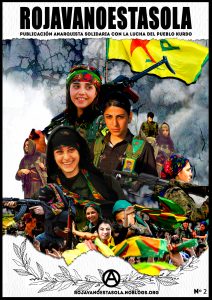 fascism of ISIS."
Kemal Amed, a fighter from the Basque Country, said that he and his fellow comrades would avenge the attack against Barcelona by making sure ISIS has no haven in Syria. "ISIS is trying to cover its losses by attacking innocent civilians. We want everyone affected by the events in Barcelona to know that ISIS will pay for every atrocity they have committed."
Foreign YPG member Ariel Shervan and Bagok Kullervo speak from Syria about recent attacks in Barcelona …

No coincidence Turku attacker targeted women

 Foreign YPG member Ariel Shervan and Bagok Kullervo speak from Syria about recent attacks in Barcelona and Turku. Photo: YPG Press

ERBIL, Kurdistan Region  By Rudaw    

  — Two Finnish men and a Spaniard fighting with the Kurdish People's Protection Units (YPG) condemned the recent attacks claimed by ISIS in Turku, Finland, and Barcelona, Spain, and said "barbaric ideology" led to the stabbings in Turku.

"We would like to pay our respect to the victims and the families of the victims," Ariel Shervan said in a video published on Sunday night by YPG Press Office. It is common for YPG trainees to take Kurdish noms de guerre.
People hold a minute's silence in front of flowers and candles laid at a makeshift memorial at the Turku Market Square in Finland on Sunday. Photo: Vesa Moilanen | AFP
The knife attack in southwestern Finland on Friday killed two Finnish women. Five other women, two men and a 15-year-old girl were also wounded.
"It's not a coincidence that the attack [in Finland] deliberately targeted women. It's an action that comes from the choice of the barbaric ideology that these jihadists have," the other Finnish YPG member Bagok Kulleryo said, who also didn't reveal his true name.
Finland's National Bureau of Investigation said an 18-year-old Moroccan suspect is hospitalized after being shot by Finnish police.
"We as international volunteers, taking the fight to them on the frontlines in Raqqa together with the women of YPJ, are not just fighting for the rights of women here in Syria and Rojava, but actually for the rights of women all around the world," Kulleryo added.
Wali Hashi, a journalist who witnessed the attack in Turku said in an interview that police chased the knife-wielding man who was screaming "God is great" in Arabic, a claim Finnish authorities haven't confirmed.
"Just don't give into fear and hatred because this is a time when we need to stand together and we hope that the people in Europe and in Finland give us their support and solidarity," Kulleryo concluded, which Shervan re-iterated in Finnish.
In Barcelona a van was driven into the crowded La Rambla plaza, killing 13 people and injuring at least 100.
Shiyar Santucho, a Spanish YPG member also said to be speaking from northern Syria, called Barcelona a vicious attack that he condemned.
"I want to make it very clear that we are going to fight for them and fight for all the victims of this so-called caliphate, here and everywhere in the world," said Santucho.
"Let's not fall in their trap. They want us to start fearing foreigners and to start criminalizing the Muslim community…" added Santucho. "Let's not play their game. Let's be one step ahead and find our strength in unity and diversity."
Spain has been a member of the US-led global anti-ISIS coalition. The latest attack was claimed by ISIS through its affiliated media, as reported by The Associated Press.
Finland has largely been spared mass attacks, but in June raised its threat assessment to the second level of a four-step scale.
The Finnish Security Intelligence Service says the country's "stronger profile within the radical Islamist propaganda" led to the change, and the country is now listed as a partner of the global anti-ISIS coalition.
Pekka Hiltunen of the Finnish Security Intelligence Service (FINO) told reporters Saturday that the agency was investigating the suspects' connections to ISIS, since ISIS "has previously encouraged this kind of behavior."
The incident has divided Finland, splitting pro-immigration advocates and isolationists.
Hundreds of foreigners have joined YPG in Syria since the rise of ISIS in 2014.
Kurdish fighters comprise about half of the 50,000-strong Syrian Democratic Forces (SDF), an alliance backed by the US-led international anti-ISIS coalition. They are currently fighting to retake Raqqa from ISIS.