see English below
La movilización ha contado con asistentes de un "gran espectro social".
Por Kaos. Guadalajara
El sábado se celebró la manifestación contra la sentencia a lxs repobladorxs de Fraguas en Guadalajara. Cientos de personas se acercaron a apoyar a estxs jóvenes sobre lxs que pesan multas de decenas de miles de euros, incluyendo la propia demolición del proyecto (todavía por determinar, podría sobrepasar los 45.000 euros) que podrían convertirse en varios años de cárcel para cada unx. Casi un millar de asistentes.
ver también:  #FraguasRevive : Resistencia contra Desalojo, Carcel y Multas
Lxs convocantes de la manifestación eran la Asociación de Repobladores Rurales de la Sierra Norte de Guadalajara y  la Plataforma Antirrepresiva de Guadalajara.
La movilización ha contado con asistentes de un "gran espectro social"; entre otrxs con la presencia de vecinxs de Sigüenza, Pelegrina, Ures y de la capital, entre otros puntos, con antíguxs pobladorxs de Fraguas que fueron expulsadxs de allí, y también con asociaciones y colectivos ecologistas, de reforestación, y de la Sierra de Guadalajara, así como de otras partes del Estado español (Huesca, Euskal Herría, Catalunya) y de Francia y Alemania.
Ecologistas en Acción,incluyendo a su portavoz (Alberto Mayor), el colectivo feminista, la PAH, la Plataforma Antirrepresiva de Guadalajara, la Asamblea de la Sierra de la Pela o la Asocación Arbola estaban entre ellas.
También a nivel institucional han estado presentes el diputado regional Llorente, que ha defendido a lxs jóvenes condenadxs señalando que "lo único que han hecho es reconstruir y repoblar un pueblo abandonado en la Sierra Norte de Guadalajara y de toda España".
Igualmente, acudieron representantes de Ahora Guadalajara, entre ellxs lxs ediles José Morales y Susana Martínez.
La manifestación "superó las expectativas", explica Isaac Alcázar (uno de lxs imputadxs), y transcurrió sin incidentes ni contratiempos. Alcázar destaca que muchos colectivos rurales, asociaciones de pueblos y que luchan contra la despoblación acudieron a la cita, logrando un "espectro social bastante amplio". Además, destacó el ambiente "festivo" de la cita, con familias y niñxs.
Desde Ecologistas en Acción Guadalajara han lamentado que no se logre conseguir un reunión con la Junta de Comunidades para buscar soluciones a la situación de lxs jóvenes repobladorxs de la pequeña localidad. "Hemos intentado intermediar entre la Junta de Castilla-La Mancha y los pobladores de Fraguas y no hemos conseguido convocar una mesa de conversación", han lamentado desde la asociación, que recalcan que han pasado "semanas" desde que propusieron la mediación a la Junta de Comunidades.
"Consideramos que la experiencia que están llevando a cabo en Fraguas merece atención por parte de todos nosotros para buscar nuevas formas y posibilidades de dar vida a nuestros pueblos y que puede complementar los planes y las inversiones que se están empleando en todo el territorio por parte de la Junta, para intentar fijar población y atraer nuevos pobladores en el mundo rural", explican desde la asociación.
La manifestación, que ha durado aproximadamente 2 horas, ha realizado varias paradas en puntos clave como son la Subdelegación del Gobierno y  la Audiencia Provincial, donde se han leído varios comunicados de diversos colectivos en apoyo a Fraguas. También en la Delegación de Agricultura y en la sede de la Junta de Comunidades, donde ha comenzado y terminado respectivamente.
Después de desconvocada, han disfrutado de una comida popular en el parque Sandra.
ver también:  #FraguasRevive : Resistencia contra Desalojo, Carcel y Multas
---
Fraguas: Occupiers of Abandoned Village resist Eviction, Fines and Prison
https://thefreeonline.wordpress.com/2018/06/13/revive-fraguas/
#Fraguasrevive

 "Justice" condemns the re-occupiers of Fraguas to a year and 6 months of prison, eviction and 50,000 euros fines.
If we're not kicked out there'll be a Ziccini Garden
The defendants fear their entry into prison for not being able to pay the 50,000 euros in fines imposed by the judge

Failure to comply with the sanctions translates into three years of imprisonment for each of the defendants

The defense will argue in its appeal for the 'legitimacy' of the project and the possibility of resolving it by administrative means

first part by Raquel Gamo  @gamopascual    06/08/2018 –
The re-occupiers of Fraguas have been ordered to demolish the town of this old village of the North Mountain range of Guadalajara that they have been reconstructing since 2013.
This is according to the sentence issued today by the Criminal Court of Guadalajara that condemns each one of the six accused by the case Fraguas to penalties of one year and six months in prison for a crime against the ordination of the territory and a fine of 12 months at the rate of six euros of daily quota (2,160 euros).

Isabel Turina and Josune, 2 of the okupas de Fraguas. Foto de Raquel Gamo.

In addition, the court imposes a penalty of 540 euros each, at a rate of 6 euros per day for three months for the crime of usurpation of the public forest. A sanction that if not met would result in prison terms of three years per person, as established by the sentence.
Regarding civil liability, squatters must defray the demolition costs of the town set by the Junta de Castilla-La Mancha as an accusation in this judicial conflict started five years ago against the squatters collective.
The ruling is not final. This means that the defendants can lodge an appeal before the Provincial Court against this resolution within a period of ten days.
"With surprise and concern." This is how the collective received the sentence that carries a fine of 16,380 euros for crimes against the Territorial Planning and Usurpation of Monte Público to which we must add the costs of about 30,000 euros with which they have to pay, in terms of Civil Liability the demolition of the buildings of the town of Fraguas and, which raise the total penalty to 50,000 euros.
---
«60% of the Spanish municipalities have less than 1,000 inhabitants, they occupy 40% of the surface, but hardly have 3% of the population».
---
"We are surprised by a conviction so forceful that we did not expect, as we trusted in being acquitted, after having demonstrated in the trial that we are not damaging the environment," says Jaime Merino, one of the squatters of Fraguas.

These sanctions are the main concern of the defendants, since, according to the sentence, if not complied with, they will be transformed into three-year prison sentences for each one of the defendants. "The problem is fines. We do not have the resources to face them and we are afraid of the possibility of entering prison, "says Merino.

Colectivo Fraguas. Former occupants of the abandoned village support the squatters

"We are determined to appeal the ruling, because we believe that this conflict has a solution and our project is viable." The resource already prepared by his lawyer will be based on the same arguments on which the defense put together its judicial strategy. support the 'legitimacy' of this initiative that aims to 'recover an abandoned rural space' and the administrative channel as a channel to resolve the judicial conflict with the Junta de Castilla-La Mancha.The resolution of appeal will occur in a maximum period of 10 months.
Meanwhile, the group of Fraguas does not lose 'hope' of carrying out its project of rural repopulation. "The ruling is exemplary and demonstrates that the Board has never had the will to regularize our situation and has not wanted to dialogue with us to reach a consensual solution," says Jaime Merino.
And it is that the attempt of communication that was opened a few weeks ago between the provincial Directorate of Agriculture and the squatters, through the mediation of Ecologists in Action, but was finally frustrated. According to Merino, "Santos Tabernero refused to meet because he did not want to interfere in the trial and decided to postpone the contact until the judicial process was concluded."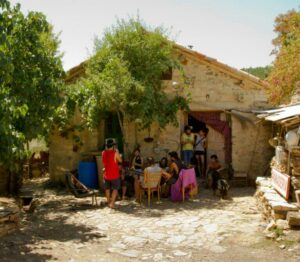 Now while waiting for the judge to decide the appeal against the sentence, the intention of the squatters is to continue with their project and they do not consider abandoning the old village of the Sierra Gorda de Guadalajara. "We are not going to leave Fraguas at this point, because that decision would not exempt us from the sentence."
In addition, they hope that "the social pressure will help us to reach a pact with the Board by the administrative route that allows us to continue with our life in Fraguas".
During the next months, the group of Fraguas plans to organize protest marches to defend their project, among which they do not rule out making a symbolic mass embrace to surround Fraguas.

The conflict between the Government of Castilla-La Mancha and the group of squatters of Fraguas goes back to 2013, when this group settled in the former population of the Sierra Norte de Guadalajara with the objective of rebuilding and inhabiting it.
Fraguas ceased to be a municipality from 1968, after it was forcibly expropriated by the Franco regime. Since then, its condition as a 'Public Mountain utility' and the fact that it is located on the boundaries of the Sierra Norte Natural Park since 2011, make it unlivable in, according to the court.
The trial against the squatters of Fraguas, which aroused unusual media and solidarity expectations on the part of other groups of occupation, concluded with the decision of the Board to withdraw the crime of 'damage to the environment', which involved more than two years of prison for the accused.
This change meant that the penalty against the six activists was reduced,so that on the one hand, they avoided entry into prison, but they continued to face the other two charges, for crimes against the Territorial Planning and Usurpation of the Public Mountainthat, today have been ratified by the sentence.
COMMUNIQUE OF FRAGUAS  .. MARCH 2017
For those who do not know it Fraguas is a community rural squatting project in the northern sierra of Guadalajara. Since the spring of 2013 we have been rebuilding the ruins of the ancient village of Fraguas (which was already destroyed and emptied conscientiously.) We believe and fight for the community, self-government, self-sufficiency and self-management. Since we arrived we were "invited" to abandon our dreams by environmental agents and civil guards with threats and fines, some of us carry thousands of euros in fines.
In June 2015 6 of us were called to declare before the court of instruction no. 4 of Guadalajara accused of usurpation of public forest. They gave a new twist to the process by adding in their indictment the crimes against the ordination of the territory and damages, threatening to demolish the houses that are now standing. For all this, we ask for your support as far as possible, that you come to know us, that you spread this reality and that you are aware of it in case there is an unexpected eviction.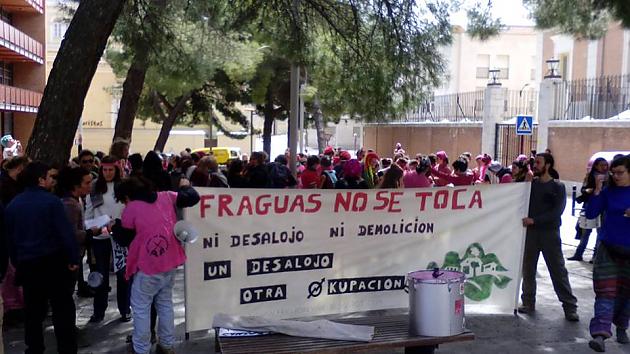 For all this, we ask for your support as far as possible, that you come to know us, that you spread this reality and that you are aware of it in case there is an unexpected eviction.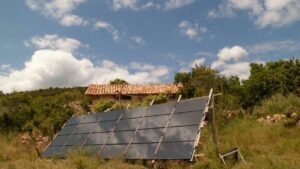 An old inhabitant of Fraguas makes us this dedication In a book he wrote: "For the new inhabitants of Fraguas: Let's see if you recover the history of this town again, although some military and religious institutions have tried to destroy it and even the government wants to sell it to private individuals ".
I want to remind you to treat with affection and respect they deserve those stones that today are dead and fallen among the brambles and the underbrush, that other times had life and were part of the history of these people who fought so much for life and suffered so many calamities".
fraguaspobladores@gmail.com
Como puedes ayudar a Fraguas
sign the petition: NO TO THE EVICTION OF FRAGUAS
come to a Fraguas
organizing events
sending money   ..
IBAN: ES15 1491 0001 2430 0008 1648       BIC/SWIFT: TRIOESMMXXX        Triodos BanK
fraguaspobladores@gmail.com