English /Spanish text
Pamplona: Mujeres reclaman unos Sanfermines sin agresiones sexistas
Pamplona: Women Demand Sanfermines without sexist aggressions

Alerta Feminista ha lanzado a través de Facebook una propuesta para que el próximo 6 de julio durante el chupinazo de los Sanfermines de 2018 todas las mujeres vistan una camiseta negra en repulsa de la Manada, nombre con el que se conoce a los cinco jóvenes que fueron condenados por un delito de abuso sexual en las fiestas de San Fermín de 2016.
Alerta Feminista has launched through Facebook a proposal  that the next July 6 during the 'Chupinazo' kickoff of the Sanfermines of 2018 all women wear a black shirt in repulsion of the Manada rape gang being freed, and to denounce the sexist attacks and the heteropatriarchal system. 
imagen de una mani anterior  photo from an earlier demo
Organizaciones feministas han pedido manifestaciones  enmascarados en vestidos de negro por toda España el viernes 6 de julio. Estamos en pie de guerra porque la reacción del estado ante la huelga general de las mujeres ha sido un ataque descarado de liberar a la pandilla de violación 'La Manada' por un juzgado políticamente controlada.
'Let's all Dress in Black'.
Alerta Feminista and other feminists called for masked black demos throughout Spain on Friday 6th July. Women are angry that the state reaction to the women's General Strike has been the blatant attack of freeing the Manada rape gang by a politically controlled court.
Unos Sanfermines sin agresión sexista han demandado cientos de mujeres por las calles de Pamplona, vestidas de negro y con la cara cubierta para denunciar los ataques sexistas y denunciar el sistema heteropático.
Pero algunas grupos piden boicotear SanFermines en vez de manifestarseplacards> -She-ll never be free while they are out iof jail-
placards> 'she'll never be free while they are already out of jail-'  and 'I owe it to all the women who struggled for me'.

Hundreds of women have demanded a  Sanfermines festival without sexist aggressions  in Pamplona, Some groups demand a boycott and others to dress in black and with their faces covered, summoned by the Farrukas group,
basque  'Eraso sexistarik gabeko Sanferminak aldarrikatu dituzte ehundaka emakumeek Iruñean, beltzez jantzita eta aurpegia estalita Urtero legez, eta Farrukas taldeak deitua, eraso sexista eta sistema heteropatriarkala salatzeko, manifestazio jendetsua izan da gaur gauean Iruñean. Beltzez jantzita eta aurpegiak estalita, emakume gazte zein helduak manifestatu dira kalea eta festa haienak direla aldarrikatzeko.'       Comparte: 23
Sanfermines festival: animal torture and sexist aggression dressed up as 'culture'.
El Chupinazo de este año será feminista: protesta tras la liberación de los acusados de 'La Manada'.Tras la puesta en libertad provisional de los acusados de 'La Manada', los cinco jovenes que abusaron sexualmente de una chica en los Sanfermines de 2016, la respuesta social no se ha hecho esperar.
The Chupinazo this year will be feminist: protest after the release of the accused of 'La Manada'. After the provisional release of the accused of 'La Manada', the five young men who sexually abused a girl in the 2016 Sanfermines, the social response has not been long in coming.
Las organizaciones feministas de España han propuesto que este viernes 6 de julio, cuando dan comienzo los Sanfermines con el chupinazo, todas las mujeres que acudan a los mismos vayan con una camiseta y con un pañuelo de color negro.
imagen de una mani anterior
Feminist organizations in Spain have proposed that this Friday, July 6, when the Sanfermines begin with the chupinazo, all women who come to them will go with a shirt and a black handkerchief.
El movimiento será más notable de lo que podamos imaginar, puesto que lo habitual en los Sanfermines es vestir de rojo y blanco. Cambiar esta gama cromática por el negro hará que la queja sea más notable, que la gente se dé cuenta de la movilización, y que comprendan que la protesta proviene por el hecho de que hayan puesto en libertad provisional a los cinco miembros de 'La Manada'.
' Demand

Sanfermines without sexist aggression ' video to promote women in black demo from feminist group Farrukas.. 4th July 2018
En un primer momento se pensó hacer únicamente en el País Vasco, pero las asociaciones feministas han decidido extenderlo a todo el territorio nacional. Se ha pedido a las mujeres españolas que, este viernes 6 de julio, todas lleven prendas negras "en repulsa por 'La Manada', las manadas y el sistema que es la mayor de ellas", ha señalado un mensaje en Facebook. La iniciativa, poco a poco, se está convirtiendo en viral, y se está consiguiendo que todas las mujeres del país la vean como algo necesario.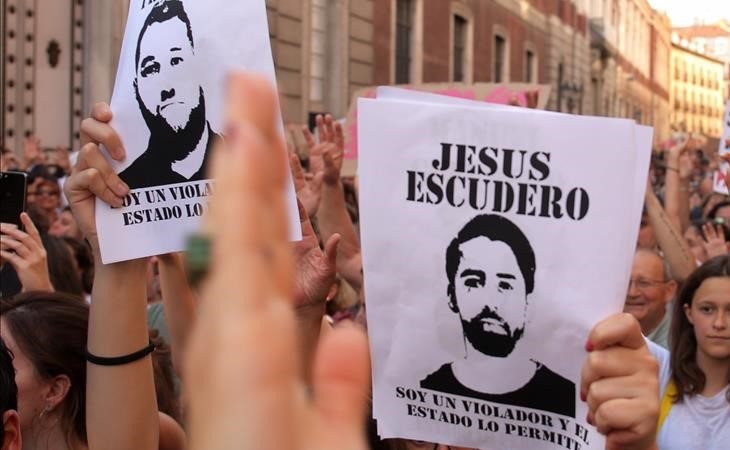 "Indignación por el caso de 'La Manada'"
At first it was thought to demonstrate only in the Basque Country, but feminist associations have decided to extend it to the entire national territory. Spanish women have been asked, this Friday, July 6 to wear black clothes "in rejection of 'The Pack', La Manada and the system " said a message on Facebook. The initiative, little by little, is going viral, and  women around the country are coming to see it as something necessary.