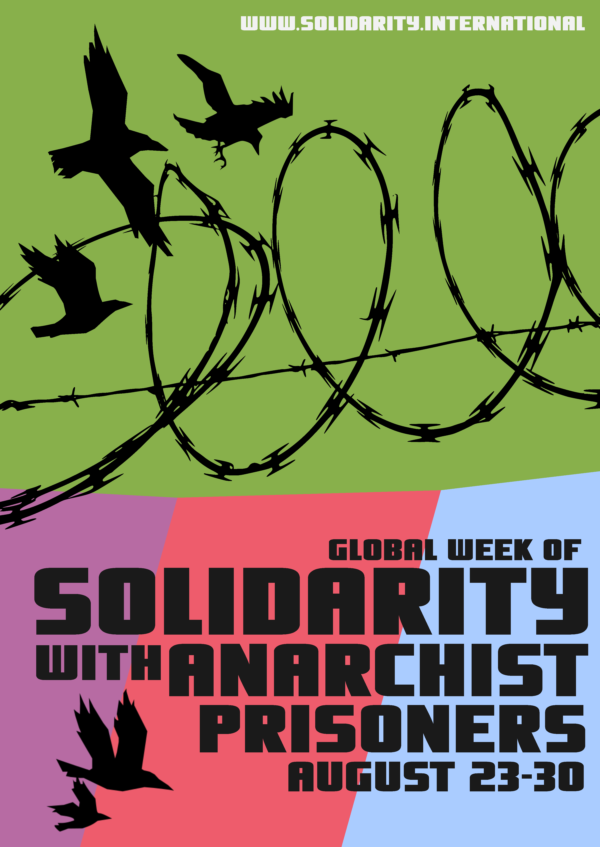 We are coming back with global week of solidarity with anarchist prisoners. Since last year, a lot has changed in our countries, but the general tendency is going in the worse direction with more repressions applied against anarchists not only in Europe but worldwide. With this in mind, we are calling for sixth annual week of solidarity!
Originally published by Solidarity International.
Last year lots of people sent us their reports from different parts of the world and we hope that this year the tradition will grow even bigger. We need to support our comrades! Use this week to spread the information about anarchists behind bars.
Don't have prisoners in your country? No worry, support prisoners from other countries in your region or use those days to raise awareness of repression mechanisms and how anarchist communities can fight against them!
---
To start off the Week Of Solidarity With Anarchist Prisoners (23rd-30th August) we bring you this fun evening of Poetry Music and Information on Prisoner solidarity and how you can join in and prepare actions of support. At Hydra Bookshop 34 Old Market Street, BS2 0EZ Bristol, UK.
This is a good opportunity to meet others and throw ideas around about upcoming actions you could do in solidarity with Anarchist prisoners!
With music from GINS
http://www.georgiebiggin.com  &  Poetry from T. S Idiot     This event if free, but we hope to also make it a fundraiser for prison abolition projects and the International anarchist defense fund, so donations are very welcome!  https://tomstockley.weebly.com/