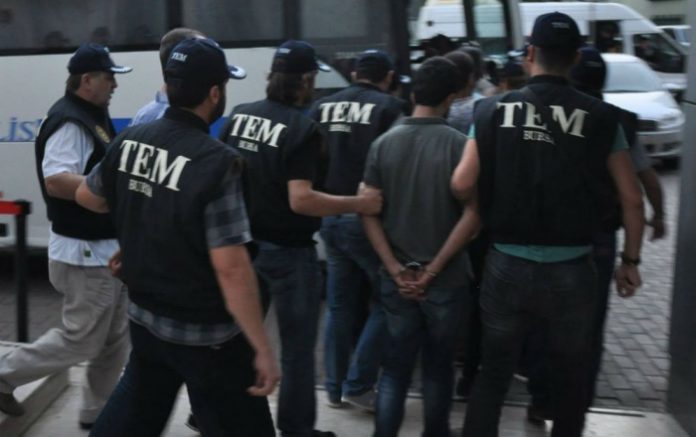 The Turkish Interior Ministry on Sunday announced that 735 people have been arrested for 'supporting Kurdish PKK resistance fighters'.Torture is routine in the Turkish state and prisoners spend years awaiting trial.
The PKK fighters, led by Ocalan,  had maintained a 2 year unilateral ceasefire and led the Kurds into communal democratic participation until Erdogan ordered the attack and destruction of Kurdish cities in 2016.
This is why Leyla Guven and hundreds more are hunger striking to the death: to demand Ocalan be freed from total isolation and the peace process rersumed.
More than 40,000 people, including 5,500 security force members, have been killed in four decades of military repression with severely restricted Kurdish rights, language and culture., the PKK  is listed as a terrorist organization by Turkey, and still by the US and the EU.
March in support of the Kurdish hunger strike of Luxembourg in Strasbourg

Nearly 100 people participate in the Internationalist Marriage in solidarity with the Leyla Güven movement of hunger strike to break the isolation of Öcalan. From Luxembourg, this morning, protesters will arrive to their final destination in Strasbourg, where 14 Kurdishactivists have been on hunger strike since December 17.

Twitter suspends account of closed-down pro-Kurdish newspaper
Social media company Twitter has suspended the account of Özgür Gündem, a pro-Kurdish daily that was closed down by a Turkish court in 2016 on charges of disseminating terrorist propaganda.
A Turkish court in August 2016 ordered the interim closure of Özgür Gündem for alleged links to the outlawed Kurdistan Workers' Party (PKK), spreading "terrorist propaganda" on their behalf and waging a war against the state.
Özgür Gündem, along with 14 other media outlets, was shut down in line with a post-coup government decree on Oct. 29, 2016. Turkey experienced a failed coup attempt in July 2016 following which the government, among other things, closed down around 200 media outlets on the pretext of an anti-coup fight.