All authoritarians, capitalists and climate criminals hate the Rojava revolution. Those friends who #RiseUp4Rojava are ordinary people, all over the planet, who see it as a workable embryo and example of a new human system that could save the world from utter destruction. Let's defend the Rojava Revolution, and STOP the rise of fascism.. Viva Rojava! No Pasarán!
Thousands take to the streets worldwide … – boycott–turkey.net
No Flight to Turkey
Together we sanction Turkey for its war of aggression on Northern Syria! see how here:…https://riseup4rojava.org/no-flight-to-turkey/
The nature of the growing fascist beast.
Turkey's inhuman and genocidal invasion of NE Syria has been celebrated and lauded in the controlled media, spurring a wave of proud male xenophobic nationalism. Now you are seen as a traitor if you even mention the economic crash, Erdogan's crimes, or his defeat in Istanbul elections. Turkey has Indicted 78 People for Criticizing the Invasion of Syria on social media . ( Even this blog is banned with many others in Turkey). How can this be happening?
'The Fascist conception of the State is all-embracing; outside of it no human or spiritual values can exist, much less have value. A Supreme dictator embodies the fascist State, using terror as a tool of control because when humans are scared, they are easy to control and manipulate'.
'Fear is the ultimate weapon for it works on your own people as well as your enemies. (see:Erdogan Jails and Tortures 195,000 People who Might not Like Him) Add to the mix some flag-centric nationalism, total control of the media, some uber-macho militarism and a corporatist hierarchy that puts the "right" people of the master race in power, and you've got the makings of a top notch fascist regime'.
War and takeover of neighbours is essential to fascist ideology, achieving growth by looting and 'proof' of racial superiority by oppressing and often killing minorities.
The Rojava Revolution is a mortal threat to traditional Turkish nationalism, for being anti-terrorists, against dictatorship, against the nation State and against predator capitalism, climate chaos and environmental breakdown.
The horizontal ideology being implemented from below in Rojava is anti authoritarian, based on feminism, , ecology, co-ops, multi-culturalism, peaceful coexistence, shared decentralized power and without a nation state. Crucially the revolution has spread beyond the Kurdish majority areas, to Arab, Armenian, Syriac, Womens, Christian and Azidi (etc) communities in Raqqa, Manbij, Tabqa,etc, whose militias are united in the SDF resistance to the Turkish onslaught.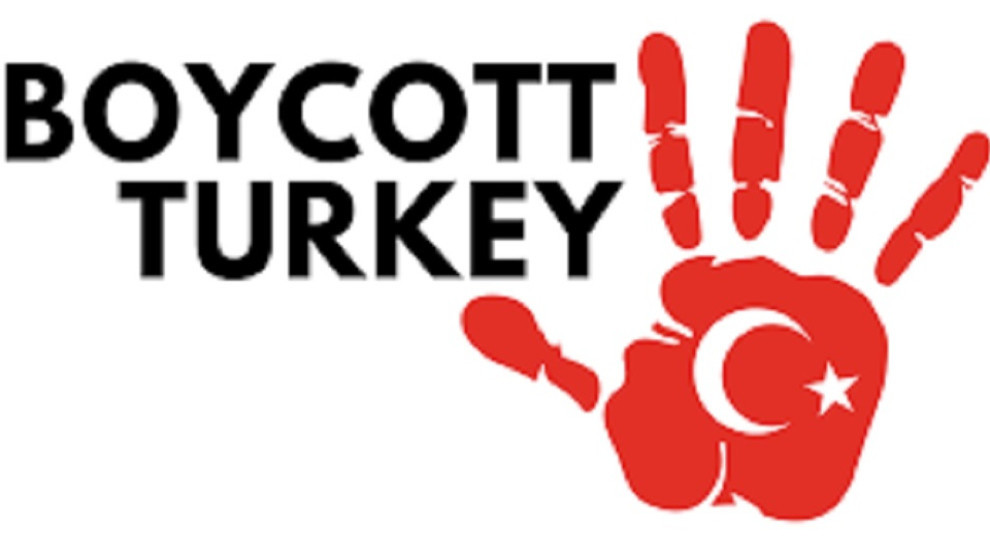 As such the Rojava Revolution is hated and feared by fascists like Erdogan, who suppressed it's ideas in Turkey by bombing his own cities to rubble in 2015, and is universally rejected and disparaged by all statists, authoritarians, capitalists, state communists and religious sectarians.
Those friends who #RiseUp4Rojava are us ordinary people, all over the planet, who see it as a workable embryo and template of a new human system that could save the world from utter destruction. Viva Rojava! No Pasarán!
'There's a hundred ways to Boycott the Turkish State
Talk to your friends, family and colleagues about #BoycottTurkey and ask them to reconsider holiday plans to Turkey or using Turkish companies. It is important to remember, however, that this is a boycott of corporations and organizations which support the Turkish state financially and militarily, not your local Turkish restaurant or corner shop.
Get out on the streets, support the many protests, picket government and companies that support and profit from the Turkish war machine and NATO. Link up with the Climate change movement. Write to your MP or councillor, or submit a motion to your union branch or wherever, declaring support for the #BoycottTurkey campaign. You can make a new group and get in touch with #RiseUp4Rojava to affiliate at: riseup4rojava@riseup.net
Follow RiseUp4Rojava, Ecologists Rise up for Rojava! https://anfenglish.com and https://www.hawarnews.com/en/ for updates, attend events run by local groups, and share posts widely.
see also: Christians, Jews Come Together to Protest Against Turkish Invasion
#Fight4Rojava – Dossier on International Suppliers of the Turkish State War Machine
Posted on 2019/11/08 by anarchistsworldwide
Received on 08.11.19:
Infuriated by the invasion, genocide, and ethnic cleansing being carried out against the peoples of northern and eastern Syria and the revolutionaries in Rojava and beyond, by Turkey, their proxy forces and fascist Erdogan? You know direct action gets the goods, but how to begin when you are located somewhere like the so-called USA or northern Europe? Well, below is a jumping off point. After some preliminary research, we gathered information on companies that help Turkey as a fascist state build power, and companies that literally build Turkey's war machines- which are currently being used to carry out the previously mentioned, and atrocious attacks. As anarchists, we don't rely on the state or anyone else to act for us, we must find a way to begin. Consider the information below such an alternate way to begin.
This research was originally intended for a US audience, but the companies taking part far exceed the imaginary borders of one country. We hope anarchists everywhere put this information to use in the most effectual ways they see fit.
– Some anarchists
Download Dossier (PDF): TURKEY
'There's a hundred ways to defend Rojava': a statement from British Internationalists in North East Syria
Tom Anderson , 4th November 2019
We will continue to work alongside our friends and comrades here in North Eastern Syria. We will resist any and all attempts by the fascist Turkish State and their 'paid jihadi mercenaries' from destroying everything that has been achieved here through resistance, sacrifice and bravery.
Of course the revolution is a work in progress. It's not a utopia. It's built on the daily sweat and effort of thousands of women and comrades, giving time and energy towards developing a better world, even when its hard, even when it's dangerous, even when it's boring or uncomfortable or incredibly complicated. The revolution is constant work, and there's enough of that work to do without one of the largest armies in the world trying to annihilate what has been built.
image via Rojava Information Center with permission
This work of building a better world, slowly but surely, starting from wherever we are, is the work we came to learn about and the work we want to do. But let's be realistic – any project that offers a real alternative is threatening to the status quo, and will always risk attack. Self-defence has to be a part of what we do.
There's a hundred ways to defend Rojava, both here and from outside.
We will be here, doing whatever we can and whatever we must, and almost definitely still drinking tea and dancing. And because we're fighting for the same things, there's no difference being here or being halfway across the world. We hope to see you all in the struggle, side by side, even when we're far apart.
In memory of the resistance of Anna Campbell and all those who have fallen in the fight for freedom.
Turkey is cynically using Syrian refugees in its plans to ethnically cleanse northern Syria
US admits it Knew Turkey would commit genocide before betraying Rojava /
Did the US promise the Kurds that Washington would protect them.?
"When the attack on Afrin occurred last winter, we told people, based on Washington's guidance to reassure our partners 'We can't do anything about Afrin (which Turkey and its jihadi mercenaries attacked last year, dispossessing 170,000 people) because we aren't there; no troops or air power. But we are here in the northeast. We are your close partner. Afrin can't happen here.'" The US clearly misled the SDF on this. It asked them to sacrifice Afrin, not work with the Syrian regime, not take part in Geneva, and then fueled Turkey's attack and the cleansing of the Kurdish minority. And the US got 10,000 of the SDF to die. from .. US admits it Knew
Iraqi Kurds unite in support of Rojava and to Boycott Turkey
READ IN TURKISH: Türkçe Amberin Zaman November 4, 2019 The oft-disunited Kurds of Iraq, Syria and Turkey are united against Turkey's invasion of areas in Syria where Kurds had achieved self-rule. But Turkey's Oct. 9 assault against a US-backed Kurdish militia in northeastern Syria has prompted an unprecedented display of pan-Kurdish solidarity. The Iraqi Kurds are at the vanguard of protests against Turkish belligerence, with many boycotting Turkish products. Unusually, their leaders are taking a harder line too.
Turkish Genocide, Invasion and Ethnic Cleansing continues against Rojava Revolution….STOP TURKEY
PKK are NOT terrorists! Erdogan rejected Ocalan's Peace Plan, sabotaged their Truce. bombed their cities…
note.. this 'TheFreeOnline' blog is now banned in Turkey with Dozens more pro Rojava and anti Fascist sites
The designation of the PKK as terrorists and Turkey's inclusion of all Kurdish groups as part of the PKK gives it impunity to massacre the YPG/YPJ and SDF who are also thus restricted from seeking international support.
Erdogan evidently has no interest in peace, only in exploiting and victimizing the 18 million Kurds in Turkey and fanning race hatred among his conservative power base to successfully extend his position towards all powerful Fuhrer.
Supporters of Kurdish hunger strikers say 'boycott holidays …
BOYCOTT TOURISM IN TURKEY « Peace in Kurdistan
The Syrian Observatory for Human Rights, a war monitoring group, said the man was run over in the village of Sarmasakh near the border by a Turkish vehicle which was conducting a joint patrol with the Russians – the third under a cease-fire deal brokered by Moscow that forced Kurdish fighters to withdraw from areas bordering Turkey.
The man was among a group of residents who had chased and pelted a convoy (pictured, Turkish army vehicles on patrol in Alakamis, southern Turkey, today) with shoes and stones, prompting Turkish troops to fire tear-gas to disperse the protesters.
Ecologists Rise up for Rojava! – Make Rojava Green Again
JInwar womens village evacuated
It came after the all-women's 'safe space' village of Jinwar was evacuated as President Erdogan's troops advanced. Meanwhile, the village of Jinwar, meaning 'women's land', which houses many whose husbands died fighting ISIS, was reportedly evacuated on Monday as Turkish forces loomed.
Its population had swelled from about 16 women and 32 children in May, to around double.
The village of Jinwar (pictured), meaning 'women's land', which houses many whose husbands died fighting ISIS, was reportedly evacuated on Monday as Turkish forces loomed A foreign woman who volunteered in Jinwar told Kurdistan24: 'It was a very hard moment and made us all very sad angry.
'Jinwar is part of the achievement of women in this region and part of the women's revolution that has been realised by so many women here in the last years.'She added they had taken refuge in other villages but planned to return to Jinwar 'as soon as possible'.
Turkey: Tourists, raped, robbed, murdered, jailed #BoycottTurkey.
We reblog here a post on #BoycottTurkey from last year
Transgender Sex Worker and Activist Raped, Beaten, and Burned in Turkey – http://www.affinitymagazine
Don't go on holiday in Turkey! Don't buy Turkish slave goods!
The openly fascist dictator is promoting attacks and enslavement of women and a macho jihadist mindset. He has locked up over 160,000 people who might not like him, murdered thousands of Kurds, minorities and homosexuals, uses refugees as illegal semi-slave labour, blackmails Europe with sending more IS terrorists, and now has invaded Afrin, destroying a peaceful democratic revolution, with Russian connivance.British holidaymaker raped by taxi driver in notorious Turkish …Daily Mirror
Don't go on holiday in Turkey! Don't buy Turkish slave goods!
by Yilmaz Özdil at Hurriyet newspaper
Here is a rough translation of the article and various Turkish press reports:
"I was raped in Izmit", said an Italian female artist who was going to Israel to do hitchhiking for world peace, she was later strangled and murdered.
---
https://www.theglobepost Mar 9, 2017 – 5 Austrians, all believed to be critics of President Erdogan, were deported from Turkey after brief detentions. Ece Heper, a Canadian citizen, was held in prison over allegations of insulting President Erdogan Another Canadian, Davut Hanci, on a 2 week vacation has been held in a solitary confinement for 7 months. 5 Austrian citizens who previously spoke out against Mr. Erdogan were first detained and then deported from Turkey.Turkish women protest proposed law to let off rapists who marry their victims
---
An American woman was stabbed with a razor in the heart of Istanbul and her head was crushed with a rock …
---
see also ..The 1001 Crimes of Adolf Erdogan : #1002.. Abuses Little Girl on Stage
Two Irish women waitresses were stabbed with knives, their bloody dresses were crushed and their bodies were thrown into the forest.
---
https://www.mirror.co.uk › New Jun 24, 2017 – The Foreign Office website warns British tourists to Turkish coastal resorts to watch out for sexual attacks.Figures show 18 cases of sexual assault, including rape, in Turkey were reported to British consular staff in 2015. The Foreign Office website warns Brits to watch out for sexual attacks in Turkish coastal …
---
RELATED ARTICLES
After the funeral of Havrin Khalaf, her mother Souad Mohammed told "North Press", "They called me when they captured my daughter, they were shouting in Arabic and they didn't answer me, I said to myself that Havrin must be in the hands of the enemy now … I don't even know who the enemy is." Added "my daughter was a civilian, she' never been a combatant, she was a political advocate, it's a human right guaranteed for each man and woman"
Khalaf's mother describes her daughters mutilated and dismembered body "They were able to kill her with a bullet or two, but they chose to keep nothing from her body, her body was like a cotton ball wrapped with a piece of cloth"

The obituary for Havrin Khalaf was originally published on the website of the Women Defend Rojava campaign by the Kurdish women's movement Kongreya Star.
The obituary for Havrin Khalaf was originally published on the website of the Women Defend Rojava campaign by the Kurdish women's movement Kongreya Star.
YPJ commemorates war reporter Dilovan Gewer
The the YPJ Press and Liaison Center said in a statement that Dilovan Gewer (Dilan Ölmez) fell martyr in Girê Spî .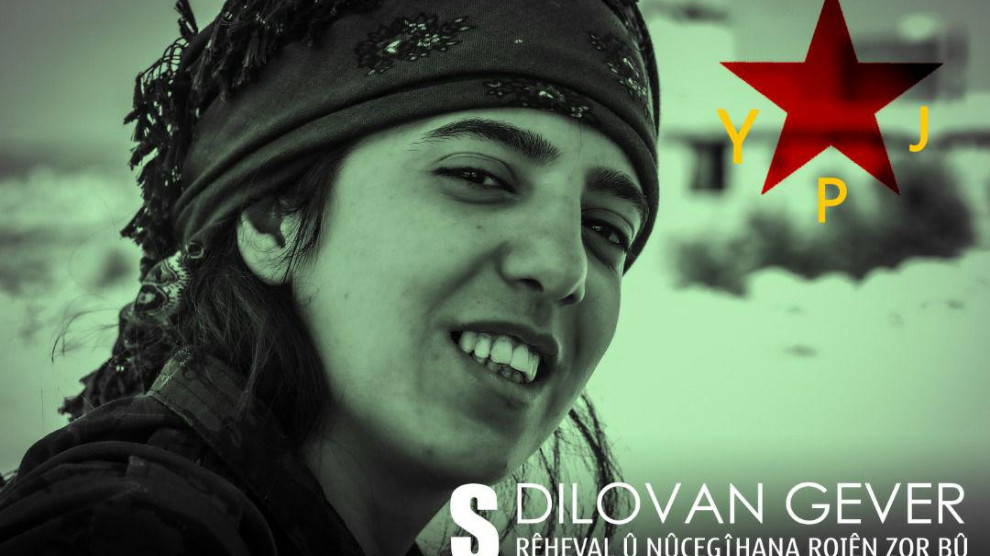 In a written statement, the YPJ Press and Liaison Center said that Dilovan Gewer (Dilan Ölmez), along with a group of her comrades, fell martyr during the Turkish airstrike on 13 October in Girê Spî.
"Our comrade Dilovan had gone to the city of Girê Spî in the first day of the resistance to report on the invasion Turkish occupying state to the people of the Euphrates region" said the YPJ Press Center. Dilovan was following the clashes in Girê Spî from 9 October to 13 October. As the Turkish state intensified its attacks on Girê Spî on 13 October, Dilovan and a group of our comrades fell martyrs when Turkish warplanes bombed the area.
Latest War News .. 9th Nov 19
Hundreds detained in Turkey in crackdown on criticism of Syria incursion: Amnesty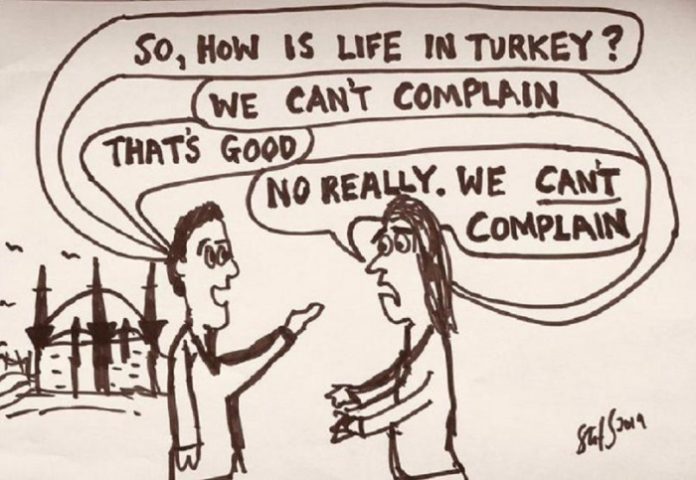 By TM – Hundreds of people have been detained in Turkey for commenting or reporting on Turkey's recent military offensive in northeast Syria and are facing absurd criminal charges as the government intensifies its crackdown on critical voices, said Amnesty International in a report published on Thursday.The report, titled "We can't complain," reveals how last month's offensive — Operation Peace Spring — was accompanied by a wave of repression in Turkey which swept up anyone who deviated from the government's official line. Journalists, social media users and protesters have been accused of "terrorism" and subjected to criminal investigation, arbitrary detention and travel bans. If prosecuted and found guilty, they could face lengthy prison sentences.
Latest Support News
Recent Rojava posts on The Free
PKK are NOT terrorists! Erdogan rejected Ocalan's Peace Plan, sabotaged their Truce. bombed their cities…
Rojava Invasion : War Rages with Heroic Popular Resistance: Live Updates 11 Oct
Urgent Calls for Resistance against Turkish Invasion of Rojava: Live Updates
"Arrest killer Erdogan, the Godfather of Jihadist Terrorists,.."
RiseUp4Rojava ..Erdogan uses Refugee Blackmail on EU to boost "Safe Zone" invasion
US betrays Rojava Revolution.. Protects "Invasion Patrols" of Turkish "Hitler"
Turkey vs Rojava: false videos inflame hatred of Kurds.. Defend the SDF!
Carne Ross on the Anti Capitalist Transition
5 Hunger Strikers suicide as Erdogan ignores over 300
Orso killed by ISIS.. But Lives Always in our Hearts
Anna is with us, we fight on! Bristol Antifascists Demo
Police clash with women's day marchers in Turkey (VIDEO)
Erdogan arrests 735 more Kurds as Peace Hunger Strikers near Death
UPDATE .Leyla Hospitalised Refusing Treatment/ International Action plea for Hunger Strikers
300 on Hunger Strike – How Ocalan Transformed the PKK into Anti-Terrorists
Worldwide Cry to Stop Fascist Invasion #RiseUp4Rojava
# RiseUp4Rojava – 27 /28 Jan'19 – Where actions take place
Dictator Erdogan decrees $20 billion Tank Factory gift to Cronies
FREE Leyla Güven.. dying on Hunger Strike ..jailed for opposing Afrin Genocide
Erdogan betrays his Mercenaries, letting Al Qaeda/HTS take over Idlib + SAVE LEYLA GUVEN
Erdogan sending paid Jihadis against Manbij multi-ethnic and Womens' revolution + UPDATE Assad's Forces Invited In.
Trump betrays anti ISIS heroes.. 'Protect Rojava against Turkish Genocide'.. Chomsky
Genocide Tomorrow: Trump sells 'right to invade Rojava' to Erdogan for $3.5bn .. STOP him NOW
The SDF conquer 35% of Hajin , the last big Fortress of ISIS