Momentum Builds to Monitor Cancer Alley Air Pollution in Real Time After Exxon Refinery Fire in Louisiana
The gulf coast of Louisiana and Texas is witnessing a gigantic insane petrochemical expansion with dozens of new huge polluting plants, LNG ports, pipelines of frack oil, frack fossil gas and LPG supplying refineries and plastics installations. But at the same time community resistance (opens in a new is finally taking off, focusing on the plague of cancer and other diseases, along with opposition to climate chaos, methane leaks, risk of stranded assets, a glut of gas from the Permian field, as well as recession and coronavirus fears.
By Julie Dermansky .. see videos here.. • Feb 24, 2020
A large fire at ExxonMobil's Baton Rouge oil refinery late on February 11 lit up the sky for miles and continued until dawn. The night of the fire, ExxonMobil representatives claimed that air monitoring inside the plant and in surrounding neighborhoods did not detect the release of harmful concentrations of chemicals, a claim echoed by first responders and state regulators.
What unfolded, however, reinforced a growing community movement to require real-time independent air pollution monitoring at industrial facilities.
A week after the incident, Exxon filed a required "seven-day report" to the Louisiana Department of Environmental Quality (LDEQ) indicating the plant released four toxic chemicals during the incident, including benzene, butadiene, and sulfuric acid in quantities above allowable limits, and sulfur dioxide.
---
see also.. More proof Methane spike due to US ecocidal Frackers.. Stopping it could delay Climate Catastrophe https://nomesgas.wordpress.com/2020/02/23/more…
---
Exxon said in its report that thousands of pounds of unspecified flammable vapor released in the incident were burned off by the fire and that little, if any, escaped the refinery in concentrations that could have posed a risk to nearby residents.
However, many in the community were outraged about how much time passed before they were notified of potential hazards and expressed doubt that the fire had no significant effect on the air quality around the plant.
---
Cancer Alley, Louisiana – The eighty-five-mile stretch of the Mississippi River from BatonRouge to New Orleans was formerly referred to as the "petrochemical corridor" but after reports of numerous cases of cancer occurring in the small rural communities on both sides of the river, the entire area became known as canceralley.
The incident reignited calls from environmental advocates for more real-time monitoring of a class of potentially toxic chemicals known as volatile organic compounds (VOCs) at chemical plants and refineries. They say that with this kind of publicly available monitoring, residents near such facilities won't have to rely on industry for health warnings in case of an emergency.

Wilma Subra, a technical advisor to the environmental advocacy group Louisiana Environmental Action Network going over data on the reported chemical releases during the public meeting in Baton Rouge a week after the fire at ExxonMobil's Baton Rouge refinery.

Flares at ExxonMobil's Baton Rouge facility seen from the Star of Bethlehem Baptist Church's parking lot.
"Everyone in the community has the right to be safe and secure in your homes," Louisiana Senator Cleo Fields, a Democrat representing Baton Rouge, said at a community meeting he organized a week after the fire. Flares were visible from the Star of Bethlehem Baptist Church's parking lot where the meeting was held, near Exxon's 2,100-acre complex that includes the refinery and multiple chemical plants.
At the meeting, Fields promised to craft legislation aimed at improving emergency notifications, implementing 24/7 real-time air monitoring, upgrading the current supply of safety devices, and establishing a clear and transparent emergency plan for chemical facilities and refiners statewide.
Living in Cancer Alley
For residents near Exxon' refinery and adjacent chemical plants in Baton Rouge, a sense of safety and access to clean air are not a given. The plants lie at the northern end of Louisiana's Cancer Alley, an 80-mile stretch along the Mississippi River with more than a hundred petrochemical plants and refineries woven among the river's communities. Another nickname for the region is the "Petrochemical Corridor."

Flare at ExxonMobil's Baton Rouge facility on February 19, 2020, a week after a fire at the facility.
Community members throughout Cancer Alley have deep rooted skepticism of industry, stemming from decades of living close to facilities that periodically experience spills, fires, and releases of high doses of pollutants, which many believe have led to a pattern of cancer diagnoses and other illnesses associated with chemical exposure.
Despite already hosting communities with elevated cancer risk from air pollution, Louisiana continues to permit a rising number of petrochemical plants along the Mississippi River in primarily African-American communities. Residents and environmental advocates have accused the state of allowing industry to turn low-income neighborhoods of color into sacrifice zones.
A Longstanding Air Pollution Battle
The same night as the fire at Exxon's refinery, a citizens group in St. John the Baptist Parish held a community meeting about toxic air emissions from a synthetic rubber manufacturing plant located in the middle of Cancer Alley.

Denka plant in St. John the Baptist Parish.
In 2016, the Environmental Protection Agency (EPA) began rigorously monitoring chloroprene, a likely human carcinogen, near the Denka Performance Elastomer manufacturing plant after it determined that those living closest to the plant have a 50 times greater chance of getting cancer from airborne toxins than the national average.
At the February 11 meeting, David Gray, a regional EPA official, explained changes that the agency is making in the way it monitors chloroprene, which the community has been exposed to for over 50 years.
The Denka plant, formerly owned by Dupont, has voluntarily cut its emissions dramatically since 2016, but EPA air monitoring shows that chloroprene levels are still often dozens of times higher than the lifetime exposure threshold recommended by the agency…
---
---
..The community expressed frustration that Gray couldn't offer many details about the new monitoring system. He explained that EPA has yet to work out all of the details.

Lydia Gerard, right, a member of the Concerned Citizens of St. John, expressing her concerns to David Gray, a regional EPA official, at a public meeting on February 11, 2020.
The main frustrations stemmed less from concerns about changes to the air monitoring system than from the failure of the EPA and LDEQ to force Denka to cut emissions to EPA's recommended standard.
"We don't want more tests and studies," one community member said. "We want action."
I asked LDEQ if the agency is planning to require Denka to cut production, but was told that the agency would not comment due to pending litigation, referring to a class action lawsuit.
At the February 11 community meeting, lawyers representing residents of St. John the Baptist in that class action lawsuit against Denka questioned Gray about potential coziness between the federal regulator and the company. They brought up 2019 emails between him and an official at Denka which suggest a close relationship between the EPA and Denka…

Robert Taylor, director of the Concerned Citizens of St. John, speaking at a meeting on February 11, 2020.
"Four years after learning about chloroprene dangers, children still attend the Fifth Ward elementary school right next to the plant," Robert Taylor, director of the Concerned Citizens of St. John, said during the meeting. He expressed disgust that authorities have not relocated the students away from the polluting plant. "We need to protect the children!"
Turning Awareness Into Change
Lt. General Russel Honoré, founder of Louisiana's Green Army, a grassroots anti-pollution coalition, attended the recent meetings about Denka and Exxon air pollution. He hopes the increased public engagement over air pollution concerns will help move the state legislature, which in the past has resisted mandating additional air monitoring, to pass state Senator Fields' bill currently in the works. He believes people need and deserve access to real-time information to better protect themselves and their families from the serious risks of living near the oil and gas industry.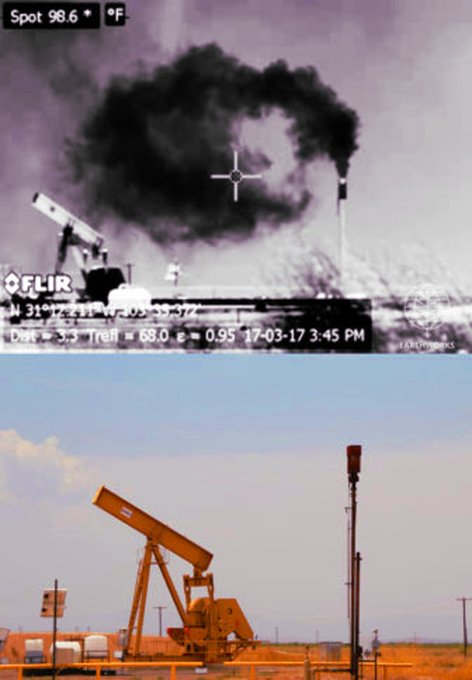 During the meeting in Baton Rouge, Honoré encouraged the crowd of about three hundred to stay engaged. He also issued an angry warning about public trust to the media, first responders, and Exxon representatives: Stop telling the community that "nothing left the plant" like they did while the refinery fire was still ablaze , because in doing so, "you have lost all respect from the citizens."
Main image: Entrance to ExxonMobil's Baton Rouge refinery on February 19, 2020, a week after a fire at the facility. Credit: most photos by Julie Dermansky for DeSmog
---
---
Seeing is Believing Earthworks: Community Empowerment against fracking pollution and climate change.
.Creative Commons reuse allowed) shared with thanks
see also: It's a Vast, Invisible Climate Menace. We Made It Visible.. HERE:https://wp.me/pIJl9-e8w
Impacted residents travel to Madrid to highlight that planned infrastructure to process & export Permian oil & gas would guarantee catastrophic climate change
Madrid, Dec 4 — Today at an official COP25 side event Texas and New Mexico residents — impacted by the extraction of Permian Basin oil & gas, and by planned infrastructure to transport, process and export it — informed delegates and other attendees that catastrophic climate change is inevitable unless the Permian infrastructure expansion is stopped.
"The Permian Basin is an oil and gas carbon bomb that's exploding, and it's happening right now. If we can't defuse it, the world cannot avoid catastrophic
climate change. Major oil companies are trying to lock in decades more oil and gas demand by building infrastructure from the Permian to the Texas Gulf Coast to transport, process and export the world's largest current oil & gas play," said Earthworks' Energy Campaigner Ethan Buckner.
Between 2018 and 2050, production of new U.S. oil and gas reserves could unlock 120 billion metric tons of new carbon pollution. Meanwhile the U.S. — thanks to Permian production — just marked its first month as a net exporter since records have been kept. If production and expansion are not curtailed, U.S. oil and gas expansion will impede the rest of the world's ability to manage a climate-safe, equitable phase out of oil and gas production.
Although communities across the region are bearing the brunt of impacts from oil, gas and petrochemical development, those most at risk from the Permian expansion are those already the most impacted by social and environmental injustice. And on Texas' Gulf Coast — where the oil & gas is processed and exported — they're suffering twice: from the operations' toxic pollution, and from intensified climate change.
"I live less than two miles from the Ship Channel in the East End of Houston, TX. My dad was a United Steelworker who died of cancer in 2016, and I was diagnosed with an autoimmune disease that same year. So I'm well aware that workers and fenceline communities are paying with their health the price of daily exposure to toxic pollution from oil and gas infrastructure," said Ana
No One Should Have to Breathe These Chemicals – AnaParras of Texas Environmental Justice Advocacy Services (@tejasbarrios). HOUSTON — While families across the country celebrated Thanksgiving with their loved ones, more than 50,000 people in Port Neches, Tex., were forced to evacuate from their homes and spend the holiday in makeshift shelters
"America's national leadership has failed by placing short term gain over global sustainability and ecological responsibility. I am deeply concerned that the wild abandon and insane profits of the oil patch in Carlsbad have exacerbated the divide between rich and poor, creating serious economic injustices," said Reverend David Rogers, First Christian Church Disciples of Christ, Carlsbad, NM
Scientific study and optical gas imaging videos demonstrate that the worst recorded oil and gas methane pollution is in the Permian Basin of Texas & New Mexico. Because methane is 86 times more powerful a climate pollutant than carbon dioxide, and because it only stays in the atmosphere for 12 years while carbon dioxide remains for as long as 200 years, eliminating methane pollution is among the quickest, if not the quickest, way to mitigate future climate change impacts.
photo shared with thanks from The Times exposé https://www.nytimes.com —
"I travel the Permian Basin with an optical gas imaging camera that makes visible the normally invisible methane pollution the oil & gas industry often claims doesn't exist. If you could see what I see, there might not be a fracking boom. Seeing is believing," said Earthworks Field Advocate Nathalie Eddy.
Contact: Nathalie Eddy (in Madrid): +1.720.935.7404, neddy@earthworks.org; Alan Septoff (in United States): +1.202.271.2355, aseptoff@earthworks.org
Partnering with communities to protect against fracking-related pollution.Home » Campaigns » Community Empowerment Project
Earthworks' Community Empowerment Project (CEP) works with communities to protect their health and the climate by making visible normally invisible air pollution from oil and gas facilities. With video evidence in hand, we work side-by-side with impacted residents to pressure regulators and companies to reduce pollution.
Earthworks' Community Empowerment Project (CEP) works with communities to protect their health and the climate by making visible normally invisible air pollution from oil and gas facilities. With video evidence in hand, we work side-by-side with impacted residents to pressure regulators and companies to reduce pollution.
Together we spotlight regulators' responsibility to protect the public from the industry's pollution — and hold them accountable when they don't.
Find Pollution Near You & Take Action
Earthworks ITC-certified staff travel the United States and internationally exposing oil and gas air pollution using our optical gas imaging cameras. Zoom in on the map below to find camera icons indicating the worst of our 700+ videos of pollution from oil and gas sites.
Earthworks' team of experts uses these videos to file official complaints with state and national regulators, and to help communities do the same. Once regulators respond to our complaints we add them to the map. Zoom in on the map below to find paper and pencil icons that track closed complaints and any related actions.
You are not alone. Over 12.6 million people in the United States live within half a mile of an oil and gas facility, a distance within which health impacts have been most clearly correlated by peer-reviewed science. Zoom in on the map below to find a person icon and hear some of their stories. To add your story, contact us at info [at] earthworks.org.
Get help. Fill out a form at the bottom of this page to bring Earthworks' CEP to your community, get help filing an official complaint or to share a complaint you already filed with Earthworks.
---
There is a huge global spike in methane, one of the most potent greenhouse gases driving climate change over the last decade, according Harvard University Studies. The U.S. is the biggest culprit, mostly from oil and gas fracking wells, there are over a million of them, with half already abandoned. Obama introduced laws so that the industry would -voluntarily- at least measure the leaks. But even that is being repealed by the Trump administration, a criminal and ecocidal policy in the light of years of concrete scientific proof that the methane emissions are tipping us towards imminent uncontrollable climate chaos.. Controlling methane emissions would be a quick way to pause climate change, while CO2 remains in the atmosphere for many decades.
---
Invisible Air Pollution
Oil and gas pollution can cause health problems for nearby communities ranging from asthma and nosebleeds to increased risk of cancer. It also releases large volumes of methane, a potent climate pollutant 86 times worse for climate than carbon dioxide.
Our state-of-the-art OGI cameras, operated by our ITC-certified thermographers, make visible 20 normally invisible volatile organic compounds, including the carcinogens benzene and toluene, and methane.

Thanks to generous Earthworks supporters, we have been documenting pollution with FLIR GasFinder 320 optical gas imaging (OGI) cameras since 2014. Our cameras are the same model used by industry and government agencies to detect leaks and chronic pollution, and our camera operators receive the same training.
How can CEP help you?
Request a Visit
Get Help Submitting a Complaint
Share Your Complaint with Earthworks
photo shared with thanks from The Times exposé https://www.nytimes.com —
Related Posts
The US Fracked Gas has been shown to be at least twice as lethal for the world climate as coal, due to massive methane leaks. However the Trump led regime has cancelled all methane measuring regulations in the industry, despite a a recent study from Harvard, and still sells the myth that gas is a less dangerous 'transition fuel'.
U.S. And European Activists Host #BreakTheFrackingCycle demonstrations have sought to amplify, … fighting back against the expansion of fracked gas projects. If built, the Rio Grande LNG terminal would be the single-largest source emitter
Public Resistance in the US is limited as Water and Environmental laws were suspended for the gas and oil fracking entrepeneurs and compensation is impossible for the huge public and animal health epidemics caused by exploding lethal chemicals in huge quantities close to groundwater.
US Fracking has benefited from state support, free loans and exemption from environmental and climate costs. Even so the industry has always been close to bankruptcy, wells are short lived and up to half a million are abandoned, many with lakes of toxic chemicals.
Nevertheless Fracking has made the US self sufficient in energy, and the web of pipelines bringing the gas and oil mostly to the Texas Gulf coast has spawned a huge LNG export industry, now set to expand fivefold, and a giant LPG volume supplying a mushrooming plastics industry.
RELATED POSTS
see also: It's a Vast, Invisible Climate Menace. We Made It Visible.. HERE:https://wp.me/pIJl9-e8w
Gulf Coast Fracked Gas pipeline projects Oct 2018
Efforts to force the Fracked Gas on Europe continue, with open blackmail of US dependent European states, linking anti Russian sanctions relief to buying Fracked Gas and vetoing the Russian Northstream 2 pipeline. New terminals have been built in US friendly Lithuania and Poland, as well as a new scheme of discounts to the Henry Hub US pricing system the Fracked Gas is pegged to.
---
Algeria Green-lights climate-lethal Fracking Gas with EU Imperialists TOTAL and CEPSA
Repsol Looting Libya: profits unaffected by Pipeline Sabotage: