El Raval enters collapse phase
Barcelona has crashed. Now its ground zero in the collapse of the Dream. This is an example of what's happening all around the world.
Hundreds of people who lived in a submerged or very precarious economy linked to tourism have found themselves with absolutely nothing overnight.
The strong neighbourhood mutual aid networks are overwhelmed by the sudden fall of all those who remained invisible, already on the threshold of destitution

by Helena López.. ..translated from elperiodico.com with thanks. Illustrations added..

Behind every unknown phone number that lights up the screen, dozens a day, there lies a story. One of the latest, that of a Filipino girl who lives in a rented room with her four-year-old daughter. A small room with chipped walls that she hasn't been able to pay for for two months. She worked in the kitchen of a restaurant without a contract.
With the decree of the Spanish 'State of Alarm', she lost her income and, by working irregularly, cannot access any aid. "The man who rents the room wanted to kick us out. He has agreed to let us stay until the end of the month because I told him that if he kicked us out in full 'Confinement Lockdown' I would report him to the police. But what will happen to us tomorrow?"
Elena's case is a typical example of the consequences of this crisis in the old city neighborhood. Living in the Lockdown confinement in a rented room with a child was already hard. Losing even that is what is happening these weeks in Raval, a neighborhood where the Covid-19 has caused a multiple collapse.

"It is very hard to have to pick up the phone and say 'sorry, we cannot help you, we are overwhelmed'" Anna Moreno Neighbors in Red Ciutat Vella Network
So thousands of people who lived in the shadow economy and have been left with absolutely nothing. It's shocking to meet this Filipino couple, she worked in cleaning and he in the restaurant, running from one place to another asking for help just to eat. .. "All this catches us, moreover, at a time when a demonstration cannot even be organized."

Weeks passed, especially before the start of the de-escalation, when practically the only thing that was seen in the streets of the neighborhood were the huge queues in the soup kitchens, even longer due to the 'social distancing'.
The conversion of the soup kitchens into delivery points for take-away food due to the pandemic put the reality on view as homeless and new employed waited together..
The Sant Pau social gym has been converted into a toilet for the homeless and a delivery point for cooked meals .. "The Municipal Institute of Social Services commissioned us to do what we had been doing for a long time, to offer the service of showers.
We started with 75 showers and 75 meals, but the situation is so serious that we have raised our meals to 175″, relates Jordi Bordas, president of the gym cooperative.
.see also…New Mutual Aid Hotline Blocks dozens of Evictions, Threats and Toxic Capitalism

"The descent from the lower middle class to the lower class is spectacular, there are business people now in the soup kitchen" If the lower-middle class has become low, the one that was already low has hit rock bottom.
From the Sindicat d'Habitatge (Housing Union), Elena meets groups such as the Putas Indignadas de Robadors (Rebel Prostitutes) who are also organized to collect and distribute food-, the manteros or Metzineres, ( black immigrant street sellers), drug-dependent women, these days in an even more extreme situation given their impotence of being trapped in an empty city where you can't even beg.

From Ciutat Vella Network neighbours, a structure created by the Raval Rebel and Resistim al Gòtic movements, Anna Moreno points out the impotence of having to pick up the phone and say "I'm sorry, we can't help you." They work, only in the Raval neighborhood, with about 100 people and they cannot help more. "We have a very long waiting list, but what we cannot do is help some families one week and others the next.
We cannot leave behind the people we already work with and we are overwhelmed," says the neighborhood activist. who cares more about tomorrow than today. Confinement will pass, but poverty here will continue.
Related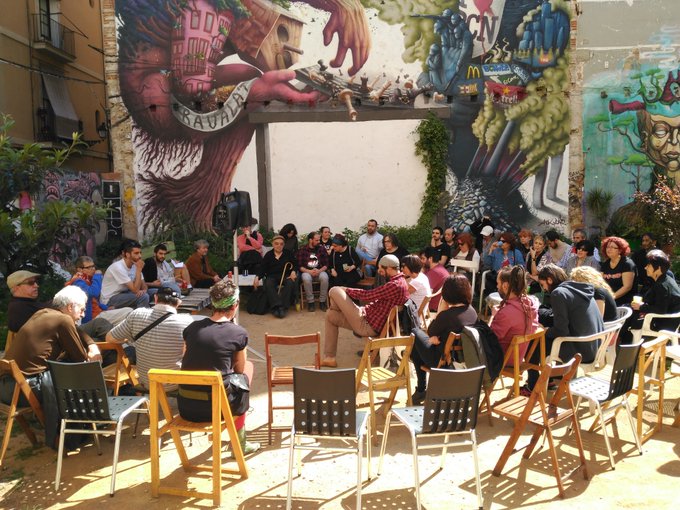 original en castellano
El Raval entra en fase de colapso
Cientos de personas que vivían de una economía sumergida o muy precaria vinculada al turismo se han encontrado sin absolutamente nada de un día para otro
Las potentes redes vecinales de ayuda mutua están sobrepasadas ante la caída de golpe de todos los que permanecían invisibles en el umbral de la pobreza
Helena López Barcelona – Sábado, 09/05/2020 – 22:56
see also.. Road to Revolution: The Barcelona Rent Strike of 1931.
Colas para recoger comida en el comedor de las Misioneras de la Caridad. / FERRAN NADEU
Tras cada número de teléfono desconocido que ilumina la pantalla, decenas al día, una historia. Una de las últimas, la de una chica filipina que vive en una habitación realquilada con su hija de cuatro años. Una habitación pequeña de paredes desconchadas que lleva dos meses sin poder pagar. Trabajaba en la cocina de un restaurante sin contrato. Con el decreto del estado de alarma perdió los ingresos y, al trabajar de forma irregular, no puede acceder a las ayudas. "El hombre que le alquila la habitación pretendía echarlas. Ha accedido a dejarlas quedarse hasta final de mes porque le dije que si las echaba en pleno confinamiento le denunciaría a la policía. Pero, ¿qué pasará con ellas mañana?", explica Elena Martín, miembro del Sindicat d'Habitatge del Raval, una de las piezas del engranaje de la potente maquinaria de la red de solidaridad vecinal del barrio. La crudeza del caso que retrata Elena es una fotografía fiel de las consecuencias de esta crisis en el barrio. Vivir el encierro en una habitación realquilada con una cría era duro. Perder incluso eso ha sido es lo que está pasando estas semanas en el Raval, un barrio en el que el Covid-19 ha causado un fallo multiórganico.
Iñaki García, una de las personas que mejor conoce las entrañas del Raval, define la situación actual como el derrumbe de un mito. El mito de la Barcelona económicamente todopoderosa que en realidad pendía de un hilo. "Estoy asustado. Es muy profundo todo esto. El confinamiento ha visibilizado de golpe todo lo que había debajo. A las miles de personas que vivían de la economía sumergida y se han quedado sin absolutamente nada. Es impactante ver a las parejas de filipinos en los que ella trabajaba en la limpieza y él en la restauración, corriendo de un lado para otro pidiendo ayuda para comer. Una comunidad siempre tan discreta, que nunca había levantado la voz", relata el activista vecinal apuntando otro asunto a sus ojos crucial, la voz: "Todo esto nos coge, además, en un momento en el que ni siquiera se puede organizar una manifestación".
"Es muy duro tener que descolgar el teléfono y decir 'lo siento, no podemos ayudaros, estamos desbordados'"
Anna Moreno
Vecines en Red Ciutat Vella
Pasaron semanas, sobre todo antes del inicio de la desescalada, en las que prácticamente lo único que se veía en las calles del barrio eran las inmensas colas en los comedores sociales, todavía más largas por la distancia social. La reconversión de los comedores en puntos de entrega de comida para llevar por la pandemia puso su realidad a la vista de todos. Unas colas, además, en las que el estallido de esta crisis ha hecho coincidir al sintecho con el trabajador que hasta hace unas semanas le ayudaba siempre que podía con unas monedas cuando se lo cruzaba.
Pero las crisis lo afloran todo, lo malo y lo bueno, y la alegría para el Raval es la solidaridad de sus vecinos. "Tanto los organizados, que somos a los que más se nos ve, como los que no lo están, pero se están ayudando cada día en sus escaleras o calles. El barrio ha dado de sí lo que no nos podemos imaginar. Las redes de confianza tejidas en la lucha contra los desahucios o por el CAP han dado sus frutos y la emergencia ha activado la imaginación colectiva, pero estamos al límite. Hicimos público un teléfono para ofrecer ayuda y en dos horas habíamos recibido 70 llamadas. Estamos cubriendo unas necesidades que tendría que cubrir el Estado", reflexiona Iñaki.
Entrega de comida en el Gimnasio Social Sant Pau, este viernes. / ferran nadeu
Un ejemplo de esa activación de la imaginación para dar respuestas rápidas a la urgencia en pleno confinamiento es la reapertura del gimnasio social Sant Pau reconvertido en un punto de aseo para personas sin hogar y de entrega de menús cocinados (en sustitución de los comedores sociales). "El Instituto Municipal de Servicios Sociales nos hizo el encargo de hacer lo que ya llevábamos tiempo haciendo, ofrecer el servicio de duchas. Empezamos con 75 duchas y 75 comidas, pero la situación es tan grave que nos han subido las comidas a 175", relata Jordi Bordas, presidente de la cooperativa del gimnasio, quien señala que la mitad de las personas que acuden al Sant Pau a buscar comida antes de la crisis del Covid-19 tenía trabajo.
"El descenso de la clase media-baja a la clase baja es espectacular", señala Jordi, quien también trabaja como dinamizador del Eix Comercial del Raval. 20 comercios afiliados al eje le han comunicado que bajan la persiana definitivamente, lo que suponen unas 50 familias afectadas. Y cuatro socios, personas hasta anteayer propietarias de un pequeño negocio, le han pedido si pueden ir al gimnasio a buscar comida.
"El descenso de la clase media-baja a la clase baja es espectacular, hay comerciantes en el comedor social"
Jordi Bordas
Dinamizador del Eix Comercial del Raval
Si la clase media-baja ha pasado a ser baja, la que ya era baja, ha tocado fondo. Desde el Sindicat d'Habitatge, Elena recuerda a colectivos como las Putas Indignadas de Robadors -también organizadas para recoger y repartir alimentos-, los manteros o Metzineres, espacio de apoyo a mujeres drogodependientes, estos días en una situación todavía más extrema dada la impotencia de encontrarse ante una ciudad vacía en la que ni siquiera poder mendigar.
Desde Vecines en Red Ciutat Vella, estructura creada por los movimientos Raval Rebel y Resistim al Gòtic, Anna Moreno apunta la impotencia de tener que descolgar el teléfono y decir "lo siento, no podemos ayudarte". Trabajan, solo en el barrio del Raval, con unas 100 personas y no alcanzan a ayudar a más. "Tenemos una lista de espera larguísima, pero lo que no podemos hacer es ayudar a unas familias una semana y a otras la próxima. No podemos dejar tirados a las personas con las que ya trabajamos y estamos desbordados", se sincera la activista vecinal, a quien le preocupa más el mañana que el hoy. El confinamiento pasará, pero la pobreza aquí seguirá.
Related