The five pandemics that plague the Ass of the World. By María Galindo at Mujeres Creando/ Bolivia. translation TheFreeOnline shared with thanks
original en castellano más abajo
In another provocative and essential text, the Bolivian activist María Galindo proposes to think and act on 5 emergencies that, she says, cannot be justified by the advance of the coronavirus: fascism, colonization, corruption and state neglect, male violence and hunger .
How each of these other "pandemics" plague the Latin American countries that she baptizes "Culo del Mundo (The essof the world)", "in the ambiguous sense of a place of pleasure and contempt at the same time."
Body Bags, wirh zip. On Sale Here in La Paz
Fear and hunger as a control formula; financial loans as a method of colonization; the ancestral views of health, closer to health care; the role of non-institutional popular 'pots' (communal funds) managed by women; the question of whether the exits are going to come from the broken and corrupt states; sexist violence, care crisis and the phrase of George Floyd translated by Galindo: «In the center of the pandemic the movement I CANNOT BREATHE is born, which in Andean code means.. I Can Take NO MORE ».

By María Galindo, life-long inhabitant of the abnormality. Women Creating / Bolivia.
Grateful for the critical reading of Claudia Acuña and the edition of Helen Álvarez.

La Paz, Bolivia.
In this part of the world from where I write, it is urgent to say that we are not facing one pandemic but five, and at the same time. Or, if you prefer, to a pandemic then multiple layers, attached to each other, where the visible and external layer is that of the coronavirus. That layer functions as the obvious surface behind which the five pandemics hide and legitimize themselves, namely:
1) The fascism pandemic that affects democratic structures and freedoms and that mobilizes all the prejudices around the disease, contagion and the "protection" of the population.
2) The colonial pandemic that affects the North / South relations, and the relations with the south of the world present in all societies, the relation with the knowledge and management of the disease and the over-indebtedness of the entire region for the intensification of a more severe global colonial debt contract.
3) The pandemic of corruption and state apathy.
4) The pandemic of sexist violence that directly affects the place of women and the care crisis.
5) The pandemic of pandemics, which is that of hunger.
continues below…
There is a mirage game between one pandemic and another, a game that confuses and paralyzes the protest: when you are challenging one pandemic, another one overlaps to deactivate or relativize all arguments of resistance.
Simply put, the coronavirus justifies everything.
As I write this text, a woman has died in her son's arms. She died of tuberculosis at the door of a hospital where, in panic, she was not allowed to enter. The mother is so small that she looks like a girl snuggled in the arms of an adult, because in addition to tuberculosis she has been annihilated by hunger. Was it hunger first and then tuberculosis? Did she also have to have the coronavirus so that she could not pass through the door of a hospital or did they use that pretext to not receive anyone because there is never and was never a place for anyone else? As they want to put the factorsinto order, their televised and transmitted death becomes routine.
What is happening in this south baptized as Latin America that I have preferred to name as Ass of the World, ass in the ambiguous sense of place of pleasure and contempt at the same time?
Is there any continuity between what happens today in Mexico, Peru, Brazil, Ecuador, Argentina or Bolivia?
If it is a question of common denominators that cross the entire continent, I dare say that male violence, government corruption and the handwashing of local oligarchies – which in no country have assumed any responsibility – are the infallible, whether they govern the fascist right or progressive left; whether rigid, flexible quarantine or denialism has been chosen.
The region itself is impossible to describe under a single prism, there is no uniformity; What then is there in common between the digging of graves for corpses in Brazil, the accelerated indebtedness of Bolivia or Ecuador and the umpteenth threat of bankruptcy of the Argentine State, which makes us think of the prompt bankruptcy of many States in the region? ?
A 'despatriarcar' … Lets destroy Patriarchy
So I ask your permission to speak in general terms, knowing that depending on which country you are in luck these elements work differently.
Coloniavirus: the colonial density of the pandemic
I ask permission from the Ecuadorian resident in Barcelona Mafe Moscoso, from whom I take the title of "Colonialvirus". This is how she calls the pandemic to denounce what is happening in Guayaquil and the role of the "exiles of neoliberalism" and the oligarchies.exposed as the bodies carrying the virus.
The colonial layer of the pandemic is neither tangential nor detailed; it completely surrounds it.
Colonial density means that southern countries buy everything from medical supplies through tests, reagents and respirators to medicines in a neoliberal-colonial market and at speculative prices, inaccessible to our economies.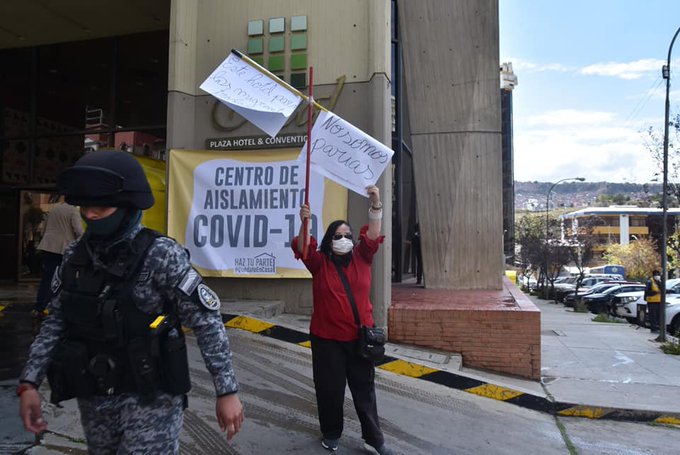 Colonial density involves the preparation by the International Monetary Fund of an accelerated indebtedness process, which takes advantage of the situation of panic so that governments turn their backs on societies, while contracting more debts that pawn the future, the forests, the jungle , the territory, strategic raw materials, such as lithium or oxygen from the Amazon itself.
The World Bank and the International Monetary Fund are willing to make loans to all kinds of governments in times of pandemic that favor the destruction of the economy because in this context, debt is easily presented as bailout when in fact they represent the signing of colonial dependency contracts, for the future.

Our remedies
There has been scorn of the proposal that I raised in an article that I published at the beginning of the scourge of the colonialvirus on home and ancestral medicine as a way out. It seems that one must dogmatically believe that this is a problem that will only be solved by corporate research in artificial intelligence laboratories.
The problem is not in putting one medicine in a dichotomous line with the other, less in putting them on a colonial scale of "primitive" versus "developed". The most necessary thing is to integrate one with the other and understand the psychosomatic principles of ancient medicines and their holistic understanding of the functioning of the body. They are concepts that must be urgently integrated into all medicine.
On the other hand, medicine in most of our countries is a recipe book copied without thought or investigation, so we learn from the BBC and from Canada that the flames that coexist with us in the Andes can be carriers of an Effective antibody, or we learn that in high-rise cities, such as Quito or La Paz, the incidence is lower because even the colonial virus is badly developed. It is not our medical universities or our laboratories that investigate because in most of our region there is no research and, when there is, it is in conditions of informative extractivism.
Microbiology and artificial intelligence can provide a specific and temporary solution to this virus, but let me now laugh a little at those who are looking forward to that solution with faith. Where is the independent laboratory not linked to the powers of the transnational pharmaceutical company? What do we really know about the virus from these information centers and what is hidden from us from these same information centers?
For that pharmaceutical power, as inhabitants of the Culo del Mundo we have
served as bodies of experimentation, disposable populations, those who do not matter, and also as a territory for the extraction of knowledge. How long will it take for a vaccine to reach the Argentine chaco, the Peruvian or Bolivian Amazon, where today thousands and thousands suffer from dengue?
We will literally be the last to receive it. What will be its actual cost? We will not be able to pay its price with money, which is paper, but without a doubt we will pay the entire bill by pawning our land.
Internacional
Las cinco pandemias que azotan al Culo del Mundo. Por María Galindo
The colonial density is heartbreaking when we speak of the countless displaced temporary workers who have been left out of all health services, in front of whom borders have been closed declaring them outcasts and to whom no society has recognized them. as belonging: neither their societies of origin, where their monthly remittances have guaranteed essential economic income, nor the societies where they have guaranteed essential care services with precarious work and without rights.

The colonial virus has been the cleanest and most indisputable political pretext of neoliberalism to open the movement of goods and close the circulation of people.



Europe has gone from closing its national borders to closing its continental borders and finally inhabiting its fascist dream that danger is the other. That same day, the voices of hundreds and thousands have emerged demanding the immediate regularization of all those classified as illegal and until now only Italy has done so.
What is the health system responsible for curing the infected who came to Spain from Guayaquil or Beni in Bolivia, regions where contagion is something very similar to genocide?
The virus in its colonial density is a border that divides the bodies and the populations between those worthy of life and the unworthy of life, between the regions theey come from and they discuss protocols and proposals and regions where those protocols are not intended, but copied.

We are contagious
Fear and hunger play a deadly game on our streets and our economies.
Going out to buy food is preparing to visit the hunger room; People are going out to beg creatively, with dignity and with originality, they hold your eyes, they gently cut your way, they extend your hand or offer you sweets and all kinds of practical inventions to face life. Yesterday I bought a needle threader although there are no needles or threads in my house. The vendor's gaze, his displays, his dignity, his clothing, his breath, his homemade muzzle – all of it was a cry of magnetizing dignity.
There are many varieties of masks that I prefer to call "muzzles for humans" for all tastes and budgets, because you also have to survive on that, but the universal mask seems to be tangerine skin. Citrus has invaded the streets and it is with citrus that we will naively defend ourselves here against the pandemic, while we are catching the colonial virus and the will to live at the same time.
Walking in the popular neighborhoods from time to time smell herbs that must be boiling in worn-out pots that lost the lid decades ago. People have taken refuge in home medicine and grandmother's knowledge. Vapors come from afar because Amazonian peoples have decided to scare off the pandemic with long rituals.
Los Deseos de la Virgen GRATIS Los Deseos de la VirgenLeer más
Avenida 20 de Octubre #2060 (+591)(2)2413764 mujerescreando@entelnet.bo
La Paz
The common pots (communal funds) – which are neither more nor less than the collective and not individual response to hunger – not only represent an act of disobedience, but are current and daily news. There are all types and under all kinds of organization throughout the continent. They have two common characteristics:
They are organized and managed by women not out of a question of servitude, but out of a know-how-.
They are not state or institutional and are super effective as a social measure against hunger. No one dares to intervene, disqualify, or disable any common pot.
Especially disobedient old men and old women banned from going out are on the streets. The police also dare not question them. There they are 70, 75 and 80 years old, in search of subsistence. A thousand ways in which the elders of our societies are challenging death itself. They share what they achieve with their loves and the next day you see them again on the streets setting the pace of a quarantine that is not the worst or harder than what they have been through.
Perhaps the greatest power of the people of this region is precisely there. It is not that a crisis has come to us, but that we live in crisis, it is not that we wait for answers but that we continually invent them in an artisanal and intuitive way, appealing to the tools of the context itself, and that is what is seen in the region by all the corners. Home remedies, inventions of new ways of earning a living and plunging to death at the same time. The days have turned into colorful end of the world festivals.

The State and the corruption pandemic
Surely, in terms of corruption, the Bolivian government must be one of the most outstanding in the region today. The scandal of buying 500 respirators at 300 percent more than their price is just the tip of the iceberg.
We buy the most expensive tests in the region through intermediaries, but we do the fewest tests in the region. Several capitals of the country do not have a test processing laboratory and the few laboratories that exist are collapsed and delivering the results late, but in addition the tests already arrive late to the laboratories as they are transported by land.
Contagion figures are low because there is a huge under-reporting due to state negligence that functions as a collective lie. The most important functions of the State, such as public education, have been suspended and plans to make it virtual are no more than a collective lie.
Military spending has tripled because troop mobilization is ongoing and the pandemic has been used to legitimize the military presence in cities.
None of the oligarchic sectors linked to transnational corporations or representing the large concentrations of capital in the region have been called to assume even a part of the costs of the pandemic. What's more, in many cases they have been the first to pass their loss and requirement lists to governments. While the population is losing work, livelihood, education and even life, the oligarchies are washing their hands and giving themselves the luxury of doing charity. Grotesque is the recurring image of charitable donations taking the cover photo.
Can we then allow ourselves to think that the solutions are going to come from the State?
Are we ready to make a list of post-colonial virus demands to pass on to the governments? Is it just a matter of changing one government for another?
Is it really the way out to give the State the administration of a universal basic income, which is what ECLAC (Economic Commission for Latin America) and the so-called progressive left proposes? How much will each Bolivian peso, each Peruvian sol, each Chilean or Argentine peso cost us to withdraw from a State window?

In this region, I dare say that poverty is not a lack of income, but dispossession, it is not a lack of income, but the systematic destruction of the ecosystem, the destruction of the jungle and freshwater.

ECLAC's proposal has a lot to do with a re-indebtedness of our societies and with the containment of the revolt that is cooking in the other common pots that are the pots of ideas, anger, pain and frustrations.
For a year of basic income they will sign in our name the passive reincorporation and without objection or debate to the patriarch / extractive colonial capitalism .

Macho violence and care crisis
What the States have solved the worst is the question of the children turned into caged birds, whose responsibility for containment has been and is enormously unloaded on the backs of the mothers.
Aggravated by the fact that the wave of quarantine easing begins, schools are not opened and there are no solutions for raising children, demonstrating that everything can be unloaded on the backs of women without any limit and even without logic.
Sin libertad sexual no hay libertad política
Colonialvirus is a crisis of care that has placed care in the double yardstick of the massively overloaded and underpaid jobs carried out by women, who are at the same time, the only ones that are really useful in saving lives, containing emotions and building collective senses.
To suppress the street for women has been to suppress the historical emancipatory space. It has meant suppressing the other ephemeral city that we inhabit and mount every day. It has been a true imprisonment in the patriarchal nuclear family that we were dissolving and in the space where our energies were captured. It has been placing ourselves at the mercy of the frustrations of a male who is in decline and who does not find his own place in the world.
Quarantined femicide rates are proof of what I am saying. The rates of sexist violence and sexual violence that break any romanticized sense of home are proof of what I am saying. The street is our home and the space outside is the space in which we are building freedom.
This places the family and the State in the same line of the expired institutions, of archaic mamotretos that in this crisis have shown their absence of answers, their weight as myth and their undeniable decline.

The community is not the sum of families, but the breakdown of these for the construction of new affectivities, contentions and complicities.

The State is not the entity called to solve what the post-pandemic brings, organized society, critical voices and accumulated hunger are the ones who will need to elaborate not a list of requests to any government but a framework for the political redefinition of democracy as a radical axis of participation and not as an electoral marketing apparatus, of the economy as an axis of construction of well-being and of the community as the place of affective disorder.
Under the hunger ideas are growing.
Beneath hunger dreams continue to flourish.
And while we bury the dead, they are still hot and conspire with us to tell us that they did not die of coronavirus but of capitalism.
In the center of the pandemic the movement is born I CAN'T BREATHE that in Andean code means 'I Can't Take Anymore'.
*********
Original en castellano
Las cinco pandemias que azotan al Culo del Mundo. Por María Galindo
En otro texto provocador e imprescindible, la activista boliviana María Galindo propone pensar y actuar sobre 5 urgencias que, dice, no pueden justificarse ante el avance del coronavirus: el fascismo, la colonización, la corrupción y desidia estatal, la violencia machista y el hambre. Cómo azotan cada una de estas otras «pandemias» a los países latinoamericanos a los que bautiza como Culo del Mundo, «en el sentido ambiguo de lugar de placer y de desprecio al mismo tiempo». El miedo y el hambre como fórmula de control; los préstamos financieros como método de colonización; las miradas ancestrales de la salud, más acá del sanitarismo; el rol de las ollas populares no institucionales y gestionadas por mujeres; la pregunta de si las salidas van a venir de los Estados quebrados y corruptos; la violencia machista, la crisis de cuidados y la frase de George Floyd traducida por Galindo: «En el centro de la pandemia nace el movimiento NO PUEDO RESPIRAR que en código andino quiere decir NO AGUANTO MÁS».
Por María Galindo, habitante vitalicia de la anormalidad. Mujeres Creando/ Bolivia.

Agradecida con la lectura crítica de Claudia Acuña y la edición de Helen Álvarez.
En esta parte del mundo desde donde escribo es urgente decir que no estamos enfrentando a una pandemia sino a cinco, y al mismo tiempo. O, si prefieren, a una pandemia que múltiples capas, adheridas una a la otras, donde la capa visible y externa es la del coronavirus. Esa capa funciona como la superficie evidente detrás de la cual se esconden y legitiman las cinco pandemias, a saber:
1) La pandemia del fascismo que afecta las estructuras y libertades democráticas y que moviliza el conjunto de prejuicios en torno de la enfermedad, el contagio y la "protección" de la población.
2) La pandemia colonial que afecta las relaciones Norte/ Sur, y las relaciones con los sures del mundo presentes en todas las sociedades, la relación con el conocimiento y manejo de la enfermedad y el sobreendeudamiento de toda la región para el recrudecimiento de un contrato colonial global más severo.
3) La pandemia de la corrupción y la desidia estatal.
4) La pandemia de la violencia machista que afecta directamente el lugar de las mujeres y la crisis de cuidados.
5) La pandemia de las pandemias que es la del hambre.
Hay un juego de espejismo entre una pandemia y otra, un juego que confunde y paraliza la protesta: cuando estás interpelando una pandemia se superpone la de otra para desactivar o relativizar todo argumento de resistencia.
En pocas palabras, el coronavirus justifica todo.
Mientras escribo este texto ha muerto una mujer en los brazos de su hijo. Murió por tuberculosis en la puerta de un hospital donde por pánico no la dejaron entrar. Es tan pequeña la madre que parece una niña acurrucada en los brazos de un adulto, porque además de la tuberculosis la ha aniquilado el hambre. ¿Fue primero el hambre y luego la tuberculosis?, ¿Tuvo también que ver el coronavirus para que no pudiera pasar la puerta de un hospital o usaron ese pretexto para no recibir a nadie porque ni hay ni hubo nunca allí lugar para nadie más? Como quieran colocar el orden de los factores su muerte televisada y transmitida se convierte en rutinaria.
¿Qué está pasando en este sur bautizado como Latinoamérica que he preferido nombrar como Culo del Mundo, culo en el sentido ambiguo de lugar de placer y de desprecio al mismo tiempo?
¿Hay alguna continuidad entre lo que pasa hoy en México, Perú, Brasil, Ecuador, Argentina o Bolivia?
La región misma es imposible de describir bajo un solo prisma, no hay uniformidad; ¿Qué es entonces lo que hay de común entre el cavado de fosas para los cadáveres en Brasil, el endeudamiento acelerado boliviano o ecuatoriano y la enésima amenaza de quiebra del Estado argentino, que nos hace pensar en la pronta quiebra de muchos Estados de la región?
Si de comunes denominadores que recorren todo el continente se trata me atrevo a decir que la violencia machista, la corrupción gubernamental y el lavado de manos de las oligarquías locales -que en ningún país han asumido responsabilidad alguna- son los infalibles, sea que gobierne la derecha fascista o la izquierda progresista; sea que se haya optado por la cuarentena rígida, flexible o el negacionismo.
Les pido entonces permiso para hablar en términos generales, sabiendo que según qué país te toca en suerte estos elementos funcionan de manera distinta.
Coloniavirus: la densidad colonial de la pandemia
Pido permiso a la ecuatoriana residente en Barcelona Mafe Moscoso, de quien tomo el título de «Colonialvirus». Ella denomina así a la pandemia para denunciar lo que ocurre en Guayaquil y describir el papel de las "exiliadas del neoliberalismo" expuestas como los cuerpos portadores del virus, y el papel de las oligarquías.
La capa colonial de la pandemia no es ni tangencial, ni de detalle; la envuelve completamente.
La densidad colonial supone que los países del sur compren desde los insumos médicos pasando por pruebas, reactivos y respiradores hasta los medicamentos en un mercado neoliberal-colonial y a precios especulativos, inaccesibles para nuestras economías.
La densidad colonial supone la preparación por parte del Fondo Monetario Internacional de un proceso de endeudamiento acelerado, que aprovecha la situación de pánico para que los gobiernos den las espaldas a las sociedades, mientras contraen más deudas que empeñan el futuro, los bosques, la selva, el territorio, las materias primas estratégicas, como el litio o el mismo oxigeno de la Amazonia. El Banco Mundial y el Fondo Monetario Internacional están dispuestos a hacer préstamos a todo tipo de gobiernos en época de pandemia que favorecen la destrucción de la economía porque en ese contexto el endeudamiento se presenta fácilmente como salvataje cuando en realidad representan la firma de contratos de dependencia colonial, a futuro.
Nuestros remedios
Se ha hecho escarnio de la propuesta que enarbolé en un artículo que publiqué al comienzo del azote del colonialvirus sobre la medicina casera y ancestral como salida. Parece ser que hay que creer dogmáticamente que este es un problema que lo resolverá únicamente la investigación corporativa en laboratorios de inteligencia artificial.
El problema no está en poner en una línea dicotómica una medicina con la otra, menos en colocarlas en una escala colonial de "primitivo" versus "desarrollado". Lo más necesario es integrar una con la otra y entender que los principios psicosomáticos de las medicinas ancestrales y su comprensión holística del funcionamiento del cuerpo. Son concepciones que deben ser integradas a toda medicina urgentemente.
Por otro lado, la medicina en la mayor parte de nuestros países es un recetario copiado sin pensamiento ni investigación propia, por eso nos enteramos por la BBC y desde Canadá que las llamas que conviven con nosotr@s en los Andes pueden ser portadoras de un anticuerpo efectivo, o nos enteramos que en las ciudades de altura, como Quito o La Paz, la incidencia es menor porque hasta al colonialvirus le da maldealtura. No son nuestras universidades de Medicina ni nuestros laboratorios quienes investigan porque en la mayor parte de nuestra región no hay investigación y, cuando la hay, es en condiciones de extractivismo informativo.
La microbiología y la inteligencia artificial pueden dar una solución específica y temporal a este virus, pero déjenme ahora reirme un poco de quienes esperan con fe esa solución. ¿Dónde está el laboratorio independiente no vinculado a los poderes de la farmacéutica transnacional? ¿Qué conocemos realmente del virus desde estos centros de información y qué se nos oculta desde estos mismos centros de información?
Para ese poder farmacéutico, como habitantes del Culo del Mundo hemos servido de cuerpos de experimentación, de poblaciones descartables, de l@s que no importan, y también como territorio de extracción de conocimientos. ¿Cuánto tardará en llegar una vacuna al chaco argentino, a la amazonia peruana o boliviana, donde hoy miles y miles sufren el dengue? Seremos literlamente l@s últim@s en recibirla. ¿Cuál será su costo real? No podremos pagar su precio con dinero, que es papel, pero sin duda pagaremos completa la factura empeñando nuestra tierra.
La densidad colonial es desgarradora cuando hablamos de l@s incontables desplazad@s trabajador@s temporer@s que han quedado fuera de todo servicio de salud, frente a quienes se han cerrado fronteras declarándoles parias y a l@s que ninguna sociedad les ha reconocid@ como pertenecientes: ni sus sociedades de origen, donde sus remesas mensuales han garantizado ingresos económicos imprescindibles, ni las sociedades donde han garantizado servicios de cuidados imprescindibles con trabajo precarizado y sin derechos.
El colonialvirus ha sido el pretexto político más "limpio" e incontestable del neoliberalismo para abrir la circulación de mercancías y cerrar la circulación de personas.
Europa ha pasado de cerrar sus fronteras nacionales a cerrar sus fronteras continentales y por fin habitar su sueño fascista de que el peligro es el otro. Ese mismo día han surgido las voces de cientos y miles exigiendo la regularización inmediata de td@os l@s calificad@s como ilegales y hasta ahora solo Italia lo ha hecho.
¿Cuál es el sistema de salud responsable de curar a l@s infectad@s que llegaron a España desde Guayaquil o el Beni en Bolivia, regiones donde los contagios suponen algo muy parecido a un genocidio?
El virus en su densidad colonial es una frontera que divide los cuerpos y las poblaciones entre las dignas de vida y las indignas de vida, entre las regiones desde donde se elaboran y discuten los protocolos y las propuestas y regiones donde esos protocolos no se piensan, sino que se copian.

Nos vamos contagiando
Miedo y hambre juegan un juego mortal en nuestras calles y nuestras economías.
Salir a comprar alimentos es prepararse para visitar el salón del hambre; la gente está saliendo a pedir limosna con creatividad, con dignidad y con originalidad, te sostienen la mirada, te cortan el paso con delicadeza, te extienden la mano o te ofrecen dulces y todo tipo de inventos prácticos para enfrentar la vida. Ayer compré un ensartador de aguja aunque en mi casa no hay agujas, ni hilos. La mirada del vendedor, sus demostraciones, su dignidad, su ropa, su aliento, su bozal casero, todo él era un grito de dignidad magnetizante.
Abundan las variedades de mascarillas que prefiero llamar "bozales para humanos" para todo gusto y bolsillo, porque de eso también hay que sobrevivir, pero la mascarilla universal parece ser de piel de mandarina. Los cítricos han invadido las calles y es con cítricos con lo que con ingenuidad nos defenderemos por acá de la pandemia, mientras nos vamos contagiando el colonialvirus y las ganas de vivir al mismo tiempo.
Caminando en los barrios populares de tanto en tanto me vienen vahos de olor a hierbas que deben estar hirviendo en gastadas ollas que perdieron la tapa hace décadas. La gente se ha refugiado en la medicina casera y en los conocimientos de la abuela. Los vahos vienen de lejos porque los pueblos amazónicos han decidido espantar la pandemia con largos rituales.
Las ollas comunes -que son ni más ni menos que la respuesta colectiva y no individual al hambre- no sólo representan un acto de desobediencia, sino que son noticia corriente y cotidiana. Las hay de todos los tipos y bajo todo género de organización en todo el continente. Tienen dos características comunes:
1. Son organizadas y gestionadas por mujeres no por una cuestión de servidumbre, sino por un saber hacer-
2. No son estatales ni institucionales y son super efectivas como medida social frente al hambre. Nadie se atreve a intervenir, descalificar, ni desactivar olla común alguna.
Especialmente desobedientes viejos y viejas prohibid@s de salir están en las calles. La policía tampoco se atreve a cuestionarles. Ahí están ellos y ellas con 70, 75 y 80 años en busca de subsistencia. Mil formas en las que l@s ancian@s de nuestras sociedades están desafiando a la muerte misma. Lo que consiguen lo comparten con sus amores y al día siguiente de nuevo les ves en las calles marcando el ritmo de una cuarentena que no es lo peor ni lo más duro por lo que han pasado.
Quizás la mayor potencia de las gentes de esta región está precisamente ahí. No es que nos ha venido una crisis, sino que vivimos en crisis, no es que esperamos respuestas sino que las inventamos continuamente de forma artesanal e intuitiva apelando a las herramientas del propio contexto, y es eso lo que en la región se ve por todas las esquinas. Remedios caseros, inventos de nuevas formas de ganarse la vida y de lanzarse a la muerte al mismo tiempo. Los días se han convertido en festivales coloridos del fin del mundo.
El Estado y la pandemia de la corrupción
Seguramente en lo que a corrupción se refiere el gobierno boliviano debe de ser hoy uno de los más sobresalientes de la región. El escandalo de la compra de 500 respiradores a un 300 por ciento más de su precio es tan sólo la punta del iceberg.
Compramos vía intermediaros las pruebas más caras de la región, pero hacemos el menor numero de pruebas de la región. Varias capitales del país no tienen laboratorio de procesamiento de pruebas y los pocos laboratorios que hay están colapsados y entregando los resultados tardíamente, pero además las pruebas ya llegan tardíamente a los laboratorios pues son transportadas por vía terrestre.
Las cifras de contagio son bajas porque hay un subregistro descomunal debido a la negligencia estatal que funciona como mentira colectiva. La función más importante del Estado como es la educación pública está suspendida y los planes de convertirla en virtual no pasan de ser una mentira colectiva.
El gasto militar se ha triplicado porque la movilización de tropas es contínua y se ha utilizado la pandemia para la legitimación de la presencia militar en las ciudades.
Ninguno de los sectores oligárquicos vinculados a las transnacionales o que representan las grandes concentraciones de capital en la región han sido convocados a asumir ni siquiera una parte de los costos de la pandemia. Es más: en muchos casos han sido los primeros que han pasado a los gobiernos sus listas de pérdidas y requerimientos. Mientras la población está perdiendo trabajo, sustento, educación e inclusive la vida las oligarquías se están lavando las manos y dándose el lujo de hacer caridad. Grotesca es la imagen recurrente de las donaciones caritativas para sacarse la foto de portada.
¿Podemos entonces permitirnos pensar que las soluciones van a venir desde el Estado? ¿Podemos contentarnos con hacer una lista de demandas post colonialvirus para pasarle a los gobierno? ¿Es sólo cuestión de cambiar un gobierno por otro?
¿Es realmente la salida darle al Estado la administración de una renta básica universal que es lo que propone la CEPAL (Comisión económica para America Latina)y la izquierda llamada progresista? ¿Cuánto nos va a costar cada peso boliviano, cada sol peruano, cada peso chileno o argentino que retiremos de una ventanilla del Estado?
En esta región me atrevo a decir que la pobreza no es la falta de ingresos sino el despojo, no es la falta de ingresos sino la destrucción sistemática del ecosistema, la destrucción de la selva y de las aguas dulces.
La propuesta de la CEPAL tiene mucho que ver con un reendeudamiento de nuestras sociedades y con la contención de la revuelta que se está cocinando en las otras ollas comunes que son las ollas de las ideas, las rabias, el dolor y las frustraciones. Por un año de renta básica firmaran en nuestro nombre la reincorporación pasiva y sin objeción ni debate al capitalismo patriarco/colonial extractivista.
Violencia machista y crisis de cuidados
Lo que peor han resuelto los Estados es la cuestión de l@s niñ@s convertidos en pájaros enjaulad@s, cuya responsabilidad de contención ha estado y está descomunalmente descargada sobre las espaldas de las madres. Agravada con el hecho de que empieza la ola de flexibilizacion de la cuarentena, no se abren las escuelas ni hay soluciones para la crianza demostrando que sobre las espaldas de las mujeres se puede descargar todo sin límite alguno e incluso sin lógica.
El colonialvirus es una crisis de cuidados que ha colocado a los cuidados en la doble vara de los trabajos recargados y mal pagados masivamente realizados por mujeres y, al mismo tiempo, en los únicos realmente útiles a la hora de salvar vidas, contener emocionalidades y construir sentidos colectivos.
Suprimir la calle para las mujeres ha sido suprimir el espacio emancipatorio histórico. Ha significado suprimir la otra ciudad efímera que habitamos y montamos cada día. Ha sido un auténtico encarcelamiento en la familia nuclear patriarcal que andábamos disolviendo y en el espacio de captura de nuestras energías. Ha sido colocarnos a merced de las frustraciones de un macho que está en decadencia y que no encuentra su propio lugar en el mundo. Los índices de feminicidio en cuarentena son la prueba de esto que estoy diciendo. Los índices de violencia machista y violencia sexual que rompen todo sentido romantizado de hogar son la prueba de lo que estoy diciendo. La calle es nuestra casa y el espacio del afuera es el espacio en el que estamos construyendo libertad.
Maternidad y soberanía sobre nuestro cuerpo
30 enero 2020
Esto coloca a la familia y al Estado en la misma línea de las instituciones caducas, de mamotretos arcaicos que en esta crisis han mostrado su ausencia de respuestas, su peso como mito y su inocultable decadencia.
La comunidad no es la suma de familias, sino la ruptura de estas para la construcción de nuevas afectividades, contenciones y complicidades.
El Estado no es la entidad llamada a resolver lo que la post pandemia trae, sino que la sociedad organizada, las voces criticas y las hambres acumuladas somos quienes necesitaremos elaborar no un pliego de peticiones a gobierno alguno sino un marco de redefinción política de la democracia como un eje radical de participación y no como un aparato de marketing electoral, de la economía como un eje de construcción de bienestar y de la colectividad como el lugar del desorden afectivo.
Debajo del hambre están creciendo las ideas.
Debajo del hambre siguen floreciendo los sueños.
Y mientras enterramos a l@s muert@s, ell@s todavía calientes se confabulan con nosotr@s para decirnos que no murieron de coronavirus sino de capitalismo.
En el centro de la pandemia nace el movimiento NO PUEDO RESPIRAR que en código andino quiere decir NO AGUANTO MÁS.
Por María Galindo, habitante vitalicia de la anormalidad. Mujeres Creando/ Bolivia.
Relacionadas
A tres años del femicidio de Nancy Segura: La justicia que falta