Police declared a Riot in Portland for THIRD night this week as protesters besieged federal courthouse amid storm of tear gas..
5 Jul, 2020 07:40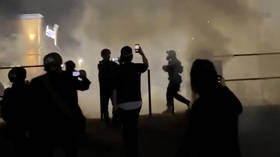 Follow RT on Portland police used tear gas against protesters who had erected barricades and shot fireworks at the Hatfield Federal Courthouse in the city. Friday was the third riot in Portland this week.
Several hundred activists marched on Friday evening into the streets around the courthouse in downtown Portland, bearing makeshift shields and diverse materials they used to erect some barricades, police said.
In the early hours of Saturday, the situation became increasingly volatile, with Portland police declaring a riot at around 4am local time. Officers deployed tear gas and pushed the protesters away from the courthouse.
'F**k the American flag': BLM heroes stomp on & BURN US flag outside White House (VIDEO)
5 Jul, 2020 03:19 / Updated 6 hours ago
A group of protesters burn an American flag during a protest against racial inequality and police violence near Black Lives Matter Plaza, during Fourth of July holiday, in Washington, U.S., July 4, 2020. © REUTERS/Leah Millis
A group of Black Lives Matter protesters in Washington DC marked July 4 by trampling on the American flag before setting it on fire, arguing that the US state symbol represents "slavery, genocide and war."
Footage showing protesters mocking the US flag began making the rounds online on Saturday evening.
One of the videos, filmed at a square outside the White House that was officially named 'Black Lives Matter Plaza' in the wake of the protests, shows a young black woman dancing on the American flag, as another female protester with a megaphone in her hand can be heard shouting: "F**k the Fourth of July. F**k the American flag. That's what we are saying."  
…….
Brave protesters in Baltimore knock Christopher Columbus statue & dump it in water
5 Jul, 2020 05:53 / Updated 6 hours ago
© YouTube / E-Tubby
A Christopher Columbus statue in Baltimore, Maryland has been toppled by a group of people, who used ropes to tear it down before tossing it into the water. The mayor's office said it stands with the protesters.
Videos show a large group of demonstrators pulling down the Christopher Columbus statue near the Little Italy neighborhood in Baltimore on Saturday night.