Bolsonaro contracts coronavirus? Another fake news Suspected

By Juraima Almeida | 07/09/2020 | Brazil
Fuentes: Latin American Center for Strategic Analysis (CLAE) source: http://estrategia. shared with thanks
rough English translation! original em português abaixo
"It's just a little flu, as an athlete it wouldn't affect me". By denying virus protection to the public Bolsonaro has condemned tens of thousands to a horrible death, causing both his popularity and the economy to crash. He won the Presidency in 2018 after a suspicious attack on his person, magnified for sympathy by his media and US support and by getting the favourite Lula jailed on suspicion.
Brazilian president Jair Bolsonaro announced that he had contracted the coronavirus that he underestimated during more than four months.
"Positive, positive," he replied with military language in a heroic and melodramatic declaration, when the journalists asked if he was infected.
Many fear that this is just yet another a way to divert attention from serious social, economic, political and health problems in the country.
Together with Donald Trump and Boris Johnson, who also became infected, he has led the government to minimize the pandemic, refusing and cancelling preventive measures.
see also: Brazil: Bolsonaro's fake statements on COVID-19 In June 2020, Brazil's president Jair Messias Bolsonaro made 160 statements about COVID-19 containing information that was deemed fake or ...
Brazil has 1,650,000 infected and over 65,000 corpses already from the coronavirus. However, Bolsonaro is one of the few presidents who opposes social isolation and this week signed a decree against the use of face masks in public spaces and prisons.
Wearing a blue shirt and a white beard, he admitted to being contaminated by that disease that he had defined as a "little cold" and said it is the fruit of "media hysteria" . The President also says that the numbers of people that have been contaminated are false and urged his followers to invade hospitals and to attack medical centers in Rio, Brasilia and Sao Paulo.
Bolsonaro reiterated his thesis on the inexorable contamination of 70% of the population, "no country can avoid deaths, contagion is inevitable", with his usual advertisements for chloroquine, whose consumption is not recommended by the World Health Organization (WHO)
Fatal "Little Flu"
He announced the positive result of his problem, saying: "We know the fatality of the virus for people of all ages, like me, people over 65, as well as for people with, illnesses and other problems. In these cases, the virus could be decisive and lead to change, everyone knew it ".
The Brazilian Constitution does not define objective criteria for a temporary withdrawal of the president. It is assumed that the vice president will preside during his disability, ( if he really has it) which happened in Jan and Sept last year when Bolsonaro had several surgeries and the vice president Hamilton Mourão was chosen for a limited time as the President.
Several collaborators of Jair Bolsonaro have had Covid-19. At the beginning of March the head of State and a delegation of ministers and collaborators traveled on an official visit to the United States. It is assumed that several of them were contracted from the disease there and the entire entourage was quarantined, among them the president himself.
On that occasion he confirmed the negative result of tests, even though several times he refused to cooperate until the court obliged him to do so in the following months.
When the press conference was finishing Bolsonaro referred to the controversial knife attack that he suffered in September 2018 and that, according to his own claims, compromised three organs, among them a lung.
Trauma in your lungs would not necessarily be an aggravating factor if you contract the Covid-19. What is known is that chronic lung conditions complicate symptoms, "said Dr. Elmer Huerta, a specialist in public health. The president's age is inside the risk group.
Bolsonaro, like any patient, has three options if he is infected with covid-19: that causes 80% asymptomatic or oligosymptomatic (that present some symptoms), 15% that present more intense symptoms and 5% of patients that get complicated. Infection with coronavirus does not necessarily mean that you have to fail to fulfill your functions. That would depend on the intensity of the symptoms.
Last Saturday, July 4, Bolsonaro went to the American embassy in Brasilia to congratulate Todd Chapman on the independence of that country. There were hugs, toasts and Texas boots… and no face masks.
Credibility
Bolsonaro will be in quarantine in the Palace of Alvorada, in Brasilia, from where he will continue to head the Govt through virtual meetings with his ministers, some of whom are still taking tests to know if they got contaminated (note there are reports of hundreds of officials testing positive for the virus).
During the press conference Bolsonarto did not respect the distance of 1.5 meters with the reporters.( note: He also took off his face mask in front of the reporters, who are all now facing Covid tests and have begun a collective Court Case for assault against the President.)
But credibility is on Bolsonaro's side: the Brasil 247 site has published an article signed by Rodrigo Vianna, which has had an impact in the past few months. A story with emotional attributes to win over the politically apathetic public.
Why should you believe a fake news professional? Someone who supports the military coup d'état in 1964 and claims that Brazil has lived under the socialist yoke since the 90s, could easily put together a false report on a test carried out in a public hospital..
If the Covid claim is false, history will be manipulated again by the patient. (note: who has made over 160 fake statements on COVID just in June 2020 and he boasts a huge web of influential false news sites ) How for example did he hit the electoral campaign of 2018 when he was the victim of a stabbing? A providential stab wound which let him be absent from the debates with his adversaries and, at the same time, able to give interviews to condescending television channels.
The stabbing manoeuver got him sympathy and his miraculous recovery brought its fruits with the victory in October 2018 over Fernando Haddad, the chosen candidate of the illegally jailed favourite, the socialist Luiz Inácio Lula da Silva.
Bolsonaro again grabs the media attention, diverting the public from the 1,650,000 infected and over 65,000 people killed by the coronavirus. There will be a long wait to find out if this coronavirus is authentic, whether it is another fake news, a scam… or a way to sell chloroquine
Juraima Almeida is a Brazilian researcher, associate analyst at the Latin American Center for Strategic Analysis (CLAE).
Bolsonaro contrajo coronavirus, temen otra fake news
Por Juraima Almeida | 09/07/2020 | BrasilFuentes: Centro Latinoamericano de Análisis Estratégico (CLAE)
El presidente brasileño Jair Bolsonaro anunció haber contraído el coronavirus que subestimó durante más de cuatro meses. "Positivo, positivo" respondió con el lenguaje de los militares y tono que mezclaba la impostación heroica con el melodrama, cuando los periodistas le preguntaron si estaba infectado. Muchos temen que sea una forma de desviar la atención de los graves problemas sociales, económicos, políticos y sanitarios del país.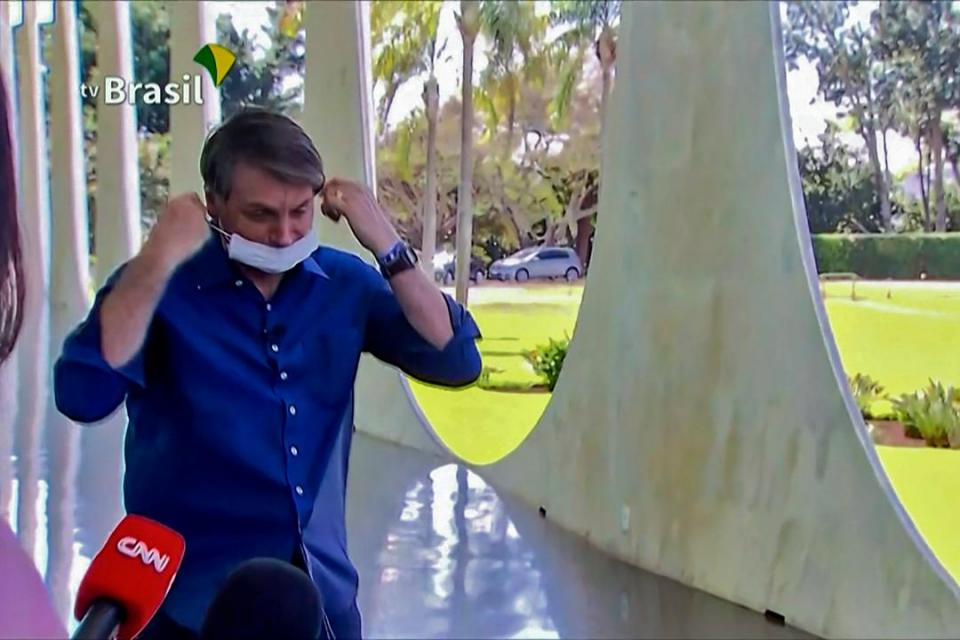 Junto a Donald Trump y Boris Johnson, que también se infectó, encabezaron los gobiernos que más minimizaron la pandemia, combatiendo las medidas de prevención. El la llamó "una gripezinha" y el día que murieron 4.543 brasileños su único comentario fue: "¿Y qué?", recuerda Darío Pignotti.
Brasil tiene un 1.650.000 infectados y más de 65.000 muertos por el coronavirus. Sin embargo, Bolsonaro es uno de los pocos presidentes que se opone al aislamiento social y esta semana firmó un decreto contra la obligatoriedad del uso del tapabocas en espacios públicos y cárceles, luego de haber apelado un fallo judicial que lo obligó a usar barbijo.
De camisa azul y barbijo blanco, admitió estar contaminado de aquella dolencia a la que desdeñó cuando la definió como un "resfriadito" y la trató como el fruto de la "histeria de los medios" También dijo que los números de muertos y contaminados eran falsos e incitó a sus seguidores a que invadan hospitales y éstos atentaron contra centros médicos de Río, Brasilia y Sao Paulo.
Bolsonaro reiteró su tesis sobre la inexorable contaminación del 70 % de la población, «ningún país puede evitar muertes, el contagio es inevitable». Con la voz algo tomada informó de que tomó dos veces cloroquina, cuyo consumo no es recomendado por la Organización Mundial de la Salud (OMS)
Gripecita fatal
Tras el resultado positivo de su prueba, dijo: "Conocemos la fatalidad del virus para las personas de cierta edad, como yo, mayores de 65 años, así como para las personas con comorbilidades, enfermedades y otros problemas. En esos casos, el virus podría ser decisivo y conducir a la muerte, todos lo sabían".
Para empezar habría que ver si la gravedad de la enfermedad le impedirá realizar normalmente su trabajo. La Constitución brasileña no define criterios objetivos para una retirada temporal del presidente. Solo explica que asumiría el puesto el vicepresidente mientras dure su incapacidad.
Esto sucedió ya en enero y septiembre del año pasado cuando Bolsonaro se sometió a varias cirugías y el vicepresidente, el general retirado Hamilton Mourão, ejerció por tiempo limitado la Presidencia.
Varios colaboradores de Jair Bolsonaro han pasado por el covid-19. A principios de marzo el jefe de Estado y una comitiva de ministros y colaboradores viajaron en visita oficial a Estados Unidos. A la vuelta se supo que varios de ellos habían contraído la enfermedad y toda la comitiva fue sometida a los exámenes pertinentes, entre ellos el propio presidente.
Entonces confirmó el resultado negativo de la prueba, aunque se negó varias veces a entregar el documento original hasta que la justicia lo obligó a hacerlo dos meses después. Al acabar la rueda de prensa: "Después de la puñalada, no va a venir una gripecita a derribarme". Se refería al polémico atentado que sufrió en septiembre de 2018 y que, según su hijo, comprometió tres órganos, entre ellos un pulmón.
El trauma en su pulmón no necesariamente sería un agravante si contrae el covid-19. Lo que se sabe, hasta el momento, es que son las condiciones crónicas pulmonares las que complicarían los síntomas", señaló doctor Elmer Huerta, especialista en salud pública. La edad del presidente sí lo pone en el grupo de riesgo.
Bolsonaro, como cualquier paciente, tiene tres opciones si se infecta de covid-19: que caiga en el 80 % de asintomáticos u oligosintomáticos (que presentan algunos síntomas), que sea del 15 % que presenta síntomas más intensos o que sea del 5 % de pacientes que se complican. Contagiarse de coronavirus no necesariamente significa que deba dejar de cumplir sus funciones. Eso dependería de la intensidad de los síntomas.
El mes pasado Brasil recibió dos millones de dosis del medicamento enviados por el presidente Donald Trump, su aliado, que también dice haberlo consumido. El sábado pasado, 4 de julio, se trasladó a la embajada estadounidense en Brasilia para felicitar al embajador Todd Chapman por la independencia de aquel país. Hubo abrazos, sombreros y botas tejanos y ningún tapaboca.
Credibilidad
Bolsonaro hará la cuarentena en el Palacio de Alvorada, en Brasilia, desde donde seguirá al frente del Gobierno mediante reuniones virtuales con sus ministros, algunos de los cuales ya se hicieron tests para saber si se contaminaron.
Durante la rueda de prensa el mandatario no respetó la distancia de 1,5 metros con los reporteros y al promediar el encuentro se quitó el barbijo.
Pero la credibilidad de Bolsonaro está por los suelos: el sitio Brasil 247 publicó un artículo firmado por Rodrigo Vianna, impactante de los últimos meses. Una historia con atributos emocionales para conquistar al público políticamente apático.
¿Por qué creerle a pies juntillas a un profesional de las fake news? Alguien que afirma que no hubo golpe de Estado en 1964 y que Brasil vivió bajo el yugo socialista desde los años 90, bien podría montar un relato falso sobre un test realizado no en un hospital público a cuyos archivos tiene acceso la prensa, sino en uno de las fuerzas armadas.
Sea cierta o sea falsa, la historia probablemente será manipulada por el paciente. Como ya lo hizo en la campaña electoral de 2018 cuando fue víctima de una puñalada. Un providencial puntazo del que se valió para estar ausente de los debates con sus adversarios y, al mismo tiempo, dar entrevistas a canales de televisión condescendientes.
La maniobra montada a partir de la puñalada y su larga convalecencia le rindió sus frutos con la victoria en el balotaje de octubre de 2018 sobre Fernando Haddad, el pupilo de Luiz Inácio Lula da Silva.
Bolsonaro acaparó todas las miradas mediáticas, desviando la atención del 1.650.000 infectados y más de 65.000 muertos por el coronavirus. Habrá que aguardar para saber si este coronavirus es auténtico, si se trata de otra fake news, de una farsa… o de una forma de vender cloroquina
Juraima Almeida es investigadora brasileña, analista asociada al Centro Latinoamericano de Análisis Estratégico (CLAE).
Fuente: http://estrategia.la/2020/07/08/bolsonaro-contrajo-coronavirus-temen-otro-fake-news/
RELATED