US liquefied natural gas giant Cheniere Energy has evacuated and temporarily suspended operations at its Sabine Pass LNG project in Louisiana as Hurricane Laura approaches the US Gulf Coast.
The facility, where five enormous 'production trains' are operational and a sixth is under construction, is located in Louisiana's Cameron Parish, in the weaker side of the storm.
Sabine Pass, which was in the path of Laura, was built on the cheap by converting an Import LNG plant to Export. But the giant tanks immediately sprung dangerous leaks, from 14 points around the base of a second LNG storage tank (Energywire, Feb. 12 2018) and was finally ordered by PHMSA to close two of the enormous tanks.
Cherniere claimed there was "no danger to the public", ie. that only the 500 workers would get blown to pieces if the liquid cryogenic gas got to the sea at the right dilution. Now with 5 times the production a failed tank of LNG gas (compressed 500 times) could explode all, potentially with the force of up to 30 Horoshima nukes, destroying at least the city of Port Arthur across the estuary. see Peligros del Gas Natural Licuado (GNL)/
In 2018 they were lucky. Safety corners are cut and environmental and climate costs ignored in the capitalist/ nationalist race to 'Make America Great'.
A hurricane caused explosion of Sabine Pass or another new LNG export plant could make the colossal Lebanese port explosion look like a firework. It might even pause the US drive to dominate the energy and plastics industries and force the continued use of fossil fuels.
/continues further down.. + CANCER ALLEY RESISTANCE + THE METHANE BOMB
The world should ban US Frack Gas, Frack Oil and Frack Plastics.. The US frackers are EXEMPT from clean water laws and get all kinds of hidden subsidies with all opposition steamrollered, while permanently poisoning aquifers, releasing mega amounts of methane which isn't even measured, destroying people's health causing cancers and deformities with total impunity, killing animals, insects, fish, birds, etc and abandoning wells right, left and center to frack new ones, leaving toxic ponds….. etc etc.
Oil and chemical spills from Hurricane Harvey
Why should we accept their ecocidal Frack Gas/Oil/Plastic?? We have far too much already, there's a glut of fossil fuels, and it's just adding to Climate Chaos.. It is just to give the US bully regime more profits and help them screw the Russians? Why should we help NATO lunatic morons surround and provoke Russia with more and more bases and nuclear missiles..
"Fracking" Shale Gas Emissions Far Worse Than Coal For Climate …A groundbreaking report from Cornell University researchers confirming that shale gas recovered through high volume hydraulic fracturing, or "fracking," will produce even more greenhouse gases than the burning of coal in the next two decades – a critical window in which society must reduce emissions to combat climate change.?
………………………………
More irony if Hurricane Laura caused chemical fire in 'Frack Plastic' (LPG) industry which promotes Climate enhanced hurricanes.
Residents of an area just west of Lake Charles, Louisiana have been ordered to
shelter in place, close all windows and turn off air conditioning, due to a fire at a chemical plant in the wake of Hurricane Laura. Governor John Bel Edwards himself tweeted at the residents of Westlake, Moss Bluff and Sulphur to "shelter in place, close your windows and doors and TURN OFF YOUR AIR CONDITIONING UNITS." Also ironic as many people still have no electricity. "There is a chemical fire," he added. "Stay inside and wait for additional direction from local officials." Tons of chlorine falling in the lake may kill all remaining life. The Cameron parish issued a mandatory evacuation order starting at 1 pm Monday, according to local reports
.……………………………………………………………………………………………………..
see also: What is the real cost of cheap Russian gas? STOP both US and Russian
The Methane Bomb: New Proof that Frack Gas is Twice as Bad as Coal for
Cheniere shuts Louisiana Sabine Pass LNG plant ahead of Hurricane LauraU.S. liquefied natural gas company CheniereEnergy Inc said on Tuesday it temporarily suspendedoperations …

Cheniere evacuates Sabine Pass LNG
https://www.icis.com/explore/resources/news/2020/08/27/10545399/topic-page-hurricane-laura-impact-on-energy-marketsCameron LNG in Louisiana has planned for reduced rates ahead of Hurricane Laura, while Cheniere'sSabinePasssuspendedoperations on 25 August. An estimated 1.7bn cubic feet (bcf)/day of offshore Gulf of Mexico gas production has been shut in, according to the Bureau of Safety and Environmental Enforcement.
https://www.oedigital.com/news/481211-hurricane-laura-biggest-threat-to-gulf-oil-output-since-2005CheniereEnergy Inc, the largest U.S. exporter of liquefied natural gas, evacuated staff and suspendedoperationsatitsSabinePassLNG export terminal on the Texas/Louisiana border. Motiva Enterprises, Total SA and Valero Energy began cutting operationsat their Port Arthur, Texas, refineries, according to people familiar with the matter.
you can't win
Even shut down, Texas oil refineries in Hurricane Laura's path will emit nearly 4 million pounds of pollution By Zoya Teirstein Aug 26,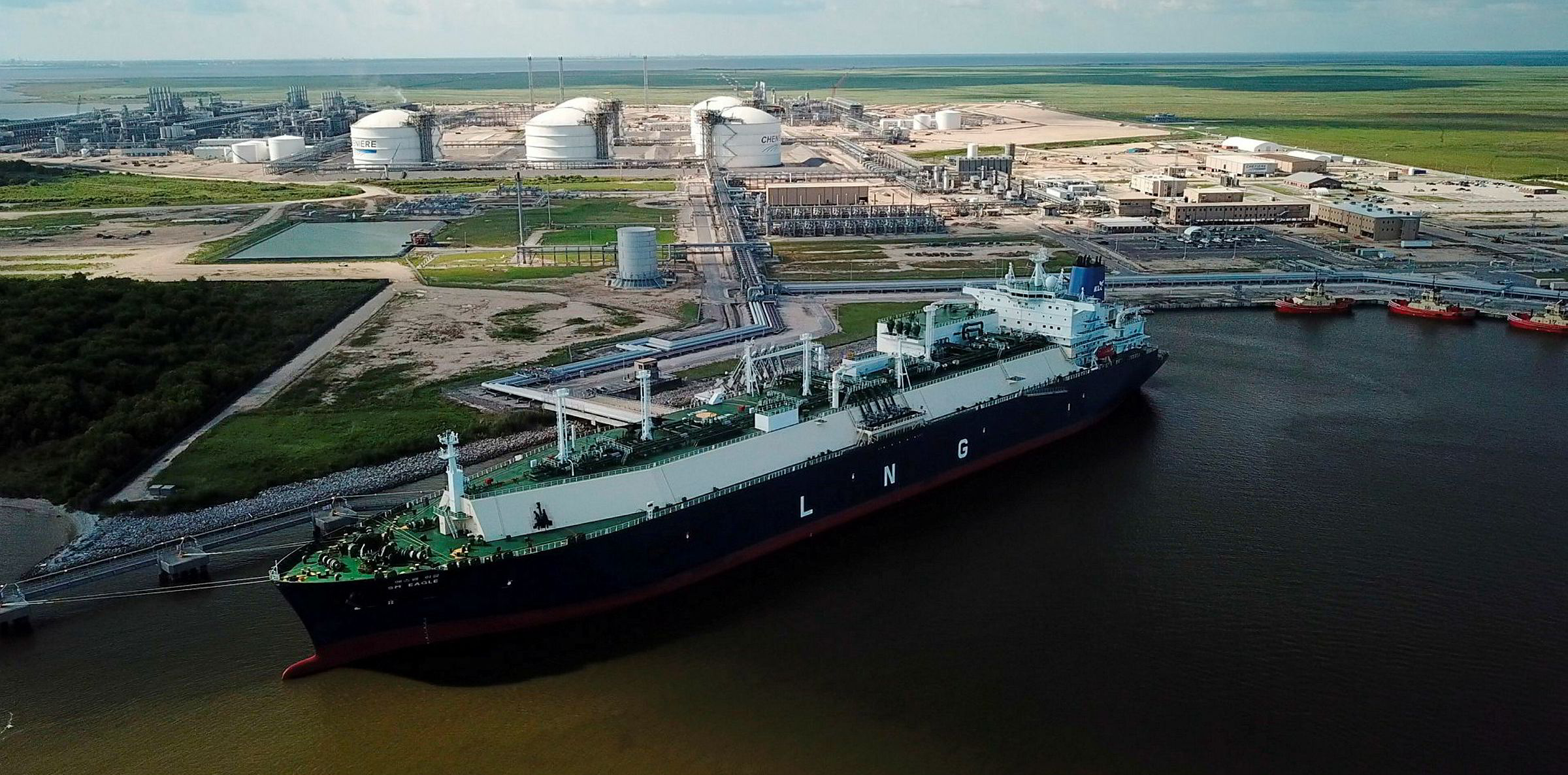 Exxon Mobil's boot from the 30-stock benchmark is not only the biggest change the Dow has ever made but also signals the ongoing global energy transition, analysts say.
EIA: US LNG exports to dip to just 25 pct capacity
Categories:
Business developments & projects
Posted: about 1 month ago
United States' LNG exports slip in April
Climate-lethal US frack-gas arrives in Spain via Gas Natural Fenosa
In "climate change/deniers"
Noise Demo as new LNG Tanker Docks in illegal Galicia plant where 1st Frack Gas arrived
In "social revolution"
´´Capitalism on edge of Mega Crash> In league with the Fossil Fuel mafia the US has decimated oil production in Venezuela, Iran, Libya, Syria, etc to boost its own frack oil and gas, using every means short of open war… but still oil and gas prices keep falling as world trade spirals down. Distrust in the system spreads like coronavirus. . Ubiquitous US sanctions prove to be a self defeating Protection Racket, as consumption falls and climate change and ecological collapse begin to snowball. Perhaps we will see real cuts in CO2 emissions yet in 2020!"
The Gulf coast 0f Louisiana and Texas has the world's greatest concentration of fossil fuel plants, built and operated as National priority with scant attention to human or environmental health.
Hurricane Dorian Causes Oil Spill in Bahamas
Now, even as grass roots victims are fighting back, the monstrous industries are doubling in size, with dozens of new fracking and liquid gas pipelines being laid, gigantic LNG export plants built, and a huge new plastics industry underway as the dirt cheap fuels from the West Texas field and elsewhere arrive.
from Grist, shared with thanks (illustrations added)
by Rachel Ramire
Four years ago, Sharon Lavigne was diagnosed with autoimmune hepatitis. Blood tests revealed that she had aluminum inside her body.
Lavigne has lived all her life in St. James Parish, which sits on an 85-mile stretch of the Mississippi River that connects New Orleans and Baton Rouge, Louisiana. Since the 1980s, it's been known as "cancer alley."
According to Environmental Protection Agency (EPA) data, seven out of 10 U.S. census tracts with the nation's highest cancer risks are located in this corridor, which is already home to more than 150 chemical plants and refineries. When she got her diagnosis, Lavigne didn't think any of this might be related to her failing health, or that of so many of her friends and neighbors.
"That should've been my wake-up call," Lavigne, 67, told Grist. "But I was teaching in school, uninterested with what's going on. I was only interested in my job, going home, resting, and taking care of my children and grandchildren. That all changed when I found out that a new plant was coming."
When she heard that another petrochemical company was planning to set up shop nearby, Lavigne left her job as a special education teacher in 2018 and founded RISE St. James, a grassroots environmental justice group, to try to stop any new development that could further endanger the health of her community. Though the novel coronavirus has hit her parish especially hard — its COVID-19 death rate is the fourth highest in Louisiana and five times higher than the overall U.S. death rate — Lavigne and her allies have not given up the fight.
But the company has a head start. In 2014, the St. James Parish Council had quietly changed the land use plan for Lavigne's district from "residential" to "residential/future industrial," welcoming new industry with little public input.
"Emission modeling was conducted and demonstrated that [Formosa's] emissions will have predicted ambient concentrations that will be below the state and federal standards established to protect human health and the environment with an added margin of safety," Janile Parks, the Formosa facility's director of community and government relations, wrote in an email to Grist. "To address community concerns and as part of [Formosa's] land use ordinance with St. James Parish, [Formosa] will voluntarily place air quality monitoring along its eastern property boundary to provide data on air emissions."
The Katrina oil spill disaster: A harbinger for the Atlantic Coast
Appendix 4. History of accidents in the LNG industry .. until 2006
Link to Index and Table of Contents
| | | |
| --- | --- | --- |
| 1944 | Cleveland, Ohio, USA | At the peak-shaving plant a tank failed and spilled its contents into the street and storm sewer system. The resulting explosion and fire killed 128 people. The tank was built with a steel alloy that had low-nickel content, which made the alloy brittle when exposed to the extreme cold of LNG. |
| 1964 | Arzew, Algeria | During loading operations, lightning struck the forward vent riser of the Methane Progress and ignited vapor which was being routinely vented through the ship venting system. A similar event happened early in 1965 while the vessel was at sea shortly after leaving Arzew. |
| 1965 | Jules Verne Spill, Arzew, Algeria | LNG liquid spill caused by overflowing of a cargo tank that resulted in the fracture of the cover plating of the tank and adjacent deck plating. |
| 1965 | Methane Princess Spill | LNG discharging arms were disconnected prematurely before the lines had been completely drained, causing LNG liquid to pass through a partially opened valve and onto a stainless steel drip pan |
| 1969 | Portland, Oregon, USA | An explosion occurred in an LNG tank under construction. No LNG had ever been introduced into the tank. The cause of the accident was attributed to the accidental removal of blinds from natural gas pipelines which were connected to the tank. |
| 1971 | La Spezia, Italy | This accident was caused by "rollover" where two layers of LNG with different densities and heat content form. The sudden mixing of these two layers results in the release of large volumes of vapor. In this case, about 2,000 tons of LNG vapor discharged |
| 1972 | Montreal, Quebec, Canada | A back flow of natural gas from the compressor to the nitrogen line occurred during defrosting operations at an LNG liquefaction and peak shaving plant in Montreal East. The valves on the nitrogen were not closed after completing the operation. .. An explosion occurred when an operator tried to light a cigarette. |
| 1973 | Staten Island, NY, USA | In February 1973, a fire started while repairing the interior of an empty storage tank at Staten Island. The resulting increase in pressure inside the tank was so fast that the concrete dome on the tank lifted and then collapsed down inside the tank killing the 37 construction workers inside. |
| 1974 | Massachusetts Barge Spill, USA | After a power failure and the automatic closure of the main liquid line valves, 40 gallons of LNG leaked as it was being loaded on a barge. The LNG leaked from a one-inch nitrogen-purge globe valve on the vessel's liquid header, causing several fractures to the deck plates. |
| 1977 | Aquarius Spill, Bontang, Indonesia | During the filling of a cargo tank, LNG overflowed through the vent mast serving that tank. The incident may have been caused by difficulties in the liquid level gauge system. |
| 1978 | Das Island, U.A.E. | An accident occurred due to the failure of a bottom pipe connection of an LNG tank. The tank had a double wall (a 9% nickel steel inner wall and a carbon steel outer wall). |
| 1979 | Mostafa Ben Bouliad Spill, USA | While discharging cargo at Cove Point, Maryland, a check valve in the piping system of the vessel failed releasing a small quantity of LNG. This resulted in minor fractures of the deck plating. |
| 1979 | Cove Point, Maryland, USA | In October 1979, a natural gas leak at Cove Point caused an explosion killing one plant employee and seriously injuring another and causing about $3 million in damages. |
| 1983 | Bontang, Indonesia | A rupture in an LNG plant occurred as a result of over-pressurization of the heat exchanger caused by a closed valve on a blow-down line. The exchanger was designed to operate at 25.5 psig. When the gas pressure reached 500 psig, the exchanger failed and the explosion occurred. |
| 1987 | Mercury, Nevada, USA | In August 1987 an accidental ignition of an LNG vapor cloud occurred at the U.S. Department of Energy Nevada Test Site during large-scale tests involving spills of LNG. The cloud was accidentally ignited and damaged and propelled polyurethane pipe insulation outside the fence. |
| 2003 | Bintulu, Malaysia | A major fire occurred in the exhaust system of the propane gas turbine in the first train (Train Number 7) of the MLNG Tiga project at the Petronas' LNG Complex. |
| 2004 | Skikda, Algeria | A steam boiler that was part of an LNG production plant exploded, triggering a second, more massive vapor-cloud explosion and fire. The explosions and fire destroyed a portion of the LNG plant and caused 27 deaths, 74 injuries, and material damage outside the plant's boundaries. |
| 2004 | Ghislenghien, Belgium | A pipeline carrying natural gas from the Belgian port of Zeebrugge to northern France exploded, resulting in 23 known fatalities. |
| 2004 | Trinidad & Tobago | In June 2004, workers were evacuated after a gas turbine at Atlantic LNG's Train 3 (Trinidad & Tobago) facility exploded. |
| 2005 | District Heights, Maryland, USA | A Washington Gas Company-sponsored study released in July 2005 pointed to subtle molecular differences in the imported liquefied natural gas the utility began using in August 2003 as the cause of a house explosion in March 2003. |
| 2005 | Nigeria | A 28-inch LNG underground pipeline exploded in Nigeria and the resulting fire engulfed an estimated 27 square kilometers. |
A deadly combination
African Americans in "cancer alley" are facing not only the country's most severe health outcomes in terms of pollution-linked cancer, but also some of its most severe COVID-19 outcomes. As of late April, about 56 percent of those dying from the novel coronavirus in Louisiana were African American, though they comprise only 33 percent of the state's population. And as of April 26, eight out of the 10 parishes in Louisiana with the highest COVID-19 death rates are in the southeast industrial corridor that includes "cancer alley."
The Formosa spokesperson wrote to Grist that "officials have not suggested there to be any link between industrial emissions and COVID-19." The company instead pointed to Louisiana's elevated rates of diabetes, obesity, and hypertension, which "are especially high among minority communities."
But research has suggested a link between air pollution and COVID-19 outcomes, independent of other factors. When researchers at Harvard's school of public health released a study last month showing a relationship between particulate matter (PM 2.5) pollution levels and increased death rates from COVID-19, experts and advocates in Louisiana began to think about what the study means for their state. Kimberly Terrell, director of community outreach at the Tulane University Environmental Law Clinic, identified Louisiana's PM 2.5 hotspots and looked at the COVID-19 outbreaks in those locations.……..

Lydia Gerard, right, a member of the Concerned Citizens of St. John, expressing her concerns to David Gray, a regional EPA official, at a public meeting on February 11, 2020.
She found that "cancer alley" residents do not suffer from conditions like diabetes or obesity at higher rates than folks in other parts of the state. This suggests that high levels of PM 2.5 concentrated in Louisiana's southeast industrial corridor could have had a decisive effect on the severity of its COVID-19 outcomes.
Good News! A Third Of Fossil Fuel Assets May Soon Be 'Stranded'
"They died in spite of full treatment. The virus is overwhelming." https://t.co/0EWlKVZkjO #Coronavirus #CancerAlley— EcoWatch (@EcoWatch) April 12, 2020
And based on recent trends, the pollution behind all this is set to continue or even worsen. In Louisiana, air quality measurably improved from 2000 to 2015. However, since 2016 the state has reversed that trend. PM 2.5 pollution is increasing again, specifically in the southeast part of the state.
A red light
Myrtle Felton, a member of RISE St. James, has seen her loved ones pass away one by one from cancer and other respiratory illnesses. Back when no industrial facilities loomed over her backyard, she used to enjoy tending to her garden for most of the day. But in the 45 years that Felton has lived in St. James Parish, petrochemical plants have been appearing left and right. Since then, Felton said that she doesn't like to be outside anymore because of the dirty air.
"So many people here have died of cancer. 2014 was a real awakening for me, because I lost five people that were very close to me," Felton told Grist. "My sister-in-law died first of cancer in February, then my brother-in-law the next month, then my husband, he died of respiratory problems. If that's not a red light going on telling me something is wrong, then what is?"
Outside her window, she can already see two chemical facilities on the horizon, and if it wasn't for the pandemic, she said dark smog would usually obscure her view of the facilities. She worries about what will happen when Formosa's operations begin.
"Somebody needs to come in and do something," Felton told Grist as she broke into tears. "Don't just listen to what I'm saying, feel my heart."
For now, Formosa is weathering the coronavirus outbreak, but with their permits approved by the state, the next step is to gear up for construction. Residents of St. James Parish vow to continue their fight by telling their stories.
"Feel my pain," Felton said. "I'm tired. We're tired."
This story was originally published by Grist with the headline As coronavirus ravages Louisiana, 'cancer alley' residents haven't given up the fight against polluters on May 4, 2020.
---
Seeing is Believing Earthworks: Community Empowerment against fracking pollution and climate change.
Creative Commons reuse allowed) shared with thanks
see also: It's a Vast, Invisible Climate Menace. We Made It Visible.. HERE:https://wp.me/pIJl9-e8w
Impacted residents travel to Madrid to highlight that planned infrastructure to process & export Permian oil & gas would guarantee catastrophic climate change
Madrid, Dec 4 — Today at an official COP25 side event Texas and New Mexico residents — impacted by the extraction of Permian Basin oil & gas, and by planned infrastructure to transport, process and export it — informed delegates and other attendees that catastrophic climate change is inevitable unless the Permian infrastructure expansion is stopped.
"The Permian Basin is an oil and gas carbon bomb that's exploding, and it's happening right now. If we can't defuse it, the world cannot avoid catastrophic
climate change. Major oil companies are trying to lock in decades more oil and gas demand by building infrastructure from the Permian to the Texas Gulf Coast to transport, process and export the world's largest current oil & gas play," said Earthworks' Energy Campaigner Ethan Buckner.
Between 2018 and 2050, production of new U.S. oil and gas reserves could unlock 120 billion metric tons of new carbon pollution. Meanwhile the U.S. — thanks to Permian production — just marked its first month as a net exporter since records have been kept. If production and expansion are not curtailed, U.S. oil and gas expansion will impede the rest of the world's ability to manage a climate-safe, equitable phase out of oil and gas production.
Although communities across the region are bearing the brunt of impacts from oil, gas and petrochemical development, those most at risk from the Permian expansion are those already the most impacted by social and environmental injustice. And on Texas' Gulf Coast — where the oil & gas is processed and exported — they're suffering twice: from the operations' toxic pollution, and from intensified climate change.
"I live less than two miles from the Ship Channel in the East End of Houston, TX. My dad was a United Steelworker who died of cancer in 2016, and I was diagnosed with an autoimmune disease that same year. So I'm well aware that workers and fenceline communities are paying with their health the price of daily exposure to toxic pollution from oil and gas infrastructure," said Ana
No One Should Have to Breathe These Chemicals – AnaParras of Texas Environmental Justice Advocacy Services (@tejasbarrios). HOUSTON — While families across the country celebrated Thanksgiving with their loved ones, more than 50,000 people in Port Neches, Tex., were forced to evacuate from their homes and spend the holiday in makeshift shelters
"America's national leadership has failed by placing short term gain over global sustainability and ecological responsibility. I am deeply concerned that the wild abandon and insane profits of the oil patch in Carlsbad have exacerbated the divide between rich and poor, creating serious economic injustices," said Reverend David Rogers, First Christian Church Disciples of Christ, Carlsbad, NM
Scientific study and optical gas imaging videos demonstrate that the worst recorded oil and gas methane pollution is in the Permian Basin of Texas & New Mexico. Because methane is 86 times more powerful a climate pollutant than carbon dioxide, and because it only stays in the atmosphere for 12 years while carbon dioxide remains for as long as 200 years, eliminating methane pollution is among the quickest, if not the quickest, way to mitigate future climate change impacts.
photo shared with thanks from The Times exposé https://www.nytimes.com —
"I travel the Permian Basin with an optical gas imaging camera that makes visible the normally invisible methane pollution the oil & gas industry often claims doesn't exist. If you could see what I see, there might not be a fracking boom. Seeing is believing," said Earthworks Field Advocate Nathalie Eddy.
Contact: Nathalie Eddy (in Madrid): +1.720.935.7404, neddy@earthworks.org; Alan Septoff (in United States): +1.202.271.2355, aseptoff@earthworks.orghttps://yubanet.com/enviro/texas-new-mexico-communities-experts-urge-cop25-to-defuse-permians-carbon-bomb/Seeingisbelieving,"saidEarthworksFieldAdvocateNathalieEddy
"We have 12 petrochemical plants in my district, and they're building another one…They want to put it next to my home, and it's not gonna happen." -Sharon Lavigne #CancerAlley #RiseStJames #PoorPeoplesCampaign pic.twitter.com/LZjGR7nzxm— Poor People's Campaign (@UniteThePoor) January 29, 2020
Partnering with communities to protect against fracking-related pollution.Home » Campaigns » Community Empowerment Project
Earthworks' Community Empowerment Project (CEP) works with communities to protect their health and the climate by making visible normally invisible air pollution from oil and gas facilities. With video evidence in hand, we work side-by-side with impacted residents to pressure regulators and companies to reduce pollution.
Earthworks' Community Empowerment Project (CEP) works with communities to protect their health and the climate by making visible normally invisible air pollution from oil and gas facilities. With video evidence in hand, we work side-by-side with impacted residents to pressure regulators and companies to reduce pollution.
Together we spotlight regulators' responsibility to protect the public from the industry's pollution — and hold them accountable when they don't.
Find Pollution Near You & Take Action
Earthworks ITC-certified staff travel the United States and internationally exposing oil and gas air pollution using our optical gas imaging cameras. Zoom in on the map below to find camera icons indicating the worst of our 700+ videos of pollution from oil and gas sites.
Earthworks' team of experts uses these videos to file official complaints with state and national regulators, and to help communities do the same. Once regulators respond to our complaints we add them to the map. Zoom in on the map below to find paper and pencil icons that track closed complaints and any related actions.
You are not alone. Over 12.6 million people in the United States live within half a mile of an oil and gas facility, a distance within which health impacts have been most clearly correlated by peer-reviewed science. Zoom in on the map below to find a person icon and hear some of their stories. To add your story, contact us at info [at] earthworks.org.
Get help. Fill out a form at the bottom of this page to bring Earthworks' CEP to your community, get help filing an official complaint or to share a complaint you already filed with Earthworks.
---
There is a huge global spike in methane, one of the most potent greenhouse gases driving climate change over the last decade, according Harvard University Studies. The U.S. is the biggest culprit, mostly from oil and gas fracking wells, there are over a million of them, with half already abandoned. Obama introduced laws so that the industry would -voluntarily- at least measure the leaks. But even that is being repealed by the Trump administration, a criminal and ecocidal policy in the light of years of concrete scientific proof that the methane emissions are tipping us towards imminent uncontrollable climate chaos.. Controlling methane emissions would be a quick way to pause climate change, while CO2 remains in the atmosphere for many decades.
---
Invisible Air Pollution
Oil and gas pollution can cause health problems for nearby communities ranging from asthma and nosebleeds to increased risk of cancer. It also releases large volumes of methane, a potent climate pollutant 86 times worse for climate than carbon dioxide.
Our state-of-the-art OGI cameras, operated by our ITC-certified thermographers, make visible 20 normally invisible volatile organic compounds, including the carcinogens benzene and toluene, and methane.

Thanks to generous Earthworks supporters, we have been documenting pollution with FLIR GasFinder 320 optical gas imaging (OGI) cameras since 2014. Our cameras are the same model used by industry and government agencies to detect leaks and chronic pollution, and our camera operators receive the same training.
How can CEP help you?
Request a Visit
Get Help Submitting a Complaint
Share Your Complaint with Earthworks
photo shared with thanks from The Times exposé https://www.nytimes.com — https://www.youtube.com/embed/UwAvP-vrHsw?version=3&rel=1&fs=1&autohide=2&showsearch=0&showinfo=1&iv_load_policy=1&wmode=transparent https://www.youtube.com/embed/G7_na2a6u00?version=3&rel=1&fs=1&autohide=2&showsearch=0&showinfo=1&iv_load_policy=1&wmode=transparent
Related Posts
What is the real cost of cheap Russian gas? STOP both US and Russian Climate Criminals
The US Fracked Gas has been shown to be at least twice as lethal for the world climate as coal, due to massive methane leaks. However the Trump led regime has cancelled all methane measuring regulations in the industry, despite a a recent study from Harvard, and still sells the myth that gas is a less dangerous 'transition fuel'.
U.S. And European Activists Host #BreakTheFrackingCycle demonstrations have sought to amplify, … fighting back against the expansion of fracked gas projects. If built, the Rio Grande LNG terminal would be the single-largest source emitter
Public Resistance in the US is limited as Water and Environmental laws were suspended for the gas and oil fracking entrepeneurs and compensation is impossible for the huge public and animal health epidemics caused by exploding lethal chemicals in huge quantities close to groundwater.
US Fracking has benefited from state support, free loans and exemption from environmental and climate costs. Even so the industry has always been close to bankruptcy, wells are short lived and up to half a million are abandoned, many with lakes of toxic chemicals.
Nevertheless Fracking has made the US self sufficient in energy, and the web of pipelines bringing the gas and oil mostly to the Texas Gulf coast has spawned a huge LNG export industry, now set to expand fivefold, and a giant LPG volume supplying a mushrooming plastics industry.
RELATED POSTS
see also: It's a Vast, Invisible Climate Menace. We Made It Visible.. HERE:https://wp.me/pIJl9-e8w
Gulf Coast Fracked Gas pipeline projects Oct 2018
Efforts to force the Fracked Gas on Europe continue, with open blackmail of US dependent European states, linking anti Russian sanctions relief to buying Fracked Gas and vetoing the Russian Northstream 2 pipeline. New terminals have been built in US friendly Lithuania and Poland, as well as a new scheme of discounts to the Henry Hub US pricing system the Fracked Gas is pegged to.
---
Algeria Green-lights climate-lethal Fracking Gas with EU Imperialists TOTAL and CEPSA
Repsol Looting Libya: profits unaffected by Pipeline Sabotage:
EN TWITTER…https://twitter.com/search?q=%23+NoAlFrackGasDelTrump. #NoAlFrackGasDelTrump
Failure of US bid to flood Europe with Gas from Fracking
More proof Methane spike due to US ecocidal Frackers.. Stopping it could delay Climate Catastrophe
Ecocidal US Frackers, to get a Bailout: Nationalism, Oil and Climate Crime in Texas
In "social revolution"
Author thefreeorgPosted on Categories climate change/deniers, climate chaos, save the planet, social revolution, solidarity, Stop State and Capitalist criminalsEdit "Seeing is Believing Earthworks: Community Empowerment against fracking pollution and climate change."
Share:
Customize buttonshttps://widgets.wp.com/likes/index.html?ver=20190321#blog_id=10660723&post_id=56630&origin=thefreeonline.wordpress.com&obj_id=10660723-56630-5f4783401a94a
Related
Cancer Alley Communities battle Exxon in Louisiana
Fracking Gas and Oil to Supply Giant US Chemical Belt and Lock-in cheap Plastics Monopoly