In the Spanish State there are 165 evictions a day, which are now, above all, due to non-payment of rent, and carried out by banks and growing international vulture funds .
Where are we supposed to go? Tens of thousands of families left with zero work, many with zero compensation in the informal economy are due to lose their homes as the rent moratorium runs out and they just can't pay.
In Spain its especially bad. Here over 700,000 have been exicted from their homes in the great mortgage swindle, mostly by the same banks that robbed them.
So now there is a 'rent bubble'. Your rent can easily be more than your salary. If you have a salary. The State rescue plan is a total flop and bureaucratic quagmire and hardly anyone has succeeded in getting the tiny payments. Really!
So. Where are we supposed to go? The media, rightwing and big propertied classes have mounted an hysterical anti-squatter campaign, highlighting a handful of abusive cases to criminalize people. In reality squatting is rare and already heavily penalized.
Occupied dwellings without a contract represent 0.34% of the total throughout the State. And a survey by the banks themselves found only one in ten of these to be 'problematic'.. ie one in 3000 of the housing stock. Spain is a property economy, with only 2% public housing, 3.5 MILLION empty properties.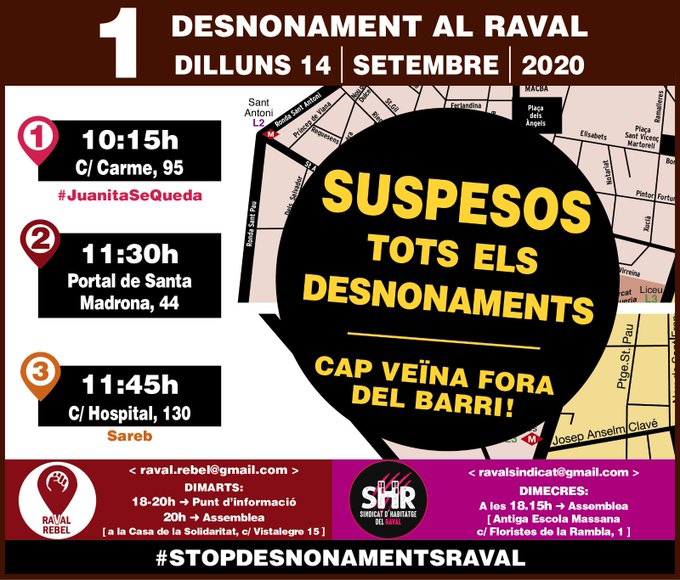 The Catalan parliament has just passed a bill to control rents and cut back somewhat the flagrant abusive greed by big landlords, but like all their progressive measures it will likely be shot down by the rightwing controlled Courts.
see also Iberia: Hundreds of Mutual Aid networks as Covid Collapses Capitalism
Popular Resistance can Win.
Yesterday we saw again in the Raval area of central Barcelona how organised resistance can stop evictions of families by the banks and vultures. The area has a strong community spirit, despite being split in many ways It has always had a coherent and respected anarchist section who for years have successfully blocked evictions and run a mutual aid hotline. Its not a simple struggle, some empty flats, for example, have been occupied by drug selling mafias, vulture funds like Blackstone are buying up whole blocks for speculation…
Monday 14 Sept was a total victory in the Raval. We knew where and when the evictions were planned. Instead of dozens there were huge crowds blocking the narrow streets. Carrying out the evictions would have provoked the first full scale riot of delicate post-Pandemia control.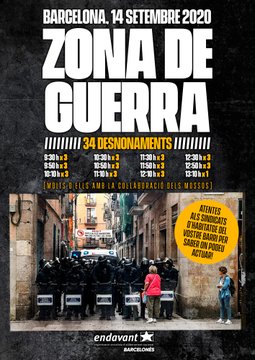 Total victory. For just one day. Though hundreds of evictions are imminent throughout the city urgent resistance appeals are going out and local collectives springing up, based on the existing Citizens defense networks and a plethora of mutual aid collectives
We're not talking about families who own just one or two flats and rent out to pay their mortgage. Now that huge sections of housing is owned by International Vulture Funds and even more by 'semi state' banks the way lies open for community collectives to seize it and stop the insane slavery necessary to pay for what should be ours.
see also ..https://thefreeonline.wordpress.com/2020/09/03/iberia-hundreds-of-mutual-aid-networks-as-covid-collapses-capitalism/
Occupied Social Centers Threatened
At present the main campaigns against threats to the various occupied Social Centers are to Ca L'Espina (part 2, half was already evicted) and @LaEngorilada, the Gorilla squat centre.
The big Massana School occupation in the Raval central area continues without immediate eviction threat as a mutual aid, the Migrant Refuge and an emergency accomodation resource ( see Escola Massanaokupació Sindicat d'Habitatge del Raval Tancada migrant Xarxa de Suport Mutu del Raval.)
It is now used by many different collectives, including a new feminist housing campaign at #LlarPerATotes@RavalRebel.. ….A good post on the Massana anarchists appears here: Massana school occupation – en.squat.net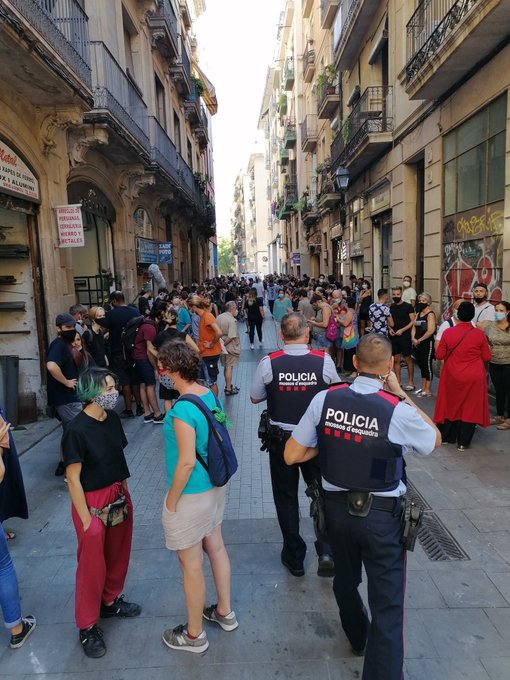 Ca L'Espina RetweetedSindicat Habitatge Raval@RavalSindicat·Demà dilluns al #Raval volen executar 3 desnonaments. Necessitem ser moltes i aturar a qui ens vol fer fora de casa i del barri
The second flat where the eviction was cancelled is occupied by Juanita, a racially abused trans woman.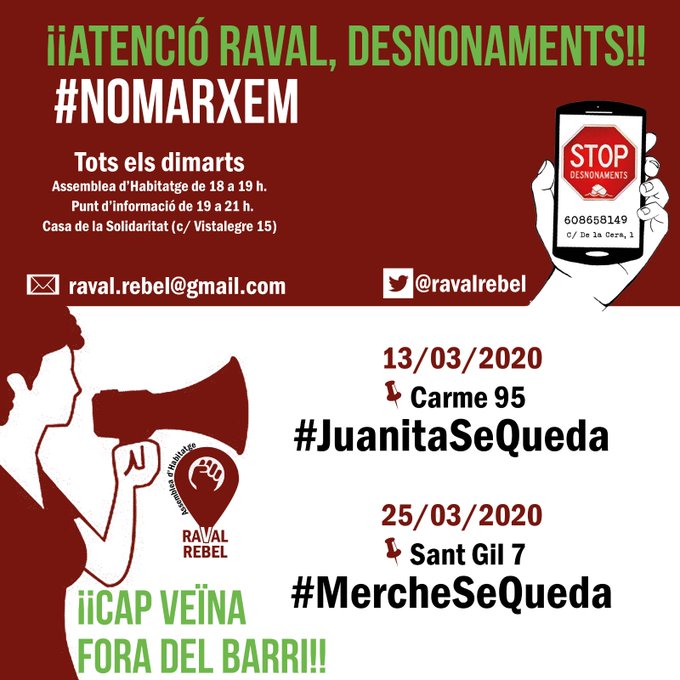 @RavalSindicat @RavalRebel#LlarPerATotes també en temps de confinament. Article on s'explica la realitat d'algunes companyes de Raval Rebel
by Dermot Sreenan  The Barcelona Rent Strike of 1931  not only served to reduce rent costs for working class families but was also an education in self-organisation for thousands of workers. It, along with other struggles in those years, created an organised working class that in 1936 made the most successful attempt yet to overthrow capitalism and create libertarian communism.
The idea of the Hotline was to make a live App where you could get immediate help to block evictions and get legal advice eyc. … Mutual Aid Hotline Blocks dozens of Evictions, Threats and Toxic Capitalism
Blackstone bought 41,000 mortgages for a giveaway price from a bank which had just been 'bailed out' with a free gift of 12,000 million of public money.Last year they tried to evict a whole block in the Raval area. Neighbours blocked the road continually for 15 days until the giant property corporation backed down and granted the tenants "social rents". see Barcelona: 15 day blockade stops Blackstone eviction of 10 Families
Hundreds if not thousands of Mutual Aid initiatives have sprung up across Iberia during the Capitalist collapse of the pandemic. For us this illustrates the perversity of the 'Dog Eat Dog' system and shows how anarchism here is alive and well just under the surface.
Updateable Map of Mutual Aid projects in central Barcelona , by the CUP 'anarcho-republicans ' https://twitter.com/cupbarcelona
Massana school was first occupied by a migrant collective
Neighbors, groups and businesses in the Raval, join the Rental Strike @ Acció Riera Baixa)
" The neighborhood associations and platforms that sign this statement, support and call on all residents and businesses in the neighborhood to join the strike driven by state-wide housing platforms and unions."Comunicado conjunto de @RavalRebel, @VecinesCv y @resistimalgotic ante la #HuelgaDeAlquileres. Ens posem a disposició de tothom qui es sumi! Veïnes i comerços del Raval ens sumem a la vaga Acció Riera Baixa #SuspensiónAlquileresYA !
Joint statement from @RavalRebel, @VecinesCv and @resistimalgotic before the #RentalStrike. We make ourselves available to everyone who joins! Neighbors and shops in the Raval join the strike Action Riera Baixa # SuspensiónAlquileresYA! https://suspensionalquileres.org/ https://www.youtube.com/embed/9TMsz2rlQHE?version=3&rel=1&fs=1&autohide=2&showsearch=0&showinfo=1&iv_load_policy=1&wmode=transparent
Barcelona's 'Rent Strike Now' video to 'Oops, I won't Pay' version of Britney Spears..
Anarchist Lighthouse shines for 30 years in Barcelona's Raval https://t.co/jFz4xvPqHR #ElLokal #anarquista #Ravalresistim pic.twitter.com/Qo28RbsYui
Mutual Aid is Sweeping the World. Lets make this Anarchist way of Organising Last
1st of 800 post-virus evictions blocked in ​​Barcelona Met.. Owned by US Cerberus Vulture Fund.
The Squatted Garden and the Vilest Vulture Fund on Earth
Mass Occupation of Toxic Assets: Anti Eviction Movement (PAH)
Barcelona: Defending l'Agora occupied Community Site against Fierce Speculation
"