via el comunista in AMÉRICA LATINA shared with thanks
A group of protesters from the Misak community knocked down the monument to the Spanish conqueror Sebastián de Belalcázar, founder of the cities of Quito, Cali and Popayán, during a march in rejection of the murders of social leaders.
In the images, you can see how the indigenous people use ropes to knock down the statue located in the center of Popayán.
The mayor of the town, Juan Carlos López Castrillón, lamented the act of vandalism and affirmed that the monument will be placed back on the pedestal.
«This act against a symbol of the city is unfortunate and painful. It is a monument of character and that is why our decision is to restore it and put it back, "he said.
Local judicial authorities have already launched an investigation to identify and punish those responsible for the demolition.
For her part, the president of the Indigenous and Social Alternative Movement (Mais), Martha Peralta, called De Belalcázar "a genocide who massacred the peoples he conquered."

#ATTENTION

Our Misak Indigenous People mobilize and demolish the statue of Sebastián de Belalcázar in Popayán.

His way of reclaiming the memory of ancestors killed and enslaved by the elites.
In protest of the crisis.

Attentive, Esmad is present. pic.twitter.com/qub20hKW4G— Martha Peralta Epieyú (@marthaperaltae) September 16, 2020

Indigenous senator Feliciano Valencia, in turn, described the monument as "a symbol of 500 years of humiliation and domination of native peoples."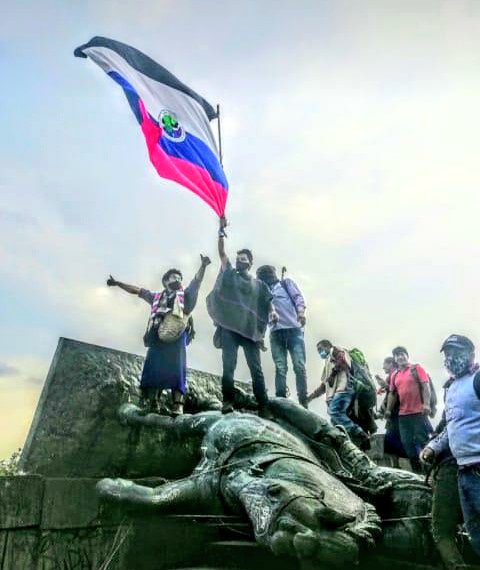 My respects to the Misak brothers and sisters. As a multiethnic and multicultural State, other symbols must flourish and adorn the libertarian landscape, "the politician stressed.
The situation in Popayán recalls the recent demolitions in the US and Europe of several monuments linked to slavery after the death of the African American George Floyd and as a result of a violent police arrest.
Indígenas colombianos derriban estatua de un conquistador
Un grupo de manifestantes de la comunidad Misak tumbó el monumento al conquistador español Sebastián de Belalcázar, fundador de las ciudades de Quito, Cali y Popayán, durante una marcha en rechazo de los asesinatos de líderes sociales.
En las imágenes, se puede observar cómo los indígenas utilizan cuerdas para derribar la estatua ubicada en el centro de Popayán.
El alcalde de la localidad, Juan Carlos López Castrillón, lamentó el acto vandálico y afirmó que el monumento será colocado nuevamente en el pedestal.
«Es desafortunado y doloroso este acto contra un símbolo de la ciudad. Es un monumento de carácter y por eso nuestra decisión es restaurarla y volverla a colocar», afirmó.
Las autoridades judiciales locales ya iniciaron una investigación para identificar y castigar a los responsables del derribo.
Por su parte, la presidenta del Movimiento Alternativo Indígena y Social (Mais), Martha Peralta, tachó a De Belalcázar de «un genocida que masacró a los pueblos que conquistó».
#ATENCIÓN

Nuestro Pueblo Indígena Misak se moviliza y derriba en Popayán la estatua de Sebastián de Belalcázar.

Su forma de reinvidicar la memoria de ancestros asesinados y esclavizados por las élites.
En señal de protesta por la crisis.

Atentos, hace presencia el Esmad. pic.twitter.com/qub20hKW4G— Martha Peralta Epieyú (@marthaperaltae) September 16, 2020
El senador indígena Feliciano Valencia, a su vez, calificó al monumento de «símbolo de 500 años de humillación y dominación a los pueblos originarios».
«Mis respetos para los hermanos y hermanas Misak. Como Estado pluriétnico y multicultural otras simbologías deben florecer y adornar el paisaje libertario», subrayó el político.
La situación en Popayán recuerda los recientes derribos en EEUU y en Europa de varios monumentos vinculados al esclavismo tras la muerte del afroamericano George Floyd y a raíz de una violenta detención policial.