x Robert Hackett from nationalobserver.com shared with thanks
At first, it sounded like a rhetorical hype, the kind you hear in bar debates. But Noam Chomsky, the world-renowned public intellectual, made a plausible case for a chilling assessment of the most powerful man in the world.
On post-Covid-19 society
Trump Lied, 200,000 Died.. and there are tapes..
Voting for US President Donald Trump is worse than voting for Hitler, Chomsky told interviewer Linda Solomon Wood, during a webinar sponsored by Canada's National Observer in April. "Hitler was perhaps the worst criminal in the history of mankind." He wanted to murder millions of Jews, Slavs, Roma, homosexuals, others ". But what does Trump want to do? He wants to destroy the prospects of an organized human life. "
The 91-year-old linguist and social critic remains remarkably optimistic about future options, but only if we collectively confront the three existential crises
he identified in a 2019 interview with the National Observer: nuclear war, global warming, and (prophetically) pandemics. He warned then that humanity has to decide "if organized human society will survive a couple more generations." Trump is exercising the "ultimate sadism" and exacerbating all three threats, Chomsky now claims.
Consider Trump's response to COVID-19. Critics have rightly noted inconsistent messages, political stances and divisions, fights with governors, and ignoring medical authorities.
Chomsky adds a lesser-known dimension: While "the pandemic is raging, people are dying, and hospitals can't keep up," the Trump administration proposed a budget that would continue to cut parts of the government related to health, such as the Centers for The diseases. Control.
And Senate Majority Republican Leader Mitch McConnell, the administration's "true evil genius", in Chomsky's words, declared that the congressional pandemic stimulus program should not bail out the Democratic-led states that have provided pensions for firefighters, teachers and other workers.

Noam Chomsky: What History Shows Us
Faced with the prospect of a thermonuclear war, Trump's approach is "let's make things worse", dismantling the arms control regime established by previous agreements between the US and Russia, including the Intermediate Nuclear Forces (INF), "open skies" and the new START treaties, despite pleas from Russian President Vladimir Putin to renegotiate them. The military industry loves it, Chomsky notes: "They are getting huge amounts of money to build weapons that can destroy everything. And then in the future they will get more money to try to build defenses against these weapons that we are encouraging others to produce. "
Beyond dismantling gun control, Trump's foreign policy amounts to orchestrating an international alliance of "the most cruel, harsh and reactionary states," environmentally destructive and ethnonationalist regimes like Jair Bolsonaro in Brazil, Narendra Modi in India, Viktor Orban in Hungary, Matteo Salvini in Italy and dictatorships in Egypt and the Gulf states.
And then there's the climate crisis, one that policy analysts sometimes call a "wicked" problem, in part because no one needs to press a red button or inadvertently spread a virus for it to undermine human society, just carry on as usual. Chomsky reminds us that while the world will eventually escape the pandemic, albeit "at severe cost," we will not escape "from the melting of the polar ice caps, rising sea levels [and] other extremely damaging consequences of global warming. " But the US, with its global power, is in the hands of a president and a party that wants to make the crisis "as severe and imminent as possible."
7 Brilliant Insights From Noam Chomsky
Chomsky is never short of examples. The Trump administration has turned the Environmental Protection Agency into "a subsidiary of the corporate world," silenced scientists, essentially eliminated emissions controls at coal plants, facilitated mercury pollution in waterways, and increased subsidies. to the fossil fuel industries, as if "let's kill more Americans" is the goal. The US National Transportation Agency reported that the planet will be catastrophically warmer by the end of the century, but it nonetheless recommended removing emission controls on cars. Chomsky's reading of Trump's logic is: "We're off the cliff anyway, so why not have fun and profit?"
Yet Chomsky avoids the trap of blaming a single politician for America's ills, no matter how destructive and corrupt. The COVID-19 pandemic has exposed risks to the entire society by extreme economic inequality, a product of the neoliberal policies of the last 40 years.
As we have seen in Canada, workers in precarious jobs and without paid sick leave cannot simply isolate themselves at home. If they have a house. Chomsky reported that while one-tenth of one percent of the US population owns 20 percent of the country's wealth, between 60 and 70 percent of the US population has to live "from paycheck to paycheck."
Furthermore, to face public health crises, "you have to have the institutional structure." For example, powerful pharmaceutical companies, with their huge profits fattened by "protectionist measures like incredible patent protection", knew that a coronavirus epidemic was likely, but their incentive was to make short-term profits "by selling something tomorrow, no." preventing a catastrophe in a couple of years ".
However, given his historical outlook, Chomsky remains relatively optimistic. His own remarkable life has spanned monumental crises, including the global war to defeat fascism. (Coincidentally, Chomsky became a teenager the day, in 1941, that Japan attacked Pearl Harbor, catapulting the US headlong into that war.) The Great Depression of the 1930s was comparable to the economic
consequences of COVID-19, but the US overcame it through the New Deal, a "version of regulated capitalism that was extremely beneficial to the people." Arms control treaties could be reinstated. The environmental crisis could be mitigated with only a "small percentage" of the funding for the mobilization of the Second World War.
In just one 60-minute webinar, Chomsky provided numerous details to the 700 participants:
The post-pandemic stimulus bill could impose conditions on businesses. For example, airlines currently calling for government bailouts could be required to put workers on the board of directors, guarantee a living wage for all employees, and focus on passenger needs rather than continuing to spend billions on share buybacks that enrich investors. If the airlines refuse, put them on public property.
Major countries could socialize the fossil fuel industries, which would not be prohibitively expensive at a time of very low oil prices, and take them out of business as "a great help to the world." (As unlikely as it may be, this scenario has been featured in major international media since at least 2014; it is intriguing to imagine volcanic eruptions in the anti-environmental "war room" of Alberta Prime Minister Jason Kenney).
When asked about Michael Moore's controversial and possibly outdated and error-laden Planet of the Humans that attacks the potential for renewable energy to replace fossil fuels, Chomsky quoted economist Robert Pollin on how to develop a sustainable economy, while ensuring the reemployment of workers as the fossil fuel sector is phased out.
Such policies are not utopian, Chomsky insists. In many ways, they would return us to the political and legal framework that prevailed before the neoliberal mantras of privatization and free-market fundamentalism became the common sense of Western political and economic elites.
The COVID-19 crisis has challenged that common sense and reconfirmed the importance of collective action and public resources. Can we get to a better world after the pandemic? Chomsky cheers on front-line nurses and doctors, helping people survive, often without protective gear because governments have preferred to "spend their money elsewhere." His heroism illustrates "the magnificence of the human spirit" as a "model of what can be done."
A 14-year-old girl poignantly asked him: "What do I do to get my future back?" Chomsky praised all the young people on the front lines of the school climate strikes. In particular, he praised Greta Thunberg, the 17-year-old activist who directly confronted Trump's indifference to the climate crisis at the annual gathering of plutocrats and politicians, the self-proclaimed "Masters of the Universe," in the Swiss resort city of Davos. . .
And she touted the recent formation of the Progressive International organization, which held its first meeting in November 2018, to counter the reactionary International of Trump's authoritarian regimes. The PI was started by Democratic activist Bernie Sanders in the US and former finance minister of Greece's left-wing Syriza government, Yanis Varoufakis. It is intended as a network of activists and … "most of the people in the world want what it stands for," Chomsky says.
As always, Chomsky reminded his listeners of the historic power of organized popular movements: abolitionist, civil rights, peace, women's equality, and most recently, the divestment of fossil fuels. For example, a few years ago, the Green New Deal – large-scale government investment to create jobs and tackle climate change – was "just something to ridicule," but thanks to the Sunrise Movement of young activists in the US now in the legislative agenda. "You don't laugh at that anymore," he said.
In the past, such movements have forced the economic elite to create the image of "the soulful corporation … not out of love for the human race, but because they are being pressured to do so." Chomsky advises us not to swallow the rhetoric of corporate public relations, when what is needed is fundamental structural change;
But it may be the right time for significant renovations. In his view, the mood at this year's Davos extravaganza, even before COVID-19 was recognized as a global pandemic, was different. Less mutual complacency, more contrition, and promises to be more human. "They are running scared … The peasants come with the forks."
Consider this assessment, from a surprising source: The pandemic is exposing the fragility and inequalities of the economies of many countries. People in precarious, low-wage jobs on the front line are losing their livelihoods and even their lives. To "demand a collective sacrifice, we must offer a social contract that benefits everyone."
That means considering radical reforms that reverse "the predominant political direction of the last four decades." Such reforms include a more active government role in the economy, investment in public services, safer labor markets, redistribution of wealth, and a guaranteed basic income.
That statement is not from any Bolshevik pamphlet. It's an April 3 editorial from a major international business newspaper, the Financial Times, a body whose viability depends on telling investors what it really is. Running scared, actually.
The global uprisings for racial justice, in the wake of George Floyd's death while in police custody, occurred after Chomsky's interview. But they offer further evidence of the ability of popular power to change political debates and influence power elites. Recently neglected options, such as the elimination of funds or even the dissolution of the police forces, are now being backed by mayors and national politicians.
We are at a crossroads. The "Masters of the Universe" would like to reconstitute neoliberal economics, Chomsky suggests, but "tougher, with more authoritarian measures to ensure there is no interference with this model." But at the same time, "this is a good opportunity to … ask questions about what kind of world we want to live in."
As in the 1930s, when "the choices were between fascism and liberal social democracy … the usual class war is operating right now … The world that will emerge (from the pandemic) depends on the balance of forces."
The policies needed are simple, Chomsky says. "We can change the institutional structures that are leading us to disaster. Everything is within our reach ".
from nationalobserver.com shared with thanks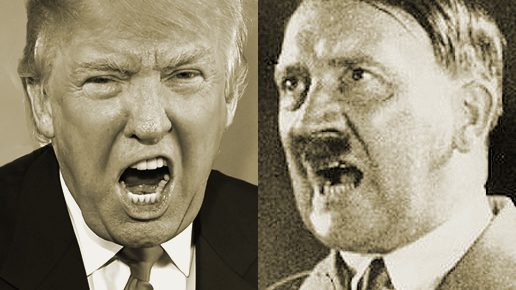 Chomsky: "Votar por Trump es peor que votar por Hitler"
x Robert Hackett Sobre la sociedad posCovid-19
Al principio, parecía una exageración retórica, del tipo que se escucha en los debates de los bares. Pero Noam Chomsky, el intelectual público de renombre mundial, presentó un caso plausible para una evaluación escalofriante del posiblemente el hombre más poderoso del mundo.
Votar por el presidente de los EEUU, Donald Trump, es peor que votar por Hitler, afirmó Chomsky a la entrevistadora Linda Solomon Wood, durante un seminario web patrocinado por el Observador Nacional de Canadá en abril. "Hitler fue quizás el peor criminal de la historia de la humanidad". Quería asesinar a millones de judíos, eslavos, romaníes, homosexuales, otros". Pero, ¿qué quiere hacer Trump? Quiere destruir las perspectivas de una vida humana organizada ".
El lingüista y crítico social de 91 años sigue siendo notablemente optimista sobre las opciones futuras, pero solo si enfrentamos colectivamente las tres crisis existenciales que identificó en una entrevista de 2019 con National Observer : guerra nuclear, calentamiento global y (proféticamente) pandemias. Advirtió entonces que la humanidad tiene que decidir "si la sociedad humana organizada sobrevivirá un par de generaciones más". Trump está ejerciendo el "máximo sadismo" y exacerbando las tres amenazas, afirma ahora Chomsky.
Considere la respuesta de Trump al COVID-19. Los críticos han notado, con razón, mensajes inconsistentes, posturas políticas y divisiones, peleas con gobernadores e ignorando a las autoridades médicas. Chomsky agrega una dimensión menos conocida: si bien "la pandemia está arrasando, la gente está muriendo y los hospitales no pueden mantener el ritmo", la administración Trump propuso un presupuesto que continuaría recortando partes del gobierno relacionadas con la salud, como los Centros para las Enfermedades. Controlar.
Y el líder republicano de la mayoría en el Senado, Mitch McConnell, el "verdadero genio malvado" de la administración, en palabras de Chomsky, declaró que el programa de estímulo pandémico del Congreso no debería rescatar a los estados gobernados por demócratas que han proporcionado pensiones a bomberos, maestros y otros trabajadores.
Frente a la perspectiva de una guerra termonuclear, el enfoque de Trump es "empeoremos las cosas", desmantelando el régimen de control de armas establecido por los acuerdos anteriores entre EEUU y Rusia, incluidas las Fuerzas Nucleares Intermedias (INF), "cielos abiertos" y los nuevos tratados START, a pesar de las súplicas del presidente ruso Vladimir Putin de renegociarlo. A la industria militar le encanta, señala Chomsky: "Están obteniendo enormes cantidades de dinero para construir armas que pueden destruirlo todo. Y luego, en el futuro, obtendrán más dinero para tratar de construir defensas contra estas armas que estamos animando a otros a producir ".
Más allá de desmantelar el control de armas, la política exterior de Trump equivale a orquestar una alianza internacional de "los estados más crueles, duros y reaccionarios", regímenes ambientalmente destructivos y etnonacionalistas como Jair Bolsonaro en Brasil, Narendra Modi en India, Viktor Orban en Hungría, Matteo Salvini en Italia y dictaduras en Egipto y los estados del Golfo.
Y luego está la crisis climática, una que los analistas de políticas a veces llaman un problema "perverso", en parte porque nadie necesita presionar un botón rojo o propagar inadvertidamente un virus para que socave la sociedad humana, simplemente continúe como de costumbre. Chomsky nos recuerda que, si bien
el mundo eventualmente escapará de la pandemia, aunque "a un costo severo", no escaparemos "del derretimiento de los casquetes polares, el aumento del nivel del mar [y] otras consecuencias extremadamente dañinas de calentamiento global." Pero EEUU, con su poder global, está en manos de un presidente y un partido que quiere hacer que la crisis sea "lo más severa e inminente posible".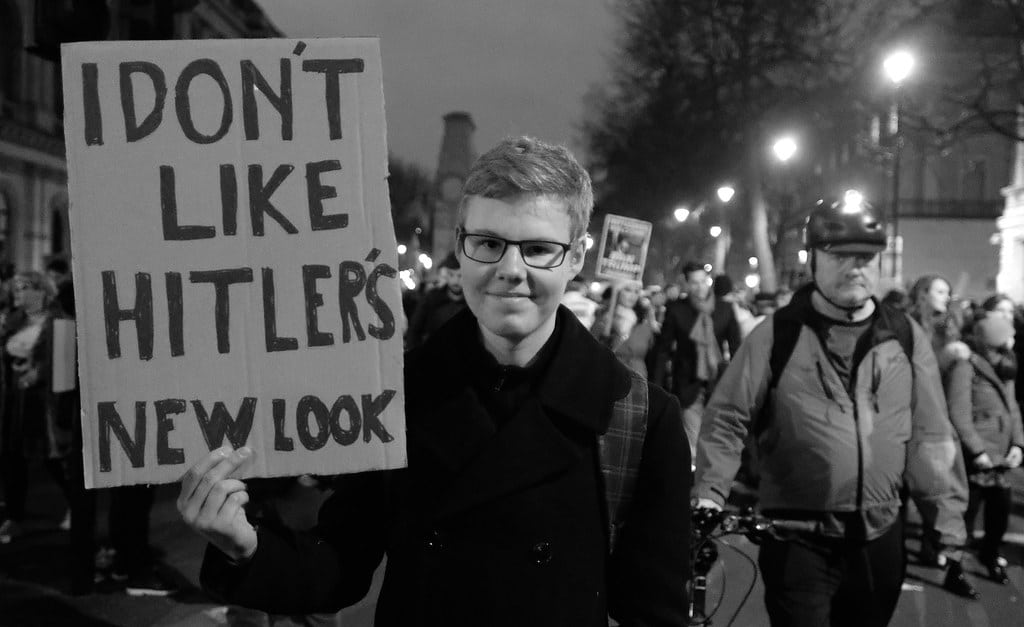 MR Online | Trump, emulating Hitler
A Chomsky nunca le faltan ejemplos. La administración Trump ha convertido a la Agencia de Protección Ambiental en "una subsidiaria del mundo empresarial", silenció a los científicos, eliminó esencialmente los controles de emisiones en las plantas de carbón, facilitó la contaminación por mercurio en las vías fluviales y aumentó los subsidios a las industrias de combustibles fósiles, como si "matemos a más estadounidenses "es el objetivo. La Agencia Nacional de Transporte de EE. UU. Informó que el planeta será catastróficamente más cálido para fines de siglo, pero, sin embargo, recomendó la eliminación de los controles de emisiones en los automóviles. La lectura de Chomsky de la lógica de Trump es: "De todos modos nos vamos al precipicio, así que ¿por qué no divertirse y obtener ganancias?"
Sin embargo, Chomsky evita la trampa de culpar de los males de EEUU a un solo político, sin importar cuán destructivo y corrupto sea. La pandemia de COVID-19 ha expuesto riesgos para toda la sociedad por la extrema desigualdad económica, producto de las políticas neoliberales de los últimos 40 años. Como hemos visto en Canadá, los trabajadores en trabajos precarios y sin licencia por enfermedad remunerada no pueden simplemente aislarse en casa. Si tienen una casa. Chomsky informó que mientras que una décima parte del uno por ciento de la población de EEUU tiene el 20 por ciento de la riqueza del país, entre el 60 y el 70 por ciento de la población estadounidense tiene que vivir "de sueldo a sueldo".
Además, para hacer frente a las crisis de salud pública, "hay que tener la estructura institucional". Por ejemplo, las poderosas compañías farmacéuticas, con sus enormes ganancias engordadas por "medidas proteccionistas como la increíble protección de patentes", sabían que era probable una epidemia de coronavirus, pero su incentivo era obtener ganancias a corto plazo "vendiendo algo mañana, no" previniendo una catástrofe dentro de un par de años ".
Sin embargo, dada su perspectiva histórica, Chomsky sigue siendo relativamente optimista. Su propia vida notable ha abarcado crisis monumentales, incluida la guerra global para derrotar al fascismo. (Casualmente, Chomsky se convirtió en un adolescente el día, en 1941, en que Japón atacó Pearl Harbor, catapultando a EEUU de lleno a esa guerra).
La Gran Depresión de la década de 1930 fue comparable a las consecuencias económicas del COVID-19, pero EEUU la superó a través de el New Deal, una "versión del capitalismo reglamentado que fue extremadamente beneficioso para la gente". Se podrían restablecer los tratados de control de armas. La crisis medioambiental podría mitigarse con sólo un "pequeño porcentaje" de la financiación para la movilización de la Segunda Guerra Mundial.
En solo un seminario web de 60 minutos, Chomsky ofreció numerosos detalles a los 700 participantes:
* El proyecto de ley de estímulo posterior a la pandemia podría imponer condiciones a las empresas. Por ejemplo, se podría exigir a las compañías aéreas que actualmente piden rescates gubernamentales que pongan trabajadores en el consejo de administración, garanticen un salario digno para todos los empleados y se centren en las necesidades de los pasajeros en lugar de seguir gastando miles de millones en recompras de acciones que enriquecen a los inversores. Si las aerolíneas se niegan, póngalas en propiedad pública.
* Los principales países podrían socializar las industrias de combustibles fósiles, lo que no sería prohibitivamente caro en un momento de precios del petróleo muy bajos, y sacarlas del negocio como "una gran ayuda para el mundo". (Por improbable que sea, este escenario ha aparecido en los principales medios de comunicación internacionales al menos desde 2014; es intrigante imaginar erupciones volcánicas en la "sala de guerra" anti-ambientalista del primer ministro de Alberta Jason Kenney).
Trump Lied, 200,000 Died.. and there are tapes..
* Cuando se le preguntó acerca de la controvertida y posiblemente obsoleta y cargada de errores producida por Michael Moore, Planet of the Humans , que ataca el potencial de la energía renovable para reemplazar los combustibles fósiles, Chomsky citó al economista Robert Pollin sobre cómo desarrollar una economía sostenible, mientras se asegura la reempleo de trabajadores a medida que se elimina el sector de los combustibles fósiles.
Tales políticas no son utópicas, insiste Chomsky. De muchas maneras, nos devolverían al marco político y legal que prevalecía antes de que los mantras neoliberales de privatización y fundamentalismo de libre mercado se convirtieran en el sentido común de las élites políticas y económicas occidentales.
La crisis del COVID-19 ha desafiado ese sentido común y reconfirmado la importancia de la acción colectiva y los recursos públicos. ¿Podemos llegar a un mundo mejor después de la pandemia? Chomsky se anima con las enfermeras y los médicos de primera línea, ayudando a la gente a sobrevivir, a menudo sin equipo de protección porque los gobiernos han preferido "gastar su dinero en otra parte". Su heroísmo ilustra "la magnificencia del espíritu humano" como "modelo de lo que se puede hacer".
Una joven de 14 años le preguntó conmovedoramente: "¿Qué hago para recuperar mi futuro?" Chomsky elogió a todos los jóvenes en la primera línea de las huelgas por el clima escolar. En particular, elogió a Greta Thunberg , la activista de 17 años que se enfrentó directamente a la indiferencia de Trump ante la crisis climática en la reunión anual de plutócratas y políticos, los autoproclamados "Maestros del Universo", en la ciudad turística suiza de Davos. .
Y promocionó la reciente formación de la organización Progressive International , que celebró su primera reunión en noviembre de 2018, para contrarrestar la reaccionaria Internacional de regímenes autoritarios de Trump. El PI fue iniciado por el activista demócrata Bernie Sanders en los EE. UU. Y el ex ministro de finanzas del gobierno de Syriza de izquierda de Grecia, Yanis Varoufakis. Está pensado como una red de activistas y grupos, y "la mayoría de la gente en el mundo quiere lo que representa", afirma Chomsky.
Como siempre, Chomsky recordó a sus oyentes el poder histórico de los movimientos populares organizados: abolicionista, derechos civiles, paz, igualdad de las mujeres y, más recientemente, la desinversión de combustibles fósiles. Por ejemplo, hace unos años, el Green New Deal -inversión gubernamental a gran escala para crear empleos y abordar el cambio climático- era "simplemente algo para ridiculizar", pero gracias al Movimiento Sunrise de jóvenes activistas en los EE. UU. ahora en la agenda legislativa. "Ya no te ríes de eso", dijo.
Climate Crisis and the Global Green New Deal
En el pasado, tales movimientos han obligado a la élite económica a crear la imagen de "la corporación conmovedora … no por amor a la raza humana, sino porque están siendo presionados para hacerlo". Chomsky nos advierte que no debemos tragarnos la retórica de las relaciones públicas corporativas, cuando lo que se necesita es un cambio estructural fundamental; pero puede que sea el momento adecuado para reformas significativas. En su opinión, el estado de ánimo en la extravagancia de Davos de este año, incluso antes de que el COVID-19 fuera reconocido como una pandemia mundial, era diferente. Menos autocomplacencia mutua, más contrición y promesas de ser más humano. "Están corriendo asustados … Los campesinos vienen con las horquillas".
Considere esta evaluación, de una fuente sorprendente: la pandemia está exponiendo la fragilidad y las desigualdades de las economías de muchos países. Las personas que ocupan trabajos precarios con salarios bajos y están en primera línea están perdiendo sus medios de subsistencia e incluso sus vidas. Para "exigir un sacrificio colectivo hay que ofrecer un contrato social que beneficie a todos".
Eso significa considerar reformas radicales que reviertan "la dirección política predominante de las últimas cuatro décadas". Tales reformas incluyen un papel gubernamental más activo en la economía, inversión en servicios públicos, mercados laborales más seguros, redistribución de la riqueza y una renta básica garantizada.
Esa declaración no es de ningún panfleto bolchevique. Es un editorial del 3 de abril de un importante periódico comercial internacional, el Financial Times , un órgano cuya viabilidad depende de que se lo diga a los inversores como es realmente. Corriendo asustado, de hecho.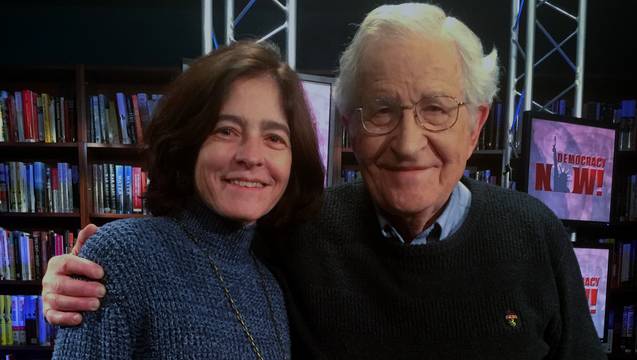 Los levantamientos mundiales por la justicia racial, a raíz de la muerte de George Floyd mientras estaba bajo custodia policial, ocurrieron después de la entrevista de Chomsky. Pero ofrecen más pruebas de la capacidad del poder popular para cambiar los debates políticos e influir en las élites del poder. Las opciones recientemente despreciadas, como la eliminación de fondos o incluso la disolución de las fuerzas policiales, ahora están siendo respaldadas por alcaldes y políticos nacionales.
Nos encontramos en una encrucijada. A los "Maestros del Universo" les gustaría reconstituir la economía neoliberal, sugiere Chomsky, pero "más duras, con medidas más autoritarias para asegurar que no haya interferencia con este modelo". Pero al mismo tiempo, "esta es una buena oportunidad para … plantear preguntas sobre en qué tipo de mundo queremos vivir".
Al igual que en la década de 1930, cuando "las opciones eran entre el fascismo y
la socialdemocracia liberal … la guerra de clases habitual está operando ahora mismo … El mundo que saldrá (de la pandemia) depende del equilibrio de fuerzas".
Las políticas necesarias son sencillas, afirma Chomsky. "Podemos cambiar las estructuras institucionales que nos están llevando al desastre. Todo está a nuestro alcance".
nationalobserver.com