'one of the first acts of liberation of a people is the destruction of monuments to heroes and caudillos'
Knocking down statues by Raúl Zibechi in Revista de prensa — Alternativas.
shared with thanks ..translation by TheFreeOnline

Riot police guard a statue of the Spanish conqueror Sebastián de Belalcázar, in the face of recent threats from certain groups to demolish it, in Cali, Colombia. Afp photo Follow @lajornadaonline

"The risk of a destroyer of statues is of becoming one", Carlos Monsiváis quotes Jean Cocteau at the end of his essay 'On civic monuments and their spectators'.
see also…Colombia registra más de 1.000 indígenas fallecidos por Covid
He also wrote that one of the first acts of liberation of a people is the destruction of monuments to heroes and caudillos, who thus ceased to exist.
As a result of the wave of demolitions of monuments, multiplied after the murder of George Floyd by the police in the United States, critics of such demolitions appeared, who tear their clothes because, they say, the statues are part of the public space.
Coumbus statue smashed in Baltimore USA.. Christopher Columbus: The ISIS Of His Day
The most recent episode happened in Popayán, capital of Cauca, in southern Colombia. On September 16, a group of Misak and NASA demolished the monument to Sebastián de Belalcázar, founder of the city and of Guayaquil, Quito and Cali. He received the royal title of governor for life of Popayán, in addition to other decorations.
His statue was placed in the Morro de Tulcán, a hill in Popayán where there was a ceremonial pyramid built by indigenous peoples that was literally beheaded to install the equestrian statue of the conqueror, as the Colombian anthropologist Julio César Cubillos demonstrated half a century ago (https: //bit.ly/3mKFYci).
Faced with the laments of the local oligarchy, which was the one that installed the monument on the sacred site in 1940, the Cauca Regional Indigenous Council (CRIC) reminded the population that so far this year "65 members of the indigenous communities in Cauca, "something that not everyone seems to care about. He salutes "the act of bravery" of the Misak people in "decolonizing thought and rebuilding our own history" (https://bit.ly/3kF7KoL).
Remember that Belalcázar is synonymous with "genocide, racism, slavery and discrimination against indigenous peoples" and that in life he was one of the greatest genocides of the original peoples of Latin America (https://bit.ly/3kF7KoL).
I am not as clear as Monsiváis if the demolition of monuments anticipates the rebellion or if it accompanies it. Last year in Chile, more than 30 figures of soldiers and conquerors were marked with graffiti or paint was thrown at them, from Arica in the north to the Mapuche south.
I remember how young people were fired up, in the Plaza de la Dignidad, before the statue of General Baquedano ("hero" of the Pacific war against Peru and Bolivia, according to the historiography above) that was painted and partially covered with Mapuche flags.
Throughout Chile, and in the heat of the popular revolt that swept the country since October, they filmed sculptures of Columbus, the statue of the colonizer and military man Francisco de Aguirre (in whose place they placed the sculpture of a Diaguita woman) and the bust of Pedro de Valdivia, in Temuco, whose head was hung in the hand of the Mapuche warrior Caupolicán.
On October 12, 1992, the Zapatistas held a large march in San Cristóbal de las Casas, Chiapas, and demolished the statue of Diego de Mazariegos in front of the Santo Domingo church. "If they raised it again it does not matter. They will never be able to raise again the fear of what it represented," wrote insurgent subcommander Galeano in May 2015.
Less than 15 months later, Ya Basta! of the Zapatista insurrection. In this case, Monsiváis's phrase is as accurate as it is just.
But I would like to stop at the Cocteau quote, which the Mexican writer brings. One of the most notable characteristics of the Zapatista revolution is that it never intended to replace the felled villains with more noble characters, on the same pedestal. It is not about taking down a genocidal conqueror to put a liberating "brother" in his place. The thing is much deeper.
The statues are a colonial heritage. Like states. They represent the culture of the ruling class. The original peoples have another way of representing their worldviews in architecture, such as the pyramids, which also teach hierarchical ways of seeing the world. Nor is it a question of substituting colonial statues for sacramental pyramids.
In the place of the tyrants, the Zapatistas build, create, invent new and different worlds, health clinics, schools, spaces of life to continue living. The boards of good government, for example, belong to this type of collective creation, where the head is the people, where the women and men who govern obey the collective. They rotate so as not to petrify in the place of command, because they do not have a vocation for monuments, but for service.
At this time when those from above are assassinating Zapatista support bases in the ejido of Tila, Tzotziles in Aldama, Nasas and Misak in Cauca, and black towns, natives, peasants and from urban peripheries throughout the continent, we can reflect on why we resist and give our lives: not to change bosses, but to live in a world without bosses.
by Raúl Zibechi

Follow @lajornadaonline
"El riesgo de un destructor de estatuas es convertirse en una", cita Carlos Monsiváis, al final de su ensayo De monumentos cívicos y sus espectadores, a Jean Cocteau.
Líneas arriba había escrito que uno de los primeros actos de liberación de un pueblo es la destrucción de monumentos a héroes y caudillos, que de ese modo dejaban de serlo.
A raíz de la oleada de derribos de monumentos, multiplicada luego del asesinato de George Floyd por la policía en Estados Unidos, aparecieron críticos de tales derribos, quienes se rasgan las vestiduras porque, dicen, las estatuas son parte del espacio público.
https://thefreeonline.wordpress.com/2020/08/11/spanish-royal-family-visit-genocidal-saint-museum-as-statues-attacked-english-spanish/
El episodio más reciente sucedió en Popayán, capital del Cauca, en el sur de Colombia. El 16 de septiembre un grupo de misak y nasa derribaron el monumento a Sebastián de Belalcázar, fundador de la ciudad y de Guayaquil, Quito y Cali. Recibió el título real de gobernador vitalicio de Popayán, además de otras condecoraciones.
Su estatua fue colocada en el Morro de Tulcán, un cerro de Popayán donde había una pirámide ceremonial construida por pueblos originarios que fue literalmente, decapitada para instalar la estatua ecuestre del conquistador, como demostró hace medio siglo el antropólogo colombiano Julio César Cubillos (https://bit.ly/3mKFYci).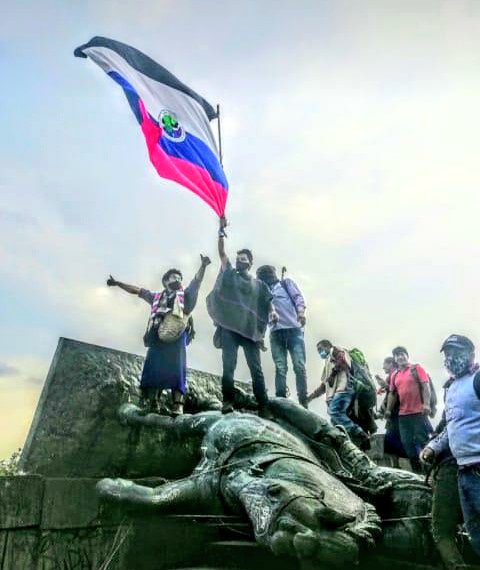 Una estatua del conquistador español Sebastián de Belalcázar, ante las recientes amenazas de ciertos grupos de derribarla, en Cali, Colombia
Ante los lamentos de la oligarquía local, que fue la que en 1940 instaló el monumento sobre el sitio sagrado, el Consejo Regional Indígena del Cauca (CRIC) recordó a la población que en lo que va de este año han sido asesinados 65 integrantes de las comunidades indígenas en el Cauca, algo que no a todos parece importarle. Saluda el acto de valentía del pueblo misak al decolonizar el pensamiento y reconstruir nuestra propia historia (https://bit.ly/3kF7KoL).
Recuerda que Belalcázar es sinónimo de genocidio, racismo, esclavitud y discriminación a los pueblos indígenas y que en vida fue uno de los mayores genocidas de los pueblos originarios de América Latina (https://bit.ly/3kF7KoL).
No tengo tan claro como Monsiváis si el derribo de monumentos anticipa la rebelión o si la acompaña. El año pasado en Chile, más de 30 figuras de militares y conquistadores fueron marcadas con graffities o les arrojaron pintura, desde Arica en el norte, hasta el sur mapuche. Recuerdo cómo los jóvenes se enardecían, en la Plaza de la Dignidad, ante la estatua del general Baquedano (héroe de la guerra del Pacífico contra Perú y Bolivia, según la historiografía de arriba) que fue pintada y tapada parcialmente con banderas mapuches.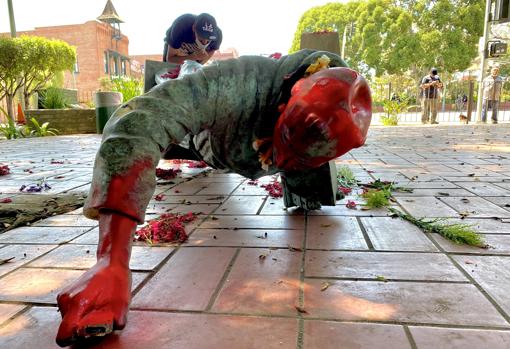 Juniper Serra, genocidal priest, abuser of his power over conquered Indians
A lo largo de Chile, y al calor de la revuelta popular que barrió el país desde octubre, rodaron esculturas de Colón, la estatua del colonizador y militar Francisco de Aguirre (en cuyo lugar colocaron la escultura de una mujer Diaguita) y el busto de Pedro de Valdivia, en Temuco, cuya cabeza fue colgada en la mano del guerrero mapuche Caupolicán.
El 12 de octubre de 1992, los zapatistas realizaron una gran marcha en San Cristóbal de las Casas, Chiapas, y derribaron la estatua de Diego de Mazariegos, frente a la iglesia de Santo Domingo. Si volvieron a levantarla no importa. Nunca podrán levantar de nuevo el miedo a lo que representaba, escribió en mayo de 2015 el subcomandante insurgente Galeano.
Menos de 15 meses después, se encendió el Ya Basta! de la insurrección zapatista. En este caso, la frase de Monsiváis es tan acertada como justa.
Pero quisiera detenerme en la cita de Cocteau, que trae el escritor mexicano. Una de las características más notables de la revolución zapatista es que nunca pretendió sustituir a los villanos derribados por personajes más nobles, en el mismo pedestal. No se trata de derribar a un conquistador genocida para colocar a un hermano libertador en su lugar. La cosa es mucho más profunda.
Las estatuas son una herencia colonial. Como los estados. Representan la cultura de la clase dominante. Los pueblos originarios tienen otra forma de representar sus cosmovisiones en la arquitectu-ra, como las pirámides, que enseñan también modos jerárquicos de ver el mundo. Tampoco se tratade sustituir estatuas coloniales por pirámides sacramentales.
En el lugar de los tiranos, los zapatistas construyen, crean, inventan mundos nuevos y diferentes, clínicas de salud, escuelas, espacios de vida para seguir viviendo. Las juntas de buen gobierno, por ejemplo, pertenecen a ese tipo de creaciones colectivas, donde el jefe es el pueblo, donde las mujeres y los varones que gobiernan obedecen al colectivo. Rotan para no petrificarse en el lugar de mando, porque no tienen vocación de monumentos, sino de servicio.
En estos momentos en que los de arriba están asesinando bases de apoyo zapatistas en el ejido de Tila, tzotziles en Aldama, nasas y misak en el Cauca, y pueblos negros, originarios, campesinos y de periferias urbanas en todo el continente, podemos reflexionar para qué resistimos y damos la vida: no para cambiar de caporales, sino para vivir en un mundo sin mandones.
Related Posts