The Spanish Constitution guarantees the freedom of movement and right to demonstrate
The main incidents occurred in Barcelona, ​​Burgos, Valencia and Santander.
"The mass pickets and protests against the curfew and the increase in restrictive measures to stop the coronavirus pandemic have resulted yesterday night with dozens of people arrested and police officers injured in cities such as Barcelona, ​​Burgos , Sevilla, Bilbao, Santander. etc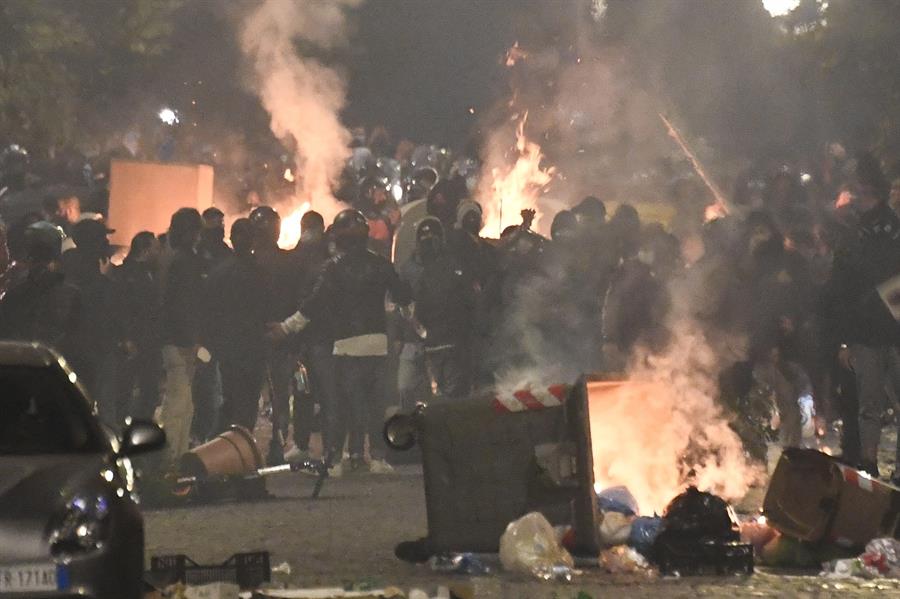 The most serious incidents took place in Barcelona, ​​where 14 people were arrested -two of them minors- and 30 were injured -20 Mossos d'Esquadra agents, three urban guards and seven citizens-, in the clashes that took place in the center of Barcelona at the end of a demonstration against the new restrictions of the Generalitat.
In the course of these altercations, two shops in the city center were looted, some fifty containers burned and several Mossos vans were affected, some badly damaged, Ferrer has specified.
The clashes took place in the Plaza de Sant Jaume and its surroundings after a denial demonstration called by social networks, when groups of people, many of them hooded and with their faces hidden, burned street furniture and threw flares and fences at the agents.
The director of the Mossos d'Esquadra, Pere Ferrer, has linked these incidents to groups around the extreme right, which take advantage of the "social unrest" due to the restrictions to "destabilize" with "extremely high levels of violence": "This we are not going to tolerate , "he warned. But left wing, anarchist and independentist groups were visibly active.
Ferrer also wanted to differentiate between citizens who, before the incidents, legitimately demonstrated peacefully to defend their rights from these violent groups.

Serious incidents in Burgos
In Burgos, more than a hundred people staged serious disturbances on Friday night, especially in the Gamonal neighborhood, with violent clashes with the Police, throwing stones and burning more than one hundred containers, breaking the curfew established at from 10:00 p.m. in Castilla y León
The riots occurred at the conclusion of a rally against the perimeter confinement of the autonomous community and in which hundreds of people participated, summoned on social networks by groups against the curfew.
At that time, some of those gathered cut traffic on Vitoria street in the working class Gamonal neighborhood and began to throw stones and cobblestones, as well as burn containers and destroy bus shelters, while several National and Local Police patrols tried to contain them. .
The mayor of Burgos, Daniel de la Rosa, who has condemned the incidents, has told EFE that, although the most serious disturbances occurred in the Gamonal neighborhood, there have been less intense aftershocks in other areas of the city, such as in the neighborhoods of San Pedro and San Felices and in the downtown area.
The balance of damage, at the moment, is about a hundred burned containers and extensive damage to vehicles and street furniture, while it is unknown whether there have been arrests.
The president of Castilla y León, Alfonso Fernández Mañueco (PP), has called for serenity and responsibility in the city of Burgos. «The violent episodes that are taking place in Burgos, in addition to being reprehensible, do not help to fight against the common enemy that is the virus. My support for the security forces », has published Fernández Mañueco on his Twitter profile."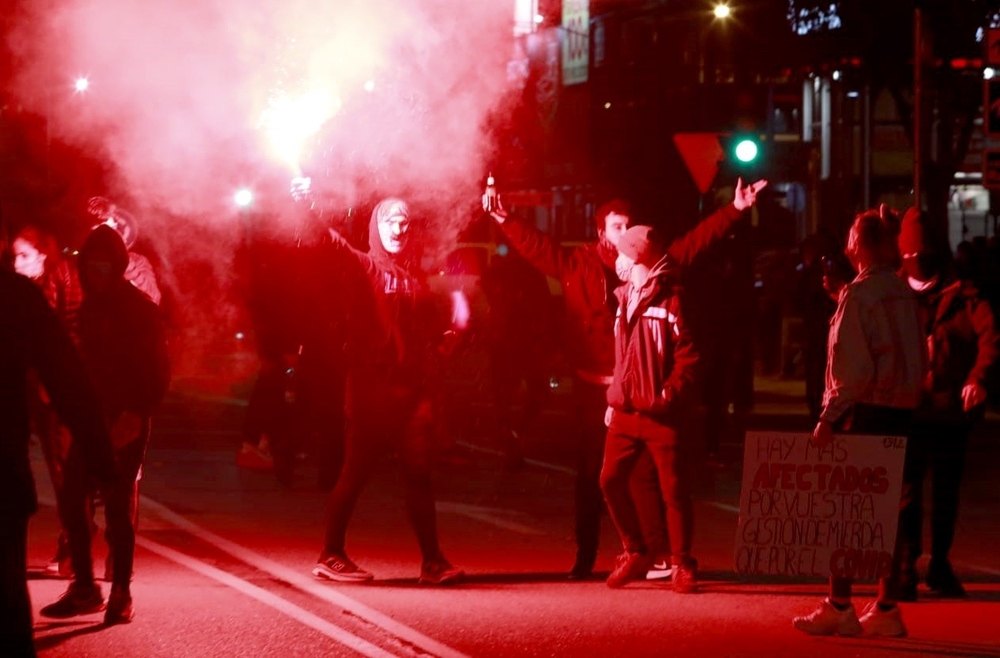 The Burgos demos
Eight detainees in Santander
"In Santander, there were also incidents after a protest rally in the center of the Cantabrian city, which led to a confrontation between the protesters and the Police, which resulted in eight people arrested and one officer injured.
Some 150 people participated in the rally, called at 11:00 p.m. by social networks, who, according to sources from the National Police, burned containers, damaged urban furniture and threw paving stones and bottles at the agents.
The riots began in the Plaza del Ayuntamiento and spread through the surrounding streets, while the participants in the protest were joining more people.
In the clashes, an agent was injured by the throwing of a bottle, whose condition is not serious, according to the Police. Among the eight detainees, seven men and one woman, and two minors
The riots ended after midnight, when the curfew begins in Cantabria, closed on the perimeter since Thursday night.
There was also a similar protest in Torrelavega, although it ended without incident.

Five police officers injured in Valencia
In Valencia, a total of seven people, including a minor, have been arrested after participating in the Plaza del Ayuntamiento in an unauthorized protest that resulted in altercations and five injured National Police officers.
The concentration brought together about 70 people and, according to police sources explained to Europa Press, some of the participants did not wear a mask or respect the social distance necessary to prevent coronavirus infections.
The events occurred around 9:00 p.m. on Friday, when a call to 091 alerted the agents that a protest was taking place in the Plaza del Ayuntamiento with songs and banners against the covid curfew.
Members of the National Police went to the square, where they found dozens of people, some of them hooded, shouting messages such as "freedom", "you are dogs" and "we are going to burst you".
Apparently, one of the participants in the protest approached an agent to allegedly berate him. Agents told the participants that they were in an unreported concentration and that some did not keep safety distances or wear masks.
According to police sources, at that moment some of the assistants began to throw eggs and beer cans at the agents, while threatening and insulting them. Apparently, some participants even pushed and punched the officers.
Finally, the protest ended with seven people arrested, between 21 and 27 years old, although one of them is a minor. Five policemen were injured, according to the same sources."
Los disturbios contra el toque de queda dejan decenas de detenidos y policías heridos en varias ciudades españolas
Los principales incidentes se produjeron en Barcelona, Burgos, Valencia y Santander.
Las concentraciones y protestas contra el toque de queda y el incremento de las medidas restrictivas para frenar la pandemia de coronavirusse han saldado esta noche con decenas de personas detenidas y de agentes de policía heridos en ciudades como Barcelona, Burgos o Santander.
Los incidentes más graves se produjeron en Barcelona, donde 14 personas fueron detenidas -dos de ellas menores de edad- y 30 resultaron heridas -20 agentes de los Mossos d'Esquadra, tres guardias urbanos y siete ciudadanos-, en los enfrentamientos que se produjeron en el centro de la ciudad condal al término de una manifestación en contra de las nuevas restricciones de la Generalitat.
En el transcurso de estos altercados fueron saqueadas dos tiendas del centro de la ciudad, una cincuentena de contenedores ardieron y varias furgonetas de los Mossos quedaron afectadas, algunas muy dañadas, ha concretado Ferrer.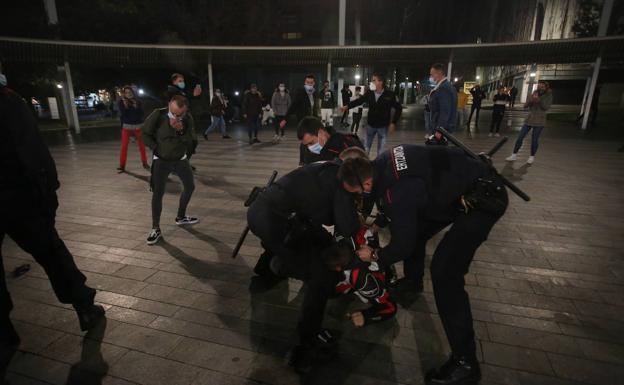 Los enfrentamientos se produjeron en la plaza de Sant Jaume y sus alrededores tras una manifestación negacionista convocada por redes sociales, cuando grupos de personas, muchas de ellas encapuchadas y con el rostro oculto, quemaron mobiliario urbano y lanzaron bengalas y vallas a los agentes.
El director de los Mossos d'Esquadra, Pere Ferrer, ha vinculado estos incidentes a grupos del entorno de la extrema derecha, que aprovechan el «malestar social» por las restricciones para «desestabilizar» con unos «niveles de violencia elevadísimos»: «Esto no lo vamos a tolerar», ha advertido.
Sin embargo grupos anarquistas, izquierdistas y independentistas se juntaron a las protestas en contra de la supresión de sus derechas constuitucionales
Ferrer ha querido, además, diferenciar a los ciudadanos que, antes de los incidentes, legítimamente se manifestaron de forma pacífica para defender sus derechos de estos grupos violentos.
Graves incidentes en Burgos
En Burgos, más de un centenar de personas protagonizaron en la noche del viernes graves disturbios, especialmente en el barrio de Gamonal, con violentos enfrentamientos con la Policía, lanzamiento de piedras y quema de más de cien contenedores, rompiendo el toque de queda establecido a partir de las 22:00 horas en Castilla y León
Los disturbios se produjeron al concluir una concentración en contra del conflinamiento perimetral de la comunidad autónoma y en la que participaban centenares de personas, convocadas en redes sociales por grupos negacionistas de la pandemia del coronavirus.
En ese momento, algunos de los congregados cortaron la circulación en la calle Vitoria del barrio de Gamonal y comenzaron a tirar piedras y adoquines, así como a quemar contenedores y destrozar marquesinas de autobuses, mientras varias patrullas de la Policía Nacional y Local trataban de contenerlos.
Disturbios en un barrio de Burgos
El alcalde de Burgos, Daniel de la Rosa, que ha condenado los incidentes, ha señalado a EFE que, aunque los disturbios más graves se produjeron en el barrio de Gamonal, ha habido réplicas de menor intensidad en otras zonas de la ciudad, como en los barrios de San Pedro y San Felices y en la zona centro.
El balance de daños, por el momento, es de unos cien contenedores quemados y cuantiosos daños en vehículos y mobiliario urbano, mientras que se desconoce si se han producido detenciones.
El presidente de Castilla y León, Alfonso Fernández Mañueco (PP), ha hecho un llamamiento a la serenidad y la responsabilidad en la ciudad de Burgos. «Los episodios violentos que se están produciendo en Burgos, además de reprobables, no ayudan a luchar contra el enemigo común que es el virus. Mi apoyo a las fuerzas de seguridad», ha publicado Fernández Mañueco en su perfil de twitter.
Hago un llamamiento a la serenidad y a la responsabilidad. Los episodios violentos que se están produciendo en Burgos, además de reprobables, no ayudan a luchar contra el enemigo común que es el virus. Mi apoyo a las fuerzas de seguridad.— Alfonso F. Mañueco (@alferma1) October 30, 2020
Ocho detenidos en Santander
También en Santander se produjeron inicidentes tras una concentración de protesta en el centro de la ciudad cántabra, que derivó en un enfrentamiento entre los manifestantes y la Policía y que se saldó con ocho personas detenidas y un agente herido.
En la concentración, convocada a las 23.00 horas por las redes sociales, participaron unas 150 personas, que, según ha informado a Efe fuentes de la Policía Nacional, quemaron contenedores, causaron daños en el mobiliario urbano y lanzaron adoquines y botellas contra los agentes.
Los disturbios empezaron en la plaza del Ayuntamiento y se extendieron por las calles aledañas, mientras a los participantes en la protesta se iban uniendo más personas.
En los enfrentamientos resultó herido un agente por el lanzamiento de una botella, cuyo estado no es grave, según la Policía. Entre los ocho detenidos, siete hombres y una mujer, hay dos menores de edad.
Los disturbios finalizaron después de la medianoche, cuando empieza el toque de queda en Cantabria, cerrada perimetralmente desde el jueves por la noche.
También hubo una protesta similar en Torrelavega, aunque se saldó sin incidentes.
Cinco policías heridos en Valencia
En Valencia, un total de siete personas, entre ellas un menor de edad, han sido detenidas tras participar en la Plaza del Ayuntamiento en una protesta no autorizada que se saldó con altercados y cinco agentes de la Policía Nacional heridos.
La concentración congregó a unas 70 personas y, según han explicado fuentes policiales a Europa Press, algunos de los participantes no portaban mascarilla ni respetaban la distancia social necesaria para prevenir los contagios de coronavirus.
Los hechos ocurrieron en torno a las 21:00 horas del viernes, cuando una llamada al 091 alertó a los agentes de que se estaba produciendo una protesta en la Plaza del Ayuntamiento con cánticos y pancartas en contra de las medidas de prevención de la COVID-19.
Efectivos de la Policía Nacional acudieron a la plaza, donde encontraron a decenas de personas, algunas de ellas encapuchadas, que gritaban mensajes como «libertad», «sois unos perros» y «os vamos a reventar».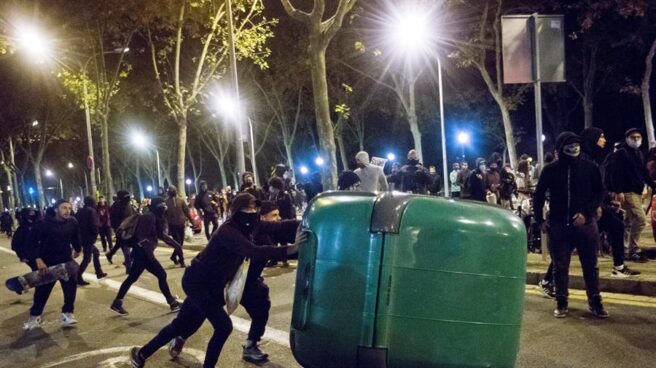 Al parecer, uno de los participantes en la protesta se acercó a un agente para presuntamente increparle. Agentes indicaron a los participantes que se encontraban en una concentración no comunicada y que algunos no guardaban distancias de seguridad ni portaban mascarillas.
Según fuentes policiales, en ese momento algunos de los asistentes empezaron a lanzar huevos y latas de cerveza a los agentes, a la vez que los amenazaban e insultaban. Al parecer, algunos participantes llegaron a empujar y propinar puñetazos a los agentes.
Finalmente, la protesta terminó con siete personas detenidas, de entre 21 y 27 años aunque uno de ellos es menor de edad. Cinco policías resultaron lesionados, según las mismas fuentes.