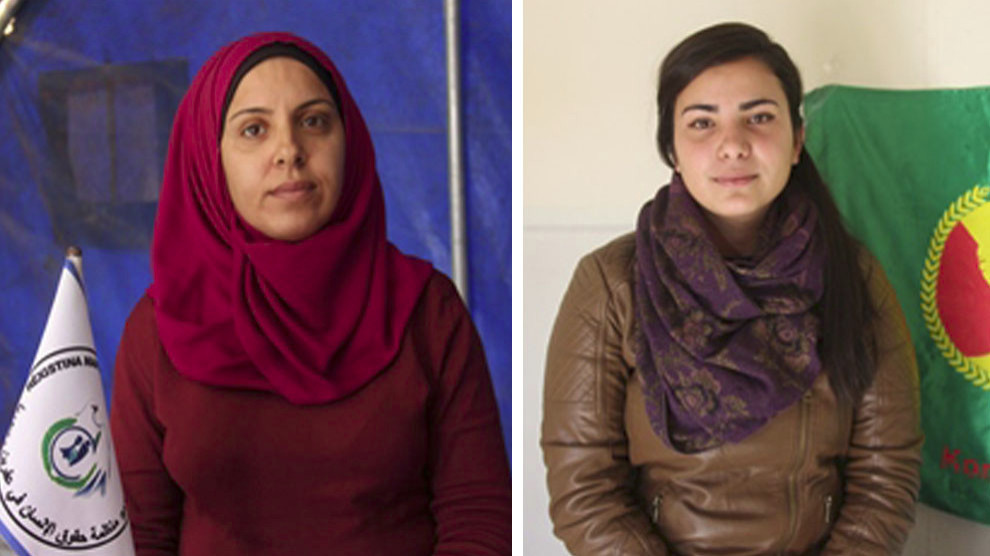 ANF | 1,200 women subjected to violence in occupied Afrin

Missing Afrin Women Project – Tracking kidnappings and disappearances of women in occupied Afrin, Syria.
much info from https://missingafrinwomen.org/ and Sky News Arabia – Lamar Arcandi – 23 December 2020

Kurdish women from Afrin, slaves of Erdogan's militias
Shocking details recounted by Kurdish women fleeing the city of Afrin about the brutal rape crimes committed by pro-Ankara terrorist militias since the occupation of the city in March 2018.

After Turkey occupied the city through its militias, various centers, institutions and schools were turned into secret prisons. Survivors' testimonies reveal that the ground had been stained with blood caused by brutal rapes.
Over 150 cases are documented.

Other testimonies also indicate that the rape, captivity and oppression suffered by Kurdish women in Afrin takes place in full light with the approval and welcome of Turkey, and dozens of women and girls are killed daily, especially minors. The financial extortion of their families, their brutal rape, and their exposure to violence and abuse take place in an unprecedented way.

Slaves in Libya
Afrin… An appeal to Mazloum Kobani regarding two kidnapped girls from Afrin …arknews.net Jul 27 2020

A report by the Kurdish newspaper Afrin Post revealed that the Turkish-backed "Elite Army" (1) terrorist militia had abducted a Kurdish girl named "Salwa Ahmed Shasho" from her home in the Dar Kara village in the Afrin countryside and the hid in one of the houses in the village of Amara Maabatli.
The newspaper quoted a witness close to Salwa's family, who recounted that the family managed to get her back after several days, foiling the militia's plan to transfer the girl to Turkey and sell her to Qatari merchants as a sex slave, then transfer her. to Libya, similar to what ISIS did to the Yazidis in Iraq.

Activists from Afrin confirmed to "Sky News Arabia" that several Kurdish women who were held in the jails of the terrorist militia, especially minors, had been transferred to Libya as slaves.

Banken Darwish, a pseudonym for a Kurdish activist from Afrin, said that a girl named Hana, from the Sherawa district in Afrin countryside, was arrested during the occupation of her city by the terrorist militia Hamzat, after killing her husband and forcing her to serve Hamzat members at their center in the Bulbul sub-district.
Darwish confirmed, in exclusive statements to Sky News Arabia, that a militant from the remnants of ISIS, who came from the Harbel area in al-Shahba camp and had joined [the militia] Hamzat, who killed the husband and took her away. he took with him to Libya while fighting for the Turks in the Libyan capital Tripoli.
Women kidnappings spike in lawless Turkey-controlled Afrin .
[Darwish] added: 'The abducted women are transported to Turkey through the Kilis military pass, on the Syrian-Turkish border, or through the village of Hebron on the border with Turkey, as well as through the border village of Al- Hamam, on the military border in the Jenderes district, which connects Afrin with the Turkish province of Hatay.
A report from the United Nations Commission of Inquiry on Syria has found widespread evidence of torture and sexual and gender-based violence targeting civilians who have been kidnapped by Turkish-backed armed groups in occupied Afrin, and warned that many of these violations amount to war crimes.Continue reading UN: armed groups commit war crimes of hostage-taking, torture, and rape in occupied Afrin → by missingafrinwomen September 15, 2020

The Kurdish activist indicated that Subhi Rizk, the head of the so-called Local Council of the Turkish occupation, along with several employees of the crossing, had been arrested months ago by the Turkish government and accused of being involved in the terrorist bombings in Afrin and of deal with the Kurdish administration in northern Syria.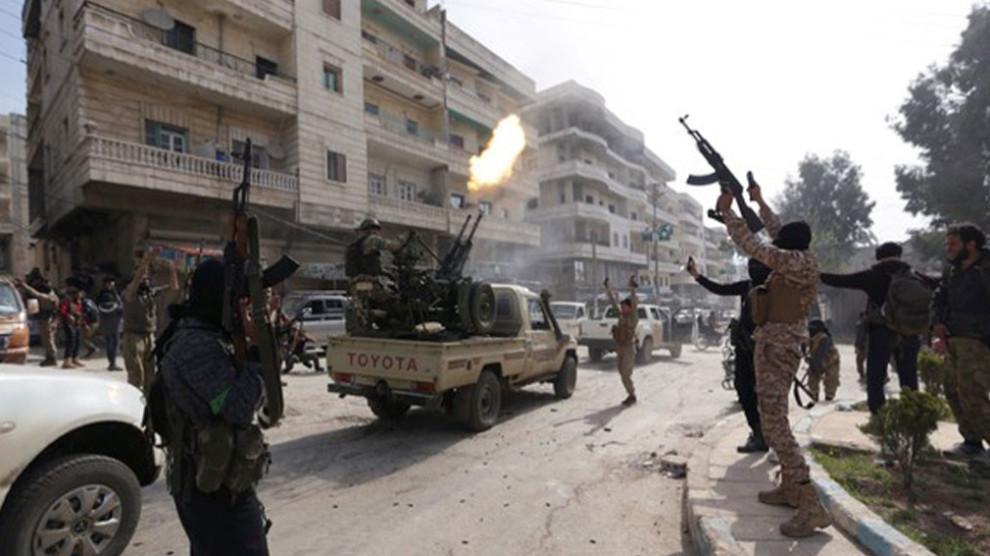 In Afrin and the other Turkish occupied zones in northern Syria there are daily attacks and abductions by the jihadist groups, paid by the NATO member Turkey
He pointed out that this maneuver must be related to the possession by Rizk, of Arab origin, of dangerous and important information that condemns the Turkish side and the terrorist militias loyal to it in relation to the transfer of kidnapped Kurdish women to Turkey and of there to Libya to be sold as slaves.

A bitter reality

A bitter reality that has been described as "Shirin Blue", the pseudonym of a 20-year-old woman who fled Afrin after being subjected to sexual extortion by the terrorist militia Ahrar al-Sharqiya, led by Hatem Abu Shakra, accused of committing crimes of war against the Kurds, during the Turkish operation called "Peace Spring."
Afrin Women: After rape, murder, it is time to revolt …

Shirin told Sky News Arabia that the Ahrar Al-Sharqiya militia broke into her house and the house of her neighbors and threatened to behead them unless they paid 4 million Syrian pounds, while threatening to behead her husband or rape her. mass.
And she added: "I asked them to give us a few days to respond to her request and it was our chance to flee Afrin to the Al-Shahba areas in the Aleppo camp."
For his part, Ibrahim Sheikho, director of the Afrin Human Rights Organization, which operates in the al-Shahba area, revealed hundreds of cases of kidnapping, rape, murder and dumping [the bodies of] women and girls into the wild. .

«Those fleeing the city of Afrin speak of the Afrin hospital, full of the bodies of abducted women brutally murdered after being accused of being terrorists and a threat to the security of the Turkish state; there are even girls." Shekho told Sky News Arabia.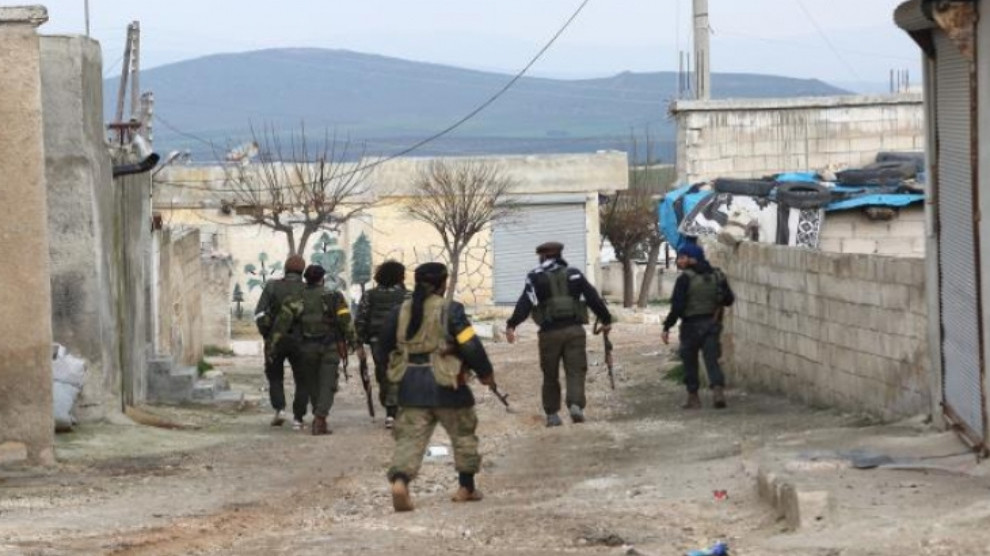 ANF | Turkish-backed mercenaries kidnap 10 civilians in Afrin

He also recounted the kidnapping of a young woman named Malik Nabil several months ago by terrorist militias, who was shot to death in the Azaz camp at the age of 16, supposedly for being a combatant in the Women's Protection Units [YPJ] .
"After being raped by gangs for a week, she was returned to her family, and then kidnapped again to carry out her execution in the Azaz camp by unknown assailants."

"Terrorist militias abducted seven Kurdish women a few weeks ago, four of them elderly women from Kazeh village in Raju district in rural Afrin. One of them, named Halima Musa Jolieh, was tortured and severely beaten, and her family extorted money from her in exchange for her release, after being accused of dealing with the Kurdish administration, "she said.

Facts and figures

Investigators and experts from the UN Sanctions Committee, who investigate violations in the areas occupied by Turkey – in Afrin, Ras al-Ain and Tal Abyad – spoke in their latest report entitled "No Clean Hands – Behind the Front Lines" ("There are no clean hands – Behind the front line") on the war crimes committed by the terrorist militias in Ankara.
"Jaish Al-Islam" militia kidnaps 3 Kurdish women

The report warned of serious human rights violations against the Kurds of Afrin, Ras al-Ain and Tal Abyad by the terrorist militias of Ankara, for killings and systematic displacement, threats, extortion, kidnapping, torture and forced detention.

The international report documented cases of sexual violence against women and men also in Afrin detention centers, noting that the Turkish forces were aware of serious human rights violations committed by their militias against Kurdish civilians, accusing Ankara of violating the Treaty. of Human Rights.

Meanwhile, humanitarian, human rights and civil organizations in northern Syria and Europe have launched an international appeal to reveal the fate of abducted and forcibly displaced women in Turkish prisons in occupied areas in northern Syria.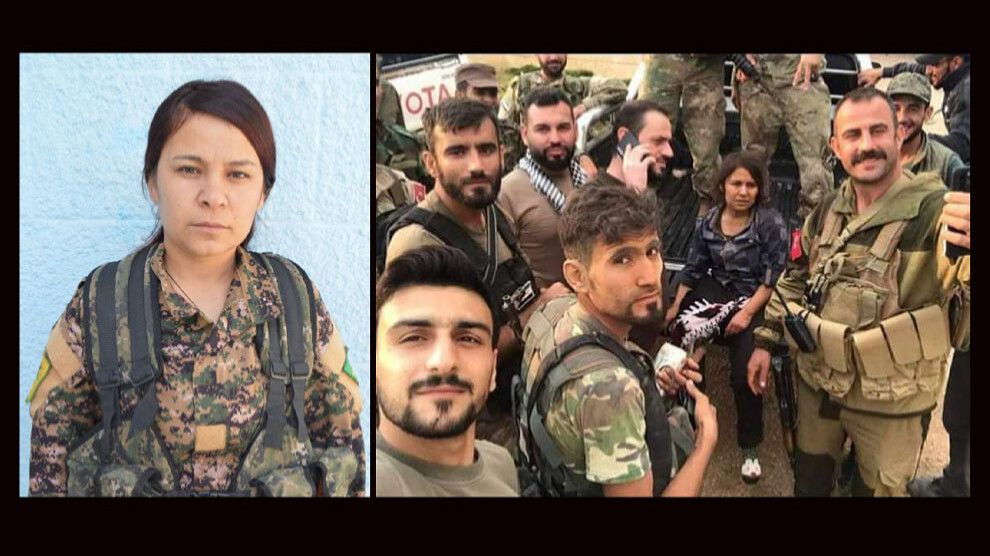 Çiçek Kobanê, YPG volunteer in Rojava, tortured and kidnapped ..UPDATE, TURKEY ASKS LIFE IN JAIL

The number of abductees has been confirmed to have reached about 1,000 Kurdish women and girls, including minors, some of whom were released in exchange for ransom, while the fate of more than 400 abductees remains unknown today .
(1) Elite Army (Jaysh al-Nukhba), formerly the Liberation Army (Jaysh al-Tahrir).
source: https://rojavaazadimadrid.org/testimonios-terrorificos-mujeres-kurdas-de-afrin-esclavas-de-las-milicias-de-erdogan/
Note: Header illustration taken from a tribute to our disappeared Mexican sisters https://laguna.telediario.mx/laguna/donde-estan-es-un-homenaje-mujeres-desaparecidos-o-que-fueron-victimas-de-feminicidio
related link: http://www.kurdistanamericalatina.org/
Share this:
Over 150 women reported kidnapped in Afrin since 2018 – Reports
161 women and girls whose identities are known have been reported kidnapped by Turkish-backed armed groups since the start of the Turkish invasion of Afrin, Syria, the Missing Afrin Women Project has found.
Local human rights organizations claim that hundreds of women and girls have been kidnapped during this time period. The details of most incidents are unknown, as communities fear retaliation and outside journalists and observers cannot enter the area.
The Missing Afrin Women Project compiles reports from media and human rights groups documenting these incidents, including the name of the individual, the date and location of the incident, the armed group responsible, and whether the individual has been reported released, as well as relevant details about the incident.
Turkey tolerated Committing War Crimes… Stop the lucrative arms sales by US, Russia, Germany and the EU to Erdogan A woman with burn injuries due to chemical weapons
Cases with allegations of torture or of sexual or gender-based violence are marked as such.
In 17 incidents, reports included allegations of torture in custody. Six out of the 17 individuals who were allegedly tortured in custody were reported to have been kidnapped by one armed group, the Hamza Division.
In five incidents, reports included allegations of sexual violence in custody. Three of these cases involved minors.
Six of the women reported kidnapped were identified as Yezidis, including a mother and daughter who were both kidnapped and released twice. One Yezidi woman was reportedly tortured and forced to renounce her faith in custody.
Another victim of Erdogan. Defeated but Defiant. Afrin was a haven of peace, gifted to Turkey by Russia in exchange for the Turkstream oil pipelines. Ethnically cleansed to the silence of the US and Europe, in exchange for blocking refugees and continuing the bloody arms trade
Of the 132 cases where reports alleged that a specific armed group or element of the security forces was responsible for the kidnapping, 34 kidnappings were attributed to the Turkish-backed military police, 17 were attributed to the civilian police, and 15 were attributed to the Hamza Division.
Reported pretexts for kidnapping include accusations of working with the Autonomous Administration of North and East Syria or the Syrian Democratic Forces, which include actions as innocuous as voting in an Autonomous Administration local election; false terrorism allegations; and documenting information about the situation in Afrin or sharing such information with outside sources.
Only about one out of every three victims has been reported released; the whereabouts of the majority are unknown.
Reports from the region and interviews with survivors suggest that torture, cruel and degrading treatment, and sexual and gender-based violence are pervasive and systemic, beyond the individual cases where these crimes were reported.
"We were dozens of kidnapped women of different ages, among us were minor girls, who were always raped; one of them, named Zaloukh, died from heavy bleeding after being raped," one survivor said.
Half of Afrin's population has been forced to flee, most to camps in nearby Sheba, while Erdogan's JIHADI MERCENARIES OCCUPY AND LOOT THEIR HOMES, LANDS, AND BUSINESSES.
The hands of the children of Afrin, who were forcibly evicted from their homes to al- Shahba painted the longest ever painting expressing their memories and tragedies during the bombing of the Turkish occupation Nato army aircraft.
"They were transporting us during the night hours outside the prison, after blindfolding us, they were tricking us that they were about to execute us. They were defaming their weapons, putting their rifle barrels on our forehead, while others were shooting in the air, to terrorize us.
Many of the abductees committed suicide, and others were killed in cold blood, and their bodies were thrown in the forests near the villages in Azaz, Al-Bab, Afrin and Jarabulus. Those crimes were committed against unknown abductees," she described.
In a video interview conducted by Hawar News Agency, a local media outlet, a woman who was kidnapped by the Military Police in June 2019 along with her daughter described similar conditions.
Kurdish girl raped and murdered with impunity by Turks
"The gangs kidnapped us from our house for unknown reasons. They took us to the commercial school. There they beat us with water hoses. They insulted us. Every time we were beaten, they claimed I had connections with the YPG and was supposed to give them information, she said.
"One of these militiamen named Abu Haydar interrogated me during the torture. They kept saying that I was part of the YPG and asked me what information I gave them. When I said that I had nothing to do with it and did not give any information, they threatened me to kill my daughter or give her drugs…Abu Haydar threatened me constantly. He threatened to kill my daughter, rape me, take pictures and distribute them to everyone. He forced me to watch the cruel torture of women. The women were tortured with electric shocks and blows with water hoses. The torture was so bad that I became ill because of the sight."
In another video provided by the Human Rights Organization – Afrin, a woman kidnapped by Ahrar al-Sharqiya described how militants accused her of witchcraft, threatened to sexually assault her, and demanded large sums of money
A video showing several women being led out of an illegal prison reportedly operated by the Hamza Division surfaced in late May after clashes between armed groups in Afrin city center. The Syrian Observatory for Human Rights claimed that they were naked when they were originally found, and that they had suffered other cruel and degrading treatment in custody. Most of the women in the video have been identified by human rights monitors and news outlets, but only one has been reported released.
The map and database will be updated with new cases as they occur and as information about earlier incidents is published. Please click here to view the data.
A Kurdish femnist's views on the struggle for freedom
Mujeres kurdas de Afrin, esclavas de las milicias de Erdogan
Sky News Arabia – Lamar Arcandi – 23 diciembre 2020 Missing Afrin Women Project – Tracking kidnappings and disappearances of women in occupied Afrin, Syria. https://missingafrinwomen.org/ missingafrinwomen@protonmail.com
Mujeres kurdas de Afrin, esclavas de las milicias de Erdogan
Detalles impactantes relatados por mujeres kurdas que huían de la ciudad de Afrin sobre los brutales crímenes por violación cometidos por las milicias terroristas pro-Ankara desde la ocupación de la ciudad en marzo de 2018.
Después de que Turquía ocupara la ciudad por medio de sus milicias, diversos centros, instituciones y escuelas se convirtieron en prisiones secretas. Testimonios de los supervivientes revelan que el suelo había quedado manchado por la sangre causada por violaciones brutales.
Otros testimonios también indican que la violación, el cautiverio y la opresión que sufren las mujeres kurdas en Afrin se lleva a cabo a plena luz con la aprobación y acogida de Turquía, y decenas de mujeres y niñas son asesinadas diariamente, especialmente menores. La extorsión económica a sus familias, su brutal violación y su exposición a la violencia y el abuso se suceden de una manera sin precedentes.
Esclavas en Libia
Un informe del periódico kurdo Afrin Post reveló que la milicia terrorista «Elite Army»(1) respaldada por Turquía había secuestrado a una niña kurda llamada «Salwa Ahmed Shasho» de su casa en la aldea de Dar Kara en el campo de Afrin y la escondió en una de las casas de la aldea de Amara Maabatli. El periódico citaba a un testigo cercano a la familia de Salwa, que relató que la familia logró recuperarla después de varios días, frustrando el plan de la milicia de transferir a la niña a Turquía y venderla a comerciantes qataríes como esclava sexual, para luego transferirla a Libia, de manera similar a lo que ISIS hizo con las yazidíes en Irak.
Turkey-backed militants accused of 'silently' killing Yazidis… Yezidi woman reportedly killed by Turkish-backed group in Syria's Afrin
Activistas de Afrin confirmaron a «Sky News Arabia» que varias mujeres kurdas que estaban recluidas en las cárceles de la milicia terrorista, especialmente las menores, habían sido trasladadas a Libia como esclavas.
Banken Darwish, seudónimo de un activista kurdo de Afrin, dijo que una muchacha llamada Hana, del distrito de Sherawa en el campo de Afrin, fue arrestada durante la ocupación de su ciudad por la milicia terrorista Hamzat, después de matar a su esposo y obligarla a servir a miembros de Hamzat en su centro en el subdistrito de Bulbul. Darwish confirmó, en declaraciones exclusivas a Sky News Arabia, que un militante de los remanentes de ISIS, venido del área de Harbel en el campo de al-Shahba y que había unido a [la milicia] Hamzat, que mató al esposo y se la llevó con él a Libia mientras luchaba por los turcos en la capital libia, Trípoli.
[Darwish] añadió: «Las mujeres secuestradas son transportadas a Turquía a través del paso militar de Kilis, en la frontera sirio-turca, o a través de la aldea de Hebrón en la frontera con Turquía, así como por la aldea fronteriza de Al-Hamam, en la frontera militar en el distrito de Jenderes, que conecta Afrin con la provincia turca de Hatay».
El activista kurdo indicó que Subhi Rizk, el jefe del llamado Consejo Local de la ocupación turca, junto con varios empleados del cruce, había sido arrestado hace meses por el gobierno turco y acusado de estar involucrado en los atentados terroristas con bomba en Afrin y de tratar con la administración kurda en el norte de Siria. Señaló que esta maniobra hay que relacionarla con la posesión por parte de Rizk, de origen árabe, de información peligrosa e importante que condena a la parte turca y a las milicias terroristas leales a ella en relación con el traslado de mujeres kurdas secuestradas a Turquía y de allí a Libia para ser vendidas como esclavas.
Una amarga realidad
Una amarga realidad que ha sido descrita como «Shirin Blue», seudónimo de una mujer de 20 años que huyó de Afrin tras ser sometida a extorsión sexual por la milicia terrorista Ahrar al-Sharqiya, liderada por Hatem Abu Shakra, acusado de cometer crímenes de guerra contra los kurdos, durante la operación turca llamada «Primavera de paz».
Shirin declaró a Sky News Arabia que la milicia Ahrar Al-Sharqiya irrumpió en su casa y en la casa de sus vecinos y amenazó con decapitarlos a menos que pagaran 4 millones de libras sirias, al tiempo que les amenazaban con decapitar a su marido o violarla en masa. Y agregó: «Les pedí que nos dieran unos días para responder a su petición y fue nuestra oportunidad de huir de Afrin hacia las áreas de Al-Shahba en el campo de Aleppo». Por su parte, Ibrahim Sheikho, director de la Organización de Derechos Humanos de Afrin, que opera en el área de al-Shahba, reveló cientos de casos de secuestro, violación, asesinato y arrojar [los cuerpos de] mujeres y niñas a la naturaleza.
«Quienes huyen de la ciudad de Afrin hablan del hospital Afrin, lleno de los cuerpos de mujeres secuestradas brutalmente asesinadas, tras ser acusadas de ser terroristas y una amenaza para la seguridad del Estado turco; hay incluso niñas.», dijo Shekho a Sky News Arabia.
Syrian-Turkey conflict: video shows Turkish mercenaries abuse of slain female
Asimismo, relató el secuestro de una joven llamada Malik Nabil hace varios meses por milicias terroristas, que fue asesinada a tiros en el campo de Azaz a la edad de 16 años, supuestamente por ser combatiente en las Unidades de Protección de las Mujeres [YPJ]. «Después de ser violada por las bandas durante una semana, la devolvieron a su familia, y luego la secuestraron de nuevo para llevar a cabo su ejecución en el campo de Azaz por asaltantes desconocidos».
«Las milicias terroristas secuestraron a siete mujeres kurdas hace unas semanas, cuatro de ellas mujeres mayores de la aldea de Kazeh, en el distrito de Raju, en el área rural de Afrin. Una de ellas, llamada Halima Musa Jolieh, fue torturada y severamente golpeada, y su familia extorsionada a cambio de su liberación, tras ser acusada de tratar con la administración kurda», dijo.
Hechos y cifras
Investigadores y expertos del Comité de Sanciones de la ONU, que investigan las violaciones en las zonas ocupadas por Turquía -en Afrin, Ras al-Ain y Tal Abyad-, hablaron en su último informe titulado «No Clean Hands – Behind the Front Lines» ("No hay manos limpias – Tras la línea del frente") sobre los crímenes de guerra cometidos por las milicias terroristas de Ankara.
El informe advertía de graves violaciones de los derechos humanos contra los kurdos de Afrin, Ras al-Ain y Tal Abyad por parte de las milicias terroristas de Ankara, por asesinatos y desplazamientos sistemáticos, amenazas, extorsión, secuestro, tortura y detención forzada.
El informe internacional documentaba casos de violencia sexual contra mujeres y hombres también en centros de detención de Afrin, señalando que las fuerzas turcas estaban al tanto de graves violaciones de los derechos humanos cometidas por sus milicias contra civiles kurdos, acusando a Ankara de violar el Tratado de Derechos Humanos.
Afrin refugees in Al Shehba
Mientras tanto, organizaciones humanitarias, de derechos humanos y civiles en el norte de Siria y Europa han lanzado un llamamiento internacional para revelar el destino de las mujeres secuestradas y desplazadas por la fuerza en las prisiones turcas en las zonas ocupadas en el norte de Siria.
Se ha confirmado que el número de secuestrados ha alcanzado a unos 1.000 mujeres y niñas kurdas, incluidas menores de edad, algunas de las cuales fueron liberadas a cambio de un rescate, mientras que el destino de más de 400 secuestradas sigue siendo desconocido hoy en día.
(1) Ejército de Élite (Jaysh al-Nukhba), antes denominado Ejército de Liberación (Jaysh al-Tahrir). fuente: https://rojavaazadimadrid.org/testimonios-terrorificos-mujeres-kurdas-de-afrin-esclavas-de-las-milicias-de-erdogan/Nota: Ilustraciòn de cabecera tomada de homenaje a nuestras hermanas mexicanas desaparecidas https://laguna.telediario.mx/laguna/donde-estan-es-un-homenaje-mujeres-desaparecidas-o-que-fueron-victimas-de-feminicidio enlace relacionado: http://www.kurdistanamericalatina.org/
Related
Genocide : Trump sells 'right to invade Rojava' to Erdogan for $3.5bn .. STOP him NOW
SDF Women aim to Send ISIS back to Hell in Raqqa
Turkey boasts of murders as Rojava genocide begins, SDF suspends ISIS offensive
Turkish invasion in Afrin leaves 'grim tally' of children killed, 'fleeing families' – UNICEF