by CNT shared with thanks
"They ask the union for almost 600,000 euros and jail sentences for the complainant worker and union members, a total of 8 people,"
Prison sentences for unionism

It all started with different labor irregularities and an alleged sexual harassment at work, a complaint currently filed. A worker went to the union at the beginning of 2017 to comment on what was happening to her at Pastelerías La Suiza, in Gijón. " ..The union requested additional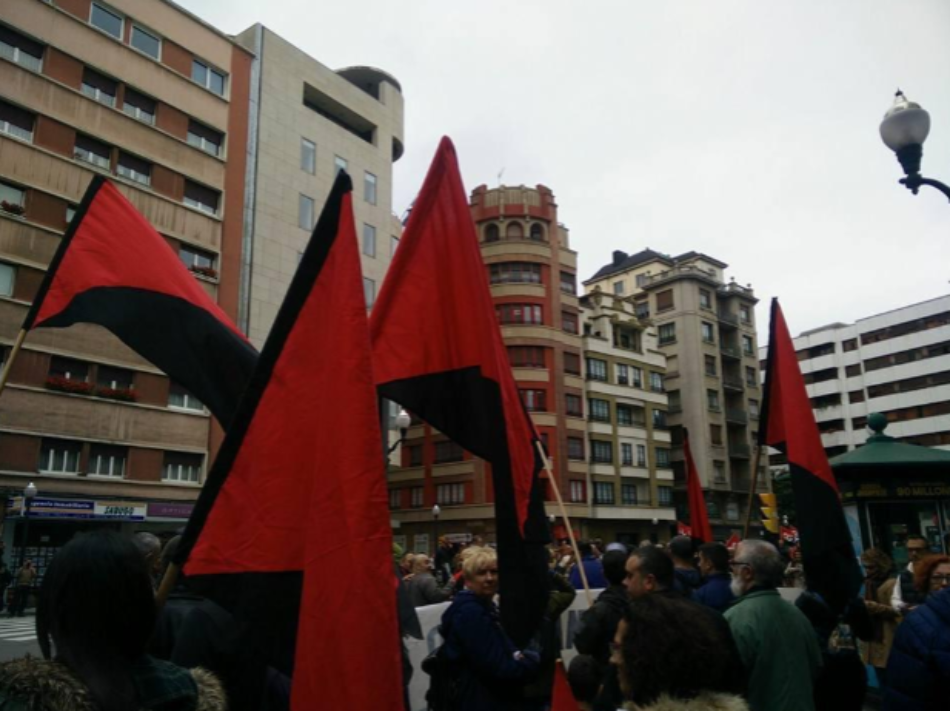 information to support the version of the worker, after which, it met with the company to discuss the issue, unsuccessfully which led to the beginning of a union mobilization campaign and several concentrations of complaint were held, "nothing that is not usual in union action," the unionists declare.
However, "the attacked women became aggressors from one day to the next, when denounced by the businessman on numerous occasions," the CNT denounces. "They ask the union for almost 600,000 euros and jail sentences for the complainant worker and union members, a total of 8 people," they detail from the anarcho-syndicalist central, "some penalties that are beyond all logic."
Behind the claim that asks for years in jail for unionism allegedly could be the Gijón hotel trade union, people with a clear conservative orientation, who "have accused the CNT of extorting, of being ETA, and have tried to outlaw the union for a crime of illicit association ".
In fact, they have hired, as a lawyer to exercise the private accusation against the union, the former magistrate of the National Court, Mr. Javier Gómez Bermúdez, "star judge and now Jaime Botín's lawyer", highlights the anarcho-syndicalist organization.
"This case is another step in the outlawing of trade unionism, either directly or by putting trade unionists in jail and financially condemning them," denounces the CNT. For this reason, they appeal to class solidarity and the fraternal support of all the trade union centrals, in order to try to stop this aggression and to disseminate as much as possible what is going to be judged as of Monday 18.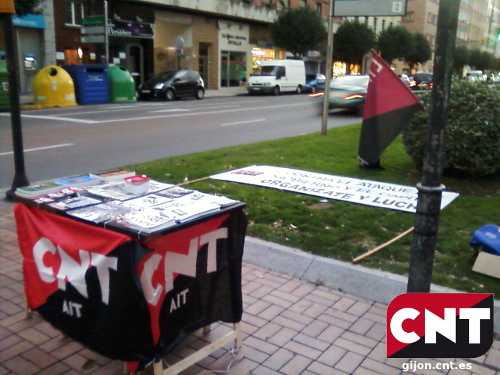 The entry Jail sentences for unionism was first published in Spanish Revolution.
Todo empezó con diferentes irregularidades laborales y un presunto acoso sexual en el trabajo, denuncia archivada en la actualidad. Una trabajadora acudió a comienzos de 2017 al sindicato para comentar lo que le estaba ocurriendo en Pastelerías La Suiza, en Gijón. "Vista la gravedad del tema, se actuó en consecuencia", detalla el sindicato que previamente a reunirse con la empresa solicitó información complementaria que apoyara la versión de la trabajadora, tras lo cual, se reunió con la empresa para tratar el tema, infructuosamente lo que llevó al inició de una campaña de movilización sindical y se realizaron varias concentraciones de denuncia, "nada que no sea habitual en la acción sindical", declaran las sindicalistas.
Sin embargo, "las agredidas se convirtieron de un día para otro en agresoras, al ser denunciadas por el empresario, en numerosas ocasiones", denuncia la CNT. "Piden casi 600.000 euros al sindicato y penas de cárcel para la trabajadora denunciante y miembros del sindicato, en total a 8 personas", detallan desde la central anarcosindicalista, "unas penas que están fuera de toda lógica".
Detrás de la pretensión que pide años de cárcel por hacer sindicalismo presuntamente podría estar la patronal de hostelería de Gijón, personas de clara orientación conservadora, que "han acusado a la CNT de extorsionar, de ser ETA, y han intentado ilegalizar el sindicato por delito de asociación ilícita". De hecho, han contratado, como abogado para ejercer la acusación particular contra el sindicato, al ex magistrado de la Audiencia Nacional, D. Javier Gómez Bermúdez, "juez estrella y ahora abogado de Jaime Botín", resalta la organización anarcosindicalista. 
"Este caso es un paso más en la ilegalización del sindicalismo, ya sea directamente o metiendo a la cárcel a sindicalistas y condenándolos económicamente", denuncia la CNT. Por eso, apelan a la solidaridad de clase y al apoyo fraternal de todas las centrales sindicales, con el fin de intentar parar esta agresión y a difundir lo máximo posible lo que se va a juzgar a partir del lunes 18.
La entrada Penas de cárcel por hacer sindicalismo se publicó primero en Spanish Revolution.
Relacionado