lundi 25 janvier 2021 Toutes les versions de cet article: [français] (castellano) (English)
To the Zapatista delegation that will soon be on the way
A special thought for the comp @ s deaths by the coronavirus or murdered by the bad government and its henchmen.
We are some women + who wrote to you from the ZAD of Notre-Dame-Des-Landes near the ocean, in the west of France. We think that it is important to speak from this point of view, that of women +, not that of western France- and arebecause of your visit – if you decide to come here-all the inhabitants are happy, they will join the organization and are already involved.
We want to tell you to what extent we feel motivated by the choice of your delegation. We will be delighted to welcome you, and more than ever we are ready to (re) contract the virus of rebellion.
Our territory is much smaller than yours but it was about to be buried by an airport runway that was intended to cover its 1600 hectares of bocage [1]. We have fought for years and have built forms of political, social and agricultural autonomy, traversed by tens of thousands of people.
In January 2018, the State abandoned its deadly airport plan, but without bearing the idea of ​​seeing us celebrate the victory over the ruins of this megaproject, it began, in April 2018, a military operation to expel the 300 inhabitants of the city. zone, and a hellish battle against all the people who came to support us.
We managed to put an end to this battle – although a third of the houses were destroyed during the negotiation phase with the government – and we maintain a relationship of force that allows us to continue with a certain margin of freedom and the commons on this portion of land, with a few dozen connected locations.
Now that we have rid ourselves of the threat of those hectares of cement, our forms of struggle are transformed, but yours have never ceased to inspire us.
Through our shared sky our worlds were already touching. For the stories of those of us who have come to meet you and, especially for your texts, you have, for a long time, soaked our imagination. Soon your bodies will move, cross the sea and we will meet on this side of the ocean. Thinking of that moment fills us with joy.
Reading your statement gave us chills. Well, we feel a particular affection and great admiration for the Zapatista struggle. We often look at your experiences to find inspirations for our collective dreams, and we have even come to imagine that it would be easier to have a bridge in the middle of the Atlantic to be able to meet occasionally, for an assembly or a pozol. But of course, paradoxically, we would have probably fought together against a mega-project of this magnitude.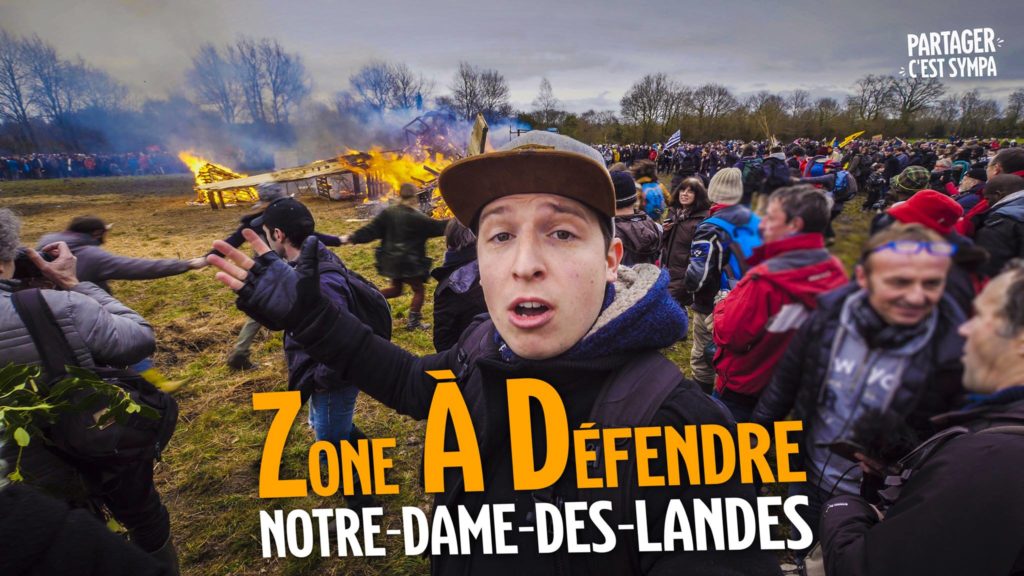 But let's put the megalomania aside and be simple. Faced with the accumulation of crises, (ecological, health, political), we are left, as usual, to explore the margins and counter-currents. Look at the other side of the crisis.
Here, in our country, the public social and health structures, still functional, seem to be living their last hours while liberticidal laws, assumed racism, police violence, and generalized surveillance gain ground.
We are demonstrating with force on the streets of Nantes, in the fields that Amazon dreams of paving or blocking the world's poison centers. And like you, we try to go to meet new people and we look for a way to make our forces converge and act against hyper capitalism and for the living.
And that is why we are so eager to exchange with you, to ask you about your practices, to tell you about ours, and who knows? To be able to dream together.
Since the chaos of the expulsions of a part of the ZAD in 2018, we continue to inhabit the bocage, and always looking for a way to avoid the law to avoid being used to neutralize our way of life. A risky combat and a long-distance race.
But above all we have come out of the urgency of the fight against the airport and with this dilation of time, we now have the existential availability to reinforce in the long term the material and immaterial panel of autonomy that we are building.
And to give more time and space to other issues such as care, anti-racism or the fight against patriarchy. It is not always easy and painful events remind us that the road is long and that these essential questions are at the center of our collective culture and our welcoming spaces.
We are also trying ways to rediscover our relationship with the invisible, to feel better and share that which unites us with other forms of life with which we cohabit.We are trying to reconvert in our own way the popular traditions that knew how to celebrate the unions of the living
We are also looking for ways that art, as you propose, can sustain our survival and our hopes. Some of us have, with theater, dance or drawing, ways of life that are drawn from inhabiting the world. We try to create bridges between our lives and those artistic practices, and walkways between the zad and artists from elsewhere. And all this raises many questions, such as: When does art make use of a struggle like any other material, camouflaged with a good conscience and when does it allow us to connect and grow?
Here we like to dance, sing or write songs, sometimes we have made large articulated animals and hundreds of masks. Sometimes we improvise half-fantastic, half-solemn fledgling rituals. And we would love to be able to share all those things with all of you.
And we would love to learn how to make great colorful frescoes like the ones you know so well. We would also like to introduce you to our diverse living places with hybrid uses, the fields, the workshops, the herds and the forests of the movement.
It is, at the same time, little and a lot for us. It is from this that, good or bad, we strive to experience what can be a relationship to work, to production, to redistribution that is not subjected to mercantile and destructive nihilism of the soil that houses it. And it is also that we imagine the exchanges with you and other territories in search of autonomy even more stimulating when we are physically together.
We would like to name what makes our struggles common and not simply solidarity. And we are ready to support your project to overcome calendars and geography, to be able to rally around our common dream.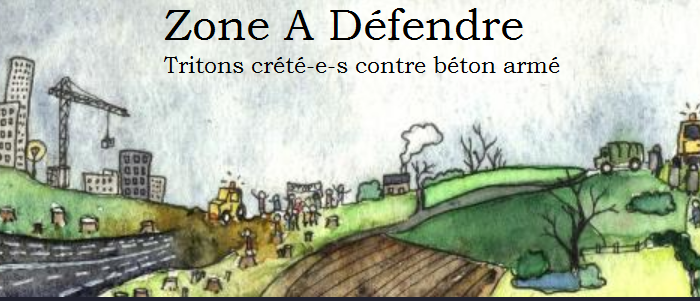 For this reason we make the following proposals:
1- We would love to host all or part of the delegation in the Zad, for as long as you see fit. So that we can invite you to discover everyday life, in order to share it with you and exchange about our practices. Within these encounters, we will propose non-mixed moments (without cis men).
2- And, if you wish, there is also the possibility of organizing a few days of "intergalactic" meetings in relation to your arrival, more open to the presence of several hundred or even thousands of people (adapting to the sanitary precautions that we consider appropriate at that precise moment).
Intergalactic encounters enlivened the last four summers of the Zad, allowing representatives of numerous struggles from different countries to cross paths. They take place in the Ambazada, our intergalactic cabin, built with our Basque friends and others, to host the different struggles from other places; We built it dreaming that one day you would come.
Organizing a meeting like this when you come, and making this a strong moment in your passage through Europe, could allow you to gather different spaces of resistance to continue sharing about the respective practices, and what your unique experience could contribute. In addition, regarding the possibility of holding large non-mixed events (without cis men), we join the processes of other regions.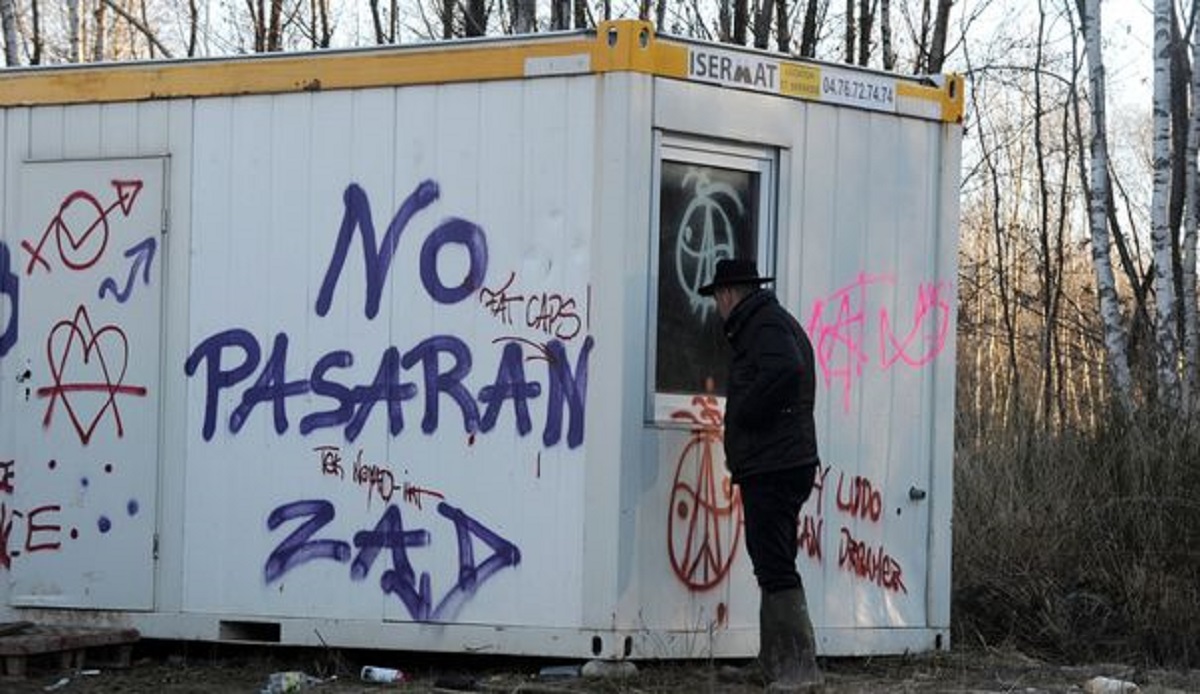 We are ready and we wait for you
See you soon
From the very flat surface (and to the left) of the mouth of Notre-Dame-Des-Landes Some women +, inhabitants of the ZAD
We use the word "women +" to speak from our reality, but this term is meant to be inclusive with all people who do not recognize themselves as cis men. We want all people to feel invited, also colleagues.

Document (PDF – 73.7 ko)
Notes
[1] Sorry, we couldn't find a translation for this word. We call bocage a rural region in which cultivated fields and meadows are surrounded by dikes or embankments with hedges and groves, and more or less continuous rows of trees. These interlocking networks of meadows, hedges, embankments, and ditches are all elements that act as biological corridors.
Desde la ZAD, invitacion a l@s comp@s zapatistas
lundi 25 janvier 2021
Toutes les versions de cet article : [français] [français]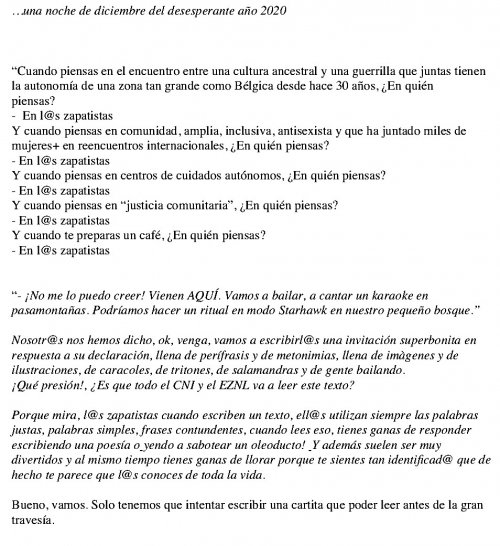 A la delegación zapatista que pronto estará en camino
Un pensamiento especial para l@s comp@s muertes por el coronavirus o asesinad@s por el mal gobierno y sus esbirros.
Nosotras somos algunas mujeres+ que os escribimos desde la ZAD de Notre-Dame-Des-Landes cerca del océano, al oeste de Francia. Pensamos que es importante hablar desde este punto de vista, el de las mujeres+, no el de el oeste de Francia- y bien que por vuestra llegada – si decidís venir aquí- el conjunto de l@s habitantes se alegra, se unirá a la organización y ya están implicad@s. Queremos deciros hasta que punto nos sentimos motivadas por la elección de vuestra delegación. Estaremos encantadas de acogeros, y más que nunca estamos listas para (re)contraer el virus de la rebelión.
Nuestro territorio es mucho más pequeño que el vuestro pero estuvo a punto de ser sepultado por una pista de aeropuerto que pretendía recubrir sus 1600 hectáreas de bocage [1]. Nosotr@s luchamos durante años y hemos construido formas de autonomía politico sociales, y agrícolas, atravesadas por decenas de miles de personas. En Enero de 2018, el Estado abandonó su plan aeroportuario mortífero, pero sin soportar la idea de vernos festejar la victoria sobre las ruinas de este megaproyecto, empezó, en Abril de 2018, una operación militar de expulsión de l@s 300 habitantes de la zona, y una batalla infernal contra todas las personas que vinieron a apoyarnos. Conseguimos ponerle fin a esta batalla – aunque un tercio de las viviendas fueron destruídas durante la fase de negociación con el gobierno- y mantenemos una relación de fuerza que nos permite continuar con cierto margen de libertad y de lo común sobre esta porción de terreno, con algunas decenas de lugares de habitación conectados. Ahora que nos hemos deshecho de la amenaza de esas hectáreas de cemento, nuestras formas de lucha se transforman, pero las vuestras no han dejado nunca de inspirarnos.
Por nuestro cielo compartido nuestros mundos se tocaban ya. Por los relatos de aquell@s de nosotr@s que han ido a conoceros y, sobretodo por vuestros textos, habéis, desde hace mucho tiempo, empapado nuestro imaginario. Pronto vuestros cuerpos de desplazarán, atravesarán la mar y nos reuniremos a este lado del océano. Pensar en ese momento nos llena de alegría.
Leer vuestra declaración nos dio escalofríos. Pues sentimos por la lucha zapatista una afección particular y una gran admiración. A menudo miramos vuestras experiencias para encontrar inspiraciones para nuestros sueños de colectividad, y hasta hemos llegado a imaginarnos que sería más sencillo tener un puente en medio del atlántico para poder reunirse ocasionalmente, para una asamblea o un pozol. Pero claro, paradójicamente, habríamos probablemente luchado junt@s contra un mega-proyecto de semejante envergadura.
Pero dejemos a un lado la megalomanía y seamos simples. Frente al cúmulo de crisis, (ecológica, sanitaria, política), nos queda, como de costumbre, explorar los márgenes y las contra corrientes. Mirar la otra vertiente de la crisis. Aquí, en nuestro país, las estructuras sociales y sanitarias públicas, todavía funcionales, parecen vivir sus últimas horas mientras que las leyes liberticidas, el racismo asumido, la violencia policial, y la vigilancia generalizada ganan terreno. Nos manifestamos con fuerza en las calles de Nantes, en los campos que Amazon sueña con asfaltar o por bloquear los centros de intoxicación del mundo. Y como vosotr@s, nosotr@s intentamos ir al encuentro de nuevas personas y buscamos la manera de hacer converger nuestras fuerzas y actuar contra el hiper capitalismo y por lo viviente. Y por eso tenemos tantas ganas de intercambiar con vosotr@s, de preguntaros sobre vuestras prácticas, de hablaros de las nuestras, y ¿quién sabe ?, de poder soñar junt@s.
Desde el caos de las expulsiones de una parte de la ZAD en 2018, nosotr@s continuamos habitando el bocage, y buscando siempre la forma de esquivar la ley para evitar que la usen para neutralizar nuestra forma de vida. Un combate arriesgado y una carrera de fondo. Pero sobre todo hemos salido de la urgencia de la lucha contra el aeropuerto y con esta dilatación del tiempo, ahora tenemos la disponibilidad existencial de reforzar a largo plazo el panel material e inmaterial de la autonomía que estamos construyendo. Y de dar más tiempo y espacio a otras cuestiones como el cuidado, el antirracismo o la lucha contra el patriarcado. No siempre es fácil y los eventos dolorosos nos recuerdan que el camino es largo y que estas cuestiones esenciales están en el centro de nuestra cultura colectiva y de nuestros espacios de acogida.
Estamos probando también formas de reencontrar nuestra relación con lo invisible, para sentirse mejor y compartir eso que nos une con otras formas de vida con las que cohabitamos. Intentamos reconvertir a nuestra manera las tradiciones populares que sabían celebrar las uniones de lo vivo.
Buscamos igualmente los caminos para que el arte, como vosotr@s mism@s proponéis, pueda sostener nuestra supervivencia y nuestras esperanzas. Algun@s de nosotr@s tenemos, con el teatro, la danza o el dibujo, formas de vida sorteadas de habitar el mundo.
Intentamos crear puentes entre nuestras vidas y esas prácticas artísticas, y pasarelas entre la zad y los artistas de otros lugares. Y todo esto nos plantea muchas preguntas como por ejemplo : ¿Cuándo el arte se sirve de una lucha como de cualquier otro material, camuflado de buena conciencia y cuando nos permite conectarnos y crecer ?
Aquí nos gusta bailar, cantar o escribir canciones, algunas veces hemos hecho grandes animales articulados y centenas de máscaras. A veces improvisamos rituales novatos mitad fantásticos, mitad solemnes. Y nos encantaría poder compartir todas esas cosas con tod@s vosotr@s. Y adoraríamos aprender a hacer grandes frescos coloridos como los que vosotr@s sabéis tan bien hacer. Nos gustaría también presentaros nuestros diversos lugares de vida con usos híbridos, los campos, los talleres, los rebaños y los bosques del movimiento. Es, al mismo tiempo, poco y mucho para nosotr@s.
Es a partir de esto que, bien que mal, nos esforzamos en experimentar lo que puede ser una relación al trabajo, a la producción, a la redistribución que no esté sometida al nihilismo mercantil y destructor del suelo que lo alberga. Y es también que imaginamos los intercambios con vosotr@s y otros territorios en busca de autonomía todavía más estimulantes cuando estemos reunid@s físicamente.
  Nos gustaría nombrar lo que hace que nuestras luchas sean comunes y no simplemente solidarias. Y estamos list@s para respaldar vuestro proyecto de vencer los calendarios y la geografía, para poder juntarse alrededor de nuestro sueño común. Por esta razón os hacemos las siguientes proposiciones :
1- Nos encantaría acoger a la totalidad o una parte de la delegación en la zad, por el tiempo que os parezca oportuno. Para que podamos invitaros a descubrir la vida cotidiana, con el fin de compartirla con vosotr@s e intercambiar sobre nuestras prácticas. En el seno de estos encuentros, propondremos momentos no mixtos (sin hombres cis).
2- Y, si así lo deseáis, existe también la posibilidad de organizar unos días de encuentros "intergalácticos" en relación a vuestra llegada, más abierta a la presencia de varias centenas o incluso miles de personas (adaptándonos a las precauciones sanitarias que consideremos oportunas en ese momento preciso). Los encuentros intergalácticos animaron los últimos cuatro veranos de la zad, permitiendo que se crucen representantes de numerosas luchas de países diferentes. Se llevan a cabo en la Ambazada, nuestra cabaña intergaláctica, construida con nuestr@s amigu@s vasques y otr@s, para acoger las diferentes luchas de otros lugares ; La construimos soñando que un día vendríais.
Organizar un encuentro como este cuando vengáis, y hacer de este un momento fuerte de vuestro paso por Europa, podría permitir reunir diferentes espacios de resistencia para continuar compartiendo sobre las respectivas prácticas, y lo que podría aportar vuestra singular experiencia. Además, en cuanto a la posibilidad de realizar grandes eventos no mixtos (sin hombres cis), nos sumamos a los procesos de otras regiones.
Estamos preparad@s y os esperamos
Hasta muy pronto
Desde la superficie bien plana ( y a la izquierda) del bocage de Notre-Dame-Des-Landes Algunas mujeres+ , habitantes de la ZAD
*Utilizamos la palabra "mujeres+" para hablar desde nuestra realidad, pero este termino se quiere inclusivo con todas las personas que no se reconocen como hombres cis. Deseamos que todas las personas se sientan invitadas, también los compañeros.
Documents joints
Notes
[1] Lo sentimos pero no hemos encontrado una traducción para esta palabra. Llamamos bocage a una región rural en la que los campos cultivados y los prados están rodeados por diques o terraplenes con setos y bosquecillos, y filas de árboles más o menos continuas. Estas redes entrelazadas de prados, setos, terraplenes y acequias son todos elementos que actúan como corredores biológicos.