read in English below
Debates en la asamblea de la comisión del 8M de Madrid
Por Sindicato de Estudiantes Publicado el 27 Ene, 2021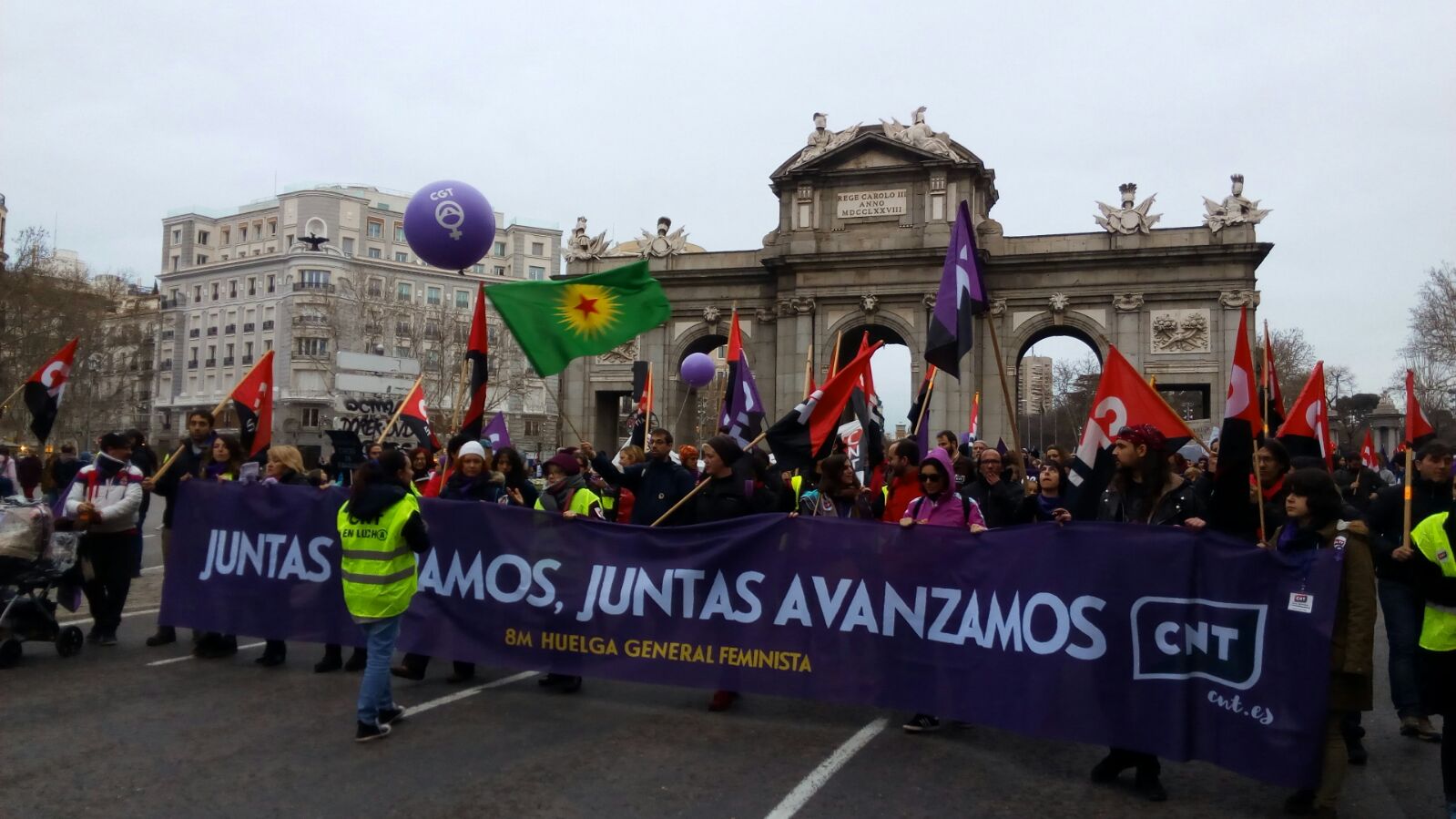 El pasado domingo 17 de enero se celebró la asamblea general de la Comisión 8M de Madrid. A pesar de casi un año de inactividad por parte de la comisión, fuimos alrededor de 200 compañeras las que participamos – presencialmente y online–. La razón de esta afluencia es muy sencilla: frente a la idea de que la pandemia lo ha parado todo, lo cierto es que la opresión y violencia contra nosotras se han recrudecido de forma extrema en estos meses. Somos muchas, muchísimas las que entendemos que es urgente acabar con esta situación retomando la lucha con todas nuestras fuerzas.
El año de la pandemia recrudece nuestra opresión. ¡Hay que volver a levantar la bandera de la lucha!
Estos meses de pandemia han desenmascarado cruelmente la catástrofe social provocada por un sistema en el que imperan las ganancias de un puñado de magnates por encima de todo. Somos las oprimidas entre los oprimidos sobre quienes más se está descargando el peso para mantener este orden injusto de cosas: el desempleo, la extensión de la pobreza, ocupamos los trabajos más precarizados…
A toda esta situación, tenemos que sumar el aumento galopante de la violencia machista. Encerradas en casa con nuestros maltratadores, sin recursos y aisladas, el confinamiento ha expuesto a miles de mujeres a sobrevivir diariamente en una cárcel de opresión. Además, la explotación sexual en todas sus formas se ha disparado.
Por esto mismo, las compañeras de Libres y Combativas, el Sindicato de Estudiantes e Izquierda Revolucionaria, defendimos en la asamblea del 8M que tenemos que volver a armarnos con la herramienta más contundente que poseemos: una huelga general feminista que lo paralice todo. La huelga es la forma más efectiva de unir nuestras fuerzas en una sola voz. ¡Así podemos golpear donde más les duele a todos esos explotadores y explotadoras que se están haciendo de oro a nuestra costa sometiéndonos a una situación imposible en esta pandemia!
Al igual que nosotras, fueron otras muchas trabajadoras y jóvenes, las que se expresaron en este sentido. Y es que la experiencia del 2018 y 2019, deja un balance claro al respecto.
¡Qué nada ni nadie frene nuestra lucha! Necesitamos un feminismo revolucionario y democrático
A pesar de este ánimo general por retomar la lucha, la actitud de las responsables de moderar la asamblea, la mayoría de ellas vinculadas a organizaciones que sostienen al Gobierno, se manifestaron de manera hostil a la propuesta de la huelga. No sólo eso, sino que elaboraron toda una estrategia para evitar una discusión genuina y democrática en la asamblea: se nos dividió en 22 salas virtuales separadas y se argumentó que para ser efectivas era imposible tener un plenario al uso.
No sólo no pudimos poner en común nuestras opiniones, sino que estas autoerigidas moderadoras –todas abiertamente contrarias a la huelga– fueron las encargadas de seleccionar lo más significativo de la discusión en cada sala. Después otras tres personas que nadie había elegido se juntaron a puerta cerrada para decidir lo que se "consensuaba": según ellas el sentir mayoritario era contrario a la huelga este año.
Esta metodología antidemocrática se combinaba con argumentos muy perniciosos: "no podemos convocar huelga porque la economía está muy mal", "hacer huelga es un privilegio" o que no se puede exigir la nacionalización de la sanidad privada porque "eso no tiene que ver con las mujeres». Un completo sinsentido.
Estas ideas y prejuicios dan munición precisamente a quienes nos oprimen y explotan en el día a día para hacernos pensar que esto es lo que hay, y que no tenemos posibilidad de cambiar las cosas. ¿Por qué tenemos que asumir el coste de esta crisis? ¿Por qué tenemos que quedarnos de brazos cruzados ante esta situación?
Nosotras nos preguntamos: la economía está muy mal ¿para quién? Mientras la clase trabajadora, y especialmente las mujeres de nuestra clase, sufrimos una situación deplorable, hay quien vive una realidad radicalmente distinta. Los grandes empresarios, los banqueros y banqueras, los especuladores del Ibex 35 están haciendo fabulosos negocios e incrementan sus riquezas. Además, también planean una ofensiva de austeridad y ataques para seguir aumentado sus ganancias, como muestra el caso de la reforma de las pensiones o el incremento de la factura de la luz. La manera de enfrentar esta situación de clasismo y violencia aberrante no es dar una imagen irreal de debilidad dando un paso atrás y renunciando a la huelga general que conquistamos años atrás, sino organizar un movimiento masivo que amplíe nuestras fuerzas.
Por otro lado, si algo ha vulnerado el derecho a huelga y perpetuado la situación de semiesclavitud entre los sectores más precarizados de las mujeres es la política de paz social impuesta por los dirigentes sindicales y su resignación a asumir el mal menor frente a la ofensiva de la patronal. La renuncia a la lucha o a ejercer los derechos nunca fue una ayuda para las capas más oprimidas. Todo lo contrario. La única manera de romper con el aislamiento a la que las compañeras en condiciones más precarias o inmigrantes han sido abandonadas por la inacción de los dirigentes sindicales no es aceptando como irremediable su realidad, sino con el respaldo y la fuerza del conjunto de la clase trabajadora para defender también sus derechos. En esa estrategia, retomar la huelga general feminista exigiendo a los sindicatos convocarla es una pieza clave.
¡Sí tenemos alternativa a esta catástrofe! Los derechos se conquistan luchando
Este debate se da en un momento en el que Unidas Podemos dentro del Gobierno ha renunciado a la calle y a las grandes reivindicaciones bajo el argumento de que no existe "una correlación de fuerzas favorable". Siguiendo esta lógica, las compañeras que dirigen la comisión 8M piensan que es mejor tratar de institucionalizar nuestras demandas. Pensamos sinceramente que están profundamente equivocadas.
Las compañeras de la comisión 8M no deberían aceptar la lógica del mal menor, ni dar por buenas las excusas que desde el Gobierno PSOE-UP se esgrimen para no pasar a la acción decididamente contra quienes se benefician con nuestra postración. Ninguno de nuestros problemas se solucionarán en despachos, ni acuerdos institucionales. Tampoco pidiendo colaboración a las súper ricas que nos explotan –como hacía Irene Montero hace unos días en la clausura de una "cumbre feminista" de la revista Forbes–. Cualquier cambio real en nuestras vidas implica enfrentarse abiertamente a la patronal, la judicatura machista, la jerarquía de la Iglesia Católica o el lobby proxeneta.
Desde Libres y Combativas, el Sindicato de Estudiantes e Izquierda Revolucionaria tenemos claro que ahora más que nunca tenemos que impulsar la fuerza que hemos ganado en las calles sin dar tregua. Convocaremos huelga general estudiantil para contribuir lo máximo posible a que este 8M sea un gran día de lucha con millones en pie contra la violencia machista y el sistema capitalista que la ampara. Un paso más para levantar un genuino movimiento de combate por nuestra liberación y que sólo podremos desempeñar armadas con un feminismo revolucionario y anticapitalista, que se base en nuestra fuerza en las calles y no se deje domesticar ni institucionalizar. Que sea capaz de poner en jaque al sistema capitalista y su opresión patriarcal con un programa para transformar la sociedad.
—
We need a new feminist general strike on 8M!
Sindicato de Estudianteswww.sindicatodeestudiantes.net


Debates in the assembly of the 8M commission in Madrid
By Student Union Published on Jan 27, 2021
Last Sunday, January 17, the general assembly of the Madrid 8M Commission was held. Despite almost a year of inactivity by the commission, we were around 200 colleagues who participated – in person and online. The reason for this influx is very simple: in the face of the idea that the pandemic has stopped everything, the truth is that the oppression and violence against us have intensified in an extreme way in these months. We are many, many who understand that it is urgent to end this situation by resuming the fight with all our strength.
The year of the pandemic intensifies our oppression. The flag of struggle must be raised again!
These months of pandemic have cruelly unmasked the social catastrophe caused by a system in which the profits of a handful of tycoons prevail above all else. We are the oppressed among the oppressed on whom the burden is being unloaded the most to maintain this unjust order of things: unemployment, the spread of poverty, we occupy the most precarious jobs …
To all this situation, we have to add the galloping increase in sexist violence. Locked up at home with our abusers, without resources and isolated, confinement has exposed thousands of women to daily survival in a prison of oppression. Furthermore, sexual exploitation in all its forms has exploded.
For this reason, the comrades of Libres y Combativas, the Student Union and the Revolutionary Left, defended in the 8M assembly that we have to re-arm ourselves with the most forceful tool we have: a feminist general strike that paralyzes everything.
The strike is the most effective way to unite our forces in one voice. So we can hit where it hurts most to all those exploiters who are making gold at our expense by subjecting us to an impossible situation in this pandemic!
Like us, it was many other workers and young people who expressed themselves in this sense. And it is that the experience of 2018 and 2019, leaves a clear balance in this regard.
Let nothing and no one stop our fight! We need a revolutionary and democratic feminism
Despite this general desire to resume the fight, the attitude of those responsible for moderating the assembly, most of them linked to organizations that support the government, were hostile to the strike proposal. Not only that, but they developed a whole strategy to avoid a genuine and democratic discussion in the assembly: we were divided into 22 separate virtual rooms and it was argued that to be effective it was impossible to have a regular plenary session.
Not only were we unable to pool our opinions, but these self-erected moderators – all openly opposed to the strike – were in charge of selecting the most significant of the discussion in each room. Later, three other people who no one had chosen got together behind closed doors to decide what was "agreed": according to them, the majority sentiment was against the strike this year.
This antidemocratic methodology was combined with very pernicious arguments: "we cannot call a strike because the economy is very bad", "to strike is a privilege" or that the nationalization of private healthcare cannot be demanded because "that has nothing to do with women". Complete nonsense.
These ideas and prejudices give ammunition precisely to those who oppress and exploit us on a daily basis to make us think that this is what there is, and that we have no possibility of changing things. Why do we have to bear the cost of this crisis? Why do we have to sit idly by in this situation?
We ask ourselves: the economy is very bad for whom? While the working class, and especially the women of our class, suffer a deplorable situation, there are those who live a radically different reality.
The big businessmen, the bankers and the Ibex 35 speculators are doing fabulous business and increasing their wealth.
In addition, they also plan an austerity offensive and attacks to continue increasing their earnings, as shown by the case of the pension reform or the increase in the electricity bill. The way to face this situation of classism and aberrant violence is not to give an unreal image of weakness by taking a step back and renouncing the general strike that we conquered years ago, but to organize a massive movement that expands our forces.
On the other hand, if something has violated the right to strike and perpetuated the situation of semi-slavery among the most precarious sectors of women, it is the policy of social peace imposed by the union leaders and their resignation to assume the lesser evil in the face of the employer's offensive.
The resignation to the fight or to exercise the rights was never a help for the most oppressed layers. Quite the opposite. The only way to break with the isolation to which the comrades in more precarious conditions or immigrants have been abandoned by the inaction of the union leaders is not accepting their reality as irremediable, but with the support and strength of the whole working class to also defend your rights.
In this strategy, resuming the feminist general strike demanding that the unions call it is a key piece.
We do have an alternative to this catastrophe! Rights are conquered by fighting
This debate takes place at a time when United We Can within the Government has renounced the streets and the great demands under the argument that there is no "favorable correlation of forces." Following this logic, the comrades who lead the 8M commission think that it is better to try to institutionalize our demands. We sincerely think that they are deeply wrong.
The comrades of the 8M commission should not accept the logic of the lesser evil, nor accept the excuses that the PSOE-UP Government uses for not taking action decisively against those who benefit from our prostration.
None of our problems will be solved in offices or institutional agreements. Nor asking for collaboration from the super rich who exploit us – as Irene Montero did a few days ago at the closing of a "feminist summit" of Forbes magazine.
Any real change in our lives implies openly confronting the bosses, the macho judiciary, the hierarchy of the Catholic Church or the pimp lobby.
From Libres y Combativas, the Student Union and the Revolutionary Left, we are clear that now more than ever we have to boost the strength that we have gained in the streets without giving up.
We will call a general student strike to contribute as much as possible to make this 8M a great day of struggle with millions standing against sexist violence and the capitalist system that protects it.
One more step to raise a genuine movement to fight for our liberation and that we can only carry out armed with a revolutionary and anti-capitalist feminism, which is based on our strength in the streets and does not allow itself to be domesticated or institutionalized. May he be able to put the capitalist system and its patriarchal oppression in check with a program to transform society.
–
Student Union
http://www.sindicatodeestudiantes.net