The Free
The US has a 'Defense Budget just this year of over 750 BILLION $. It has declared China to be its number one opponent. Every day we see new reports attacking China in every way imaginable. So how many billions is the US spending to smear its number one opponent? 1 Billion ? 10 Billion ? 100 Billion? And how much can we believe of the mounting mountain of probable lies, paid 'witnesses', and reports from US 'allies' under duress???
main info from via rt.com/aubr shared with thanks, illustrations added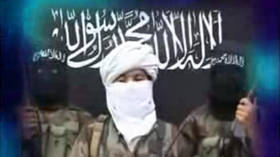 FILE PHOTO: A frame from a video purportedly from the Turkistan Islamic Party (TIP), taken from the Internet, shows a man speaks in front of a black banner ©  Reuters
Tom Fowdyis a British writer and analyst of politics and international relations with a primary focus on East Asia.
Mike Pompeo decided that after 18 years, that the violent…
View original post 1,071 more words