By Kaos. Països Catalans Posted on Feb 7, 2021
As happens wherever they go, Vox's electoral campaign events in Catalonia are repeatedly boycotted by the anti-fascist and popular resistance.
This time it was in Vic (Barcelona) where eggs and flour were thrown at them and they could not even carry out the meeting they had planned, before having to hastily leave protected by the Mossos de Esquadra.
Since early afternoon this Saturday, the central Plaça Major de Vic has been filled with antifascist stars and flags to boycott the Vox campaign act. The protesters have been able to prevent the act, but there have been some incidents with the Mossos de Esquadra that, once again, have protected the extreme rightists against popular rejection.
Ignacio Garriga, candidate of the ultra-rightist force, and the state leader and deputy Javier Ortega Smith had attended the meeting in the capital of the Osona region. Both and their companions have finally been forced to leave the city, escorted by the Mossos de la Generalitat.
The anti-fascists have followed the members of Vox through the streets of Vic, while they were repressed by the Mossos and there were some clashes with them.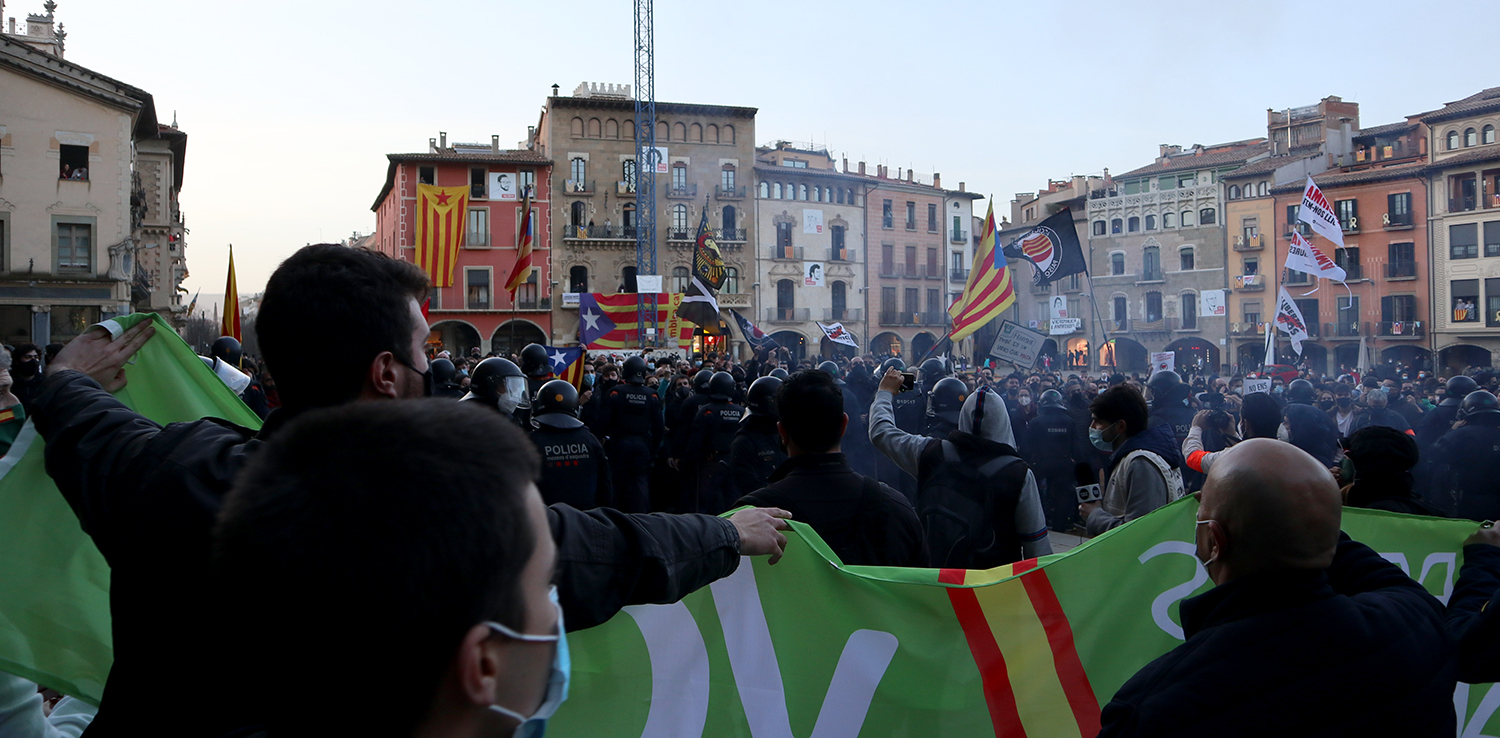 Even before the event, a large riot police cordon protected the few ultra-rightists from the large number of activists concentrated following the call of the CDR and the antifascist movement. of our neighborhoods «.
After the frustrated act, they had to leave the square strongly escorted by the Mossos until finally, they were able to reach the official cars and leave Vic.
***
original en castellano
Una potente manifestación antifascista impide a Vox realizar un acto electoral en Vic pese a la protección policial
Por Kaos. Països Catalans Publicado el 7 Feb, 2021
Como sucede allí donde van, los actos de campaña electoral de Vox en Catalunya son boicoteados reiteradamente por la resistencia antifascista y popular. Esta vez fue en Vic (Barcelona) donde se les lanzó huevos y harina y ni siquiera pudieron realizar el míting que tenían previsto, antes de tener que marcharse apresuradamente protegidos por los Mossos de Esquadra.
Desde primera hora de la tarde de este sábado, la céntrica Plaça Major de Vic se ha llenado de esteladas y banderas antifascistas para boicotear el acto de campaña de Vox. Los manifestantes han podido impedir el acto, pero se han producido algunos incidentes con los Mossos de Esquadra que, una vez más, han protegido a los ultraderechistas contra el rechazo popular.
Habían asistido al míting en la capital de la comarca d'Osona Ignacio Garriga, candidato de la fuerza ultraderechista, y el dirigente estatal y diputado Javier Ortega Smith. Ambos y sus acompañantes se han visto obligados a abandonar la ciudad  finalmente, escoltados por los Mossos de la Generalitat.
anti fascist barricades in Vic town, Barcelona. 2/7/21
Los antifascistas han seguido a los miembros de Vox por los calles de Vic, mientras eran reprimidos por los Mossos y se producían algunos enfrentamientos con ellos.
Ya antes del acto un numeroso cordón policial de antidisturbios protegía a los pocos ultraderechistas del gran número de activistas concentrados siguiendo la convocatoria de los CDR y del movimiento antifascista.Los antifascistas, sin embargo, han logrado lanzarles huevos y harina entre gritos de «fuera fascistas de nuestros barrios«.
Después del acto frustrado, han tenido que marchar de la plaza fuertemente escoltados por los Mossos hasta que finalmente, han podido llegar a los coches oficiales y abandonar Vic.