note.. this 'TheFreeOnline' blog is now banned in Turkey with Dozens more pro Rojava and anti Fascist sites
info from kurdiscat, ANF, Kaos… translation thefreeonline
On 3 August 2014 IS attacked and captured Sinjar, which is the historical homeland of Yazidis, a Kurdish religious minority whose ancient religion is linked to Zoroastrianism. IS destroyed Yazidi shrines, executed resisters and demanded the residents to swear allegiance or be killed.
During the IS-massacre in Sinjar up to 5.000 Yazidis were executed. Almost 200.000 people managed to flee. 50.000 Yazidis fled into the Sinjar Mountains, where they were trapped without food, water or medical care, facing starvation and dehydration.
This Yazidi Womens Brigade joined the SDF as they closed in on the ISIS HQ in Raqqa in 2018."We can not remain impassive in the face of the genocide committed by Erdogan and his fascist state against the Kurdish people…. Let's attack those who are profiting and are financing this genocide".
At the same time approximately 5.000 Yazidi women and children were captured. They were appropriated as spoils of war and sold as sex slaves to Muslim men or given to IS commanders. Those who refuse to convert were tortured, raped and eventually murdered.
Babies born in the prison where the women are held were taken from their mothers to an unknown fate. Women allegedly raped by IS fighters have committed suicide by jumping to their death from Mount Sinjar. While a high number of women managed to flee or could be liberated, approximately some 3.000 women are still in IS captivity.

While the campaign of IS against Yazidi people often is described as a massacre, it shows all characteristics of genocide. But additionally IS is carrying out acts of femicide. Yazidi refugees take shelter in an unfinished building in Dohuk
Kidnapping of Yazidi women as spoils of war, enslavement, systematically rape, forced conversion are not only parts of a systematically war against women, but femicide.
Yazidi people, especially women in Sinjar answered the acts of genocide and feminicide by IS through self-organisation and self-defence. Today Mount Sinjar marks the centre of Yazidi self-organisation through self-defence units, people's and women's councils as expression of their collective will.
As the world powers stood back watching, the Yezidi people trapped om Mount Sinjar were saved and protected by the PKK guerillas.
Murders, kidnapping, dispossession and repression continue against the Yezidis and other Kurdish minorities by Islamic militias now paid mercenaries of the Turkish invasions of Afrin, Idlib, Azaz, parts of Manbij and North Eastern Syria, under the ongoing 'Turkification' policies, with US and Russian connivance…
Yezidi Kurdish feminist militia YJŞ commemorates its first 5 years: "Being disorganized in these lands means extinction"
on Wednesday, February 24, 2021
info from kurdiscat, ANF, Kaos… translation https://thefreeonline.wordpress.com
The Yekîtiyên Jinên Şengalê, (Women's Units of Shengal, YJŞ) were founded on February 23, 2016.
"We can not remain impassive in the face of the genocide committed by Erdogan and his fascist state against the Kurdish people."
The organization recalls that "as is well known, the history of Yezidism dates back to ancient times. The sacred lands of Mesopotamia, cradle of civilizations, have witnessed this culture and belief.
It is a noble belief, morality and culture originating from the Neolithic era.It is based on the values ​​Woman-Mother, solidarity, loyalty, love, patriotism, morality, respect, courage, equality and justice women known as Xatuna Feyra, Meyan Xatun, Fatê, Zero Mother, Stiya Zin Yezidi women consider Xatuna Feyra to be sacred.
Some women sacrificed themselves for their faith.This is the reality of the truth.
Drawing attention to the role of the Free Women's Troops (YJA STAR) and the Women's Defense Units (YPJ) in the liberation of Shengal (Sinjar), the YJŞ expressed:
"We extend our most sincere love, greeting and respect to the YJA STAR and the YPJ, who allowed us to liberate our women, mothers and all of society and, most importantly, reclaim our will and identity, which is the source of our organization. . As women of Shengal, we will not forget the efforts you made for our society. The YPJ will always be a source of strength for us. On this basis, we commemorate all our comrades martyrs in the person of Gülçin, Nûjiyan, Ezda, Berivan, Arin and Viyan ".
The powers that be have never accepted this culture and this belief and have committed massacres against our people, which had a great impact on our Yezidi people. "
* Yekîneyên Jinên Azad ên Star (Free Women's Brigades Ishtar, YJA-Star),female wing of Partiya Karkerên Kurdistan (Partit dels Treballadors del Kurdistan, PKK)
** Yekîneyên Parastinê yên Jinê (Women's Defense Units, YPJ)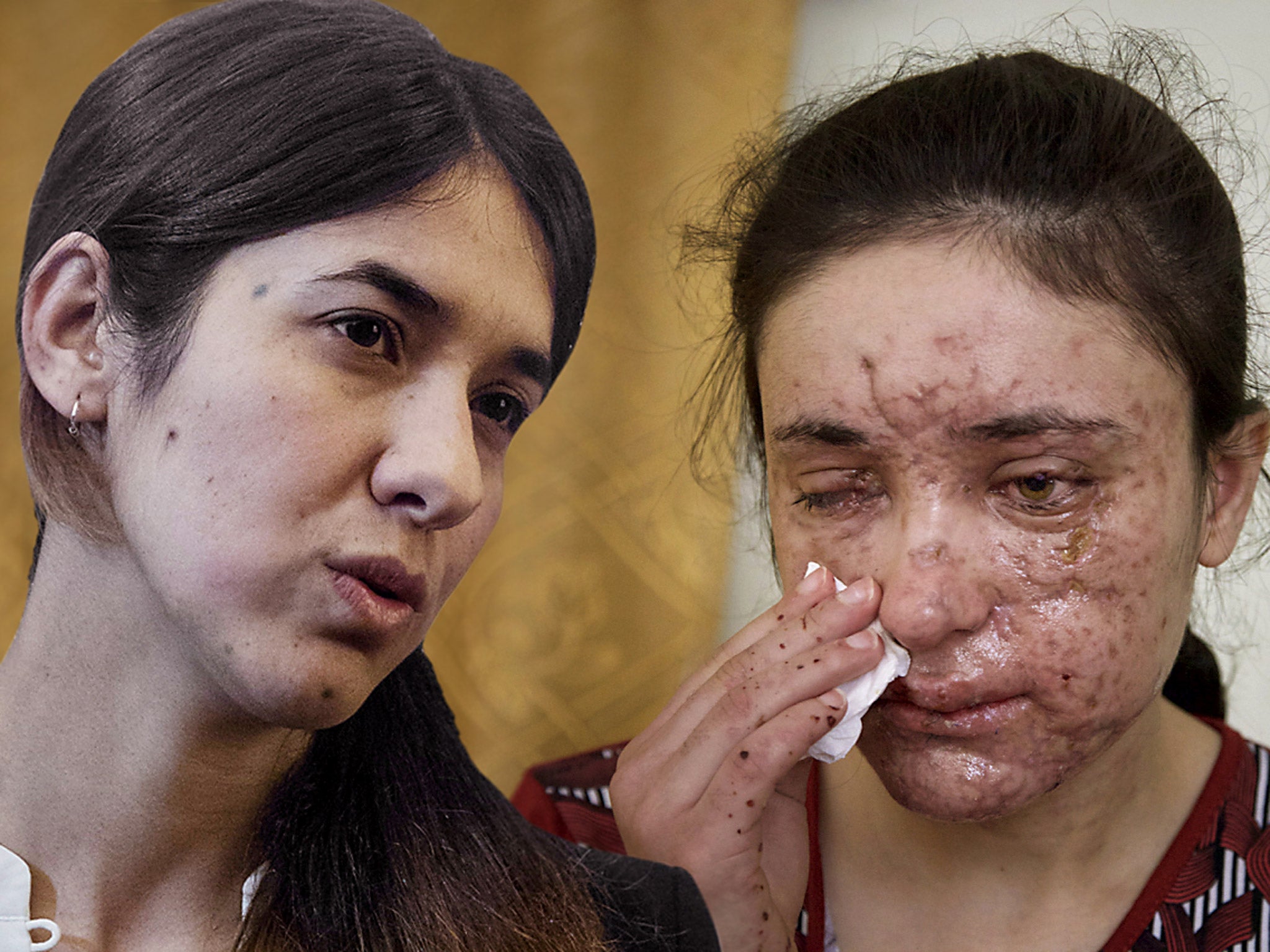 Lamiya Aji Bashar, an 18-year-old Yazidi girl who escaped her Islamic State group enslavers, talks to The Associated Press in northern Iraq in this May 5, 2016 photo. She described how she was abducted along with her sisters and brothers when IS overran her village in 2014 and was passed around from militant to militant, trying to escape many times. Finally she succeeded in March, but only after a mine exploded, killing two girls fleeing with her and leaving Bashar's face scarred and blinding her in one eye. (AP Photo/Balint Szlanko)
La milícia kurda feminista yezidi YJŞ commemora els seus primers 5 anys: "Estar desorganitzat en aquestes terres significa l'extinció"
a dimecres, de febrer 24, 2021


Les Yekîtiyên Jinên Şengalê, (Unitats de Dones de Shengal, YJŞ) foren fundades el 23 de febrer de 2016. L'organització recorda que "com se sap, la història del yezidisme es remunta a temps antics. Les terres sagrades de Mesopotàmia, bressol de les civilitzacions, han estat testimoni d'aquesta cultura i creença. És una noble creença, moralitat i cultura originàries de l'època neolítica.
Es basa en els valors Dona-Mare, solidaritat, lleialtat, amor, patriotisme, moral, respecte, coratge, igualtat i justícia. dones conegudes com Xatuna Feyra, Meyan Xatun, Fatê, Zero Mother, Stiya Zin. Les dones yezidis consideren que Xatuna Feyra és sagrada. Hi ha dones que es van sacrificar per la seva fe. Aquesta és la realitat de la veritat. Els poders mai no han acceptat aquesta cultura i aquesta creença i han comès matances contra el nostre poble, que van tenir un gran impacte en el nostre poble yezidi."

En el seu aniversari han recordat les organitzacions germanes "Estenem el nostre sincer amor, salutacions i respecte a les YJA Star* i a les YPJ**, que ens van permetre alliberar les nostres dones, mares i societat i, el més important, recuperar la nostra voluntat i identitat, que és la font de la nostra organització. Estar desorganitzat en aquestes terres significa l'extinció.
El fet que com a YJŞ resistim contra qualsevol forma d'atac, propaganda i pressió de l'enemic, ho devem al Rêber Apo (líder Öcalan) i als nostres màrtirs. Per tant, estem preparats per fer tot el que sigui necessari per a la llibertat del Rêber Apo, perquè ens vam organitzar amb les seves idees en els moments més durs.

* Yekîneyên Jinên Azad ên Star (Unitats de Dones Lliures-Ishtar, YJA-Star), ala armada femenina del Partiya Karkerên Kurdistan (Partit dels Treballadors del Kurdistan, PKK)
** Yekîneyên Parastinê yên Jinê (Unitats de Defensa de Dones, YPJ)
Related Posts
PKK are NOT terrorists! Erdogan rejected Ocalan's Peace Plan, sabotaged their Truce. bombed their cities…
300 on Hunger Strike – How Ocalan Transformed the PKK into Anti-Terrorists