We start the day of #VagaGeneralFeminista#8M (Feminist General Strike) by cutting the inner ring road with the companions of @VF_gracia i @Vkk8m
Nothing more to lose, a lot to fight for! Long live the feminist struggle
translation..On the day of the 8M strike, the neighborhood has woken up combative. BBVA responsible for evictions in the neighborhood and Barcelona. Feminists at war with the beast #ForaVoltors#GuerraACerberus
translation..Follow the channels of @Vkk8m to be informed of today's and tomorrow's calls! Long live the #VagaGeneralFeminista graffiti: 8M Feminist Strike.. Burn Down the Anti Foreigner Law
translation..
We start the #8M sharing experiences of gender-based violence. Sharing is empowering. Together we are stronger.Tonight we take the rage out at the night demo!#lanitésnostra (the night is ours)
Translation of above…While there are empty houses in the hands of benches and vulture funds speculating and filling their pockets. For a care, student, consumer and labor strike! If we stop the world stops! LONG LIVE LONG LIVE THE FEMINIST STRUGGLE
Translation of above..We repeat historical script: overreaction of the state and means x criminalize the anarchist movement. When structural contradictions are unsustainable, we are the scapegoat of his psychopathy Our danger is not violence, it is a world we carry in our hearts #JoTambeSocAnarquista (Me too..I'm an Anarchist)
¡¡Our Hearts are Time Bombs"
Translation..We still have a Long Way to Go..….We fight to abolish the Power'
Translation.
Sagrario Vera, María Esquivel, Josefa Bermejo. An "unknown" story of guerrilla women. 133 women were arrested, tortured and, in some cases, killed with impunity for taking up arms against the dictatorship #franquista #MemoriaHistoricahttps://publico.es/politica/sagra
Translation of above… Photo from the air of the blocking of the Meridiana (Main inrersection), this morning, by the committees of #perifèrianord
TRANSLATION OF ABOVE> We point out the logistics center of @stradivarius of the group @inditexcareers to denounce the labor exploitation of thousands of women around the world ..We defend women, we defend life..You are guilty of our precariousness !!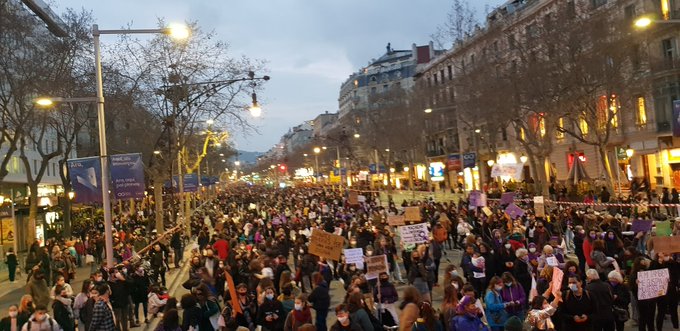 TRANSLATION OF ABOVE> We finished the Neighbourhood March in Plaza Romani We are and will be on the front line to defend the labor strike as a legitimate tool of the feminist movement @VF_gracia#VagaGeneralFeminista#8M
Hundreds of women, students and young people defy the ban and gather in Puerta del Sol https://bit.ly/3sW71Um
Indian farm workers lead protests in 8M 100 days of protests in #India , the 100 days shortly before #DiaInternacionalDeLaMujer worker!#8DeMarzo2021#8Marzohttps://kaosenlared.net/?p=819485