– March 22nd, 2021 by Some anarchists, youth, travelers, unknowns, THE EXCLUDED! 325 https://325.nostate.net/2021/03/22/bristol
The chant goes up into the air as the flames of the cop van rise higher and higher, burning away a pressure that has been building for far too long.

The cop station's windows are kicked in to the roaring joy of the crowd.
Its raining rocks from above on the riot cops from youths who've occupied part of its roof.
Repeated attacks on the cop lines are visibly putting the fear into them.
Bottles rain down on the cop dog unit's failed attempt to assault the mob from behind.
Riot shields and batons liberated from the cops are used to fight back, a piece of their own medicine.
Others are caring for people sprayed with mace, while sound systems ring out.
Another cop car is burning round the corner, this is like nothing we have seen before…
A police van explodes outside Bridewell Police Station, after protesters set it on fire, after demonstrating against the Government's controversial Police and Crime Bill. Sunday March 21, 2021
This is the scene in Bristol in 2021, 10 years since the Stokes Croft & August riots in 2011. The riot that erupted last night was a continuation of our combative memories, but from seeing so many new young uncontrollables it is the beginning of a new wave.
Nothing much has changed on this prison island since 2011, if anything the conditions that led to those days are still with us, more repressive than ever. We're being pushed over the edge, as the system of control demands either lick the boot or have our way of life extinguished.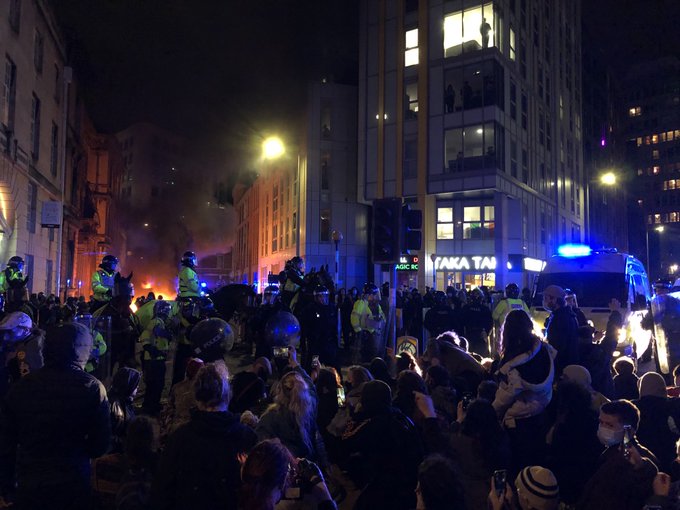 The spark this time has been the same as it has before. The 'Police, Crime, Sentencing and Courts Bill' in which groups of society, the undesirables are being criminalized, along with the recent killing of a young woman by a cop are only the tip of the iceberg.
The repression being meted out not just here but around the world is a sign of worse to come as we inhabit a present where 'crisis' is amongst us, whe
ther it be 'Covid-19', 'economic', even 'ecological'. It is clear this is all heading in a direction of a prison society more oppressive than it has been before.
Only this year Mohamed Mohammed Heisman, a 24-year old died after clearly being beaten by cops in Cardiff Bay cop station, while another 29 year old Moyied Bashir died while in Newport cops hands, who was clearly suffering a medical situation.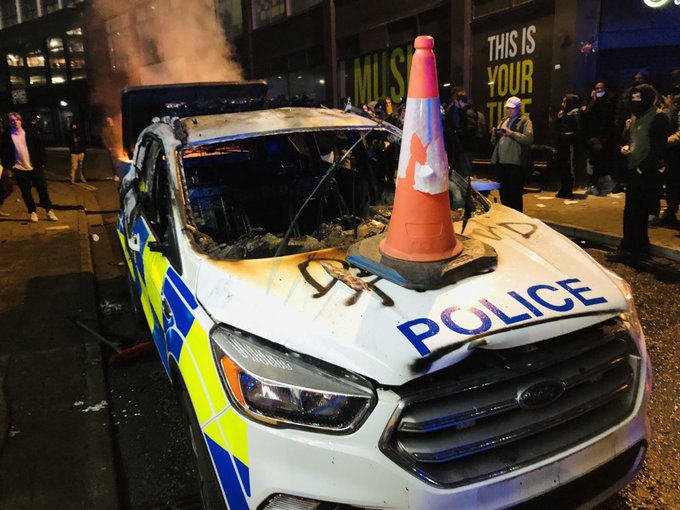 Thousands might have turned out for the Black Lives Matter protests last year for the killing of George Floyd. Putting the toppling of a statue aside, we didn't see the same thousands turn out for these two men. Some of us did not forget and never will, this was coming, for the cops everywhere, but also the state and its oppressive 'rule of law'.
Some of us also feel our very way of life threatened by this bill, with Gypsies, Roma and Irish Travelers being racially repressed, not that it has been happening for a long time already! Even our memories cast back to the Dale Farm eviction in 2011 as well, when the riot started to burn last night.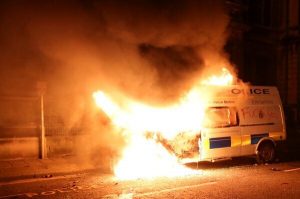 No one is allowed to live freely in this new fascist dystopia of Priti Patel (wannabe Thatcher!) and Boris Johnson (who plays the clown but is as right wing as they come!), not only does the bill give the power to 'disturbed citizens' and the cops to literally move on travelers even of one vehicle at the slightest complaint from the obedient public, but also gives them the ability to take peoples vehicles and possessions.
Apart from an attack on van and caravan dwellers this is the racist attack from the Tory government on Roma, Gypsy and Irish Travelers, a group who have always been attacked in the 'country of apparent toleration'.
In all this, the bigger picture needs to be seen to believe it. With destruction of the planet, ecosystems, extinction of species, the water, the air, even fetuses being polluted by plastic, borders being closed, migrants dying just to get here, too many of our
friends in prison just for the colour of their skin or from the housing estates, throwing in the rise of the technological society with its hundreds of machinations designed to control us, from smart cities, to artificial intelligence, to mass surveillance, artificial reality, robots and drones coming at us, its enough to understand there is a monumental shift occurring in our time, that has only begun.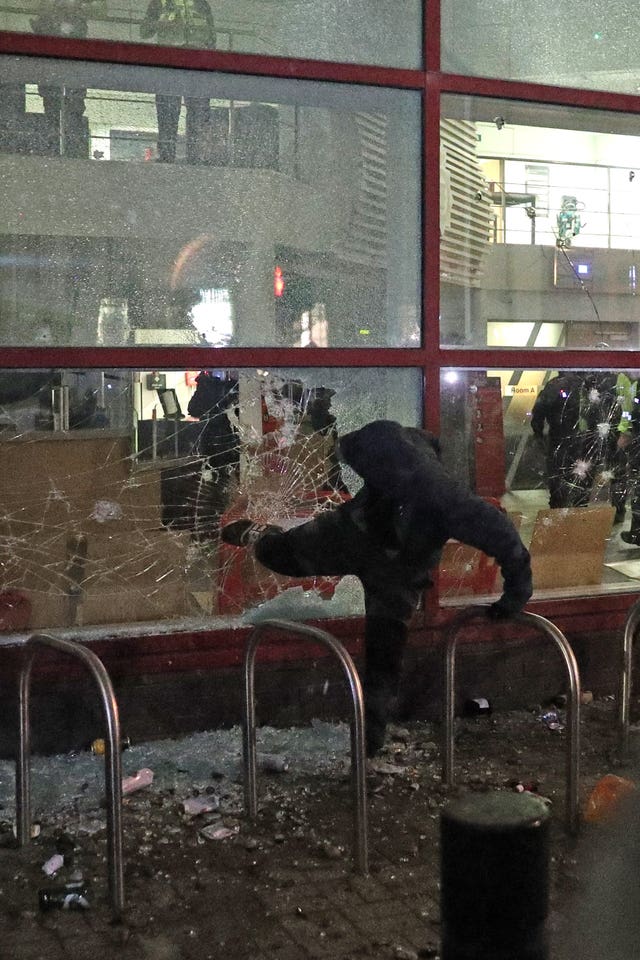 What started last night has been coming for a while. This is not the time to be cowering behind curtains, complaining about the common good or fighting Covid, it is the symptom of an already dying planet.
Outside this island the world is already burning. Neither the local nor national politicians condemning us will stop us, we have never listened to them!
Apparently we're 'Unacceptable', you're UNACCEPTABLE! They will never understand our burning rage we have for their nightmare future they promise us.
"Nothing ever burns down by itself

Every fire needs a little bit of help"
Some anarchists, youth, travelers, unknowns, THE EXCLUDED!
source: 325 https://325.nostate.net/2021/03/22/bristol-burn-baby-burn/
related
March 21, 2021
In "social revolution"
Related
March 18, 2021
February 17, 2021
December 10, 2020
Bristol: El cántico se eleva en el aire.. "¡Burn Baby Burn!" Esp/ Eng
¡Algunos anarquistas, jóvenes, viajeros, desconocidos, LOS EXCLUIDOS!
fuente: 325.. https://325.nostate.net/2021/03/22/bristol-burn-baby-burn/ 22 de marzo de 2021
ver tambén: Did POLICE turn Bristol 'Kill the Bill' protest into a riot?' + '..UK: War Against The Police'.. videos
El cántico se eleva en el aire a medida que las llamas de la furgoneta de la policía se elevan más y más, quemando una presión que se ha estado acumulando durante demasiado tiempo.
Las ventanas de la estación de policía se abren a patadas para la alegría rugiente de la multitud, sus rocas lloviendo desde arriba sobre los policías antidisturbios de los jóvenes que han ocupado parte de su techo.
Los repetidos ataques a las líneas policiales están poniendo visiblemente el miedo en ellos. Llueven botellas sobre el fallido intento de la unidad de perros policía de asaltar a la mafia por la espalda.
Los escudos antidisturbios y las porras liberadas de la policía se utilizan para contraatacar, una pieza de su propia medicina. Otros están cuidando a personas rociadas con macis, mientras suenan los sistemas de sonido. Otro coche de policía está ardiendo a la vuelta de la esquina, esto no se parece a nada que hayamos visto antes …
Esta es la escena en Bristol en 2021, 10 años desde los disturbios de Stokes Croft y agosto en 2011. El motín que estalló anoche fue una continuación de nuestros recuerdos combativos, pero de ver tantos nuevos jóvenes incontrolables es el comienzo de un nuevo ola.
Nada ha cambiado mucho en esta isla prisión desde 2011, si acaso las condiciones que llevaron a esos días siguen con nosotros, más represivas que nunca. Estamos siendo empujados al límite, ya que el sistema de control exige o lamer la bota o extinguir nuestra forma de vida.
La chispa esta vez ha sido la misma que antes. El 'Proyecto de Ley de Policía, Crimen, Sentencias y Tribunales' en el que grupos de la sociedad, los indeseables están siendo criminalizados, junto con el reciente asesinato de una joven por un policía son solo la punta del iceberg.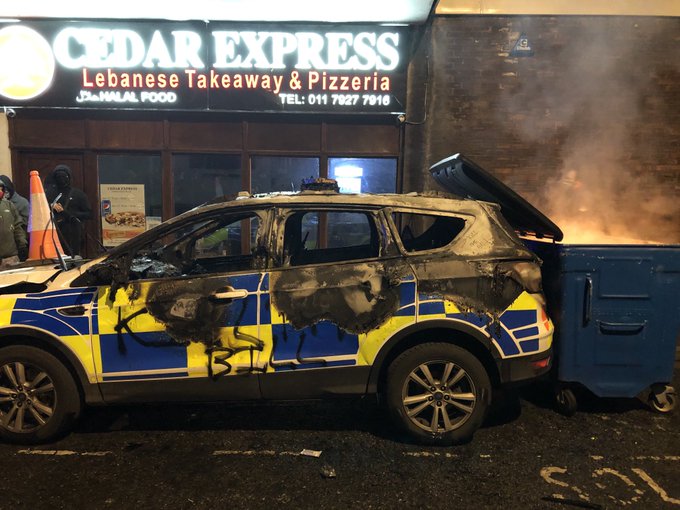 La represión que se está imponiendo no solo aquí sino en todo el mundo es una señal de lo peor por venir, ya que vivimos en un presente en el que la "crisis" está entre nosotros, ya sea "Covid-19", "económica", incluso "ecológica". Está claro que todo esto va en la dirección de una sociedad carcelaria más opresiva que antes.
Solo este año, Mohamed Mohammed Heisman, un joven de 24 años murió después de ser claramente golpeado por la policía en la estación de policía de Cardiff Bay, mientras que otro Moyied Bashir de 29 años murió mientras estaba en manos de la policía de Newport, que claramente sufría una situación médica.
Miles de personas podrían haber acudido a las protestas de Black Lives Matter el año pasado por el asesinato de George Floyd. Dejando a un lado el derrumbe de una estatua, no vimos a los mismos miles acudir a estos dos hombres.
Algunos de nosotros no olvidamos y nunca lo olvidaremos, esto estaba por llegar, para la policía en todas partes, pero también para el estado y su opresivo "estado de derecho".
Algunos de nosotros también sentimos nuestra propia forma de vida amenazada por este proyecto de ley, con gitanos, romaníes e irlandeses que están siendo reprimidos racialmente, ¡no es que haya estado sucediendo desde hace mucho tiempo!
Incluso nuestros recuerdos se remontan también al desalojo de Dale Farm en 2011, cuando los disturbios comenzaron a arder anoche.
A nadie se le permite vivir libremente en esta nueva distopía fascista de Priti Patel (¡aspirante a Thatcher!) Y Boris Johnson (¡que hace el papel de payaso, pero es tan derechista como ellos!).
El proyecto de ley no solo da el poder a los 'perturbados ciudadanos y policías para mover literalmente a los viajeros incluso de un vehículo a la menor queja del público obediente, pero también les da la capacidad de llevarse los vehículos y posesiones de las personas.
Aparte del ataque a los habitantes de las furgonetas y caravanas, este es el ataque racista del gobierno tory contra los romaníes, gitanos e irlandeses nómadas, un grupo que siempre ha sido atacado en el "país de la aparente tolerancia".
En todo esto, hay que ver el panorama general para creerlo. Con la destrucción del planeta, los ecosistemas, la extinción de especies, el agua, el aire, incluso los fetos contaminados por el plástico, las fronteras cerradas, los migrantes muriendo solo para llegar aquí, demasiados de nuestros amigos en prisión solo por el color de su piel o de las urbanizaciones, lanzando el auge de la sociedad tecnológica con sus cientos de maquinaciones diseñadas para controlarnos, desde ciudades inteligentes, inteligencia artificial, vigilancia masiva, realidad artificial, robots y drones viniendo hacia nosotros, es suficiente para entender .
Hay un cambio monumental que está ocurriendo en nuestro tiempo, que apenas ha comenzado.
se tiran cosas desde el tejado del comisaria tomado!!
Lo que empezó anoche viene desde hace un tiempo. Este no es el momento de esconderse detrás de las cortinas, quejarse del bien común o luchar contra Covid, es el síntoma de un planeta que ya está agonizando.
Fuera de esta isla, el mundo ya está ardiendo. ¡Ni los políticos locales ni nacionales que nos condenan nos detendrán, nunca los hemos escuchado!
¡Aparentemente somos "Inaceptables", su INACEPTABLE!
Ellos nunca entenderán nuestra rabia ardiente que tenemos por su futuro de pesadilla que nos prometen.
"Nada se quema por sí solo
Cada fuego necesita un poco de ayuda"
¡Algunos anarquistas, jóvenes, viajeros, desconocidos, LOS EXCLUIDOS!
fuente: 325.. https://325.nostate.net/2021/03/22/bristol-burn-baby-burn/