per Anarquistas de vallekas http://barcelona.indymedia.org/newswire/display/532950
The Spanish fascist party, Vox held a provocative street meeting in the poor but defiant Vallecas barrio of Madrid as a tactic to gain support in the May 4th local elections.. The neighbours called for resistance and the meeting was abandoned amid objects thrown and police charges against the antifascists, with arrests and 32 injured. Inevitably the right wing media presented the resistance as 'Antifa Fascism' with blanket coverage and the few Vox supporters as brave heroes of democracy. But we stood up and fought back.
Vallekas is not a beast to be tamed: not by political parties, not by fascists, not by the police: Chronicle of the Vox rally in Vallekas
by Anarquistas de Vallekas

Last Wednesday, April 7, VOX had a campaign presentation in Vallecas, in a clear act of provocation.
(video by the Vanguardia, rightwing media but the other videos are worse)
Much commotion the previous days with the institutional left and its satellites, frightened because the peaceful, orderly and "electoral" protest was overwhelmed by the rage of a neighborhood ravaged by the queues of hunger, police abuses, social control, cameras of video surveillance, racist raids, evictions and evictions, betting houses and proxonetas, exploitation, misery and worse.
The constant fascist provocation and the criminalization of the neighborhood with "security" speeches only seek to increase the repression in the neighborhood. The "progressive media", the same one that fuels fear of the extreme right to try to make people forget their complicit role with capital, did not want a forceful response from the neighborhood. They laugh in our faces, but they failed.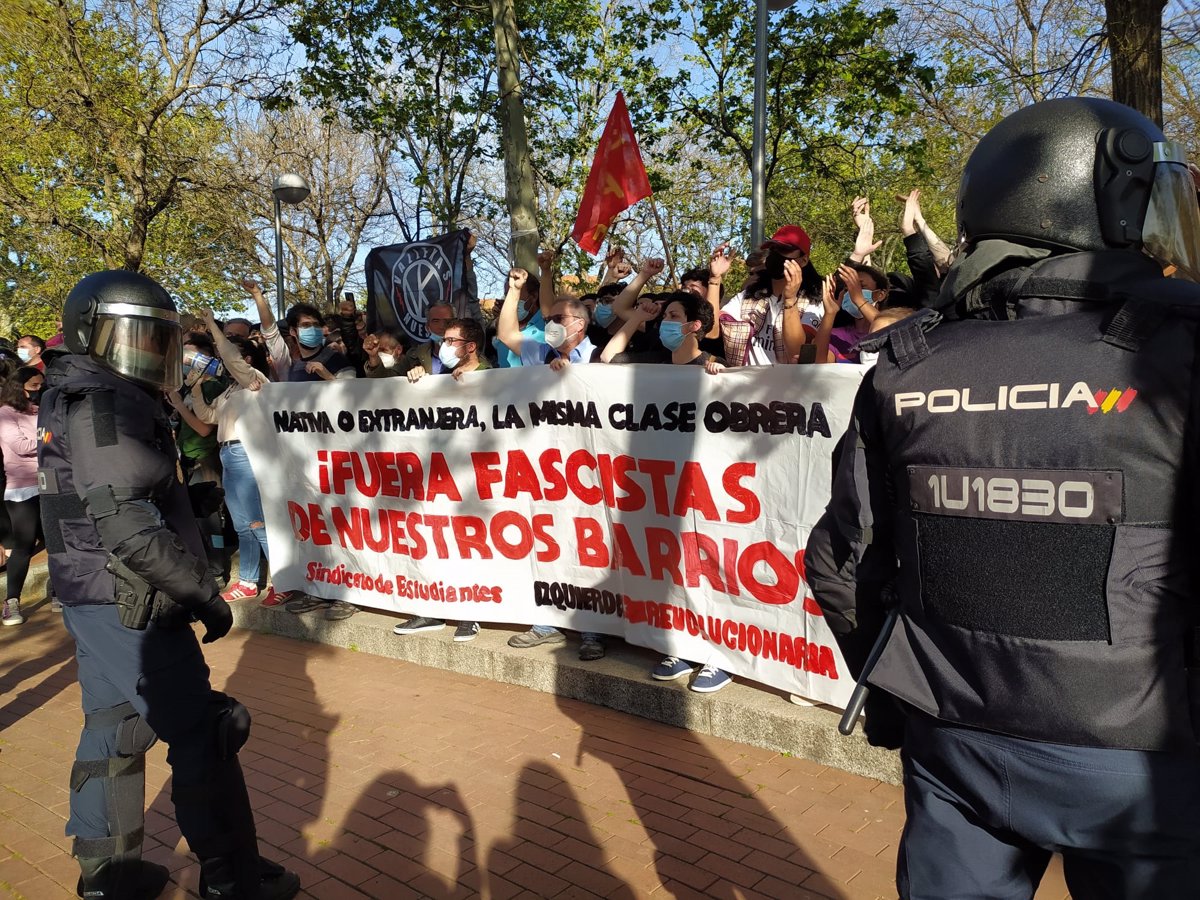 They failed, because despite the attempts of the rally order service in the red square, many vox supporters went home angry, despite the whining and complaining from VOX as it seems that a deputy was injured.
If the rain of stones that put those nazis at bay had fallen only five minutes before the police charges on the anti fascists, we would have smashed Santiago Abascal and company.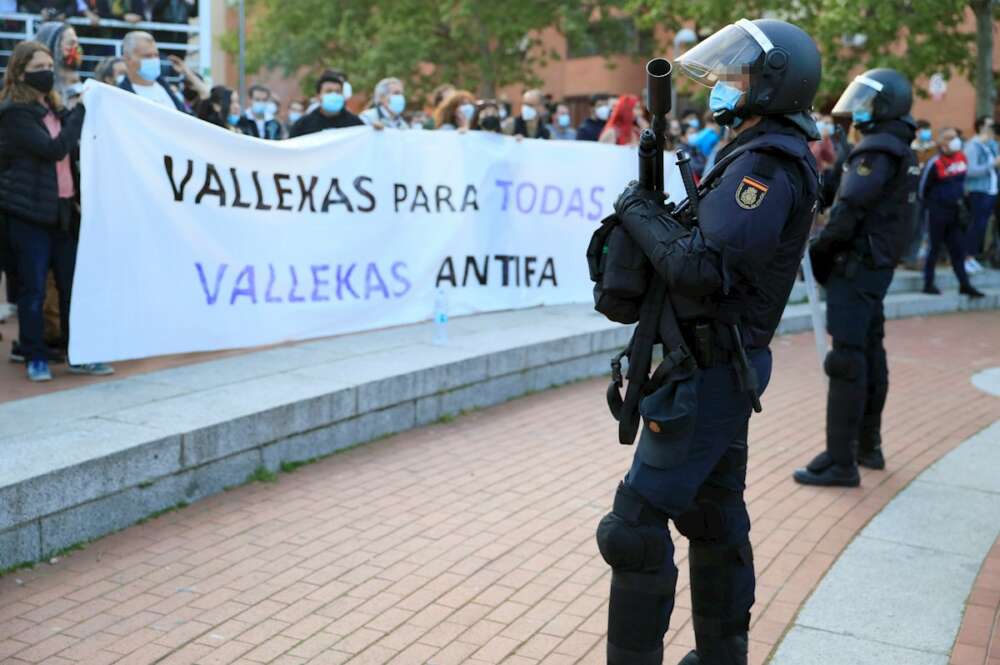 We took our time to react. Before the people, yes, responded to the police charges with forcefulness, solidarity and self-defense. Before the inertia caused by the "consensus" that the political parties and their neighborhood satellite collectives had built (which are not all neighborhood collectives, nor do they have any legitimacy to decide on how others should protest) was broken .
Because in Vallekas we do not resign ourselves to praising the self-defense against fascism in other localities, we put it into practice, as this neighborhood has historically done IN SPITE OF THE CONSENSUS OF REFORMISM. Because Vallekas has memory.
Some who wanted the photo of an ordered protest ordered, went home frustrated. Those of us who wanted the image of a neighborhood like Vallekas, receiving the police and fascists with stones, got it.
What do we expect the speakers of the system to say, of the people in the neighborhood who fight with dignity, with everything they have within their reach? Well, the usual. The rioters, the revolutionaries, the fighters, will be treated as criminals by the State and its media minions.
Forever. The day they don't, we will have lost, because they will have removed the sting that threatens to puncture the placid social peace that both the left and the right defend tooth and nail.
The idea is clear: Vallekas responds to the fascist and police provocation, above legalities, directly, without intermediaries and without expecting anything from the ballot boxes, which we know are the tomb of any struggle that seeks to question the pillars of the State and capitalism and their plans for death and exploitation.
Because we are fed up, because in the face of poverty, the fascists, exploitation and repression, there is no room for consensus or half measures.
Now is the time to give all solidarity to our prisoners, detainees and wounded. Without forgetting that the fight continues. And to be attentive to a possible to future repression after the events of Wednesday.
The streets will always be ours.
Vallekas ungovernable zone!
Some anarchists from Vallekas
________________________
Vallekas: Pride of a working-class neighborhood and shame of the media and the parties of the regime
"Difficult to calculate, but many, many people came out from the neighborhood, young and not so much, from the square and from the windows and balconies we went out to the Red Square to tell VOX that this is Vallekas, that this is a working-class neighborhood and the fascists or those aspiring to be one are not to be discussed with, they are to be fought against-….
"You are not democratic, because you do not allow VOX to express itself," shout the quack custodians of democracy. And what do they say about a working-class neighborhood like ours, where thousands of our neighbors don't have the right to vote because they are immigrants; Neighbors who are worth living in crowded homes and working for low wages and doing the hardest jobs, but not to have rights? Long live your democracy!
" And those scoundrels are the ones who also insult and link violence in working-class neighborhoods, robberies or insecurity with immigration. They insult us, they disrespect our people, and we don't have the right to go tell them to their faces?…
"Violence cannot be admitted in any way," claim those who consider police brutality normal, but consider violence to defend themselves against it a crime. No, neither the mainstream media, nor Gabilondo, nor the other parties of the regime condemn the violence. What they condemn is that we refuse to respect the monopoly of violence exercised by their State, and that we do not resign ourselves and be submissive when the praetorians beat us. "
original en castellano via Indymedia Barcelona por Algunas anarquistas de vallekas
Vallekas no es fiera para domar: ni por los partidos políticos, ni por los fascistas, ni por la policía.Crónica del mitin de vox en vallekas

El pasado miércoles 7 de abril, VOX tenía la presentación de campaña en vallekas, en un claro acto de provocación. Mucho revuelo los días previos con la izquierda institucional y sus satélites, atemorizados porque la protesta pacífica, ordenada y "electoral" se viera desbordada por la rabia de un barrio asolado por las colas del hambre, los abusos policiales, el control social,cámaras de videovilancia, las redadas racistas, desalojos y desahucios, casas de apuestas y proxonetas, explotación, miseria y encima, la constante provocación fascista y la criminalización del barrio con los discursos "securitarios" que solo buscan aumentar la represión en el barrio.
El "progerío mediático", el mismo que azuza con el miedo a la extrema derecha para intentar que la gente olvide su papel cómplice con el capital, no querían una respuesta contundente del barrio. Se ríen en nuestra cara, pero fracasaron.
Fracasaron, porque a pesar de los intentos del servicio de orden de la concentración en la plaza roja, muchos voxeros se fueron calentitos a casa, incluso entre lloriqueo y lloriqueo de VOX, parece que un diputado fue herido.
Si la lluvia de piedras que puso a raya a esos farloperos de la UIP, hubiera caído solo cinco minutos antes de las cargas sobre los fascistas, habríamos puesto a Santiago Abascal y compañía como el rosario de la aurora. Tardamos en reaccionar. Porque la gente, eso si, respondió a la carga policial con contundencia, solidaridad y autodefensa.
Porque el "consenso" que habían construído los partidos políticos y sus colectivos satélite del barrio (que ni son todos los colectivos del barrio, ni tienen legitimidad ninguna para decidir sobre otros sobre cómo se debe protestar) fue roto por la inercia.
Porque en vallekas no nos resignamos a alabar la autodefensa contra el fascismo en otras geografías, lo ponemos en práctica, como históricamente a hecho este barrio A PESAR DE LOS CONSENSOS DEL REFORMISMO. Porque vallekas tiene memoria.
A algunos que querían la foto de la protesta ordenada, se fueron frustrados a casa. Los que queríamos la imagen de un barrio como vallekas, recibiendo a pedradas a policías y fascistas, la obtuvimos.
¿Qué esperamos que digan los altavoces del sistema, de las personas del barrio que luchan con dignidad, con todo lo que tienen a su alcance? Pues lo de siempre.
Los revoltosos, los revolucionarios, los luchadores, serán tratados como criminales por el Estado y sus secuaces mediáticos. Siempre. El día que no lo hagan, habremos perdido, porque nos habrán quitado el aguijón que amenaza con pinchar la plácida paz social que tanto izquierdas como derecha defienden a capa y espada.
La idea es clara: vallekas responde a la provocación facista y policial, por encima de legalidades, de forma directa, sin intermediarios y sin esperar nada de las urnas, que sabemos que son la tumba de cualquier lucha que pretenda poner en cuestión los pilares del Estado y el capitalismo y sus planes de muerte y explotación.
Porque estamos hartos, porque ante la miseria, los fascistas, la explotación y la represión, no caben consensos, ni medias tintas.
Ahora a prestar toda la solidaridad a nuestros detenidos y detenidas, heridos y heridas. Sin olvidar que la lucha sigue. Y a estar atentos a una posible futura represión ante los hechos del miércoles. Las calles serán siempre nuestras.
¡Vallekas zona ingobernale!
Algunas anarquistas de vallekas
Related Posts