by Raul Zibechi via Chiapas Support Committee Spanish from Naiz
If there is one thing that Zapatismo cannot be accused of, it is not being coherent. A long time ago they designed a policy of alliance between those below, which they will now deploy during the tour that will begin in June in European lands.
Somehow it's like on the one hand you have the podiums, the social networks and the "masses" all piled up; on the other, the articulation of collectives, which embody the most diverse oppressions around the world.
The Second Declaration of The Reality for Humanity against Neoliberalism, issued in August 1996, says this clearly and transparently: «That we will make a collective network of all our struggles and particular resistances. An intercontinental network of resistance against neoliberalism, an intercontinental network of resistance for humanity.

see also…The Zapatistas set sail for Europe | Chiapas Support …
The objective of this network is to meet other resistances in the world, to support each other. And they clarify that the network "is not an organizational structure, it does not have a governing or decision-making center, it has no central command or hierarchies. The network is all of us who resist ».
I believe that this declaration, which is now a quarter of a century old, illuminates what the Zapatistas want to do wherever they walk. First they did it in Mexico and they were weaving resistance from the native peoples that gave life to the National Indigenous Congress (CNI), formed in 1996, and then to the Indigenous Government Council (CIG), which was created in 2016.
The CNI adopted the seven principles that the EZLN defined as a way of doing politics: to serve and not to serve, to build and not to destroy, to obey and not to command, to propose and not to impose, to convince and not to defeat, to lower and not to raise, to represent and not to supplant. .
The CIG is made up of 523 communities, 25 states of the country and 43 indigenous peoples. They affirm that "our struggle is not for power" but to "strengthen ourselves in our resistance and rebellion, that is, in defending the life of each person, each family, group, community or neighborhood" https://bit.ly / 3rLJeWl
The aim of the EZLN, the CNI and the CIG is the construction of autonomies that are collectively self-governing, based on another way of doing politics according to the aforementioned principles.
It is important to note that when they go out on tour, as they have always done, they are going to find groups that fight, no matter how many people make them up, if they appear in the mainstream media or if they have more or less audience.
It is not about doing great acts with an illuminated stage where well-known people go up and speak so that the audience listens. They do not seek to fill stadiums or squares, but rather to open spaces for dialogue among equals, to listen and learn, to say how each one is resisting, not to set the course for anyone.
Zapatismo embodies new ways of doing politics, below and to the left, ways that are unprecedented in the anti-systemic movements of the 20th century. María de Jesús Patricio, Marichuy, spokeswoman for the CIG, often says that "when we are together, we are an assembly and when we are separated, we are a network."
At a women's meeting in February 2018, Marichuy explained the campaign to collect signatures that she was carrying out, as an excuse to dialogue with the peoples. "It was necessary to create a space, not so much an organization, so that there would not be someone who leads and someone who obeys, but rather that we all feel like part of this house.
" The goal is always to organize below, because in that way "we are going to dismantle this power that those who have power and money have, those of the bad government" https://bit.ly/3ulJk8R
While traditional politics, both on the right and on the left, are directed at large "masses" (a tremendous word), at isolated individuals, the politics of the Zapatistas seek to nest in organized groups that resist the system.
While the dominant modes of doing politics, focused on elections, tend to disorganize existing groups, or at least weaken them, the EZLN, the CNI, and the CIG seek the opposite: they encourage people to organize as a way to confront in collective the evils of the system.
It is a politics that looks downward, not from above, but horizontally, bottom to bottom, among equals, to share, learn and chart directions, respecting each other's ways and rhythms.
In traditional politics, large hierarchical organizations are created, in which a small group rules and the rest obey. Pyramids whose summit is generally installed by men trained in academies who speak but do not listen, who make decisions without a consulate, who claim to speak on behalf of people they do not even know.
In Zapatista politics, each group speaks through its own voice, no one interprets or represents them. Those of us who participate listen, ask questions and try to learn.
Somehow it's like on the one hand you have the podiums, the social networks and the "masses" all piled up; on the other, the articulation of collectives, which embody the most diverse oppressions around the world.
The media visibility, which does not move the system a hair, in front of the patient and slow organization below, which is committed to containing the oppressions to dismantle them in an indeterminate period that, strictly speaking, has already begun.
In history, as capitalism was implanted in all the pores of society, the political culture from below (which always existed as demonstrated by the Paris Commune), was being cornered, but resurfaces with force every time the peoples stand up.
I am talking about the territorial assemblies of the revolt in Chile; the Ecuadorian indigenous and popular parliament; of the Mapuche organizations and communities; from the Nasa and Misak councils of southern Colombia; of the self-defense guards that are beginning to populate our geographies in the Andes and the Amazon; of the hundreds of popular schools, community pots and health posts that were born during the pandemic.
These are the collectives that inspire us and from which we learn. The Zapatistas propose that we connect and listen to each other to confront the system together.
Raúl Zibechi Periodista
see also…The Zapatistas set sail for Europe | Chiapas Support …
Zapatistas: Lessons in community self-organisation in
MexicoAs the first attempt to abolish police are under way in the US, meet the communities that have been experimenting with self-organisation, such as …25 Jun 2020
http://rojoynegro.info/articulo/sin-fronteras/27-a%C3%B1os-guerra-el-olvido-la-vida-viva-el-ezln
Una gira por abajo y por la izquierda
De algún modo, por un lado están los estrados, las redes sociales y las «masas» amontonadas; por el otro, la articulación de colectivos, que encarnan las más diversas opresiones en las más distantes geografías
Si hay algo de lo que no se puede acusar al zapatismo, es de no ser coherente. Hace ya mucho tiempo han diseñado una política de alianza entre los de abajo, que ahora desplegarán durante la gira que comenzará en junio en tierras europeas.
Alistan zapatistas viaje a Europa

La Segunda Declaración de La Realidad por la Humanidad contra el Neoliberalismo, emitida en agosto de 1996, lo dice con claridad y transparencia, cuando declara: «Que haremos una red colectiva de todas nuestras luchas y resistencias particulares. Una red intercontinental de resistencia contra el neoliberalismo, una red intercontinental de resistencia por la humanidad».

El objetivo de esta red es encontrarse con las resistencias del mundo, para apoyarse mutuamente. Y aclaran que la red «no es una estructura organizativa, no tiene centro rector ni decisorio, no tiene mando central ni jerarquías. La red somos todos los que resistimos».

Creo que esta declaración, que ya tiene un cuarto de siglo, ilumina lo que quieren hacer los zapatistas allí donde caminan. Primero lo hicieron en México y fueron tejiendo resistencias de los pueblos originarios que dieron vida al Congreso Nacional Indígena (CNI), formado en 1996, y luego al Concejo Indígena de Gobierno (CIG), que se creó en 2016.
Ni España ni la Iglesia Católica tienen que pedirnos …

El CNI adoptó los siete principios que definió el EZLN como forma de hacer política: servir y no servirse, construir y no destruir, obedecer y no mandar, proponer y no imponer, convencer y no vencer, bajar y no subir, representar y no suplantar.

El CIG está integrado por 523 comunidades, de 25 estados del país y de 43 pueblos indígenas. Afirman que «nuestra lucha no es por el poder» sino para «fortalecernos en nuestras resistencias y rebeldías, es decir en la defensa de la vida de cada persona, cada familia, colectivo, comunidad o barrio» (https://bit.ly/3rLJeWl).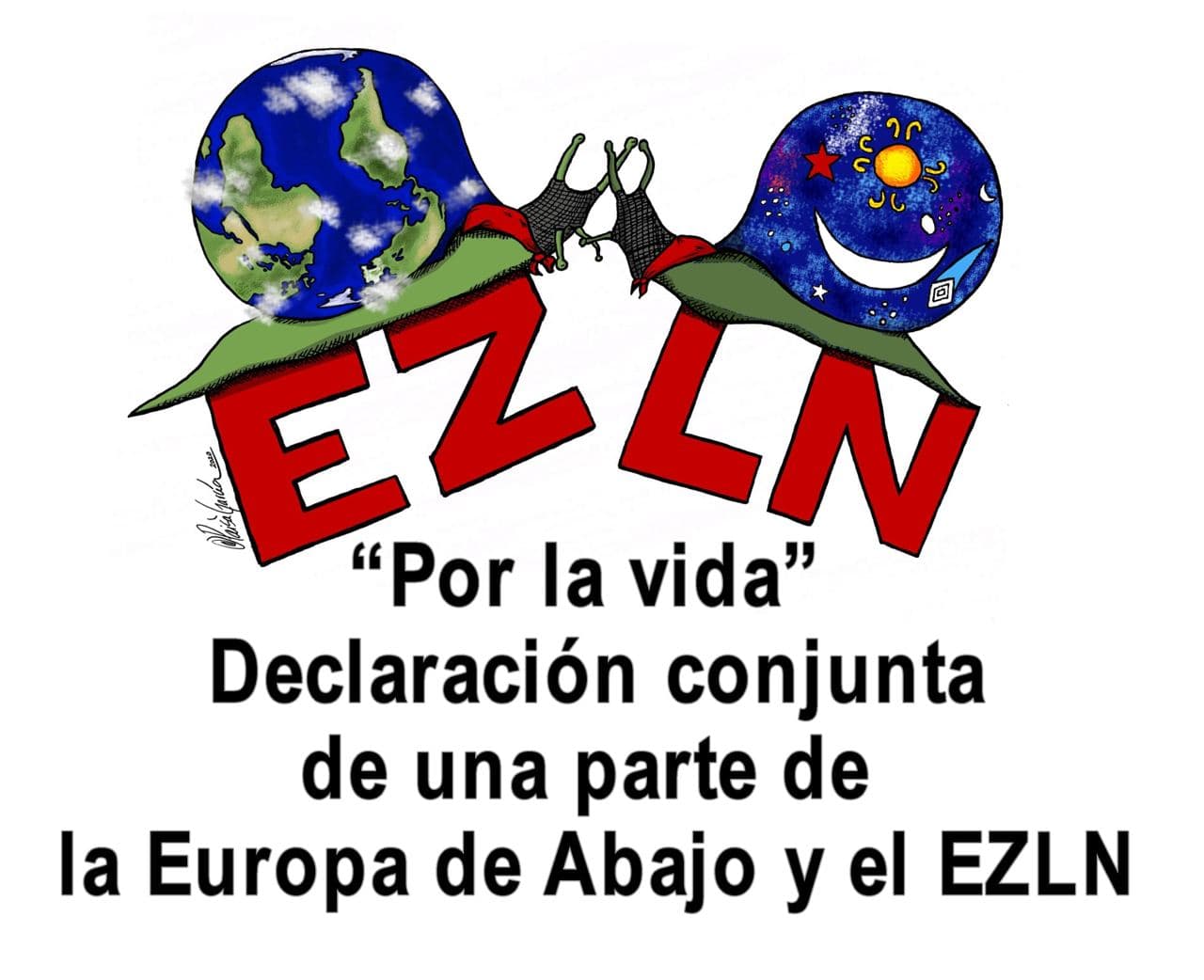 El norte del EZLN, del CNI y del CIG es la construcción de autonomías que se autogobiernan colectivamente, en base a otra forma de hacer política según los principios mencionados.


Es importante destacar que cuando salen en gira, como lo vienen haciendo siempre, se van a encontrar con colectivos que luchan, sin importar cuántas personas los integran, si aparecen en los grandes medios o si tienen más o menos audiencia.
No se trata de hacer grandes actos con un estrado iluminado al que suben personas conocidas y hablan para que la platea escuche.
No buscan llenar estadios ni plazas, sino abrir espacios para dialogar entre iguales, para escuchar y aprender, para decir cómo cada quien está resistiendo, no para marcarle rumbos a nadie.
27 años de Guerra contra el olvido, por la vida, viva el EZLN Desde la Confederación General del Trabajo (CGT) saludamos y abrazamos con gran estima al Ejército Zapatista de Liberación Nacional (EZLN) que mañana, primero de enero de 2021 conmemorará la salida de la Selva Lacandona para decirle al mundo que ¡Ya basta!……http://rojoynegro.info/articulo/sin-fronteras/27-a%C3%B1os-guerra-el-olvido-la-vida-viva-el-ezln

El zapatismo encarna formas nuevas de hacer política, abajo y a la izquierda, modos que no tienen precedentes en los movimientos anti-sistémicos del siglo XX. María de Jesús Patricio, Marichuy, vocera del CIG, suele decir que «cuando estamos juntos, somos asamblea y cuando estamos separados, somos red».

En un encuentro de mujeres en febrero de 2018, Marichuy explicó la campaña de recogida de firmas que estaban realizando, como una excusa para dialogar con los pueblos. «Era necesario crear un espacio, no tanto una organización, para que no hubiera alguien que dirige y alguien que obedece, sino que todos nos sintiéramos como parte de esta casa».
El objetivo siempre consiste en organizarse abajo, porque de esa manera «vamos a lograr que se desmonte este poder que tienen los que tienen el poder y el dinero, los del mal gobierno» (https://bit.ly/3ulJk8R).


Mientras la política tradicional, tanto de la derecha como de la izquierda, se dirige a grandes «masas» (palabra tremenda), a individuos aislados, la política de las y los zapatistas busca anidar en colectivos organizados que resisten el sistema.
La visibilidad mediática, que no le mueve un pelo al sistema, frente a la paciente y lenta organización abajo, que apuesta a contener las opresiones para desmontarlas en un plazo indeterminado que, en rigor, ya ha comenzado.

En la historia, a medida que el capitalismo se fue implantando en todos los poros de la sociedad, la cultura política de abajo (que siempre existió como lo demuestra la Comuna de París), fue siendo arrinconada, pero resurge con fuerza cada vez que los pueblos se ponen en pie.


Estoy hablando de las asambleas territoriales de la revuelta de Chile; del parlamento indígena y popular ecuatoriano; de las organizaciones y comunidades mapuche; de los cabildos nasa y misak del sur de Colombia; de las guardias de autodefensa que empiezan a poblar nuestras geografías en los Andes y la Amazonia; de las cientos de escuelas populares, de las ollas comunitarias y puestos de salud que nacen durante la pandemia.

Estos son los colectivos que nos inspiran y de los que aprendemos. Los zapatistas nos proponen enlazarnos y escucharnos para enfrentar juntos al sistema.
**************************
Zapatistas: lecciones de auto-organización comunitaria …
Zapatistas: leccionesdeauto-organizacióncomunitaria…la cooperación y la justicia comunitaria, que colocan el bienestar de la comunidad por encima del beneficio individual. A través de estos acuerdos, las comunidades zapatistas han asegurado los derechos, la protección y las necesidades básicas que el Estado mexicano les ha negado…
Zapatistas: Lessons in community self-organisation in
MexicoAs the first attempt to abolish police are under way in the US, meet the communities that have been experimenting with self-organisation, such as …25 Jun 2020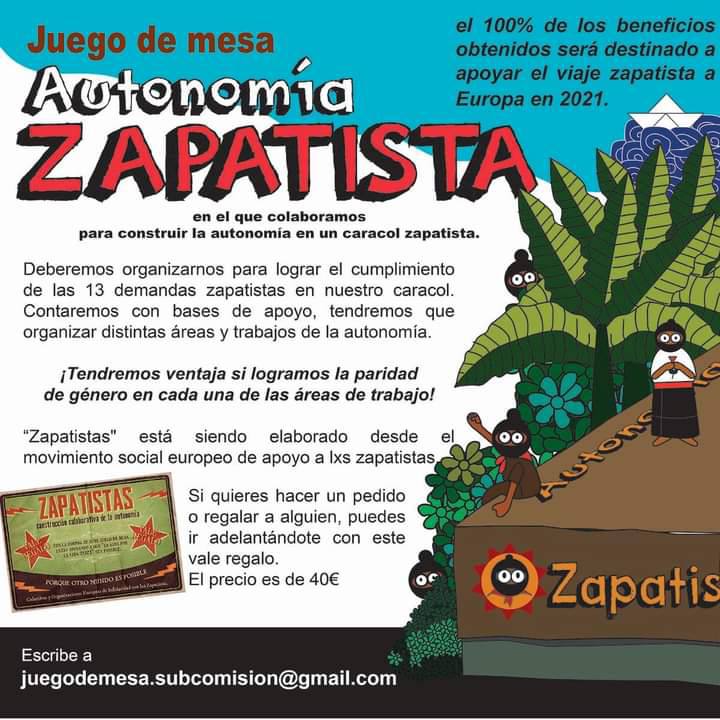 http://rojoynegro.info/articulo/sin-fronteras/27-a%C3%B1os-guerra-el-olvido-la-vida-viva-el-ezln