Deutsch hier shared with thanks Submitted to Enough 14 Originally published by Indymedia NL. .. Legal Notice
Echt. Netherlands. Today, at 24th of April, we with a group of comrades went on a Demo in front of AZC Echt to show our solidarity with refugees who are struggling there in inhuman conditions.
From the moment, people started walking from Station Echt, police started stopping and threatening us with arrests. First, they were saying: "you are violating corona measures", then: "Where are you going?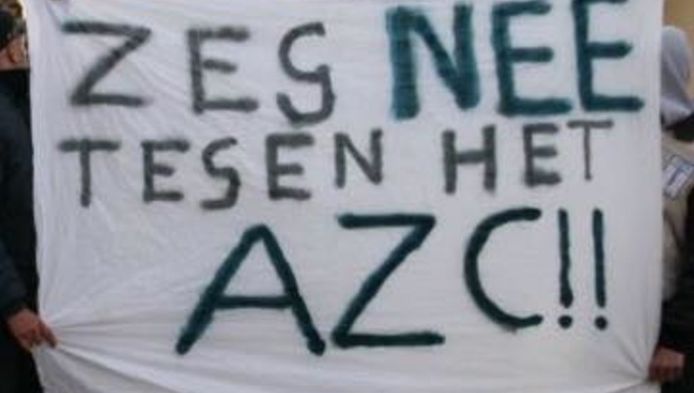 Say no to the AZC !!
If it's AZC then there is no demo, you should not to go there" and after that: "This demo is illegal. If you go there, you are going to be arrested". On the way to the camp one person got arrested for "covid reasons".
Despite the fact that they kept a 1,5 meters distance from others, cops stopped them for no reason and demanded to show ID because of "corona violations".
In front of the camp, migrants and their supporters shouted slogans, held banners: "Legal papers for all migrants", "Destroy borders. IND kills!".
People from different parts of the Netherlands stood in solidarity with asylum seekers of AZC Echt.
Police were present in an enormous amounts and surrounded small peaceful demonstration and made first arrest of our comrade just for the fact that comrade knew their rights of free speech and wasn't scared to call out cops on their unlawful actions.
acing towards center of Echt. Line of cops walked behind people not letting anyone go back to the camp. People kept shouting slogans and carrying signs: "Open the borders. Refugees lives matter", "IND murders", "Vrijheid voor iedereen", "Tegen staats-terrorisme", "Legal papers for all", "Close all AZC detention centers", etc. After some time, cops 'kettled' (trapped) demonstrators in a way that people were not able to keep the safe distance, and escorted them to Station Echt.
De azc-inloopavonden, waar ging het mis?
Where they demanded people to leave town. Some comrades had ov-fiets bikes and cars parked at AZC, but cops didn't let them to go get them.
They waited until people boarded train and then left.
Three of four arrested people are released at the moment of writing this report.
Cops released one of them only 10 minutes before curfew, knowing the fact that this person live in different city and don't have phone, money, ov-card, nothing.
Lichtgewonde bij ruzie in azc Echt
Thanks to our local comrades, they are safe and have safe space to stay. Our comrade Abtin Parsa remains arrested. Lawyer is working to help him.
This is a report from the demo and not a political statement. We will publish our statement on this situation later.
---
Additional info by Enough 14.
Abtin Parsa started a hunger strike and was released on April 25, 2021.
Enough 14 is not organizing any of these events, we are publishing these texts for people across the US and Europe to be able to see what is going on and for documentation only.
– On February 1, 2021, our online shop will be closed. We have had too many delays with our suppliers due to Corona restrictions.  All orders that were ordered until February 1 will be delivered. Thank you for your support. 
Home / Netherlands / Netherlands: Report back from solidarity demo at AZC Echt Posted on April 26, 2021 by enough14 — Leave a comment