In many cities rioting broke out amid heavy police and army repression.
Some 300 concentrations throughout the country, attended by more than 50,000 people who marched or held sit-ins, is the report delivered by the Police at the end of the day of protest this Wednesday in the country.
The day started early with public order problems in Cali, where damage was reported to 18 buses of the MIO system, acts of vandalism against six warehouses, 12 bank tellers, three bank branches and 12 photomultiple cameras.
The police murdered in cold blood the child Marcelo Ágredo, a young man of just 16 years of age who was protesting in the Mariano Ramos neighborhood, in the east of the city, on Wednesday, April 28, 2021, during the first day of the National Strike in March.
National Strike in Cali Article of the MIO vandalized in the south of Cali.
The situation in the city led to an order to advance the curfew, in addition to the dispatch of 554 men from the Police, 300 from the Esmad Riot Police and 450 soldiers.
The mayor of Cali, Jorge Iván Ospina, said that there was one death in events that until the closing of this edition had not been clarified. This is how the police shooting ended:
Marcelo Ágredo
The police murdered in cold blood 16 year old Marcelo Ágredo
The vile and cowardly murder has passed as if it had not happened, nobody says anything, except Ospina and his police.
Marcelo Ágredo
Let them both answer for this heinous crime. Meanwhile, dozens of young people are being arbitrarily detained in the protests by Esmad, which acts as an occupying force against popular demands.
In the center of Bogotá, another epicenter of mobilizations and clashes between Esmad and groups of people who tried to cause damage to premises and who attacked the Immediate Attention Center (CAI) of San Victorino.
According to the official report, 21 TransMilenio stations were affected with graffiti.

09:59 a. m.
National strike: 28 of 184 who had been captured now free
The resistance left dozens of injuries and millionaire losses
national strike April 28
The resistance left dozens of injuries and millionairy losses
Policía de Colombia hiere en la cabeza a joven con granada de gas
González: En Colombia gobierna la cleptocracia y no la democracia
The Defense Ministry indicated that 47,504 soldiers were ready throughout the day to accompany the protesters and repress acts of resistance.
Buses burn in Cali
The protest was promoted by workers' centrals, social sectors, politicians and ethnic groups who wanted to demonstrate on issues from the tax reform presented by the National Government, as well as unemployment, massacres, crimes against leaders and human rights defenders, among others.
One of the main reasons for the strike was the rejection of the tax reform.
The marches took place despite the precautionary measures ordered on Tuesday by the Cundinamarca Court to suspend them as a measure to avoid the contagion of covid-19 and protect the general interest of citizens and the calls made by different sectors not to carry out concentrations amid one of the most severe peaks of the pandemic.
(Also read: National strike: 26 captured and 44 police officers injured)
Although most of the day passed peacefully, acts of violence were reported in cities such as Cali and Bogotá, and with a lesser impact in Medellín and Neiva.
No to the tax reform national strike
The tax reform bill has already begun to be discussed in Congress. The protesters demanded to remove it. Photo:
Defense Minister Diego Molano pointed out that the demonstrations took place relatively normally in about 90 percent of the country.
A total of 59 attacks by the Esmad riot police were made on the day, 24 of these in Cali, 26 people were also captured and 44 police officers were injured; of them, 20 in Valle del Cauca and another in Neiva.
I want to invite Colombians to stay at home, to wear our masks and to take care of ourselves
"The National Government respects the constitutional right of peaceful protest, but does not tolerate vandalism, which is why it requests the judicial authorities to give exemplary penalties to those who, with acts of violence, affect citizens and attack our Public Force ", Molano pointed out.
The Minister of Health, Fernando Ruiz, pointed out his concern about the crowds that occurred and denounced that due to the situation in the country, Sinovac. vaccines could not be delivered in several cities.
"I want to invite Colombians to stay at home, wear our masks and take care of ourselves," Ruiz said.
Esmad also had to attend to an attack on the headquarters of the RCN Channel, in western Bogotá. "We denounce this direct attack on freedom of expression, which is a fundamental pillar of any solid democracy," said the Channel in a statement in which it rejected the incident recorded at 3:00 pm yesterday.
"This is not a protest. Bogotá rejects vandalism and violence, "the Bogotá Government Secretariat said about the situation.
As of today, we have registered 184 acts of police violence against citizens in the framework of the 28th and 29th.
In addition to the disorders in some sectors in Bogotá, there was a serious impact on the transport system, which led Mayor Claudia López to ask for the earlier return of workers to their homes and to announce that the mass system would begin to close at five in the afternoon.
In the La Alpujarra sector, in Medellín, acts of vandalism and the intervention of Esmad to control the situation were reported.
National Strike in Medellín
The march, which started off peacefully and festively from the north of Medellín, turned violent around 1:00 p.m. when he arrived at the Parque de la Luces.
Photo:
Jaiver Nieto Álvarez / ETCE
And according to the report of the Attorney General's Office, which accompanied the mobilizations, incidents were recorded between the municipalities of Madrid and Mosquera, Cundinamarca, and in Neiva (Huila), where disturbances of public order were reported in front of the CAI of the city's Leesburg park. .
In the capital of Huila, the causes of death of a young man who participated in a mobilization are analyzed. This is Juan Diego Perdomo Monroy, who collapsed in the Plaza Cívica sector, downtown, where protesters clashed with the Police.
(Death of a young man investigated during protests in Neiva)
The director of Citizen Security of the Police, General Carlos Rodríguez, affirmed that the university student did not die as a result of some kind of confrontation with the Police or in the middle of the protests.
#Alerta: in the Santa Mónica neighborhood, in Pasto, the @PoliciaColombia yesterday he established an order of terror, brutality and violence. This has to stop:#NoMásViolenciaPolicial@CorteIDH@RELE_CIDH@CIDH the situation in Colombia is worrying. We demand guarantees!
The Public Ministry pointed out that according to reports from the regional and provincial authorities, the day was developing normally in the departments of Amazonas, Arauca, Atlántico, Boyacá, Caldas, Chocó, Córdoba, Cundinamarca, La Guajira, Magdalena, Quindío, Sucre, Tolima, Vichada and San Andrés.
The government described the violence as 'criminal vandalism'
President Iván Duque was attentive to the development of the protests and in the late afternoon he held a virtual Unified Command Post (PMU), in which he received a report on what happened during the day.
The president described the acts of violence that took place yesterday as "criminal vandalism" and said that "violence will not solve any of the challenges we have to face as a country."
Duque announced that the judicial authorities "will go after those who have tried to put the infrastructure, honor, property and rights of Colombians at risk."
In the same sense, the Minister of the Interior, Daniel Palacios, described as "unacceptable" the "vandalism" that took place in Cali. Palacios said that, at the end of this edition, there were 40 protesters captured by the authorities and 42 police officers injured.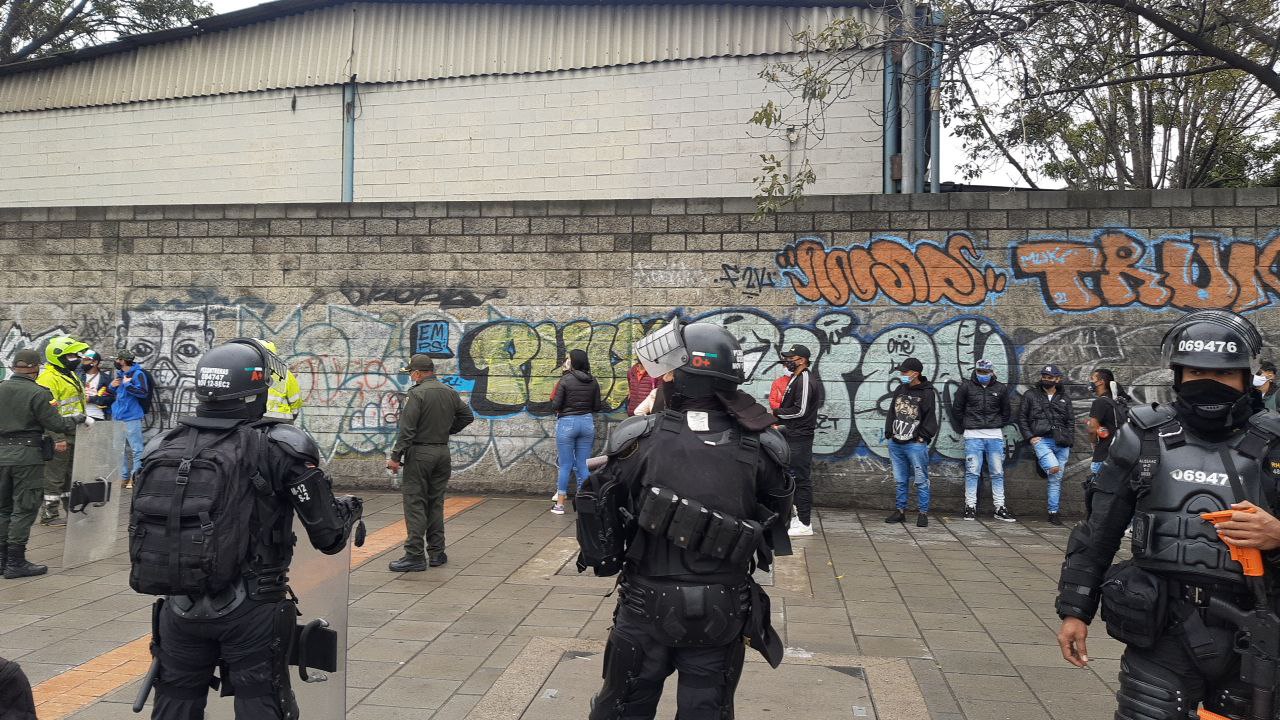 Diego Molano, Minister of Defense, affirmed that yesterday there were almost 50,000 units to ensure calm in the marches between the Police, Army, Navy and Air Force.
Likewise, he ordered the sending of reinforcements to the parts where acts of violence were experienced.
Clashes between Esmad and protesters in Bogotá.
Around 4:30 in the afternoon, there were strong clashes between Esmad and the protesters in Bogotá.

On the side of the political sectors, the majority came out to reject the violence and others supported the protests, as long as they were peaceful.
Unlike other similar sessions, the left-wing senator Gustavo Petro shared almost no videos or photographs of the acts of violence. Petro limited himself to making what he called an "address to the Nation" in which he spoke of some of the causes that, for its organizers, were motivating it.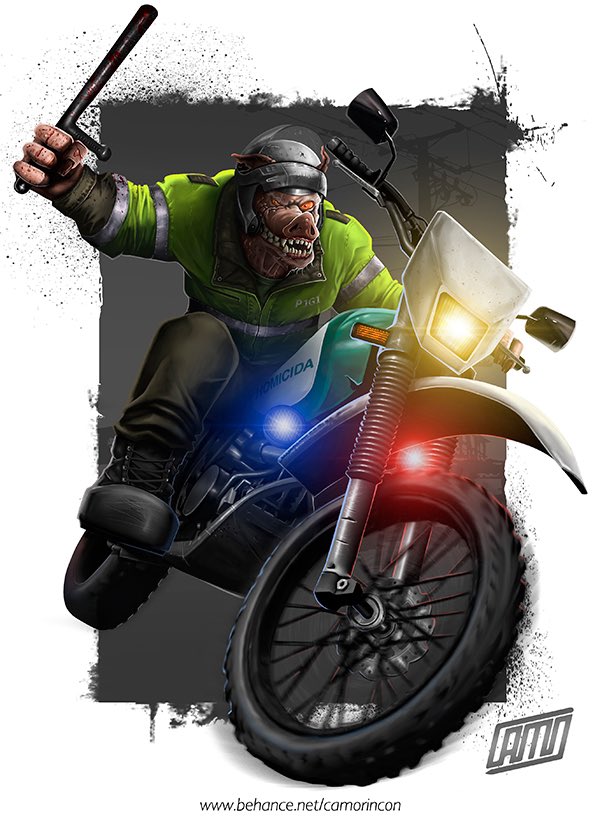 The most relevant event in Congress happened in the First Commission of the Senate, whose session was adjourned after the approval of a proposal by Senator Armando Benedetti, who has declared himself a member of Colombia Humana, Gustavo Petro's movement, asking for solidarity with the marches.
(Read on: Day of national strike ends with cacerolazos (pot banging sessions) in Bogotá)
Benedetti affirmed that people were going to protest yesterday "not only because of the tax reform, but also because they are hungry, because there is unemployment, because they are afraid of the future, which is uncertain, and that happens even to those who are employed or studying".
justice@eltiempo.com
On Twitter: @Justicia
Así se movió en Colombia la jornada de paro nacional del 28 de abril
En algunas ciudades se registraron alteraciones. Gobierno, preocupado por efecto de aglomeraciones.
RJ redacción justicia 29 de abril 2021, 06:10 A. M.
Unas 300 concentraciones en todo el país, a las que asistieron más de 50.000 personas que marcharon o realizaron plantones, es el reporte entregado por la Policía al finalizar la jornada de protesta de este miércoles en el país.
La policía asesinó a sangre fría en Cali al niño Marcelo Ágredo, un joven de apenas 16 años de edad que protestaba en el barrio Mariano Ramos, en el oriente de la ciudad, el miércoles 28 de abril de 2021, durante el primer día del Paro Nacional en marcha.
El asesinato vil y cobarde ha pasado de soslayo, como si no hubiera ocurrido, nadie dice nada, menos Ospina y su policía.
Que respondan ambos por este crimen infame.Mientras tanto, decenas de jóvenes están siendo detenidos de manera arbitraria en las protestas por el Esmad, que actúa como fuerza de ocupación contra los reclamos populares.
paro nacional 28 de abril 01:30 p. m.
El Ministerio de Defensa señaló que 47.504 uniformados estuvieron dispuestos durante toda la jornada para acompañar a los manifestantes y enfrentar hechos de violencia.

(Le puede interesar: Fiscal Barbosa anuncia 14 capturas por 'actos de terrorismo urbano' en marchas)

La protesta fue promovida por centrales obreras, sectores sociales, políticos y grupos étnicos que querían manifestarse por temas desde la reforma tributaria presentada por el Gobierno Nacional, pasando por el desempleo, las masacres, los crímenes contra líderes y defensores de derechos humanos, entre otros.
Una de las principales razones del paro fue el rechazo a la reforma tributaria.Foto:
César Melgarejo. EL TIEMPO
Las marchas se dieron a pesar de las medidas cautelares ordenadas el martes por el Tribunal de Cundinamarca para suspenderlas como una medida para evitar el contagio del covid-19 y proteger el interés general de los ciudadanos y de los llamados hechos por distintos sectores para no realizar concentraciones en medio de uno de los picos más graves de la pandemia.

(Lea además: Paro nacional: 26 capturados y 44 policías heridos)

Aunque la mayor parte de la jornada se vivió de forma pacífica, se reportaron hechos de violencia en ciudades como Cali y Bogotá, y con una menor afectación en Medellín y Neiva.
El proyecto de reforma tributaria ya empezó a ser discutido en el Congreso. Los manifestantes exigieron retirarlo.Foto:
Milton Díaz. EL TIEMPO
El ministro de Defensa, Diego Molano, señaló que las manifestaciones transcurrieron con relativa normalidad en cerca del 90 por ciento del país.

Se hicieron en la jornada un total de 59 intervenciones del Esmad, 24 de estas en Cali, además fueron capturadas 26 persona y se hubo 44 policías lesionados; de ellos, 20 en el Valle del Cauca y otro en Neiva.
Quiero invitar a los colombianos que nos quedemos en casa, que usemos el tapabocas y que nos cuidemos
"El Gobierno Nacional es respetuoso del derecho constitucional de la protesta pacifica, pero no tolera el vandalismo, motivo por el cual solicita a las autoridades judiciales dar penas ejemplarizantes a quienes, con actos de violencia, afectan a los ciudadanos y agreden a nuestra Fuerza Pública", señaló Molano.


(Lea también: Paro nacional: ¿Hay sanciones si incumple orden de aplazar protestas?)
El ministro de Salud, Fernando Ruiz, señaló su preocupación por las aglomeraciones que se dieron y denunció que por la situación registrada en el país no se pudo entregar en varias ciudades vacunas de Sinovac.

"Yo quiero invitar a los colombianos que nos quedemos en casa, que usemos el tapabocas y que nos cuidemos", dijo Ruiz.

La jornada arrancó temprano con problemas de orden público en Cali, en donde se reportaron daños a 18 buses del sistema MIO, actos de vandalismo contra seis almacenes, 12 cajeros bancarios, tres sucursales bancarias y 12 cámaras de fotomultas.
Articulado del MIO vandalizado en el sur de Cali.Foto:
Juan Pablo Rueda. EL TIEMPO
La situación en la ciudad llevó a que se ordenara adelantar el toque de queda, además del envío de 554 hombres de la Policía, 300 del Esmad y 450 soldados.

El alcalde de Cali, Jorge Iván Ospina, dijo que hubo un muerto en hechos que hasta el cierre de esta edición no se habían esclarecido.

En el centro de Bogotá se concentró otro epicentro de las movilizaciones y de enfrentamientos entre el Esmad y grupos de personas que intentaban ocasionar daños a locales y que atacaron el Centro de Atención Inmediata (CAI) de San Victorino. Según el reporte oficial, 21 estaciones de TransMilenio fueron afectadas con grafitis.
Miembros de la Policia Nacional y del Esmad hicieron presencia en el sitio.Foto:
Héctor Fabio Zamora. EL TIEMPO
El Esmad tuvo que atender, además, un ataque a la sede del Canal RCN, en el occidente de Bogotá. "Denunciamos este ataque directo contra la libertad de expresión que es pilar fundamental de toda democracia sólida", señaló el Canal en un comunicado en el que rechazó el hecho registrado a las tres de la tarde de ayer.

"Esto no es protesta. Bogotá rechaza el vandalismo y la violencia", señaló sobre la situación la Secretaría de Gobierno de Bogotá.

(Puede interesarle: Luego de que TransMilenio volvió a operar, Alcaldía hizo balance)

Además de los desórdenes en algunos sectores en Bogotá se vivió una grave afectación al sistema de transporte, lo que llevó a la alcaldesa Claudia López a pedir el regreso más temprano de los trabajadores a sus casas y a anunciar que el sistema masivo empezaría a cerrar a las cinco de la tarde.

En el sector de La Alpujarra, en Medellín, se reportaron hechos de vandalismo y la intervención del Esmad para controlar la situación.
La marcha, que arrancó pacífica y festiva desde el norte de Medellín se tornó violenta a eso de la 1:00 p.m. cuando arribó al Parque de la Luces.Foto:
Jaiver Nieto Álvarez / ETCE
Y según el reporte de la Procuraduría, que acompañó las movilizaciones, se registraron incidentes aislados entre los municipios de Madrid y Mosquera, Cundinamarca, y en Neiva (Huila), donde se reportaron alteraciones del orden público frente al CAI del parque Leesburg de la ciudad.

En la capital del Huila se analizan las causas de la muerte de un joven que participaba en una movilización. Se trata de Juan Diego Perdomo Monroy, quien se desplomó en el sector de la plaza Cívica, centro de la ciudad, donde se presentaron choques de los manifestantes con la Policía.


(En contexto: Investigan muerte de joven durante protestas en Neiva)

El director de la Seguridad Ciudadana de la Policía, el general Carlos Rodríguez, afirmó que el universitario no murió como consecuencia de algún tipo de confrontación con la Policía o en medio de las protestas.

El Ministerio Público señaló que según reportes de los regionales y provinciales, la jornada se desarrollaba con normalidad en los departamentos de Amazonas, Arauca, Atlántico, Boyacá, Caldas, Chocó, Córdoba, Cundinamarca, La Guajira, Magdalena, Quindío, Sucre, Tolima, Vichada y San Andrés.Gobierno calificó de 'vandalismo criminal' la violencia
Un rechazo generalizado a la violencia en las manifestaciones fue la posición que asumieron este miércoles el Gobierno Nacional y las diferentes fuerzas políticas ante las movilizaciones.

El presidente Iván Duque estuvo atento al desarrollo de las protestas y al caer la tarde realizó un Puesto de Mando Unificado (PMU) virtual, en el cual recibió un reporte de lo sucedido durante el día.

(Le recomendamos leer: La historia de la decisión de un tribunal que ordenó aplazar protestas)

El mandatario calificó como "vandalismo criminal" los hechos de violencia sucedidos ayer y dijo que "la violencia no nos va a resolver ninguno de los retos que tenemos que enfrentar como país".

Duque anunció que las autoridades judiciales "irán detrás de quienes han pretendido poner en riesgo la infraestructura, honra, bienes y derechos de los colombianos".

En igual sentido se pronunció el ministro del Interior, Daniel Palacios, quien calificó como "inaceptable" el "vandalismo" que se vivió en Cali. Palacios afirmó que, al cierre de esta edición, había 40 manifestantes capturados por las autoridades y 42 agentes de la Policía lesionados.
Diego Molano, ministro de Defensa, afirmó que ayer hubo casi 50.000 unidades para velar por la tranquilidad en las marchas entre Policía, Ejército, Armada y Fuerza Aérea.

Igualmente, dispuso el envío de refuerzos a las partes donde se vivieron hechos de violencia.
Sobre las 4:30 de la tarde se presentaron fuertes enfrentamientos entre el Esmad y los manifestantes en Bogotá.Foto:
César Melgarejo. EL TIEMPO
Por el lado de los sectores políticos, la mayoría salieron a rechazar la violencia y otros apoyaron las protestas, siempre y cuando fueran de manera pacífica.

A diferencia de otras jornadas similares, el senador de izquierda Gustavo Petro no compartió casi videos ni fotografías de los actos de violencia. Petro se limitó a hacer lo que llamó una "alocución a la Nación" en la que habló de algunas de las causas que, para sus organizadores, la estaban motivando.

El hecho más relevante en el Congreso sucedió en la Comisión Primera del Senado, cuya sesión fue levantada luego de que se aprobara una proposición del senador Armando Benedetti, quien se ha declarado miembro de Colombia Humana, el movimiento de Gustavo Petro, pidiendo solidaridad con las marchas.
(Siga leyendo: Jornada de paro nacional termina con cacerolazos en Bogotá)

Benedetti afirmó que la gente iba a salir a protestar ayer "no solamente por la reforma tributaria, sino también porque tiene hambre, porque hay desempleo, porque le tiene miedo al futuro, que es incierto, y eso le pasa hasta al que está empleado o estudiando".

justicia@eltiempo.com
En Twitter: @JusticiaET