Plan for sales levy on public services and food sparked a renewal of a General Uprising with huge demonstrations resisting police violence.,
The Dictator Duque ordered massive deployment of the right wing police and army with up to 20 now dead and suspect death squad killings.
Thousands of Colombians took to the streets for International Workers' Day marches and protests against a government tax reform proposal, in a fourth day of demonstrations that have resulted in at least six deaths.
video translation: How beautiful to see the people united in one voice
"Unions and other groups kicked off marches on Wednesday to demand the government of president Ivan Duque withdraw the proposal, which originally imposed sales tax on public services and some food..
Cali, the country's third-largest city, has seen the most vociferous marches, some looting and the burning of multiple city buses.
"Death counts were inconsistent. National human rights ombudsman Carlos Camargo said that three protesters died in Cali and another three deaths there were being investigated.
The rights organization Human Rights Watch said it had received reports of possible police abuse in Cali, and local human rights groups alleged up to 14 deaths occurred. Right wing US sponsored death squads are cooperating with the police..
"One death each occurred in Bogotá and the city of Neiva, Camargo said. A police officer in the city of Soacha died of injuries sustained on Wednesday. A further 179 civilians and 216 police officers have been injured nationally.
Cities at high risk for violence will continue to get military assistance, with accompanying human rights guarantees, Duque said in a Saturday evening video.
Clashes between police and protesters and road blockades occurred in many cities on Saturday, and riot police were deployed in the capital.
"Saturday's protests took place despite an announcement by Duque late on Friday that the reform will now not include sales tax on food or utilities or an expansion of income tax.
Colombia. The Duque-Ospina regime prepares a bloodbath in Cali
from.. Kaosenlared.net.
Colombia. The Duque-Ospina regime begins a bloodbath in Cali


Police murdered a child and detained dozens of young people in the protest
By Luis Alfonso Mena S. Published on Apr 30, 2021
The Uribe regime of the tyrant Iván Duque is cruel against the people of Cali, with the complicity of the traitor Jorge Iván Ospina.
The police already murdered in cold blood the child Marcelo Ágredo, a young man of just 16 years of age who was protesting in the Mariano Ramos neighborhood, in the east of the city, on Wednesday, April 28, 2021, during the first day of the National Strike. on going.
The vile and cowardly murder has passed as if it had not happened, nobody says anything, except Ospina and the police about him. Let them both answer for this heinous crime.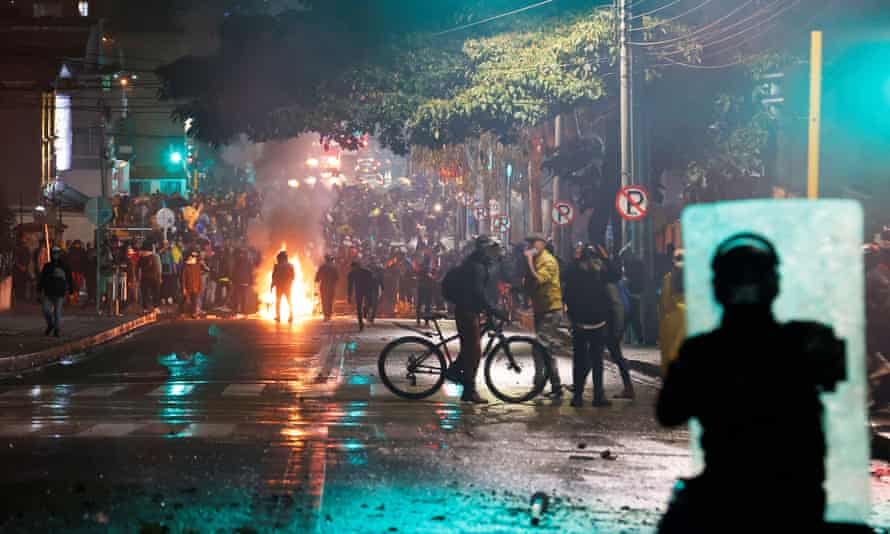 Meanwhile, dozens of young people are being arbitrarily detained in the protests by Esmad, which acts as an occupying force against popular demands.
One of the detainees is Alfredo Mondragón Garzón, a courageous social leader who on Thursday, April 29, covered with his cell phone the police attack against the peaceful sit-in in the northern neighborhoods of Cali, near Sameco.
The #RegionalValle pointed out that mobility situation in #Cali is critical The @PGN_COL requested support for the air transfer of wounded and critically ill uniformed soldiers
They got up early today to take him away, to prevent him from continuing to make visible the actions of the repressive hordes of the green mayor, turned into a scarecrow errand of the Uribe minister of war, who came to give him orders this Friday, April 30.
With Mondragón Garzón, Alejandra Patiño, Yina Jordán Pitu, as well as Carlos Lora were also arrested.
There are so many detainees that Ospina and his employer, Duque, set up a concentration camp in the Coliseo Las Américas to confine them.
HORDES OF ESMAD IN ACTION
On Thursday, April 29, Ospina and his police turned the popular Calle Quinta (that of: "If you go through Quinta, it's my beautiful Cali that you're going through"), into a battlefield against the boys and girls who by the thousands were peacefully gathered in the Loma de la Cruz and in the Parque de los Estudiantes, in front of the monument of Jovita Feijó (the historical queen of the city).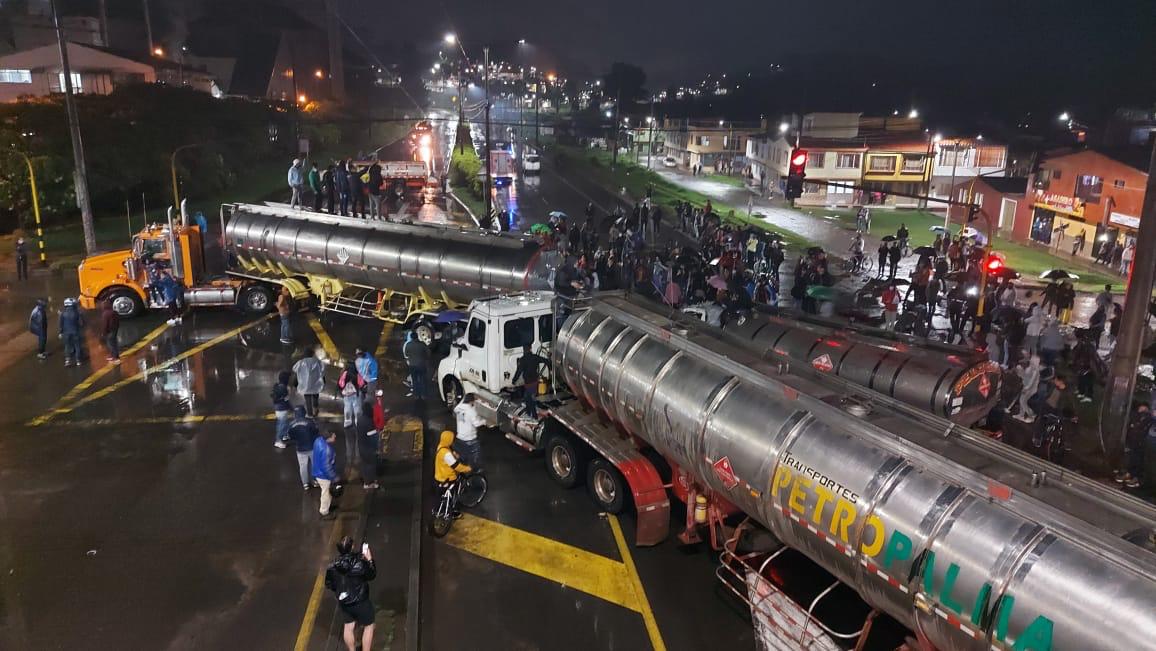 Road Blocks in zone of Villa Alba
They sprayed them with gas until they got tired and attacked them with their stun grenades and pistols that fire the gas, probably trying to gouge the eyes of the youngster.
This Thursday also, Esmad de Ospina, Duque and his bosses – the owners of the banks, the land and the country – dissolved a peaceful demonstration in the Terrón Colorado neighborhood, on the way out to Buenaventura.
There they took revenge on the population, they filled the houses of the inhabitants with tear gas, in an abusive way, and the elderly and children were affected.
In Puerto Resistencia, the Police tried to do the same, but the firm attitude of the inhabitants made Esmad finally have to withdraw from the neighborhoods.
In Yumbo, a girl was injured by the police, and in other places more people have been hit by state violence.
THE SILENCE OF THE COWARDS
In the face of the miserable murder of Marcelo, the arbitrary arrests, the infamous use of gases and the shots against the population, the elite media are cowardly silent.
They are very busy crying for the genocidal Sebastián de Belalcázar, unburied expression of the colonialist nostalgia of the oligarchy of this city, always turning their backs on the people and their vicissitudes.
A lingering ethnocide that must not return to the pedestal from where it was demolished on Wednesday, April 28, by indigenous communities in an act of historic justice.
Those same media, through the local newscasts, kneeling to their masters of the Establishment and the advertising guideline, only disseminate the acts of looting totally apart from the strike and citizen protest, in order to discredit and delegitimize it with the greatest bad news. faith.
The death of the young 18-year-old student Dilan Cruz, injured on Saturday by the police during a peaceful demonstration in Bogotá, shocked the country this Monday on the fifth day of the protests against President Iván Duque. La muerte del joven por violencia policial conmocionó a Colombia
In reality, the true culprits of such acts of decomposed sectors that are often promoted by the extreme right and its "intelligence" organs, are the ruling classes in power for more than 200 years and their various government regimes.
The rights organization Human Rights Watch said it had received reports of possible police abuse in Cali, and local human rights groups alleged up to 14 deaths occurred. Right wing US sponsored death squads are cooperating with the police..
THE CALEÑO PEOPLE CONTINUE TO FIGHT
Those who believe that the people of Cali and Valle del Cauca will be daunted by the repression of the governments of Duque, Ospina and Clara Luz Roldán, the governor who on April 23 ordered the invasion of the Universidad del Valle, in another outrageous act are very wrong. silenced by light journalism that misinforms the region.
On February 26, 1971, the youth of Cali offered their lives against other tyrants, led by the former Gothic president Misael Pastrana Borrero, father of another former Gothic president, Andrés Pastrana Arango, an accomplice of another former ultra-Gothic president, Álvaro Uribe Vélez.
On that memorable day 50 years ago, students, workers, the unemployed, thousands and thousands took to the streets to repudiate gringo imperialist interference and conservative hegemony at the Universidad del Valle.
Today, the new youth are in neighborhoods, streets, avenues and highways facing the repression of the ruling classes, repudiating Duque's tax reform, which is depleting the pockets of the entire city and the middle classes.
And bravely facing the favorite instrument of the elites, the criminal Esmad riot Police.
Cali has been setting an example of resistance from the day the strike began.
We are already on the third day, and the communities continue in the nerve centers of the city:
Sameco-Floralia, in the north, limits with Yumbo; Juanchito-exit to Candelaria, in the east; Puerto Resistencia, in the southeast; Universidad del Valle-departure to Jamundí, in the south; Plaza de las Banderas-HUV, Parque de los Estudiantes and Loma de la Cruz, in the south-center of Cali; Cover to the Mar-Lump Colorado, in the west.
In these fundamental points, and in others, crowds gather, remain many times, and are repressed. But they continue to resist against hunger, unemployment, lack of opportunities and state terrorism.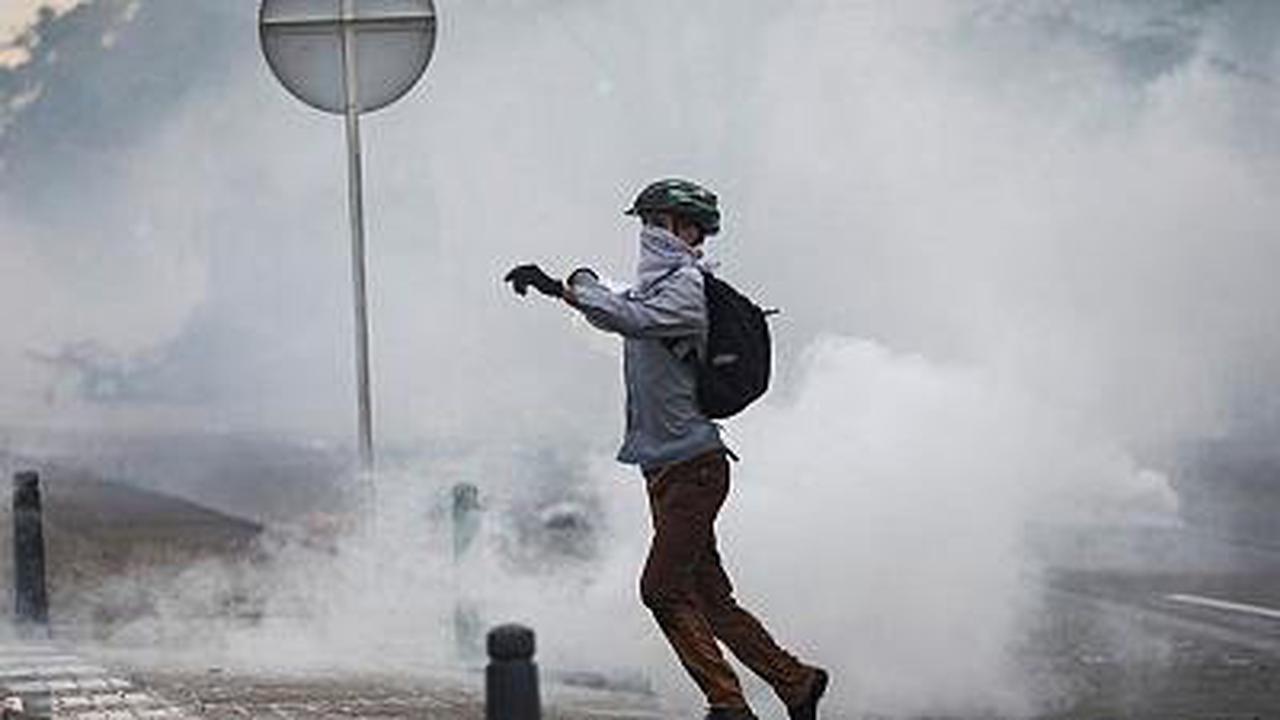 INSTEAD OF VACCINES, BULLETS
The Duque and Ospina governments responded with militarization and more repression to the needs of the communities of Cali in terms of vaccines against the pandemic caused by the covid-19 virus.
The two-headed oligarchy of Valle del Cauca (business-landowner) that in front of the people is blind, deaf and mute, like its media (type 90 Minutes, Noti-5, El País, etc.) and like Duque, opts for coercion instead of solution.
And his ally, the satrap Jorge Iván Ospina, kneels.
He urges national solidarity, because the regime seeks revenge against the people of Cali, it wants to charge them that it is a front-line anti-urbanist and will not hesitate to continue its onslaught.
They are preparing a bloodbath, like February 26, 1971, the duty of all Democrats is to denounce and prevent it.
They will not stop the strike. In Yumbo, Jamundí, Vijes, Cartago and other municipalities in the department of Valle del Cauca, the people are also mobilized.
Here, despite official violence, unemployment spikes and spreads.
Cali, Friday April 30, 2021.
Colombia Ups Deployment of Security Forces to Cali Amid …

Cali is rocked for a third day by protests against Ivan Duque's …https://atalayar.com › content › cali-rocked-third-day-p…15 hours ago — The director of the Colombian police, General Jorge Luis Vargas, … which is dedicated to the care and registration of victims of police violence, informed … President Iván Duque's proposed tax reform in Bogotá, 28 April 2021.

Protests, violent clashes over Colombia tax reform proposal …https://www.dailysabah.com › world › americas › prote…3 days ago — Demonstrators clash with riot police during a protest against a tax reform bill … by Colombian President Ivan D
Colombia. El régimen Duque-Ospina prepara un baño de sangre en Cali
Policía asesinó a un niño y detiene a decenas de jóvenes en la protesta
Por Luis Alfonso Mena S. Publicado el 30 Abr, 2021
El régimen uribista del tirano Iván Duque se ensaña contra el pueblo de Cali, con la complicidad del traidor Jorge Iván Ospina.
Ya la policía asesinó a sangre fría al niño Marcelo Ágredo, un joven de apenas 16 años de edad que protestaba en el barrio Mariano Ramos, en el oriente de la ciudad, el miércoles 28 de abril de 2021, durante el primer día del Paro Nacional en marcha.
El asesinato vil y cobarde ha pasado de soslayo, como si no hubiera ocurrido, nadie dice nada, menos Ospina y su policía. Que respondan ambos por este crimen infame.
Mientras tanto, decenas de jóvenes están siendo detenidos de manera arbitraria en las protestas por el Esmad, que actúa como fuerza de ocupación contra los reclamos populares.
Uno de los detenidos es Alfredo Mondragón Garzón, un valiente líder social que el jueves 29 de abril cubrió con su teléfono celular la arremetida de la policía contra el plantón pacífico de los barrios del norte de Cali, a la altura de Sameco.
Hoy madrugaron a llevárselo, para evitar que siga visibilizando el actuar de las hordas represivas del alcalde verde, convertido en un espantapájaros mandadero del ministro de guerra uribista, que vino a darle órdenes este viernes 30 de abril.
Con Mondragón Garzón fueron arrestadas también Alejandra Patiño, Yina Jordán Pitu,lo mismo que Carlos Lora.
Son tantos los detenidos, que Ospina y su patrón, Duque, montaron un campo de concentración en el Coliseo Las Américas para confinarlos.
HORDAS DEL ESMAD EN ACCIÓN
El jueves 29 de abril, Ospina y su policía convirtió la popular Calle Quinta (la de: "si por la Quinta vas pasando es mi Cali bella que estás atravesando"), en un campo de batalla contra los muchachos y muchachas que por miles estaban pacíficamente reunidos en la Loma de la Cruz y en el Parque de los Estudiantes, frente al monumento de Jovita Feijó (la reina histórica de la urbe).
Los rociaron con gases hasta que se cansaron y los atacaron con sus granadas aturdidoras y las pistolas que disparan el gas, seguramente buscando sacarle los ojos a la muchachada.
Este jueves también, el Esmad de Ospina, Duque y sus jefes ­­–los dueños de los bancos, las tierras y el país–, disolvieron una manifestación pacífica en el barrio Terrón Colorado, en la salida hacia Buenaventura.
Allí se vengaron de la población, llenaron con gases lacrimógenos las casas de los pobladores, de manera abusiva, y ancianos y niños resultaron afectados.
muertos en Cali y violaciones de DD. HH
En Puerto Resistencia la Policía intentó hacer lo mismo, pero la actitud firme de los habitantes hizo que finalmente el Esmad se tuviera que retirar de los barrios.
En Yumbo fue herida por la policía una niña, y en otros puntos más personas han resultado golpeadas por la violencia estatal.
EL SILENCIO DE LOS COBARDES
Frente al miserable asesinato de Marcelo, las detenciones arbitrarias, el uso infame de los gases y los disparos contra la población los medios de comunicación de las élites callan cobardemente.
Están muy ocupados llorando por el genocida Sebastián de Belalcázar, expresión insepulta de las nostalgias colonialistas de la oligarquía de esta ciudad, siempre de espaldas al pueblo y a sus vicisitudes.
Cali es la nueva Cuna de libertad en Colombia, viva el Cambio y la Revolución hacia la Libertad !
Un rezago del etnocidio que no debe regresar al pedestal desde donde fue derribado el miércoles 28 de abril por las comunidades indígenas en un acto de justicia histórica.
Esos mismos medios, a través de los noticieros locales, arrodillados a sus amos del Establecimiento y de la pauta publicitaria, solo difunden los actos de saqueos totalmente al margen del paro y la protesta ciudadana, con el fin de desacreditarla y deslegitimarla con la mayor mala fe.
En realidad, los verdaderos culpables de tales actos de sectores descompuestos que muchas veces son aupados por la extrema derecha y sus órganos de "inteligencia", son las clases dominantes en el poder desde hace más de 200 años y sus diversos regímenes de gobierno.
EL PUEBLO CALEÑO SIGUE EN PIE DE LUCHA
Están muy equivocados quienes creen que las gentes de Cali y el Valle del Cauca se arredrarán con la represión de los gobiernos de Duque, Ospina y Clara Luz Roldán, la gobernadora que el 23 de abril ordenó invadir la Universidad del Valle, en otro acto indignante silenciado por el periodismo ligh que desinforma en la región.
El 26 de febrero de 1971 la juventud caleña ofrendó sus vidas contra otros tiranos, encabezados por el expresidente godo Misael Pastrana Borrero, padre de otro expresidente godo, Andrés Pastrana Arango, cómplice de otro expresidente ultragodo, Álvaro Uribe Vélez.
En aquella memorable jornada de hace 50 años, estudiantes, trabajadores, desempleados, miles y miles salieron a las calles para repudiar la injerencia imperialista gringa y la hegemonía conservadora en la Universidad del Valle.
Hoy, la nueva juventud está en barrios, calles, avenidas y carreteras enfrentando la represión de las clases dominantes, repudiando la reforma tributaria de Duque, que esquilma el bolsillo de todo el pueblo y de las capas medias.
Y enfrentando de manera valiente al instrumento predilecto de las élites, el criminal Esmad de la Policía.
Cali está dando ejemplo de resistencia desde el mismo día en que se inició el paro.
Ya vamos en la tercera jornada, y las comunidades continúan en los puntos neurálgicos de la ciudad:
Sameco-Floralia, en el norte, límites con Yumbo; Juanchito-salida a Candelaria, en el oriente; Puerto Resistencia, en el suroriente; Universidad del Valle-salida a Jamundí, en el sur; Plaza de las Banderas-HUV, Parque de los Estudiantes y Loma de la Cruz, en el sur-centro de Cali; Portada al Mar-Terrón Colorado, en el occidente.
En esos puntos fundamentales, y en otros más, multitudes se concentran, permanecen muchas veces, y son reprimidas. Pero siguen resistiendo contra el hambre, el desempleo, la falta de oportunidades y el terrorismo de Estado.
EN VEZ DE VACUNAS, BALAS
A las necesidades de las comunidades de Cali en materia de vacunas contra la pandemia por el virus de la covid-19, los desgobiernos de Duque y Ospina respondieron con militarización y más represión.
La oligarquía bicéfala del Valle del Cauca (empresarial-terrateniente) que frente al pueblo es ciega, sorda y muda, como sus medios de comunicación (tipo 90 Minutos, Noti-5, El País, etc.) y como Duque, opta por la coerción en vez de la solución.
Y su aliado, el sátrapa Jorge Iván Ospina, se arrodilla.
Urge la solidaridad nacional, porque el régimen busca la venganza contra el pueblo caleño, le quiere cobrar que es antiuribista de primera línea y no dudará en continuar su arremetida.
Alistan un baño de sangre, como el 26 de febrero de 1971, frente a lo cual el deber de todos los demócratas es denunciarlo y evitarlo.
No frenarán el paro. En Yumbo, Jamundí, Vijes, Cartago y otros municipios del departamento del Valle del Cauca el pueblo también está movilizado.
Aquí, a pesar de la violencia oficial, el paro pica y se extiende.
Cali, viernes 30 de abril de 2021.
***************************