-via Trochando Sin Fronteras

Communities and organizations of the Middle East of Colombia announced that they continue on strike and that they have proposals.
The communities in the departments of Meta, Bogotá and Sabana, Vichada, Arauca, Santander, Boyacá, Norte de Santander and Casanare continue in mobilization .
In a statement dated May 5, they announced that: «It is necessary to maintain and strengthen the social and popular struggle and mobilization in the country, to join in from the multiple sectors and unions, in order to manage the simple and complex solutions that the bulk of the society demands «.
In the communiqué they invite social organizations and the people in general to participate copiously and enthusiastically in the democratic and legitimate exercise of the protest. They also called for the cohesion of the social and popular movement and invited to strengthen their instances of political coordination at the sectoral or territorial level.
The organizations, through a document called "IF WE HAVE A PROPOSAL!", Made it clear that the communities also have proposals. In it they established that: "Part of the situation today is how to transform the despair and anger of the protest into proposals, and that in turn they become" transformative "social events."
«El paro se fortalece y crece», Congreso de los Pueblos
The proposals presented in the pronouncement are the following:
Right to protest and democratic guarantees for mobilization.
Tax reform that commits to the redistribution of wealth.
Land redistribution, agrarian reform
Labor reform given the profound flexibility and precariousness of the workers' conditions.
Decree the freezing of the tolls rate throughout the national territory.
Reform of the social security system, which allows Colombians to access the right to health and a pension in a dignified manner.
Reform of the educational system to ensure universal and quality education in such a way that market education is eliminated.
Before addressing this agenda, the National Government must:
Decree that fuel prices will not be increased.
Part of the situation today is how to transform the despair and anger of the protest into proposals, and that in turn they become "transformative" social events, the communities have proposals # ParoNacional6M https://t.co/tabb6krxyn pic.twitter.com/cLIniMbC5B
Trochando Sin Fronteras (@trochandosf) May 6, 2021
According to the communities and organizations with these proposals, the government would have to reverse its arrogance and ignorance of the crisis and the protest.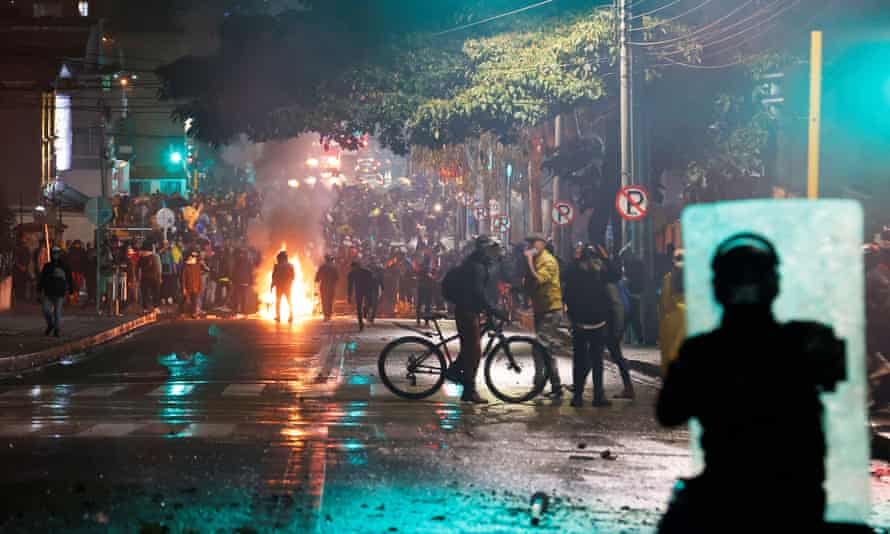 In addition to establishing a validated agenda among the mobilized communities. They also raise the need to create decision-making spaces, since now it is no longer enough to just march and protest.
The concentrations were held at three points, which are located in Cedeño, Norte de Santander; Tame River and La Cabuya in Tame Arauca. In the first point, U'wa communities together with peasants maintain a concentration.
At this point the U'wa affirmed that: "Today we march over our territory demanding respect for our uses and customs, asking that neoliberal policies with an extractivist content do not continue to overturn our lands." They also rejected economic policies such as tax reform that is harmful, indolent and without social content.
In the Tame River, peasant communities, women and young people are concentrated, accompanied by the Inter-ethnic, peasant and popular Guard. Those who maintain a concentration with pedagogical days and intermittent closings in the road corridor.
In La Cabuya, peasant communities and social sectors of the municipalities of Sácama, La Salina, Hatocorosal and Támara Casanare, maintain concentration on the Cabuya bridge, according to a press conference
At the three mobilization points, the communities held pedagogical days explaining to drivers and passengers the reasons for the mobilization, according to the communities, the humanitarian and medical missions that need to transit through these road corridors will be respected, as well as the people who travel to assist to scheduled appointments or exams.
Until this press release, no incidents or complaints of human rights violations were reported at the concentration points.
Source: Trochandosinfronteras.info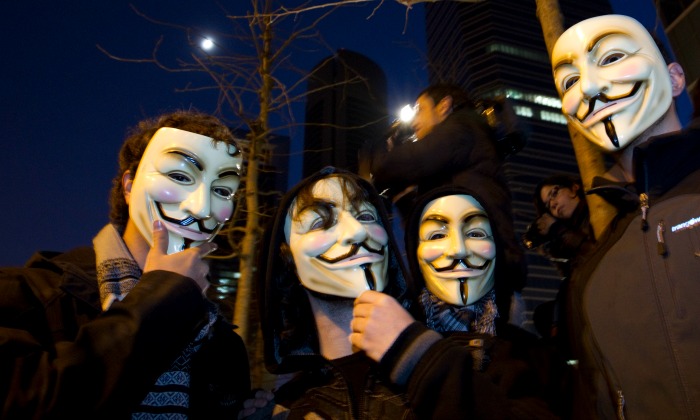 Colombia. Anonymous leaked data and emails from the National Army, this is what is known> The group of hackers has leaked a conversation on May 2 in Cali in which Eduardo Enrique Zapateiro, general of the Colombian Army, is heard assuring that he has received the order from the president to militarize the city ..Anonymous also took down the website of the Senate of the Republic and leaked the emails of the congressmen
May 6, 2021 – From IWA-AIT

COLOMBIA: Abolish the State, constitute the assemblies !!!
Today, different groups, collectives, and peasant organizations publicly demonstrate against the rate of essential subsistence goods that the tax reform threatened, We not only positioned ourselves against it because we consider said reform as an organized robbery from the pockets of the class workers: peasants, service workers, and self-employed.
In addition, we make evident the failure of this Uribista government of Iván Duque , as well as the disaster that the entire state apparatus of this country, which it has tried to hide with public works, laws, decrees, media propaganda and cheap nationalism,covering the organized robbery that it really is, of the totality of the people of this region of the continent.
The taxes, of which Duque spoke – falsely – of reducing, regardless of the president on duty, were, are and will be, a general robbery from the people, since they have guaranteed, through the clientelist mafia, access to power for no more than 20 families throughout the country, who have become corruptly enriched and continue to exercise power in the territories – many times – through the use of arms, be they legal or illegal; benefiting from legal income and from the black market, -understand- drug trafficking, smuggling, human trafficking, land speculation, dispossession of land from peasants, illegal mining.
How can they expect the people to continue to believe in the state, if the very government that controls it acts systematically against the people?
June 2020..Women rise up against rape and femicide by Colombian Military.The Army was denouncd for the rapes of two girls, one of 12 years of the Embera-Chamí ethnic group by seven soldiers of the San Mateo Battalion in the department of Risaralda (center) , and another of 15 of the nomadic tribe nukak makú by two soldiers of the Joaquín París Battalion, in the Guaviare (southwest). These cases are the tip of the iceberg judging by the revelation made on Wednesday by the Army commander, Major General Eduardo Zapateiro, that there are 118 members of the institution investigated since 2016 for allegations of rape and sexual abuse.
The handling of the pandemic is disastrous, not only did they destroy the Covax option when it could have ensured the supply of vaccines, but they also dare to do business with health, at the expense of the taxes that they steal from them. the workers.
The pressure on health workers, the over-exploitation they suffer, day by day, is not exclusive, teachers have also been deeply affected, not to mention the entire people, who with their sweat, tears and effort sustains a state that takes more than it actually gives.
*************
The war continues in the territories because of political decisions contrary to the people. And it is the same people that continue to bury their dead, continue to suffer the abuse of the state, the repression of the security forces that only serve to maintain the privileges of those who control political and / or economic power, of the unfulfilled promises they have made. This has led to the beginning of a new cycle of violence, to the betrayal of agreements that sowed hope.. instead they decided to reap a fire fueled with gasoline.
For all this, and much more, we anarchists express ourselves in outright opposition to simple actions, which constitutes just a parade .., rather we call for the Indefinite General Strike, which leads to a new status quo for the benefit of the people: away from the oligarchic and bourgeois Creole minorities, to the broad, long, broad and diverse peoples that make up the majority of the population in the Colombian region.
Recovering municipal autonomies, the collectivization of the territory among those who inhabit it ancestrally or traditionally, (not among those who obtained them due to usurpation, dispossession and displacement), exercising assemblyism, communalism and horizontality, all decisions collectively, an open, participatory assembly, diverse and in permanent dialogue, rejecting any authority, caudillismo(fascist leaders) , gamonalismo, bosses and patriarchy.
It is not necessary that the state controlled by the elite, decree the AGRARIAN REFORM, the same communities, towns and municipalities can do it, without intermediaries, they only have to agree on an assembly and start it.
Abolish relations of subordination to the narco-oligarch state !!!
End of passive activity, it's time to go outside !!!
Obstruct the exercise of repression !!!
Constitute autonomous neighborhood and municipal assemblies !!!
Abolish the relations of sexist and patriarchal oppression: diverse participation and gender equality, agreements to renounce war !!!
Disarmed civil disobedience !!
Avoid tax reform, avoid pension reform, avoid labor reform
Abolish the state
Constitute the assemblies !!!
signed: Colectivx Kaos Kreador Antifascist
Black Flags
ULET-AIT
Source: Iwa-ait.org
May 6, 2021 – De parte de Trochando Sin Fronteras 55 puntos de vista
Trochando Sin Fronteras – Mayo 06 de 2021
Comunidades y organizaciones del Centro Oriente de Colombia anunciaron que continúan en paro y que tienen propuestas. Las comunidades en los departamentos de Meta, Bogotá y sabana, Vichada, Arauca, Santander, Boyacá, Norte de Santander y Casanare continúan en jornadas de movilización luego de las primeras jornadas vividas desde el #28A al #1M.
En un comunicado fechado del 5 de mayo anunciaron que: «Es necesario mantener y fortalecer la lucha y movilización social y popular en el país, sumarse desde los múltiples sectores y gremios, de cara a gestionar las soluciones simples y complejas que el grueso de la sociedad demanda«. En el comunicado invitan a  organizaciones sociales y al pueblo en general a participar copiosa y entusiastamente en el ejercicio democrático y legítimo de la protesta. Igualmente llamaron a la cohesión del movimiento social y popular e invitaron a fortalecer sus instancias de coordinación política a nivel sectorial o territorial.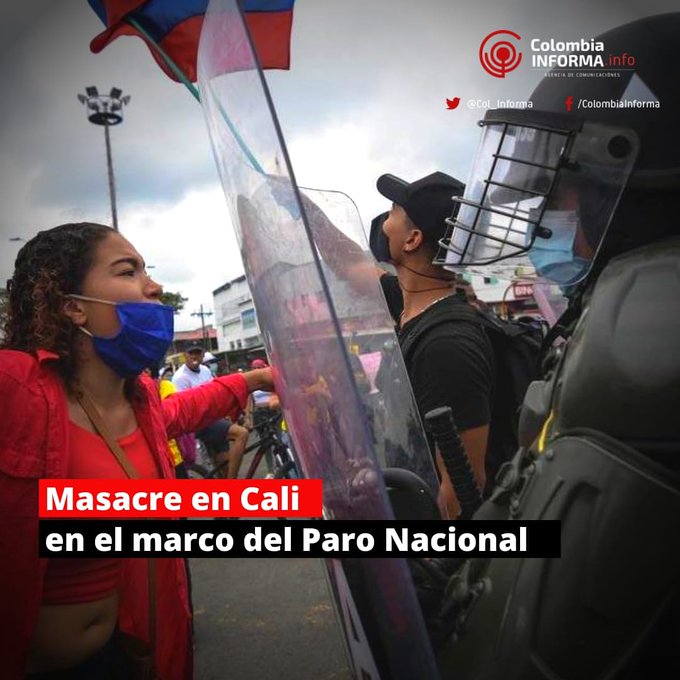 Las organizaciones a través de un documento denominado «¡SI TENEMOS PROPUESTA!«, dejaron en claro que las comunidades tambien tienen propuestas. En el establecieron que: «Parte de la situación de hoy es cómo transformar el desespero y la rabia de la protesta en propuestas, y que a su vez ellas se tornen en hechos sociales "transformadores"».
Las propuestas que presentaron en el pronunciamiento son las siguientes:
Derecho a la protesta y garantías democráticas para la movilización.
Reforma tributaria que se comprometa con la redistribución de la riqueza.
Redistribución de tierras, reforma agraria
Reforma laboral dada la profunda flexibilización y precarización de las condiciones de los trabajadores.
Decretar el congelamiento en la tarifa de los peajes en todo el territorio nacional.
Reforma al sistema de seguridad social, que le permita a los colombianos acceder al derecho a la salud y a la pensión de manera digna.
Reforma al sistema educativo que asegurar una educación universal y de calidad de tal manera que se elimine la educación de mercado.
Antes de abordar esta agenda el Gobierno Nacional deberá:
Decretar que los precios de los combustibles no se aumentarán.
Parte de la situación de hoy es cómo transformar el desespero y la rabia de la protesta en propuestas, y que a su vez ellas se tornen en hechos sociales "transformadores", las comunidades tenemos propuestas #ParoNacional6M https://t.co/tabb6krxyn pic.twitter.com/cLIniMbC5B

— Trochando Sin Fronteras (@trochandosf) May 6, 2021
Según las comunidades y organizaciones con estas propuestas, el gobierno tendría que dar reversa en su altanería y desconocimiento de la crisis y la protesta. Además de establecer una agenda validada entre las comunidades movilizadas. También plantean la necesidad de crear espacios decisorios, pues ahora ya no basta con solo marchar y protestar.
---
Fuente:Trochandosinfronteras.info
May 6, 2021 – De parte de IWA-AIT 58 puntos de vista
Hoy, diferentes agrupaciones, colectivas y organizaclones ácratas, nos manifestamos públicamente en contra del tarifazo a los bienes esenciales de subsistencia que trae la reforma tributaria, pero no solamente nos posicionamos en contra por considerar dicha reforma, como un atraco organizado al bolsillo de la clase trabajadora, campesina, obrera y de servicios,trabajadores por cuenta propia y autónomos.
Si no, además, hacemos evidente el fracaso que constituye este gobierno uribista de Iván Duque, como también el desastre que es todo el aparato estatal de este país, que ha pretendido ocultar con obra pública, leyes, decretos, propaganda mediática y nacionalismo barato, el robo organizando que realmente es, sobre la totalidad del pueblo de esta región del continente.
Los impuestos, de los que hablaba Duque -mentirosamente- de reducir, sin importar el presidente de turno, fueron, son y serán, un robo general al pueblo, pues han garantizado mediante la mafia clientelista, el acceso al poder de no más de 20 familias en todo el país, que se han enriquecido corruptamente y siguen ejerciendo poder en los territorios ·muchas veces- mediante el uso de las armas, sean estas legales o ilegales; beneficiándose de rentas legales y del mercado negro, -entiéndase- narcotráfico, contrabando, trata de personas, engorde de tierras, despojo de tierras a campesinos, minería ilegal.
¿Cómo pueden pretender que el pueblo continúe creyendo en el estado, si el mismo gobierno que lo controla, actúa sistemáticamente en contra del pueblo?
El manejo de la pandemia, es desastroso, no sólo el duquismo hechó por tierra la opción covax cuando pudo haber asegurado el suministro de vacunas, si no que además se atreven a hacer negocios con la salud, a expensas de los impuestos que les roban a los y las trabajadoras.
La presión sobre las y los trabajadores de la salud, la sobre explotación que sufren, día a día, no es exclusiva, también los y las docentes han sido profundamente afectados, sin hablar de la totalidad del pueblo, quien con su sudor, Iágrimas y esfuerzo sostiene un estado que quita más de lo que realmente da.
La guerra, que se mantiene en los territorios, ha sido continuada a causa de las decisiones políticas contrarias al pueblo. Y es el mismo pueblo el que sigue poniendo los muertos, sigue sufriendo el abuso del estado, la represión de las fuerzas de seguridad que sólo sirven para mantener los privilegios de quienes controlan el poder político y/o económico, de las promesas incumplidas que han llevado al inicio de un nuevo ciclo de violencia, a la traición a acuerdos que sembraron esperanza, pero que decidieron cosechar un incendio alimentado con gasolina.
Por todo esto, y mucho más, es que los y las anarquistas, nos expresamos en oposición rotunda a las simples acciones, que constituye un desfile por la carrera séptima, si no, llamamos a la Huelga General Indefinida, que lleve a mover el statu quo en beneficio del pueblo: desde sus minorías criollas oligarcas y burguesas, al ancho, largo, amplio y diversos pueblos que componen la mayoría de la población en la región colombiana.
Recuperando las autonomías municipales, la colectivización del territorio entre quienes lo habitan ancestralmente o tradicionalmente, (no entre quienes por, usurpación, despojos y desplazamientos las obtuvieron), ejerciendo asamblearismo, comunalismo y horizontalidad, todas las decisiones colectivamente, una asamblea abierta, participativa, diversa y en diálogo permanente, rechazando cualquier autoridad, caudillismo, gamonalismo, patronalismo y patriarcalismo.
No hace falta que el estado controlado por la élite, decrete la REFORMA AGRARIA, las mismas comunidades, pueblos y municipios pueden hacerlo, sin intermediarios, sólo deben acordar una asamblea y empezarlo.
¡¡¡Abolir las relaciones de subordinación al estado narco oligarca!!!
¡¡¡Fin de la actividad pasiva, es hora de salir a la calle!!!
¡¡¡Obstruir el ejercicio de represión!!!
¡¡¡Constituir asambleas autónomas vecinales y municipales!!!
¡¡Abolir las relaciones de opresión machista y patriarcal: participación diversa y en equidad de géneros, acuerdos de renuncia a la guerra!!!
!!Desobediencia civil desarmada!!
Evitar la reforma tributaria, evitar reforma pensional, evitar reforma laboral
Abolir el Estado
¡¡¡Constituir las asambleas!!!
Firman:
Colectivx Kaos Kreador Antifascista
Banderas Negras
ULET-AIT
---
Fuente:Iwa-ait.org