On Saturday, May 8, there was a Solidarity Rally with the Prisoners of February 27 in front of Brians I Prison.
As they say on the El Lokal page, where we found the above poster, on May 4 the provincial court issued an order denying the release of the six detainees who have been in preventive detention since 27F.
These comrades have been deprived of liberty for 67 days, despite the inconsistency of the evidence and the disproportionate accusations.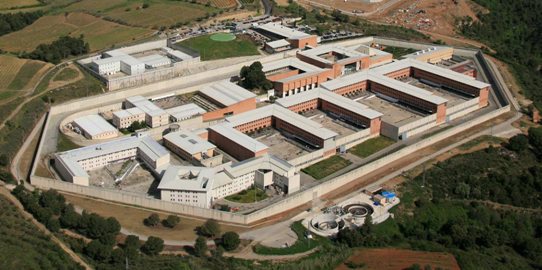 The support assembly that meets every Friday at the Agora, Raval, at 18:30. The comrades of Barcelona reaffirm their solidarity with the arrested and continue to demand their freedom.
As a result of the arrests and imprisonment of the comrades, the anti-prison collective Fuig began a reflection on the events, from which some interesting texts have emerged that the compis have published in a brochure whose index you can see below and that you can read or download following the link that comes at the end of the whole.
TWO SECONDS OF FIRE, 20 YEARS IN JAIL
INDEX
I. PUNITIVE POPULISM: A WEAPON OF POWER TO JUSTIFY JAIL
II. WHO DECIDES WHAT IS VIOLENCE AND WHAT IS NOT?
III. PUNISHMENT AS A PUNITIVE SHOW AND SOCIAL EXAMPLE
IV. THE «ANARCHIST TERRORISM RETURNS»
V. THE "NON-ROOTING" AS LEGITIMATOR OF THE PENALTY.
SAW. A LONG LIST OF REPRESALIATED PEOPLE.(Who suffered arbitrary State vengeance attacks)
¡No Olvidéis A Lxs Presxs En Lucha! [Lista Actualizada, 7-V-2021]It must be borne in mind that some colleagues have their mail intervened and that, when writing to them, one must be careful with what is said.
Como dicen en la página de El Lokal, donde hemos encontrado el cartel de arriba, el 4 de mayo la audiencia provincial emitió un auto denegando la libertad de los seis detenidxs que quedan en prisión preventiva desde el 27F.
Estxs compañerxs llevan ya 67 días privadxs de libertad, a pesar de la inconsistencia de las pruebas y la desproporción de las acusaciones.
La asamblea de apoyo que se reúne todos los viernes en el Ágora, Raval, a las 18:30. Lxs compñerxs de Barcelona se reafirman en su solidaridad con lxs detnidxs y continúan exigiendo su libertad.
A raíz de las detenciones y encarcelamiento de lxs compañerxs, el colectivo anticarcelario Fuig inició una reflexión sobre los hechos, de la que han surgido unos interesantes textos que lxs compis han publicado en un folleto cuyo índice podéis ver a continuación y que podéis leer o descargar siguiendo el enlace que viene al final del todo.
DOS SEGUNDOS DE FUEGO, 20 AÑOS DE CARCEL

ÍNDICE
I. POPULISMO PUNITIVO: UNA ARMA DEL PODER PARA JUSTIFICAR LA CÁRCEL

II. ¿QUIÉN DECIDE QUÉ ES VIOLENCIA Y QUÉ NO?

III. EL CASTIGO COMO ESPECTÁCULO PUNITIVO Y EJEMPLO SOCIAL

IV. VUELVE EL «TERRORISMO ANARQUISTA»

V. EL «NO-ARRAIGO» COMO LEGITIMADOR DE LA PENA.

VI. UNA LARGA LISTA DE PERSONAS REPRESALIADAS.

Leer o descargar Dos segundos de fuego, Veinte años de cárcel