Comisión Coordinadora de Colectivos de Memoria Histórica y de Víctimas del Franquismo
By Coordinating Commission of Collectives of Historical Memory and Victims of Franco's regime Published on May 28, 2021
46 years since the death of the dictator and we are still waiting for Justice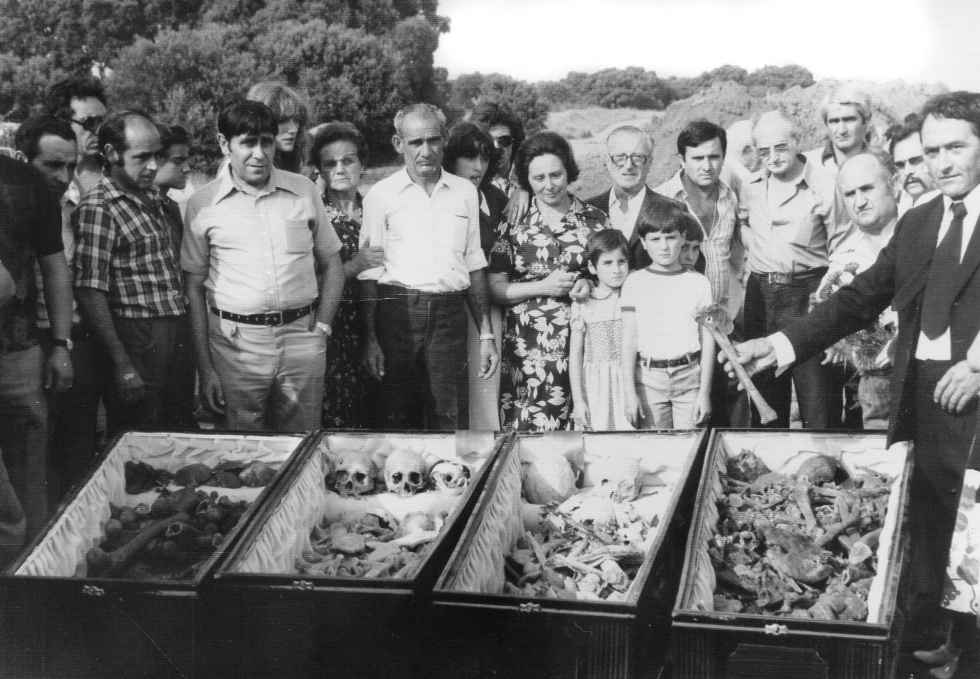 WE WANT THE HOUR OF JUSTICE TO COME!
José María Muguerza, was one of hundreds of thousands of Republican prisoners in a Francoist concentration camp, in which to survive they drank "black chestnut water, water with fish bones and worms or drank their own urine." More than 300 fields throughout the geography of the State, through which more than half a million people passed, who have never obtained justice. No recognition. No repair.
We know that Maria will not be able to get her mother out of the brambles, because Maria has already passed away, but the grave she is in (under a road) is still in the same place. And they know it. And we know it. Perhaps her daughter Mari Ángeles can recover her grandmother's remains and bury them in a place where they can honor her memory.
She is another of the 130,000 people who remain in clandestine or known graves. They are our disappeared. They are, but they are not. We should know who they are and who did or ordered those killings. What did they gain from it?
Crímenes Franco: torturas, campos de concentración y fosas …Más de 700.000 prisioneros pasaron por estos centros, casi 300 según la investigación de Carlos Hernández, autor del libro Los campos de concentración deFranco. [Especial: Exhumación deFranco]
She just barely knew her father, because he was a maqui. She stayed in the mountains for many years until they caught her. But that was not the worst. Her mother could not work because she was the family of a fled Republican, and no one gave her a job.
Behind that was hidden the desire of the head of the Falange to appropriate his lands, the most fertile of the town, which he had always wanted even if he did not even know how to pick up a hoe. How many misappropriations should we readjust! But it takes a lot of truth for this, and a lot of justice. Because Meirás is just a small example, but there are thousands.
Sole was robbed of her twin brother, Francisco. They must have thought why would a poor woman, already a mother of a large family, want two children at the same time. Francisco, whose name will not be this now, is one of the thousands of girls and boys who disappeared during the Franco regime, until well into democracy.
No, I am not confused: THOUSANDS! Many families continue to search for their stolen children, adults today who need to know their identity of origin. Among other measures, a single and public DNA bank is necessary so that they can be found again. Justice, investigation and a lot of desire to know the truth is needed!
In the Sanfermines of 1978, the Armed Police (it still existed, yes) shot Germán. Him and 200 others. But Germán was killed. The "exemplary" transition brought as a "gift" more than 300 fatalities at the hands of the State security forces that have never, NEVER, been purged. Many of the cases have not been tried. And here we can say that the culprits may still be alive. But there is no justice. There is concealment, there is impunity, there is complicity with the crimes of the Franco regime.
Kutxi was tortured. Yes, at the hands of Billy the Kid. We already know that she is dead, but there are many more torturers, dozens, hundreds. Or did you think it was something that happened to that guy? No, they all did the same, each one in his city: Captain Muñecas in the Basque Country; Benjamin Solsona in Valencia; Eduardo Quintela and Antonio Juan Creix in Barcelona; Pascual Honrado en Asturias … Again, systematic. Again, impunity. We want to judge them for the torture. We want the hour of justice to come.
Aug. 5 marks  the shooting of the 13 Roses, young women who were convicted of supporting the bombing death of General Isaac Gabaldon in July 29, 1939. The case also included two other women, Antonia Torres and Julia Vellisca, and another 53 men, all shot against the walls of the cemetery in Madrid.
The Recovery of Democratic Memory and the end of the impunity of the Franco regime is the responsibility of the entire society, and an inescapable obligation for a State that is said by law and that respects human rights. Because the Franco regime murdered republican and anti-fascist men and women throughout the country, causing a significant transgenerational trauma that has not yet been rigorously addressed today and, consequently, has not yet been overcome.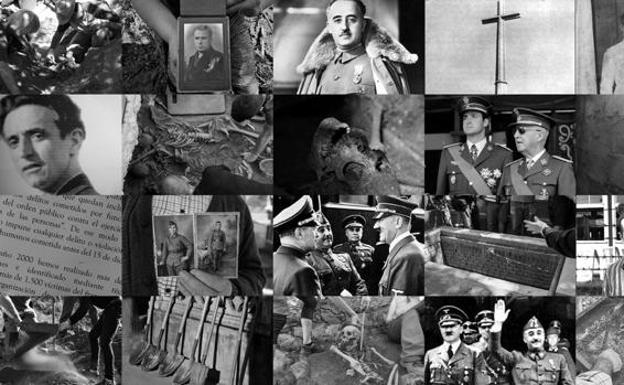 The Spanish State must comply with the international treaties and agreements ratified by Spain and the Universal Declaration of Human Rights. For this reason, the more than 100 organizations that currently make up the State Meeting of Collectives of Historical Memory and Victims of Francoism, we ask you to help us, by signing this petition, to achieve a Law that ends the impunity of the Franco regime and guarantees the truth, justice, reparation to all the victims of the Franco Dictatorship and the Transition, and that this allows to heal the wounds that, after so many years, still remain open.
We call on democratic citizens, and all kinds of civic entities committed to human rights, to support our just demands for a law that puts an end to the silence, oblivion and impunity regarding so much crime of that genocidal dictatorship. We demand for the victims of the Franco regime that the Spanish State give them similar treatment to that given to other groups of violent politics in Spain, as are the victims of terrorism.
The Spanish Government has the opportunity and the obligation to end the scourge of impunity of the Franco regime, and the situation of injustice and legal helplessness in which, to this day, the victims of the dictatorship continue to find themselves, presenting a Project of Democratic Memory Law that lays the foundations to guarantee the rights to truth, justice and reparation to all victims of the Franco regime and the Transition. You can expand the information of our requests HERE
Sign the petition for justice to be done at last.
STATE MEETING OF COLLECTIVES OF HISTORICAL MEMORY AND VICTIMS OF THE FRANCOISM
http://www.encuentroporlamemoria.org/
Firma por una Ley que ponga fin a la impunidad del franquismo
Por Comisión Coordinadora de Colectivos de Memoria Histórica y de Víctimas del Franquismo Publicado el 28 May, 2021 Patrocinado 46 años desde la muerte del dictador y seguimos esperando Justicia
¡QUEREMOS QUE LLEGUE LA HORA DE LA JUSTICIA!
José María Muguerza, fue uno de cientos de miles de republicanos prisioneros en un campo de concentración franquista, en el que para subsistir tomaban "agua negra de castañas, agua con espinas de pescado y gusanos o se bebían su propia orina". Más de 300 campos en toda la geografía del Estado, por los que pasaron más de medio millón de personas, quienes nunca han obtenido justicia. Ni reconocimiento. Ni reparación.
Sabemos que María no podrá sacar a su madre de entre los zarzales, porque María ya ha fallecido, pero la fosa en la que está (debajo de una carretera) sigue en el mismo sitio. Y lo saben. Y lo sabemos. Quizá su hija Mari Ángeles pueda recuperar los restos de su abuela y enterrarlos en un lugar donde puedan honrar su memoria. Es otra de las 130.000 personas que siguen en fosas clandestinas o conocidas. Son nuestros desaparecidos. Están, pero no están. Deberíamos saber quiénes están y quién hizo u ordenó esas matanzas. ¿Qué ganaron con ello?.
Justa no conoció apenas a su padre, porque era maqui. Siguió muchos años en el monte hasta que le atraparon. Pero eso no fue lo peor. Su madre no pudo trabajar porque era familia de un republicano huido, y nadie le daba trabajo. Tras eso se escondía el deseo del jefe de la Falange por apropiarse de sus tierras, las más fértiles del pueblo, que siempre había deseado aunque no supiera ni coger una azada. ¡Cuántas apropiaciones indebidas deberíamos reajustar! Pero hace falta mucha verdad para ello, y mucha justicia. Porque Meirás es solo un pequeño ejemplo, pero hay miles.
A Sole le robaron a su hermano mellizo, Francisco. Debieron pensar que para qué querría una mujer pobre, madre ya de familia numerosa, dos hijos a la vez. Francisco, cuyo nombre no será ahora este, es uno entre los miles de niñas y niños desaparecidos durante el franquismo, hasta bien entrada la democracia. No, no me he confundido: ¡MILES! Muchas familias siguen buscando a sus niñas y niños robados, personas adultas hoy día que necesitan conocer su identidad de origen. Entre otras medidas, es preciso un banco único y público de ADN para que puedan reencontrarse. ¡Hace falta justicia, investigación y muchas ganas de saber la verdad!
En los Sanfermines de 1978, la Policía Armada (aún existía, sí) disparó a Germán. A él y a otros 200 más. Pero a Germán le mataron. La "modélica" transición trajo de "regalo" más de 300 víctimas mortales a manos de los cuerpos de seguridad del Estado que nunca, NUNCA, han sido depurados. Muchos de los casos no se han juzgado. Y aquí sí podemos decir que los culpables puede que sigan vivos. Pero no hay justicia. Hay ocultación, hay impunidad, hay complicidad con los crímenes del franquismo.
Kutxi fue torturada. Sí, a manos de Billy el Niño. Ya sabemos que ha muerto, pero hay muchos más torturadores, decenas, centenares. ¿O pensabas que era algo que le ocurría a ese tipo? No, todos hacían lo mismo, cada uno en su ciudad: el capitán Muñecas en el País Vasco; Benjamín Solsona en Valencia; Eduardo Quintela y Antonio Juan Creix en Barcelona; Pascual Honrado en Asturias…Otra vez, sistemático. Otra vez, impunidad. Queremos juzgarles por las torturas. Queremos que llegue la hora de la justicia.
La Recuperación de la Memoria Democrática y el fin de la impunidad del franquismo es responsabilidad de toda la sociedad, y una obligación ineludible para un Estado que se dice de derecho y que respeta los derechos humanos. Porque el franquismo asesinó a hombres y mujeres republicanos y antifascistas por todo el país, provocando un trauma transgeneracional significativo que todavía hoy no ha sido abordado con rigurosidad y, en consecuencia, aún no se ha podido superar.
El Estado Español debe cumplir los tratados y acuerdos internacionales ratificados por España y la Declaración Universal de los Derechos Humanos. Por ello, las más de 100 organizaciones que actualmente integramos el Encuentro Estatal de Colectivos de Memoria Histórica y Víctimas del Franquismo, te pedimos que nos ayudes, firmando esta petición, para conseguir una Ley que acabe con la impunidad del franquismo y garantice la verdad, la justicia, la reparación a todas las víctimas de la Dictadura Franquista y la Transición, y que ello permita cerrar las heridas, que después de tantos años, aún permanecen abiertas.
Llamamos a la ciudadanía democrática, y a todo tipo de entidades cívicas comprometidas con los derechos humanos, a apoyar nuestras justas reivindicaciones por una ley que ponga fin al silencio, olvido e impunidad sobre tanto crimen de aquella genocida dictadura. Reclamamos para las víctimas del franquismo, que el Estado español les dé similar trato al que otorga a otros colectivos de la violencia política en España, como los son las víctimas del terrorismo.
El Cementerio de la Almudena se convirtió en el paredón de fusilamiento
El Gobierno español tienen la oportunidad y la obligación de acabar con la lacra de la impunidad del franquismo, y la situación de injusticia y desamparo legal en la que, a día de hoy, se siguen encontrando las víctimas de la dictadura, presentando un Proyecto de Ley de Memoria Democrática que ponga las bases para garantizar los derechos a la verdad, la justicia y la reparación a todas las víctimas del Franquismo y la Transición.
Puedes ampliar la información de nuestras peticiones AQUÍ
Firma la petición para que se haga, por fin, justicia.
ENCUENTRO ESTATAL DE COLECTIVOS DE MEMORIA HISTÓRICA Y VÍCTIMAS DEL FRANQUISMO
http://www.encuentroporlamemoria.org/
Related articles
Victimas del horror fascista hablan por fin / Victims of fascist horror speak at last
Jailed for being Lesbian at 17, Shunned all her life, Seeks redress
The Prosecutor's Office admits a collective complaint of 56 possible cases of 'stolen children'
Durruti and Garcia Oliver Live: in The Echo of Their Footsteps'
Death of Théo, 98 /Ha muerto Théo Francos, de las brigadas internacionales
Fascist crimes in Spain to be investigated
Luz verde para la Tortura. Green light for Torture
Fascists and Church stole and sold 300,000 babies, executed 150,000..