by at ecopoliticavenezuela.org translation TheFreeOnline. May 28, 2021
With the deepening of the economic crisis in Venezuela, there has been a rampant race, by the official, economic and criminal groups from Colombia and Brazil to loot the mineral resources in the rich and fragile soils of the southern Orinoco River, the Amazon and Venezuelan Guiana.
by Luis Betancourt Montenegro, a Researcher of Indigenous and Environmental Rights of the Amazon, for Research Group on the Amazon.
The environmental impacts are just as serious as those caused to the approximately 34 indigenous peoples of the region, settled in 1,600 communities.
The use of mercury and cyanide, among other heavy metals in illegal mining, generates severe damage to the river ecosystems of the Orinoco and its tributaries.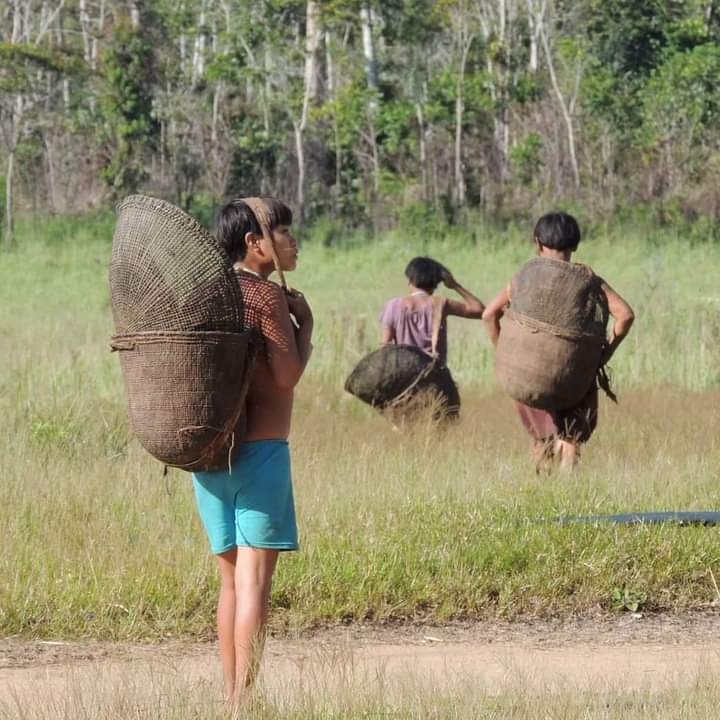 The diversion of its water courses, alteration of its morphodynamics and chemical composition, poisoning of the ichthyofauna (fish) and other species, in conclusion, the contamination of the most important river in the country, the main source of food, water and life for the peoples that have lived in perfect harmony with the "Pataü" (Rio Grande – Rio Orinoco).
shared from Indigenous Caribbean Network with thanks
To get an idea of ​​the damage caused by illegal mining and the use of mercury in the extraction and processing of gold, it is illustrative to share an investigation published in 2011 by Fundación La Salle, where after analyzing hair samples from Pemón women from La Gran Sabana, Ye'kwana and Sanema of the Caura river (tributary of the Orinoco), found that 95% of them had over 5 times the limit of levels of mercury concentration set by the World Health Organization.
Although the study in reference corresponds to the Bolívar state, the situation in the Amazon is not different with the Ye'kwana, Yanomami, Piaroa, Jiwi, and Sanema indigenous peoples, among others, due to their exposure to this liquid metal. This exposure to mercury directly and indirectly exacerbates the worsening of pathologies that the people suffer.
FPIC.INFO | Indigenous leaders reject activation of the Orinoco mining arch foto: shared from Indigenous Caribbean Network with thanks
It is a true disaster related to illegal mining, which grows worse every day, with little interest on the part of our society regarding the impacts generated on indigenous peoples, their territories and habitats.
Indifference turns into irresponsibility and complicity, when it comes to the institutions of the Venezuelan State, by showing an evident omission and complacent attitude, as well as takng a direct part in the disaster in the most socially and environmentally fragile region of the country.
The presence of irregular groups in extractivist and related activities in this region has determined the increase of a series of social and cultural indicators in the Venezuelan Amazon – Orinoquía.
In the approximately 40 gold mines (a conservative figure) in the state of Amazonas, human trafficking is evident, especially of indigenous girls and adolescents in activities not consistent with their emotional and psychological development, as well as use of indigenous women working in semi-slavery.
Orinoco Mining Arc Is Explodin', Violence Flarin', Bullets …caracaschronicles.com
Indigenous youth, faced with the curtailment of individual and community development opportunities, especially the lack of minimum conditions or services (gasoline, transportation …) to carry out their traditional economic activities, have necessarily had to take part in illegal mining in extremely poor conditions. and degrading human dignity.
These illegal activities also represent an invasion of indigenous cultures, generating an erosion of the ancient practices of these ancestral peoples.
These are some of the factors that are causing one of the largest waves of forced displacement in the XX – XXI century of indigenous communities in southern Venezuela.
Venezuela crisis turns indigenous people into the lost tribe
This involuntary mobility is the product of a series of social pressures generated by the current socio-political and economic crisis that our country has been experiencing for at least a decade.
In the case of the Amazonian indigenous peoples, little data or indicators has been presented or published for public opinion. This is partly due to their physical remoteness but, unfortunately, also to lack of moral and ethical concern on the part of those who have the responsibility of respecting and guaranteeing their rights.
To highlight what is happening in the south of the Orinoco River, it is necessary to understand the complex dimensions of its problems. Not to understand them from the cold optics of social laboratories, but from the dramatic realities that indigenous peoples are suffering today while demanding the cessation of hostilities against their territories and cultures.
Understand these problems from the reality of the Yanomami people, those who inhabit the sources of the Orinoco River, who, due to the lack of an intercultural health system in their territories, suffer the highest sickness rates in the nation, which could be mitigated if they had medicine or vaccines available.
Home – Orinoco Gold..publicity
If the indigenous peoples that inhabit the south of the Orinoco River were allowed the minimum conditions to enjoy their specific rights contained in Title VIII of the Constitution of the Bolivarian Republic of Venezuela and developed in the Organic Law of Indigenous Peoples and Communities, they would be able to provide for their own well-being as they have done for at least 20,000 years of existence in the region.
The interest of the West and of the government in the indigenous people, should not continue to be just concerned with the electoral, developmental and economic logic on their territories, which are normally antagonistic to the indigenous interests.
Desastre ambiental y sociocultural al sur del Río Orinoco originado por la minería ilegal y presencia de grupos irregulares
shared from Indigenous Caribbean Network with thanks
Luis Betancourt Montenegro.
Grupo de Investigaciones sobre la Amazonía.
Investigador de Derechos Indígenas y Ambientales de la Amazonía.
Desde hace aproximadamente una década, con la agudización de la crisis económica del país, se ha generado una desenfrenada carrera por porte del sector oficial, potentados económicos y grupos criminales provenientes de Colombia y Brasil, por el saqueo de los recursos minerales que yacen en los ricos y frágiles suelos del sur del río Orinoco, Amazonía y Guayana venezolana.
Los impactos ambientales son tan graves como los ocasionados a los aproximadamente 34 pueblos indígenas de la región, asentados en 1.600 comunidades. El empleo de mercurio y cianuro, entre otros metales pesados empleados en la minería ilegal, genera severos daños a los ecosistemas fluviales del Orinoco y sus caños.
Se trata de la desviación de sus cursos de agua, alteración de su morfodinámica y composición química, envenenamiento de la ictiofauna (peces) y otras especies, en conclusión, la contaminación del río más importante del país, fuente de alimento, agua y vida para los pueblos que han vivido en perfecta armonía con el "Pataü" (Río Grande – Río Orinoco).
Para tener una somera idea del daño que genera la minería ilegal y empleo del mercurio en la extracción y procesamiento del oro, sería muy ilustrativo compartir una investigación publicada en 2011 por Fundación La Salle, donde luego de analizar muestras de cabello de mujeres Pemón de la Gran Sabana, Ye´kwana y Sanema del río Caura (afluente del Orinoco), el 95% de ellas resultaron con 5 veces los niveles límites de concentración de mercurio, fijado por la Organización Mundial de la Salud.
shared from Indigenous Caribbean Network with thanks
Aunque el estudio en referencia corresponde al estado Bolívar, la situación en el Amazonas no es diferente con los indígenas Ye´kwana, Yanomami, Piaroa, Jiwi, Sanema, entre otros, debido a su exposición con este metal líquido. Esta situación agudiza el empeoramiento de patologías que pueda presentar la persona directa e indirectamente expuesta al mercurio, aparte del cuadro y sintomatologías propias.
Se trata de un verdadero desastre relacionado con la minería ilegal, que cada día crece más, con poco interés por parte nuestra sociedad sobre los impactos generados a los pueblos indígenas, sus territorios y hábitat. La indiferencia se convierte en irresponsabilidad y complicidad, cuando se trata de las instituciones del Estado venezolano, al mostrar una evidente actitud omisiva y complaciente, por no decir que forman parte del desastre en la región de mayor fragilidad social y ambiental del país.
La presencia de grupos irregulares en actividades extractivistas y conexas en esta región, ha determinado el aumento de una serie de indicadores sociales y culturales en la Amazonía – Orinoquía venezolana. En las aproximadamente 40 minas de oro (cifra conservadora) del estado Amazonas, es evidente la trata de personas, especialmente de niñas y adolescentes indígenas en actividades no acordes con su desarrollo emocional y psicológico, así como de mujeres indígenas en labores de semi esclavitud.
Los jóvenes indígenas, ante el cercenamiento de las oportunidades de desarrollo individual y comunitario, especialmente la falta de condiciones o servicios mínimos (gasolina, transporte…) para ejercer sus actividades económicas tradicionales, forzosamente han tenido que formar parte de la minería ilegal en condiciones paupérrimas y degradantes de la dignidad humana. Estas actividades ilegales también representan una invasión a las culturas indígenas, al generar una erosión a las milenarias practicas de estos pueblos ancestrales.
Estas son algunas de las causas que están originando una de las mayores olas de desplazamientos forzados en el siglo XX – XXI de comunidades indígenas al sur de Venezuela. Esta movilidad involuntaria es el producto de un cumulo de presiones sociales generadas por la actual crisis sociopolítica y económica que experimenta nuestro país desde al menos una década, que en el caso de los pueblos indígenas amazónicos, pocos son los datos o indicadores presentados ante la opinión publica debido a la lejanía física y, lamentablemente, también moral y ética por parte de quienes tienen la responsabilidad del respeto y garantía de sus derechos.
Para poner en relieve lo que ocurre en el sur del río Orinoco, es necesario entender las complejas dimensiones de su problemática. No entenderlas desde ópticas frías de laboratorios sociales, sino desde las dramáticas realidades que hoy mismo están padeciendo los pueblos indígenas que reclaman el cese de hostilidades a sus territorios y sus culturas. Entenderlas desde la realidad del pueblo Yanomami, los que habitan en las fuentes del río Orinoco, que debido a la inexistencia de un sistema de salud intercultural en sus territorios, el número de enfermos encabeza la taza nacional de casos o patologías, que pudieran mitigarse si contaran con un medicamento o vacuna a tiempo.
En la medida que los pueblos indígenas que habitan al sur del río Orinoco tengan las condiciones mínimas para gozar de sus derechos específicos contenidos en el titulo VIII de la Constitución de la República Bolivariana de Venezuela y desarrollados en la Ley Orgánica de Pueblos y Comunidades Indígenas, serán capaces de procurar su propio bienestar como lo han hecho desde al menos 20.000 años de existencia en la región. El interés de occidente y desde los gobiernos sobre los indígenas, no debe continuar siendo desde la lógica electorera, desarrollista y economicista sobre sus territorios, que normalmente son intereses antagónicos a los de ellos.
shared from Indigenous Caribbean Network with thanks