Great news for the people!.. if promises of free health, education and social security really happen, if the police and army aren't lined up on the side of the ruling class criminals, and if the marxist Castillo doesn't sell out immediately, or hasn't altready!
Castillo's victory a political earthquake
Pedro Castillo's victory in the Peruvian presidential elections is a great political earthquake, reflecting the enormous social and political polarization in the Andean country. The ruling class has suffered a massive defeat on the part of the masses, at the hand of the militant teacher unionist at the head of a party, Peru Libre, which describes itself as Marxist, Leninist and Mariateguist.
By Jorge Martín | 06/10/2021
The recount was a slow and painful process, and the decisive outcome was not clear until the end, three days after the polls closed on June 6. At the time of writing, with 99.795 percent of the votes counted, Pedro Castillo has 8,735,448 votes (50.206 percent), giving him a small but irreversible advantage over his rival, right-wing populist Keiko Fujimori, who obtained 8,663,684 votes (49,794 percent).
Even now, the official results have not been announced. Fujimori's team alleges fraud and is preparing dozens of appeals. The masses are ready to defend the vote in the streets.
There are reports that 20,000 ronderos (members of the peasant self-defense militias created during the civil war in the 1990s, of which Castillo is a member) are traveling to the capital to defend the will of the people.
Today, on June 9, a massive demonstration was held in Lima, where people had gathered for three nights in a row in front of Castillo's electoral headquarters.
It was the extreme fragmentation of the vote in the first round that allowed Castillo to move into the second round with just 19 percent. However, his electoral success is no accident.
It is an expression of the deep crisis of the regime in Peru. Decades of privatization and liberalization policies against the working class in a country extremely rich in mineral resources have left a legacy of bourgeois democracy based on extreme wealth disparity and widespread corruption.
Five former presidents are in jail or charged with corruption. All the institutions of bourgeois democracy are extremely discredited. The mass demonstrations of November 2020 were an expression of the deep anger accumulated in Peruvian society.
To this must be added the impact of the COVID-19 pandemic and the capitalist crisis. The country suffered one of the worst economic contractions in Latin America with an 11 percent drop in GDP, and has recorded the worst percentage of excess deaths and the worst death rate in the world, while the wealthy and government politicians they were vaccinated before anyone else.

A vote for a radical change
The masses of workers and peasants wanted a radical change and that is precisely what Pedro Castillo represents in their eyes.
His campaign had two main political axes: the renegotiation of the terms of the contracts with the mining multinationals (and if they refused, they would be nationalized) and the convocation of a Constituent Assembly to end the 1993 constitution drafted during the Fujimori dictatorship ( candidate Keiko's father).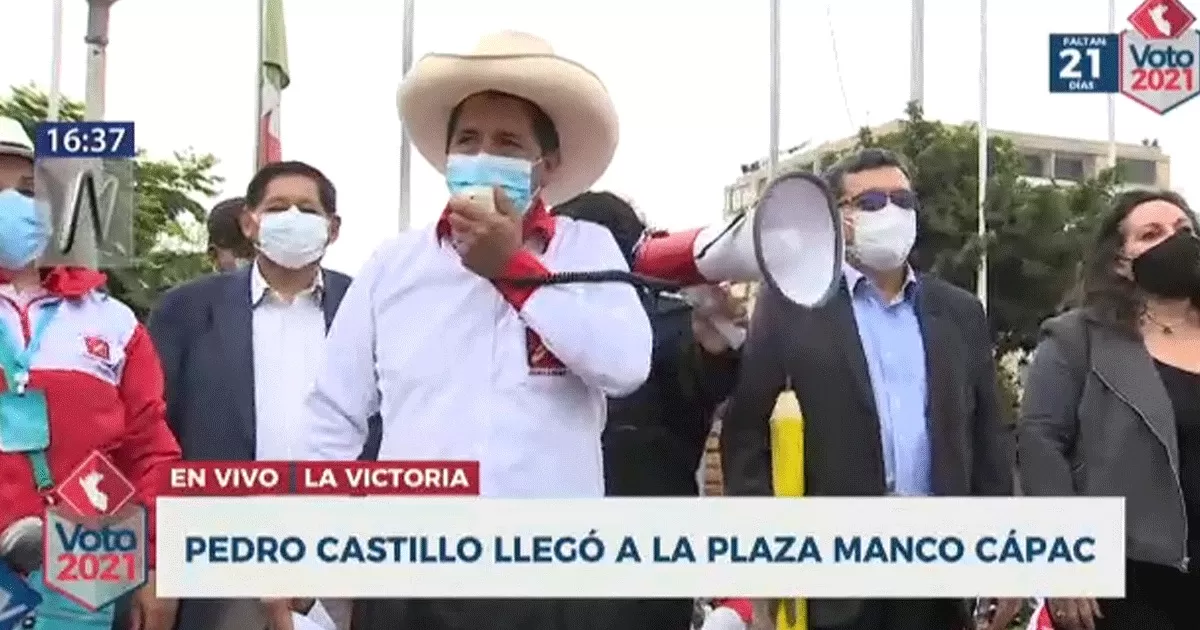 His main electoral slogans: "no more poor in a rich country" and "teacher's word" resonated with the oppressed, the workers, the poor, the peasants, the oppressed, the indigenous Quechua and Aymara, particularly in the working-class and poor areas. Away from the fair-skinned upper-class circles of Lima.
Castillo's authority comes from having defied the union bureaucracy to lead the 2017 teachers' strike. For the workers and peasants, he is one of their own.
A humble rural teacher with peasant roots who has promised to live off his teacher's salary when he becomes president. The attraction of him is precisely that of being an anti-establishment on the left.
His popularity reveals a profound discredit of bourgeois democracy and of all political parties (including the main parties of the left).
Although Keiko Fujimori was not her favorite candidate, the entire Peruvian ruling class closed ranks behind her in the second round.
Her campaign was brutal. Billboards in Lima proclaimed "Communism is poverty," and the seven plagues were threatened if Castillo won the elections. He was accused of being "the candidate of the violent Shining Path" in a land that he did not understand.
Nobel laureate Vargas Llosa, who in the past opposed the government of Alberto Fujimori from a bourgeois liberal point of view, wrote furious opinion pieces claiming that a victory for Castillo would spell the end of democracy.
Despite all this, or perhaps precisely because of the hatred he provoked among the ruling class, Castillo started the second round campaign with a 20-point advantage over his rival. That advantage dwindled as election day approached.
Castillo may survive if he can soften his program and adapt to the interests of the ruling class, which means that he will be discredited among those who have voted for him, preparing his own downfall. If you try to serve two masters (the workers and the capitalists) at the same time, you will not please either of them.
In an attempt to reassure "the markets", who were nervous during the count, Castillo's team issued a statement worth quoting in depth: "In an eventual government of Professor Pedro Castillo Terrones, presidential candidate of Peru Libre, We will respect the autonomy of the Central Reserve Bank, which has done a good job keeping inflation low for more than two decades. We reiterate that we have not considered nationalization, expropriation, confiscation of savings, exchange controls, price controls or import prohibitions in our economic plan.
The popular economy with markets that we advocate promotes the growth of companies and businesses, particularly agriculture and SMEs, in order to generate more jobs and better economic opportunities for all Peruvians. We will maintain an open and broad dialogue with the various sectors of honest businessmen and entrepreneurs, whose role in industrialization and productive development is fundamental.
Guaranteeing the right to health and education for all requires improving quality and increasing social spending, which must be based on tax reforms to mining to increase collection within the framework of a policy of fiscal sustainability, with a gradual reduction of the deficit public and respecting all the commitments to pay the Peruvian public debt "(emphasis mine).
Castillo himself declared: "I have just had conversations with the national business community, which is showing support for the people. We will make a Government respectful of democracy, of the current Constitution. We will create a government with financial and economic stability.
All experience shows that what the ruling class describes as "financial and economic stability" actually means making the workers and the poor pay for the crisis of their system by guaranteeing the best possible conditions for the realization of capitalist profits. The payment of the debt is in direct contradiction with the application of a policy of social spending. To all this Castillo should oppose the general interests of the workers and peasants. There is no middle way.
For now, the Peruvian masses celebrate and remain on guard to defend their victory. The fight has only just begun. Every step forward Castillo takes must be supported. His hesitations or setbacks should be criticized. The workers and peasants can only rely on their own forces and they must mobilize to strike blows against the oligarchy.
Mariátegui, in the conclusion of his "Anti-imperialist point of view", thesis that he presented to the Latin American Conference of Communist Parties in 1929, said: "In conclusion, we are anti-imperialists because we are Marxists, because we are revolutionaries, because we oppose capitalism the socialism as an antagonistic system, called to succeed it, because in the fight against foreign imperialisms we fulfill our duties of solidarity with the revolutionary masses of Europe. "
His point of view is more relevant today than ever.
Source: https://americasocialista.org/america-latina-entre-la-pandemia-y-la-crisis-capitalista-un-polvorin-a-punto-de-estallar-video/
Por Jorge Martín | 10/06/2021
La victoria de Pedro Castillo en las elecciones presidenciales peruanas es un gran terremoto político, que refleja la enorme polarización social y política en el país andino. La clase dominante ha sufrido una derrota masiva por parte de las masas, de la mano del sindicalista magisterial combativo a la cabeza de un partido, Perú Libre, que se describe como marxista, leninista y mariateguista.
El recuento fue un proceso lento y doloroso, y el resultado decisivo no fue claro hasta el final, tres días después del cierre de las urnas el 6 de junio. En el momento de redactar este artículo, con el 99,795 por ciento de los votos contados, Pedro Castillo tiene 8,735,448 votos (50.206 por ciento), lo que le da una pequeña pero irreversible ventaja sobre su rival, la populista de derecha Keiko Fujimori, quien obtuvo 8,663,684 votos (49.794 por ciento).
Incluso ahora, los resultados oficiales no se han proclamado. El equipo de Fujimori alega fraude y está preparando decenas de apelaciones. Las masas están dispuestas a defender el voto en las calles. Hay reportes de que 20.000 ronderos (miembros de las milicias de autodefensa campesina creadas durante la guerra civil en la década de 1990, de las cuales Castillo es miembro) están viajando a la capital para defender la voluntad del pueblo. Hoy, 9 de junio, se ha convocado una manifestación masiva en Lima, donde la gente se ha reunido durante tres noches seguidas frente a la sede electoral de Castillo.
Fue la extrema fragmentación del voto en la primera vuelta lo que permitió a Castillo pasar a la segunda vuelta con apenas el 19 por ciento. Sin embargo, su éxito electoral no es casualidad. Es una expresión de la profunda crisis del régimen en Perú. Décadas de políticas de privatización y liberalización contra la clase trabajadora en un país extremadamente rico en recursos minerales han dejado un legado de democracia burguesa basada en la extrema disparidad de riqueza y la corrupción generalizada.
Cinco ex presidentes están en la cárcel o acusados ​​de corrupción. Todas las instituciones de la democracia burguesa están extremadamente desacreditadas. Las manifestaciones masivas de noviembre de 2020 fueron una expresión de la profunda ira acumulada en la sociedad peruana.
A esto hay que sumar el impacto de la pandemia de la COVID-19 y la crisis capitalista. El país sufrió una de las peores contracciones económicas en América Latina con un 11 por ciento de caída del PIB, y ha registrado el peor porcentaje de exceso de muertes y la peor tasa de mortalidad en todo el mundo, mientras que los ricos y políticos gubernamentales se vacunaron antes que nadie.
Un voto por un cambio radical
Las masas de obreros y campesinos querían un cambio radical y eso es precisamente lo que representa Pedro Castillo a sus ojos. Su campaña tuvo dos ejes políticos principales: la renegociación de los términos de los contratos con las multinacionales mineras (y si se niegan, serían nacionalizadas) y la convocatoria de una Asamblea Constituyente para acabar con la constitución de 1993 redactada durante la dictadura de Fujimori (el padre de la candidata Keiko).
Sus principales consignas electorales: "no más pobres en un país rico" y "palabra de maestro" resonaron en los oprimidos, los trabajadores, los pobres, los campesinos, los oprimidos, los indígenas quechuas y aymaras, particularmente en las zonas obreras y pobres alejadas de los círculos de clase alta de piel clara de Lima.
La autoridad de Castillo proviene de haber desafiado a la burocracia sindical para liderar la huelga de maestros de 2017. Para los obreros y campesinos, es uno de los suyos. Un humilde maestro rural de raíces campesinas que ha prometido vivir del salario de su maestro cuando asuma la presidencia. Su atractivo es precisamente el de ser un antisistema por la izquierda. Su popularidad revela un profundo descrédito de la democracia burguesa y de todos los partidos políticos (incluidos los principales partidos de la izquierda).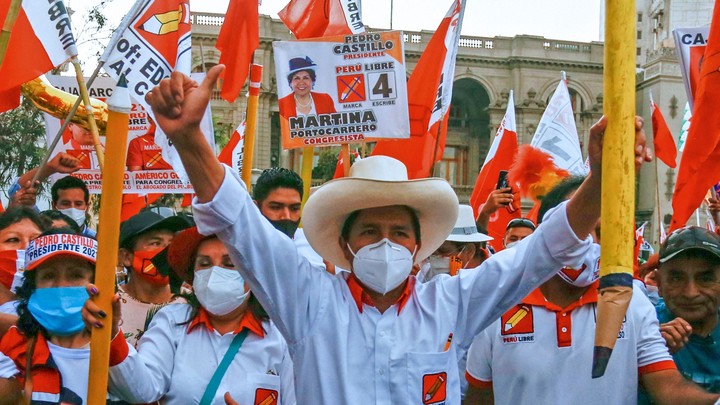 Aunque Keiko Fujimori no era su candidata favorita, toda la clase dominante peruana cerró filas detrás de ella en la segunda vuelta. Su campaña fue brutal. Las vallas publicitarias en Lima proclamaban "El comunismo es pobreza", y se amenazaba con las siete plagas si Castillo ganaba las elecciones. Se le acusaba de ser "el candidato del violento Sendero Luminoso" en un terruqueo que no caló. El premio Nobel Vargas Llosa, quien en el pasado se opuso al gobierno de Alberto Fujimori desde un punto de vista liberal burgués, escribió furiosos artículos de opinión afirmando que una victoria para Castillo significaría el fin de la democracia.
A pesar de todo eso, o quizás precisamente por el odio que provocó entre la clase dominante, Castillo arrancó la campaña de la segunda vuelta con 20 puntos de ventaja sobre su rival. Esa ventaja se redujo a medida que se acercaba el día de las elecciones. En parte porque la campaña de odio empujó a los votantes vacilantes hacia Keiko Fujimori, pero también en parte porque Castillo intentó rebajar el tono de su mensaje y moderar sus promesas.
Si bien en la primera vuelta había prometido convocar una Asamblea Constituyente a toda costa, ahora dijo que respetaría la Constitución de 1993 y pediría al Congreso (donde no tiene mayoría) que llamara a un referéndum para decidir si convocar una Asamblea Constituyente. Si bien en la primera ronda dijo que nacionalizaría las minas, ahora enfatizó que primero intentará renegociar los contratos. Cuanto más hizo eso, más se redujo su ventaja, hasta un punto en el que el día de las elecciones su victoria fue muy ajustada.
Contradicciones de clase
Sin embargo, la estrecha victoria enmascara la aguda polarización de clases del país. Fujimori ha ganado en Lima (65 a 34) e incluso aquí sus mejores resultados están en los distritos más ricos: San Isidro (88 por ciento), Miraflores (84 por ciento) y Surco (82 por ciento). Castillo ha ganado en 17 de los 25 departamentos del país, con victorias masivas en las regiones andinas y del sur más pobres: Ayacucho 82 por ciento, Huancavelica 85 por ciento, Puno 89 por ciento, Cusco 83 por ciento. También ganó en su Cajamarca natal (71 por ciento), una región donde ha habido protestas masivas contra la minería.
En los últimos días de la campaña, Keiko Fujimori, en un estilo populista clásico, prometió transferencias directas de dinero de los pagos de las empresas mineras a la población de los pueblos donde se encuentran las minas. Este fue un intento de alejar a los votantes de la propuesta de Castillo de cambiar los contratos para beneficiar a toda el pueblo. Los votantes eligieron a Castillo masivamente en todos los pueblos mineros: en Chumbivilcas (Cusco), 96 por ciento, Cotabambas (Apurímac), la base de la mina china MMG Las Bambas, más del 91 por ciento, Espinar (Cusco), donde opera Glencore, más de 92 por ciento; Huari (Áncash) donde hay una mina conjunta BHP Billiton – Glencore, más del 80 por ciento.
Las masas de trabajadores y campesinos que apoyan a Castillo estaban dispuestas a salir a las calles a defender su victoria, mientras Fujimori gritaba fraude y apelaba los resultados. En los días previos a las elecciones e inmediatamente después ha habido rumores de golpe militar. Destacados partidarios de Fujimori pidieron al Ejército que intervenga para evitar que Castillo tome el poder.
No hay duda de que un sector de la clase dominante en Perú está en pánico y utilizó todos los medios a su alcance para evitar que Castillo ganara las elecciones. Lo ven como una amenaza a su poder y privilegios y la forma en que han gobernado el país desde su independencia hace 200 años.
Hasta ahora, parece que han prevalecido los elementos más cautelosos de la clase dominante. Un editorial del principal periódico burgués La República describió a Fujimori como un irresponsable por gritar fraude. "Apelemos al liderazgo sensato y meditado de líderes políticos y autoridades. Necesitamos tranquilizar las calles del interior del país, que bullen entre la desconfianza y el hartazgo". Eso es lo que les preocupa. Cualquier intento de robarle la elección a Castillo sacaría a las calles a las masas de trabajadores y campesinos, radicalizándolas aún más.
Todo esto da una idea de lo que enfrentará Castillo una vez que asuma el cargo. La clase dominante y el imperialismo recurrirán a todos los medios necesarios para evitar que gobierne realmente. Hemos visto el mismo guión en el pasado contra Chávez en Venezuela. Destacados miembros de la oposición venezolana golpista estaban en Lima para respaldar a Fujimori antes de las elecciones y eso no es casualidad. Utilizarán el Congreso y las otras instituciones burguesas, los medios de comunicación, el aparato estatal (hasta e incluido el ejército), el sabotaje económico, para limitar su capacidad de implementar sus políticas.
Defiende la victoria: prepárate para la batalla
El programa de Castillo, a pesar de las referencias a Marx, Lenin y Mariátegui en los documentos de Perú Libre, es de desarrollo nacional capitalista. Plantea utilizar la riqueza mineral del país para programas sociales (principalmente educación) y trabajar con los «empresarios nacionales productivos» para «desarrollar la economía». Sus modelos son Correa de Ecuador y Morales de Bolivia.
El problema es que esos responsables capitalistas "productivos nacionales" no existen. La clase dominante peruana, los banqueros, terratenientes, capitalistas, están estrechamente vinculados a los intereses de las multinacionales y del imperialismo. No les interesa ningún «desarrollo nacional», sino su propio enriquecimiento.
Castillo ahora se enfrentará a un dilema. Por un lado, puede gobernar a favor de las masas de trabajadores y campesinos que lo han elegido, lo que significaría una ruptura radical con los capitalistas y las multinacionales. Eso solo se puede hacer apoyandose en la movilización de masas extraparlamentaria. O puede ceder, suavizar su programa y adaptarse a los intereses de la clase dominante, lo que significa que será desacreditado entre quienes han votado por él, preparando su propia caída. Si intenta servir a dos amos (los trabajadores y los capitalistas) al mismo tiempo, no complacerá a ninguno de los dos.
En un intento de tranquilizar a "los mercados", que estaban nerviosos durante el conteo, el equipo de Castillo emitió un comunicado que vale la pena citar en profundidad: "En un eventual gobierno del profesor Pedro Castillo Terrones, candidato presidencial de Perú Libre, respetaremos la autonomía del Banco Central de Reserva, que ha realizado una buena labor manteniendo la inflación baja durante más de dos décadas. Reiteramos que no hemos considerado en nuestro plan económico estatizaciones, expropiaciones, confiscaciones de ahorros, controles de cambios, controles de precios o prohibición de importaciones. La economía popular con mercados que preconizamos promueve el crecimiento de las empresas y negocios, en particular la agricultura y las pymes, con el fin de generar más empleos y mejores oportunidades económicas para todos los peruanos. Mantendremos un diálogo abierto y amplio con los diversos sectores de empresarios y emprendedores honestos, cuyo rol en la industrialización y desarrollo productivo es fundamental. Garantizar el derecho a la salud y la educación para todos requiere mejorar la calidad y aumentar el gasto social, lo que debe fundamentarse en reformas tributarias a la minería para elevar la recaudación en el marco de una política de sostenibilidad fiscal, con reducción paulatina del déficit público y respetando todos los compromisos de pago de la deuda pública peruana" (énfasis mío).

El propio Castillo declaró: "Acabo de tener conversaciones con el empresariado nacional, que está mostrando el respaldo al pueblo. Haremos un Gobierno respetuoso de la democracia, de la Constitución actual. Haremos un Gobierno con estabilidad financiera y económica». Toda la experiencia muestra que lo que la clase dominante describe como «estabilidad financiera y económica», en realidad significa hacer que los trabajadores y los pobres paguen por la crisis de su sistema garantizando las mejores condiciones posibles para la realización de las ganancias capitalistas. El pago de la deuda está en contradicción directa con la aplicación de una política de gasto social. A todo esto Castillo debería oponer los intereses generales de los trabajadores y campesinos. No hay camino intermedio.
Por ahora, las masas peruanas celebran y permanecen en guardia para defender su victoria. La lucha apenas ha comenzado. Cada paso adelante que dé Castillo debe ser apoyado. Sus vacilaciones o retrocesos deben ser criticados. Los obreros y campesinos sólo pueden confiar en sus propias fuerzas y estas deben movilizarse para asestar golpes contra la oligarquía.
Mariátegui, en la conclusión de su "Punto de vista antiimperialista", tesis que presentó a los latinoamericanos Conferencia de Partidos Comunistas en 1929, dijo: «En conclusión, somos anti-imperialistas porque somos marxistas, porque somos revolucionarios, porque oponemos al capitalismo el socialismo como sistema antagónico, llamado a sucederlo, porque en la lucha contra los imperialismos extranjeros cumplimos nuestros deberes de solidaridad con las masas revolucionarias de Europa.» Su punto de vista es hoy más relevante que nunca.
Fuente: https://americasocialista.org/america-latina-entre-la-pandemia-y-la-crisis-capitalista-un-polvorin-a-punto-de-estallar-video/