The EZLN squad will undertake a tour of more than 20 European countries, to which they were invited by different European organizations and NGOs with the idea of ​​exchanging ideas on how to confront "the inequality derived from the capitalist economic and social system."
Señaló que de esa fecha en adelante "se saludarán las elevaciones" en las islas de San Martino, Monte Faro y Monte Agudo" y luego se entrará a la Ría de Vigo.
Mexico City, Jun 14 (EFE) .- The delegation of seven members of the Zapatista Army of National Liberation (EZLN), which left Mexico on May 2 for Europe, is close to completing its journey after they left this Monday from Portugal to Spain, the organization reported.
In addition, they announced that they hope to see the coasts of the Iberian Peninsula, between June 19 and 20.

"At 09:17:45 on June 14 of this year, La Montaña - the boat in which they travel - took off from the Portuguese embrace and headed northeast at a speed of between six and seven knots," it was noted in a statement signed by Subcomandante Galeano, formerly known as Subcomandante Marcos.

He added that the ship "at 12:30 pm passed" Pico Das Urzes "on the left (…) Captain Ludwig estimates that he will see the coasts of the Iberian Peninsula between June 19 and 20 (although it could be earlier, because La Montaña, reconciled with the wind, seems in a hurry to embrace its Portuguese and Galician sisters) ".
The seven crew members are: Lupita, 19, Ximena, 25, Carolina, 26, Yuli, 37, Marijose, 39, Darío, 47, and Bernal, 57.
He pointed out that from that date on "the elevations will be greeted" on the islands of San Martino, Monte Faro and Monte Agudo "and then the Ría de Vigo will be entered.

The Zapatista "invasion" of Europe begins: sailboat departs from Isla Mujeres and will arrive in Madrid in August

"It is expected to arrive at the Punta Lagoa Marina, north of the port of Vigo, Galicia, Spanish State," added Galeano.

In addition, in the statement entitled: "The Zapatista Passport. (See you soon Portugal, here we go Galicia) "he explained that two days ago passengers and crew received in their passports the legal entry stamp to the so-called Schengen space or zone and disembarked in Horta, Azores Islands, Portugal, Europe.
El escuadrón del EZLN emprenderá una gira por más de 20 países de Europa, a los que fueron invitados por diferentes organismos y ONG europeas con la idea de intercambiar ideas sobre la manera de afrontar "la desigualdad derivada del sistema económico y social capitalista".
Ciudad de México, 14 jun (EFE).- La delegación de siete integrantes del Ejército Zapatista de Liberación Nacional (EZLN), que salió el 2 de mayo de México rumbo a Europa, está cerca de cumplir su travesía luego de que este lunes partieron de Portugal hacia España, informó la organización.
Además, adelantaron que esperan avistar las costas de la península Ibérica, entre el 19 y el 20 de junio.
"A las 09:17:45 del 14 de junio del año en curso, La Montaña -la embarcación en la que viajan- se despegó del abrazo portugués y tomó dirección noreste a una velocidad de entre seis y siete nudos", se apuntó en un comunicado firmado por el subcomandante Galeano, antes conocido como subcomandante Marcos.
Agregó que el barco "a las 12:30 horas rebasó por la izquierda el "Pico Das Urzes" (…) El capitán Ludwig calcula avistar las costas de la península Ibérica, entre el 19 y el 20 de junio (aunque podría ser antes, porque La Montaña, reconciliada con el viento, parece apresurada en abrazar a sus hermanas portuguesas y gallegas)".
"Se prevé llegar a la Marina Punta Lagoa, al norte del puerto de Vigo, Galicia, Estado Español", agregó Galeano.
Además, en el comunicado titulado: "El Pasaporte Zapatista. (Hasta pronto Portugal, ahí vamos Galicia)" explicó que dos días atrás pasajeros y tripulación recibieron en sus pasaportes el sello de entrada legal al llamado espacio o zona Schengen y desembarcaron en Horta, Islas Azores, Portugal, Europa.
The 7 Zapatista delegates arrive in The Azores, Portugal, aboard La Montaña
Posted on by Chiapas Support Committee
At 8:23 a.m., the port captain's boat picked up the crew of La Montaña, reported Subcomandante Galeano. Photo: Screenshot of the video disseminated through Zapatista networks
By: Elio Henríquez
San Cristóbal de Las Casas, Chiapas
La Montaña, the ship in which seven delegates of the Zapatista National Liberation Army (EZLN) traveled to Europa, arrived yesterday in Portugal, Subcomandante Galeano reported.
"It would be 2:30:45 on June 11 when the view, a stone's throw away from the shores of the port of Horta dampened the eyes of the ship and it crew. In the mountains of the Azores it was 7:3 in the morning of this day. It would be 3:45:13 when a speedboat from the Horta port authority approached La Montaña to indicate where it was to anchor. It was 4:15:33 when the ship anchored in front of the other mountains," he explained.
At 8:23 a.m., the port captain's boat picked up the crew of the boat named La Montaña –which departed on May 2 from Isla Mujeres, Quintana Roo– and took them ashore to get Covid-19 tests; afterwards, they returned to await the results. "At all times the 'Maritime Authority' at the port of Horta, has comported itself with kindness and respect," he said.
The Subcomandante announced that María Secco, independent film-photographer; Diego Enrique Osorno, independent reporter, and Javier Elorriaga are also traveling as the support team with Squadron 421, made up of the seven Zapatista delegates, "to document the journey."
He stated that according to their uses and customs, these three individuals had to, besides covering their expenses, present written authorization from "their families, partners and offspring."
"Both letters were delivered to Subcomandante Insurgente Moisés. Husbands, wives, mothers, sons and daughters wrote and signed the authorizations with their own hand. I had to read them. There was everything, from philosophical reflections to children's drawings, to a girl's attentive request to bring her a whale."
He commented that when the news of the ship's arrival in Portugal became known in the mountains of the Mexican southeast, "the Zapatista communities sent a message to the crew of the Stahlratte via its captain: 'Thank you, you're chingones!" They are still trying to translate that into German."
He added that it was "at 22:10:15 hours on June 10 when, amid the mists of the European dawn, from the top of the La Montaña lookout, it was possible to see the sister mountain, Cabeço Gordo, on the island of Faial on the Azores archipelago, an autonomous region of the geography called Portugal, in Europe."
——-Ω——-
Originally Published in Spanish by La Jornada
Saturday, June 12, 2021
https://www.jornada.com.mx/2021/06/12/politica/013n1pol
Re-Published with English interpretation by the Chiapas Support Committee
Intergalactic Gathering 2021 – July 10-14 – ZAD NDDL
July 2021 – zad nddl
Intergalactic gathering in connection with the Zapatista invasion
11/10 – ¡Muchas luchas para vivir, un mismo corazón para luchar! Meetings of women, trans, inter and non-binary people from the Other Europe
13/14 – Mixed meetings, open to all
sites: zad.nadir.org / zadenvies.org- fb: zad nddl info _ on registration: inscription2021@riseup.net (specify your dates and the number of people)
The announcement of the "journey for life" and the arrival, for the first time in Europe, of a large delegation of the Zapatista movement has put stars in our eyes. Their "invasion" reversed to denounce loud and clear the continued colonization of the world by the capitalist hydra has created an emulsion in the grove and in a number of areas in resistance in the Other Europe.
The experience of the Zapatista Autonomous Territories – born of the uprising of 1994 – has been maintained ever since with astonishing determination and creativity. For our movement as for many others, this experience, so distant and so close at the same time, formed a landmark in the fog of revolutionary horizons.
VIDEO: Zapatistas meet dolphins during their trip to Europe
A few weeks after the announcement of their crossing of the ocean, members of the zad sent the Zapatista compasses a letter of invitation to come and discuss in the bocage and its commons during their journeys in Europe. (The invitation letter: https://zad.nadir.org/spip.php?article6815 For more information on the "journey for Zapatista life", see among other things the text "the Zapatista invasion begins!: https://lavoiedujaguar.net/L-invasion-zapatiste-commence and the press releases of the Zapatista compasses translated on: https://enlacezapatista.ezln.org.mx)
The zad of Notre Dame des Landes has, since the time of the anti-airport fight, a tradition of organizing large summer gatherings, crossroads of resistance in progress: Zadenvies and Intergalactic Week in particular. This year, the Zapatista excursion brings us together around a common course that we have called "Intergalactic Encounters".
The event will take place from July 10 to 14 with to start two days of meetings of women, trans, inter and non-binary people from the Other Europe – without a cis guy – organized with the women of the gender commission of Sexta Otra Europa. There will then be two days of mixed meetings on July 13 and 14, organized in conjunction with other groups of the French-speaking coordination.
Here are the main themes that will cross this gathering:
Autonomies against the capitalist hydra – territorial resistance and the construction of enduring and contagious autonomies in the face of adverse forms of government and market economies
Communities and care – the question of care – in the broad sense – and "restorative justice" based on the experiences of communities in struggle and the consideration of systemic oppressions.
Earth uprisings and struggles for life – the land front, peasant, eco-feminist and climate youth movements, for the living and against soil poisoning.
Organization spaces against racism and police violence
Affective relationships and sexualities – desire, heteronormativity, patriarchal violence and self-defense.
These 5 days of meetings will also be inhabited by moments of various walks, parties, dances, rituals, games …
We would also like to offer a specific moment of discussion on the desires and needs of the Zapatista compasses in terms of solidarity networks and on the revitalization of local committees linked to Chiapas, as well as on the future of this great European web of resistance that is arousing the Zapatista journey. How do we continue the journey together?
It will also be proposed two moments of assemblies linked to ongoing action campaigns, one on the Earth Uprisings (lessoulevementsdelaterre.org) and another on the follow-up to the 17 "action against the re-intoxication of the world" (Acte17 .noblogs.org) and the next coordinated day of action announced for September 17.
The different themes will be articulated in round tables, workshops, presentations in plenary. We will pay particular attention to ensuring that there are words from struggling collectives and not mainly academics, to the mix of speakers, to attempting participatory forms, moments of exchange and not just presentations. .. Over these 4 days, there should be as much time for discovery and reflection as for the practical organization of struggle. The detailed program will be sent in June.
Prior registration request: The zad has a large reception capacity in an airy space and for a large audience but we strongly need to be able to assess the number of people who will be present.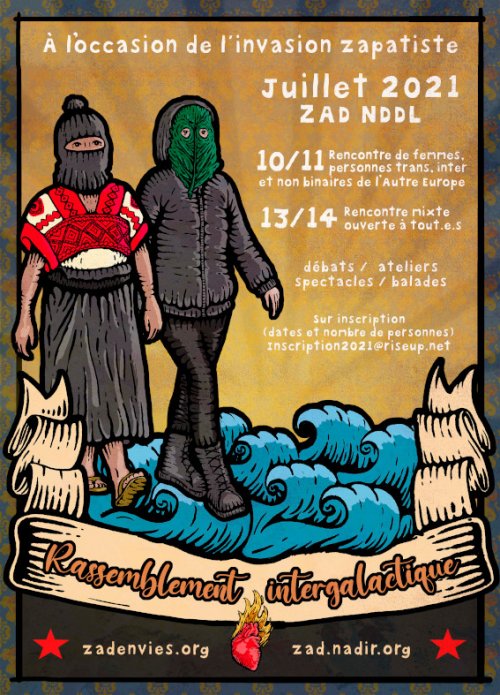 In view of the context, we want to be sure to be able to welcome everyone in good conditions at all levels (canteens, camping, discussion area, etc.). It is therefore requested to send an email in advance to register at inscription2021@riseup.net, specifying the number of people and the days during which you plan to be present.
Helping hands before, during and after the setting up of the event: The set-up will take place from July 5 to 9 and the dismantling from July 15 to 17. We need a lot of people in both cases. If you plan to come and help, let us know (specifying the dates when you will be there) at:
benevolesintergalac@riseup.net
See you soon and look forward to seeing you this summer on the zad nddl.
Rassemblement Intergalactique en lien avec l'invasion zapatiste
10/11 – ¡Muchas luchas para vivir, un mismo corazón para luchar ! Rencontres de femmes, personnes trans, inter et non-binaires de l'Autre Europe
13/14 – Rencontres mixtes, ouvertes à tout.es
sites : zad.nadir.org / zadenvies.org– fb : zad nddl info _ sur inscription : inscription2021@riseup.net (précisez vos dates de venue et le nombre de personnes)
L'annonce du "voyage pour la vie" et de la venue, pour la première fois en Europe, d'une grande délégation du mouvement zapatiste nous a mis des étoiles dans les yeux. Leur "invasion" renversée pour dénoncer haut et fort la poursuite de la colonisation du monde par l'hydre capitaliste a fait émulsion dans le bocage et dans nombre d'espaces en résistance dans l'Autre Europe.
L'expérience des territoires autonomes zapatistes – née du soulèvement de 1994 – s'est maintenue depuis avec une détermination et une créativité ébourrifante. Pour notre mouvement comme pour bien d'autres, cette expérience, si lointaine et si proche à la fois, a formé un repère dans le brouillard des horizons révolutionnaires. Quelques semaines après l'annonce de leur traversée de l'océan, des fxmmes de la zad ont envoyé aux compas zapatistes une lettre d'invitation à venir échanger dans le bocage et ses communs au cours de leurs parcours en Europe. (La lettre d'invitation : https://zad.nadir.org/spip.php?article6815 Pour plus d'infos sur le "voyage pour la vie zapatiste", voir entre autre le texte "l'invasion zapatiste commence ! :https://lavoiedujaguar.net/L-invasion-zapatiste-commence et les communiqués des compas zapatistes traduits sur : https://enlacezapatista.ezln.org.mx )
La zad de Notre Dame des landes a, depuis le temps de la lutte anti-aéroport, pour tradition d'organiser de grands rassemblements estivaux, carrefours de résistances en cours : Zadenvies et Semaine Intergalactique notamment. Cette année, l'excursion zapatiste nous réunit autour d'un cap commun que nous avons appelé "Rencontres Intergalactiques".
L'évènement aura lieu du 10 au 14 juillet avec pour commencer deux jours de rencontres de femmes, personnes trans, inter et non-binaires de l'Autre Europe – sans mec cis – organisées avec les femmes de la commission genre de la Sexta Otra Europa. Il y aura ensuite deux jours de rencontres mixtes les 13 et 14 juillet, organisés en lien avec d'autres groupes de la coordination francophone.
Voici les grandes thématiques qui traverseront ce rassemblement :
Autonomies contre l'hydre capitaliste – les résistances territoriales et la construction d'autonomies durables autant que contagieuses face à des formes de gouvernementalités adverses et d'économies marchandes
Communautés et soins – la question du soin – au sens large – et de la "justice réparatrice" basées sur les expériences des communautés en lutte et la prise en considération des oppressions systémiques.
Soulèvements de la Terre et luttes pour la vie – le front du foncier, les mouvements paysans, eco-féministes et issus de la jeunesse climatique, pour le vivant et contre l'empoisonnement des sols.
Espaces d'organisation contre le racisme et les violences policières
Relations affectives et sexualités – désir, hétéronormativité, violences patriarcales et autodéfense.
Ces 5 jours de rencontres seront aussi habités par des moments de balades diverses, fêtes, danses, rituels, jeux…
Nous aimerions aussi proposer un moment spécifique d'échanges sur les envies et besoins des compas zapatistes en terme de réseaux de solidarité et sur la revitalisation des comités locaux liés au Chiapas, ainsi que sur l'avenir de cette grande toile européenne des résistances que réveille le voyage zapatiste. Comment continue-t-on le voyage ensemble ?
Il sera proposé par ailleurs deux moments d'assemblées liées à des campagnes d'actions en cours, une sur les Soulèvements de la terre (lessoulevementsdelaterre.org) et une autre sur les suites des 17 "agir contre la réintoxication du monde" (agir17.noblogs.org) et la prochaine journée d'action coordonnée annoncée pour le 17 septembre.
Les différents thèmes s'articuleront en table-rondes, ateliers, exposés en plénières. Nous porterons une attention particulière à ce qu'il y ait des paroles de collectifs en lutte et pas essentiellement d'universitaires, à la mixité des intervenant.es, à tenter des formes participatives, des moments d'échanges et pas uniquement des exposés… Il devrait y avoir sur ces 4 jours autant des temps de découvertes et de réflexion que d'organisation pratique de lutte. Le programme détaillé sera transmis courant juin.
Demande d'inscription préalable : La zad dispose d'une capacité d'accueil importante dans un espace aéré et pour un public large mais nous avons fortement besoin de pouvoir évaluer le nombre de personnes qui seront présentes à l'une et l'autre des deux phases de la rencontre. Au vu du contexte, nous voulons être sûres de pouvoir accueillir tout le monde dans de bonnes conditions à tous niveaux (cantines, camping, espace de discussions..). Il est donc demandé d'envoyer un mail par avance pour vous inscrire à inscription2021@riseup.net, en précisant le nombre de personnes et les journées pendant lesquelles vous comptez être présent.es.
Coups de mains avant, pendant et après pour la mise en place de l'évènement : Le montage aura lieu du 5 au 9 juillet et le démontage du 15 au 17. On a besoin de pas mal de monde dans les deux cas. Si vous comptez venir aider, dites-le nous (en précisant les dates où vous serez là) à :
benevolesintergalac@riseup.net
A bientôt et au plaisir de vous retrouver cet été sur la zad nddl.