Posted on June 17, 2021 via ELCOMUNISTA.NET in INTERNACIONAL // 0
In Berlin, the intention of law enforcement officers to inspect a house converted by left-wing activists into "popular territory" sparked clashes.
This is reported by Spiegel and Tagesspiegel mass capitalist "news"
Many years ago, left-wing activists turned the house at 94 Rizhskaya Street into 'their own territory'.
The reason for the disturbances is believed to be a planned inspection of the building (Another attempted eviction)on Thursday, June 17, to verify compliance with fire safety regulations.
The Police previously prohibited meetings in the block (military occupation) and parking in some sections of the streets from Wednesday afternoon to Friday night.
During this period, only the residents of these houses were allowed to enter the barricaded area.(However to prove yourself resident would be suicidal)
Report this report (to your mates)
Police were met on Wednesday morning with barricades of tires, barbed wire and other improvised materials, which were also set on fire and stones. The activists were about two thousand people, on Twitter they said that they were "defending the autonomous zone."
Law enforcement officers (pigs) used special equipment to clear the barricades and a water cannon. In the afternoon, the situation calmed down, the police still put up barriers.
Police report 60 officers claimed to be injured.
In relation to the events, the Senator for Internal Affairs from Berlin, Andreas Geisel, canceled the participation in the meeting with colleagues from other regions.
"Those who set tires on fire on city streets are not fighting for the 'left' clearances, but rather intimidating the neighbors (new yuppies) of the local community," he said.
The house has become a meeting place for left-wing activists (brave anarchist activists) since the 1990s. In October last year, the police dissolved (violently destroyed) a similar club nearby at Liebigstrasse 34, known as Liebig 34.
Previously, there were many more similar territories in Berlin .
eurnews
********
Posted on by enough14 — Leave a comment
Rigaer94: Our statement on the current situation [Berlin]
Berlin. June 16. 2021. Today, on the evening of June 16, we look back on a militant day and a temporary autonomous zone and look forward with a clenched fist. Yes, we will remember the barricades in Rigaer Straße and their collective defense for a long time with a big smile on our faces. Step by step, the Senate and the owners are burning their fingers at the attempted destruction of our home.
Originally published by Rigaer 94.
After the street, there are now problems on the legal level. A higher administrative court has considerably complicated the starting position for those responsible at the Senate and the letterbox company for the attack on our house. The latter, represented by Bernau, Luschnat and von Arentin, was forbidden to enter our premises at all. Moreover, the cops are to be given access only to the stairwell, attic, courtyard, etc., but not to the private apartments.
At this moment, the expert, who is now declared to be responsible, is told by our lawyers that he can inspect the fire protection in our house without any danger to his health and can come in and out without any problems. Of course, without even a cop, as we have already declared in January 2021. And we keep our word. That should have become more than clear again today. Completely in contrast to the word of numerous politicians*innen, whether in the district or senate, that of the cops or even a windy letter box company. Some of them still dare to claim that it is not about an eviction of Rigaer94.
In this context, we would like to point out that we have already carried out several fire safety assessments since November 2020 and have remedied deficiencies on our own. It is up to the Senate and a letterbox company not to have accepted this and thus to have gradually unmasked their pretextual argument that it is only about the safety of the residents of Rigaer94 and their neighbors.
So, if the politicians decide to storm the building, they will go the way we already predicted. In this case, we will defend ourselves. Against the cops destroying everything in order to be able to declare our house "uninhabitable" as a result. Against the fact that our beloved place and its inherent ideas of collectivity, mutual aid, solidarity and self-determination are to be destroyed.
Today we have shown to all those who doubted it that we are not only ready but also able to intensify the conflict with the state and its henchmen. We met them at a time when they did not expect it and for which they were certainly not prepared. We thank all the people, neighbors and friends who showed solidarity and we are looking forward to the coming hours.
Your Rigaer94
60 policías heridos en Berlín en enfrentamientos con activistas de izquierda
Posted on junio 17, 2021 by ELCOMUNISTA.NET in INTERNACIONAL // 0 Comments
En Berlín, la intención de los agentes del orden de inspeccionar una casa convertida por activistas de izquierda en un "territorio popular" provocó enfrentamientos.
Esto es informado por Spiegel y Tagesspiegel MSM "noticias".
Hace muchos años, los activistas de izquierda convirtieron la casa de la calle Rizhskaya 94 en un «territorio popular».
Se considera que el motivo de los disturbios es una inspección planificada del edificio el jueves 17 de junio para verificar el cumplimiento de las normas de seguridad contra incendios.
En este sentido, la Policía prohibió previamente las reuniones en la cuadra y el estacionamiento en algunos tramos de la calle desde el miércoles por la tarde hasta el viernes por la noche.
Durante este período, solo a los residentes de estas casas se les permitió ingresar al área barricada.
La policía se encontró en la mañana del miércoles con barricadas de neumáticos, alambre de púas y otros materiales improvisados, que además fueron incendiados y piedras. Los activistas eran unas dos mil personas, en Twitter decían que estaban "defendiendo la zona autónoma".
Los agentes de la ley utilizaron equipo especial para despejar las barricadas y un cañón de agua. Por la tarde, la situación se calmó, la policía aún colocó barreras.
La policía informa sobre 60 agentes heridos.
En relación con los hechos, el senador de Asuntos Internos de Berlín, Andreas Geisel, canceló la participación en el encuentro con colegas de otras regiones.
"Los que incendian neumáticos en las calles de la ciudad no luchan por los espacios libres de la" izquierda ", sino que intimidan a los vecinos de la comunidad local", dijo.
La casa se ha convertido en un lugar de encuentro de activistas de izquierda desde los años 90. En octubre del año pasado, la policía disolvió un club similar cercano en Liebigstrasse 34, conocido como Liebig 34.
Anteriormente, había muchos más territorios similares en Berlín.
eurnews
****************
Rigaer94: Nuestra declaración sobre la situación actual [Berlín]
Berlina. 16 de junio de 2021. https://enoughisenough14.org/2021/06/17/rigaer94-our-statement-on-the-current-situation-berlin/
Hoy, en la tarde del 16 de junio, miramos hacia atrás en un día militante y una zona autónoma temporal y miramos hacia adelante con el puño cerrado. Sí, recordaremos las barricadas en Rigaer Straße y su defensa colectiva durante mucho tiempo con una gran sonrisa en nuestros rostros. Paso a paso, el Senado y los propietarios se queman los dedos ante el intento de destrucción de nuestra casa.
Publicado originalmente por Rigaer 94.
Después de la calle, ahora hay problemas a nivel legal. Un tribunal administrativo superior ha complicado considerablemente la posición de partida de los responsables en el Senado y la empresa de buzones del atentado a nuestra casa. Este último, representado por Bernau, Luschnat y von Arentin, tenía prohibido entrar en nuestras instalaciones. Además, la policía debe tener acceso solo a la escalera, al ático, al patio, etc., pero no a los apartamentos privados.
En este momento, nuestros abogados informan al perito, que ahora es declarado responsable, que puede inspeccionar la protección contra incendios en nuestra casa sin ningún peligro para su salud y puede entrar y salir sin problemas. Por supuesto, sin ni siquiera un policía, como ya declaramos en enero de 2021. Y cumplimos nuestra palabra. Eso debería haberse vuelto más que claro hoy. Completamente en contraste con la palabra de numerosos políticos * innen, ya sea en el distrito o en el senado, la de la policía o incluso una empresa de buzones de viento. Algunos de ellos todavía se atreven a afirmar que no se trata de un desalojo de Rigaer94.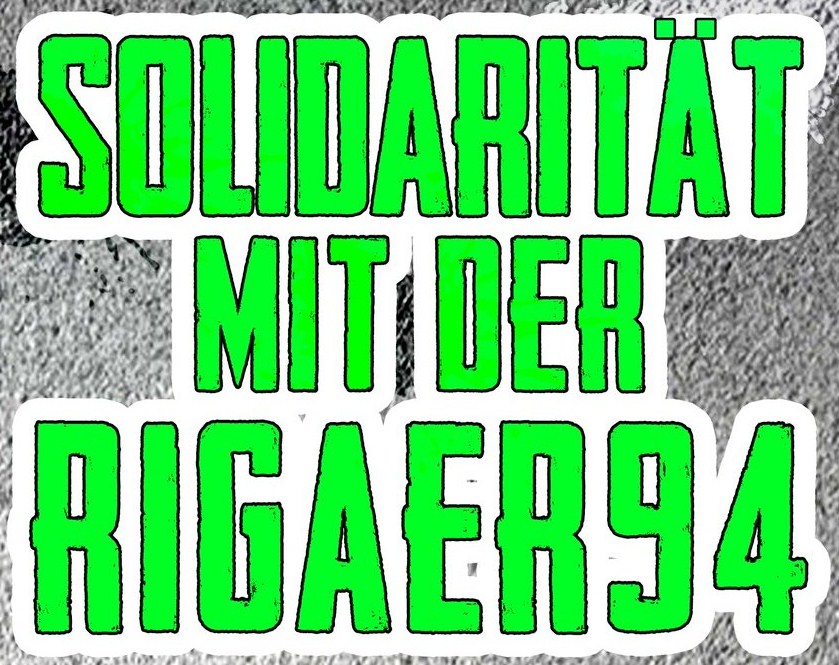 En este contexto, nos gustaría señalar que ya hemos realizado varias evaluaciones de seguridad contra incendios desde noviembre de 2020 y hemos subsanado las deficiencias por nuestra cuenta. Depende del Senado y de una empresa de buzones no haber aceptado esto y así haber desenmascarado gradualmente su pretexto argumento de que solo se trata de la seguridad de los vecinos de Rigaer94 y de sus vecinos.
Entonces, si los políticos deciden asaltar el edificio, seguirán el camino que ya predijimos. En este caso, nos defenderemos. Contra que la policía lo destruya todo para poder declarar nuestra casa "inhabitable" como resultado. Frente al hecho de que nuestro amado lugar y sus ideas inherentes de colectividad, la ayuda mutua, la solidaridad y la autodeterminación deben ser destruidas.
Hoy les hemos demostrado a todos los que lo dudaban que no solo estamos preparados sino también capaces de intensificar el conflicto con el Estado y sus secuaces. Los conocimos en un momento en el que no lo esperaban y para el que ciertamente no estaban preparados. Agradecemos a todas las personas, vecinos y amigos que se mostraron solidarios y estamos deseando que lleguen las próximas horas.